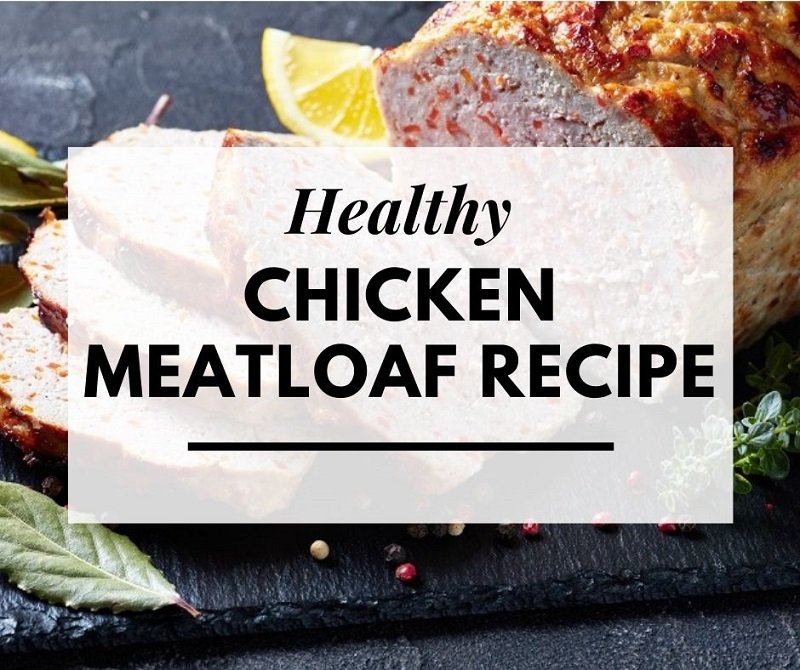 Chicken meatloaf is healthier than traditional beef meatloaf because the ground chicken has almost no fat.
We like to pack our chicken meatloaf with lots of vegetables for super nutrition and flavor. Look for recipes with interesting spice and herb variations here.
Chicken Meatloaf and Vegetables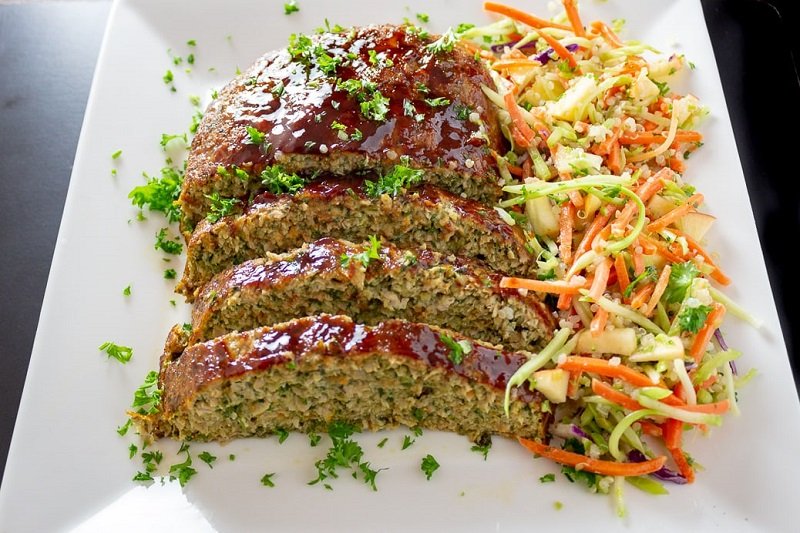 This chicken meatloaf is flavorful and moist.
Prep Time: 15 minutes
Cook Time: 30 minutes
Servings: 8-9 slices
Calories 304 per serving (2 slices)
Ingredients:
For the chicken
1 1/2 lbs ground chicken, dark meat
1/4 large sweet onion, chopped into 2" chunks
1 medium carrot, chopped into 2" chunks
2 cups packed fresh baby spinach, rinsed and patted or shaken dry
2 cloves garlic, minced
2 teaspoons vegetable oil
For the Filling
1/2 cup breadcrumbs
5 tablespoons milk or broth
1 egg
1 tablespoon ketchup
1 tablespoon balsamic vinegar
1/4 cup finely chopped fresh parsley
1/2 teaspoon dried thyme
1/2 teaspoon kosher salt or to taste
1/4 teaspoon ground pepper
Glaze
1/4 cup ketchup
1 1/2 tablespoon balsamic vinegar
Instructions:
Preheat the oven to 400°F.
Line a pan (about 9 x 13 inch) with baking parchment or foil and spray with oil.
Put onions, carrots, spinach and garlic in a food processor. Process until minced. Or chop everything very finely.
Heat oil in a medium pan. Add the vegetables. Cook and stir on medium high for 5 minutes, until the vegetables are tender and all the liquid has evaporated.
Mix breadcrumbs and milk in a large bowl. Let sit for a few minutes. Stir in egg, ketchup, balsamic vinegar, parsley, thyme, salt and pepper. Mix until everything is incorporated.
Add ground chicken and vegetable mixture to the bowl. Lightly mix the ingredients with a wooden spoon, or by hand.
Place mixture on a pan. Shape it into a loaf about 2 inches high.
For glaze:
Mix ketchup and balsamic vinegar in a small bowl. Brush glaze on top and sides of loaf. Bake for 30 minutes.
Let the meatloaf sit for 5-7 minutes before serving. Slice and serve.
Chicken Meatloaf with Parmesan and Worcestershire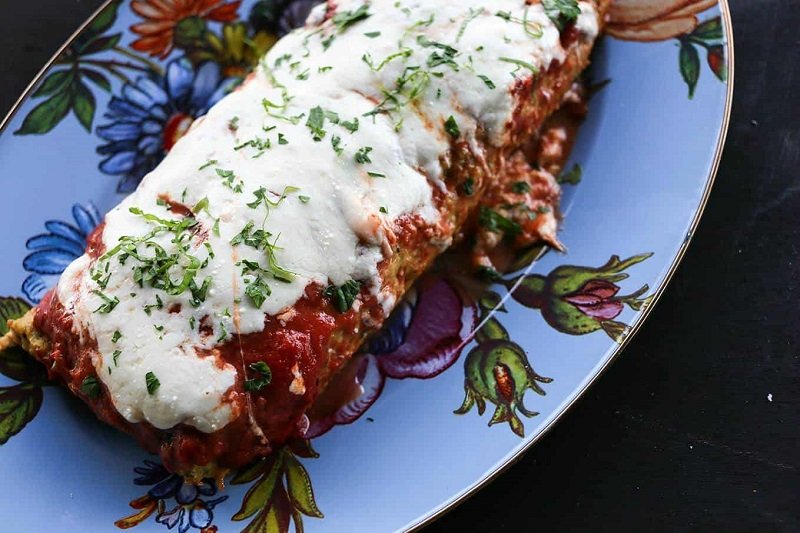 Here ground chicken is blended with flavorsome Parmesan and Worcestershire, and has a tangy glaze.
Prep time: 10 minutes
Cook time: 1 hour 30 minutes
Calories 353
SERVINGS: 6
Ingredients:
1 lb ground chicken
1 ¼ cup breadcrumbs
1 cup milk
2 eggs
1/2 cup onion, finely chopped
1/2 cup shredded parmesan cheese
1/4 cup parsley, chopped
2 tablespoons tomato paste
2 tablespoons Worcestershire sauce
1 teaspoon salt
1/2 teaspoon garlic powder
1/4 teaspoon black pepper
Glaze:
3/4 cup ketchup
3 tablespoons brown sugar
1 tablespoon Worcestershire sauce
Instructions:
Preheat the oven to 350°F.
Put the ground chicken in a large bowl.
In a medium bowl, mix the breadcrumbs, onion, parmesan, parsley, garlic powder, salt and pepper. Add this to the bowl with the ground chicken.
Add the milk, eggs, tomato sauce and Worcestershire sauce. Mix well.
In a small bowl, make the glaze. Mix the ketchup, brown sugar and Worcestershire sauce.
Spoon a couple tablespoons of the glaze into the bottom of an 8 x 4" loaf pan. Add the chicken mixture to the loaf pan, patting it down rather than pushing it in. Spread the remaining glaze on top.
Bake, uncovered, for 80 – 90 minutes, or until the internal temperature reaches 165°F and the loaf is cooked through.
Let the meatloaf rest for at least five minutes before slicing.
Slow Cooker Chicken Meatloaf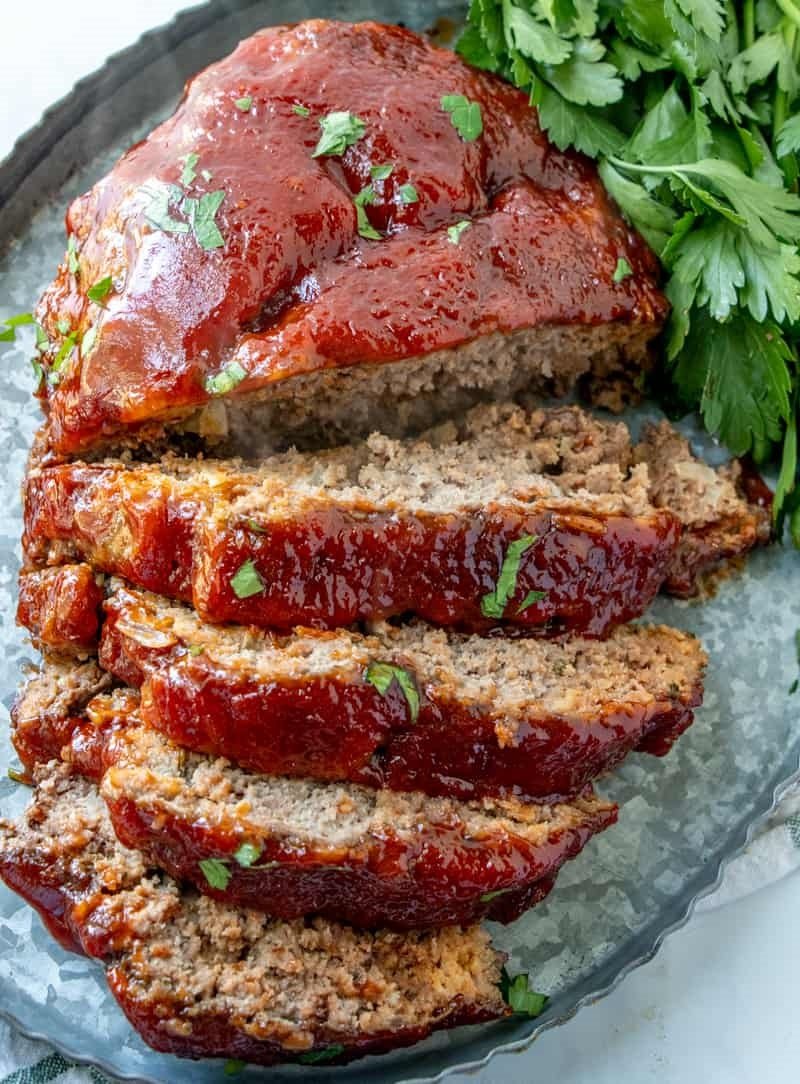 Using dark meat yields a moist meatloaf. And using the slow cooker means you can put everything in and come back later. A moist, delicious meatloaf.
Prep time: 15 minutes
Cook time: 6 hours
4 Servings
258 kcal
Ingredients:
1 lb ground chicken, dark meat
3 tablespoons egg white
1/3 cup ketchup
1 tablespoon Worcestershire sauce
1 red potato, finely shredded
1/4 cup breadcrumbs
½ teaspoon each of basil, oregano, black pepper, and garlic powder
Instructions:
Combine all ingredients in a bowl, mixing thoroughly.
Shape the mixture to form a loaf that will fit in your slow cooker.
Cover top of loaf with additional ketchup (if desired).
Cook on low for 6-8 hours.
Italian-Inspired Chicken Meatloaf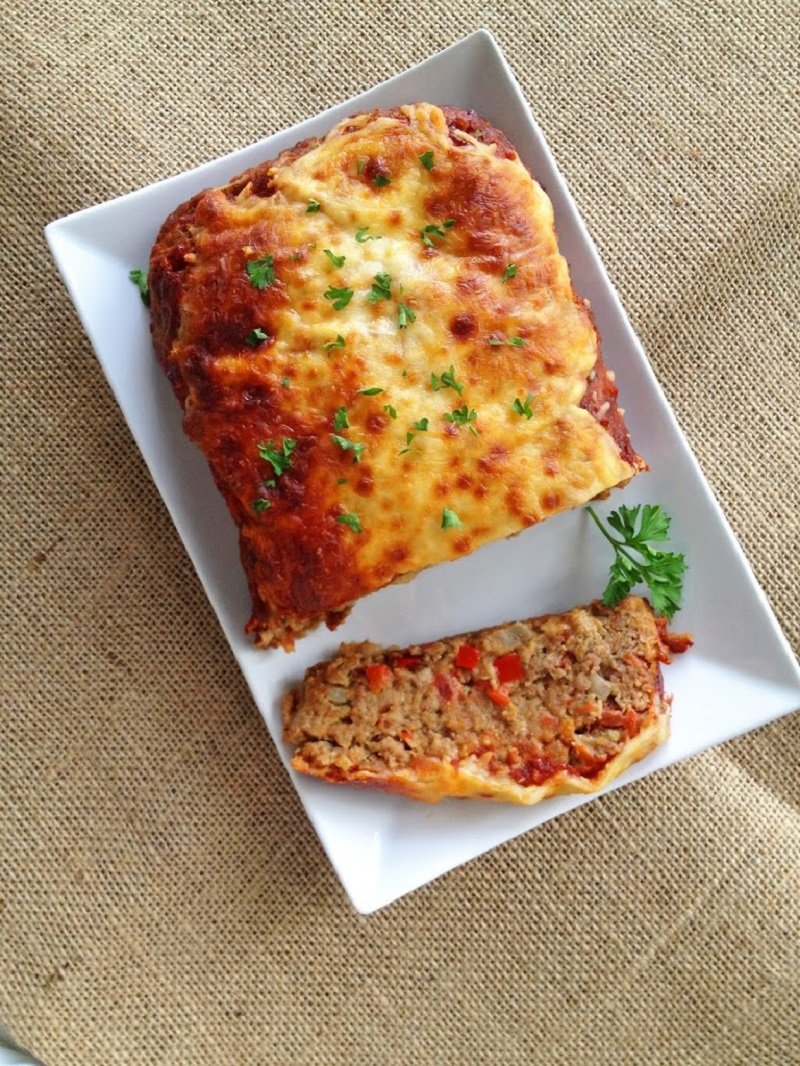 So full of protein, so tasty, and so satisfying. Marinara (tomato pasta) sauce, Italian seasoning, and two kinds of cheese give this meatloaf an enjoyable Italian flair.
4 servings
Calories per serving: 265
Ingredients:
1 lb. ground chicken breast (can be turkey breast instead)
1 large egg
⅓ cup quick-cooking oats, not instant
½ cup onion, diced
1 clove garlic, minced
½ cup tomato pasta sauce
3 oz low-fat sliced mozzarella cheese
¼ cup grated parmesan cheese
2 tablespoons Italian Seasoning
Salt and pepper, to taste
Instructions:
Preheat the oven to 375°F.
In a large bowl, combine ground chicken breast, onion, garlic, egg, oats, ¼ cup pasta sauce, Italian seasoning, salt and pepper
Mix until combined.
Shape mixture into a loaf shape and place on a baking-parchment-lined baking sheet.
Bake for 45 minutes.
Remove from the oven. Top with remaining pasta sauce and mozzarella cheese.
Return the meatloaf to the oven until the cheese is melted.
Allow to sit for 10 minutes for the juices to settle.
You May Also Like: Chicken Meal Prep for Weight Loss – A Comprehensive Guide
Asian-Inspired Chicken Meatloaf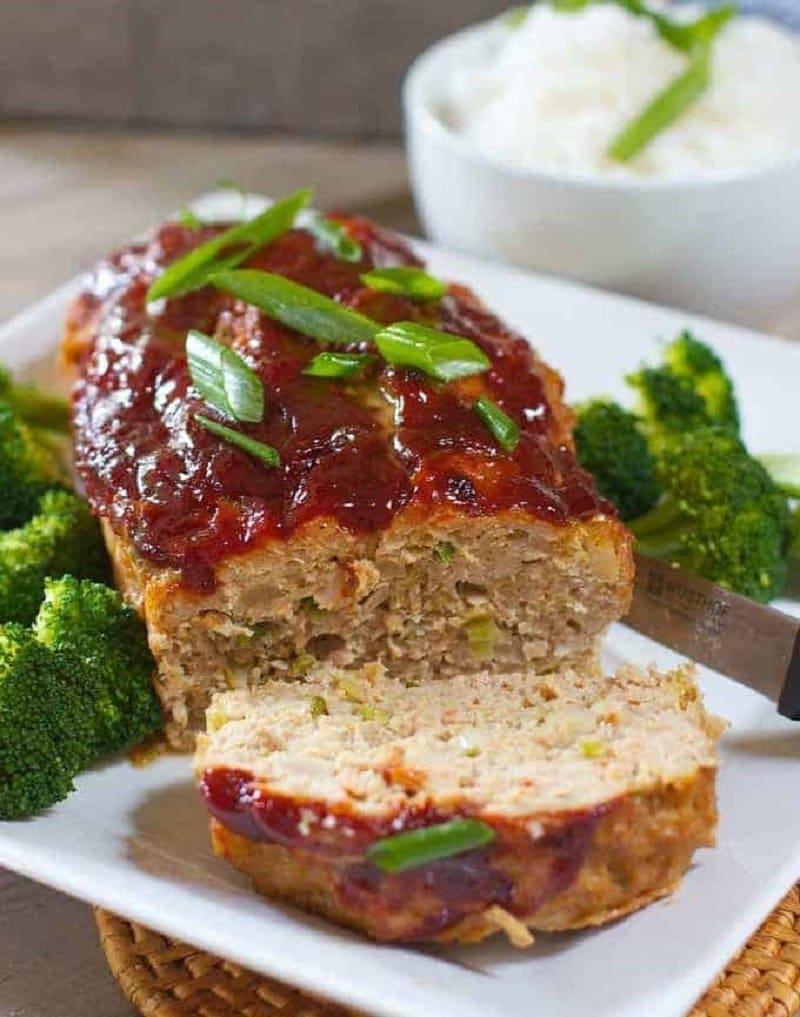 Makes 8 servings
Ingredients:
1 tablespoon sesame oil (not toasted)
1 medium carrot, shredded
1 celery stalk, minced
1/2 large yellow onion, minced
2 garlic cloves, minced
1" piece of ginger, minced
1/2 cup white wine
1 mild Italian sausage, raw, casing removed
¾ lb ground chicken or turkey breast
1 egg, raw
1 cup panko breadcrumbs
4 tablespoon hoisin sauce
2 tablespoon soy sauce
Instructions:
Preheat the oven to 350°F.
Heat the oil in a large skillet over medium-high heat. Add the celery, onion and ginger. Cook and stir for 5 minutes.
Add the carrot and garlic. Cook and fry for another 5 minutes or until vegetables are tender.
Deglaze with white wine. Continue to simmer until the liquids have evaporated. Set aside to cool.
In a large bowl combine the ground meat, sausage meat, egg, panko, 2 tablespoon of the hoisin sauce, all the soy sauce and the cooled vegetable mixture.
Spray a loaf pan with nonstick vegetable spray. Pour the meat mixture into the pan. Gently pat it into place; don't pack it in.
Coat the top of the mixture with the remaining 2 tablespoon of hoisin sauce.
Cook for 50-60 min or until the internal temperature reaches 165°F.
Easy-Peasy Chicken Meatloaf with Sweet Chili Glaze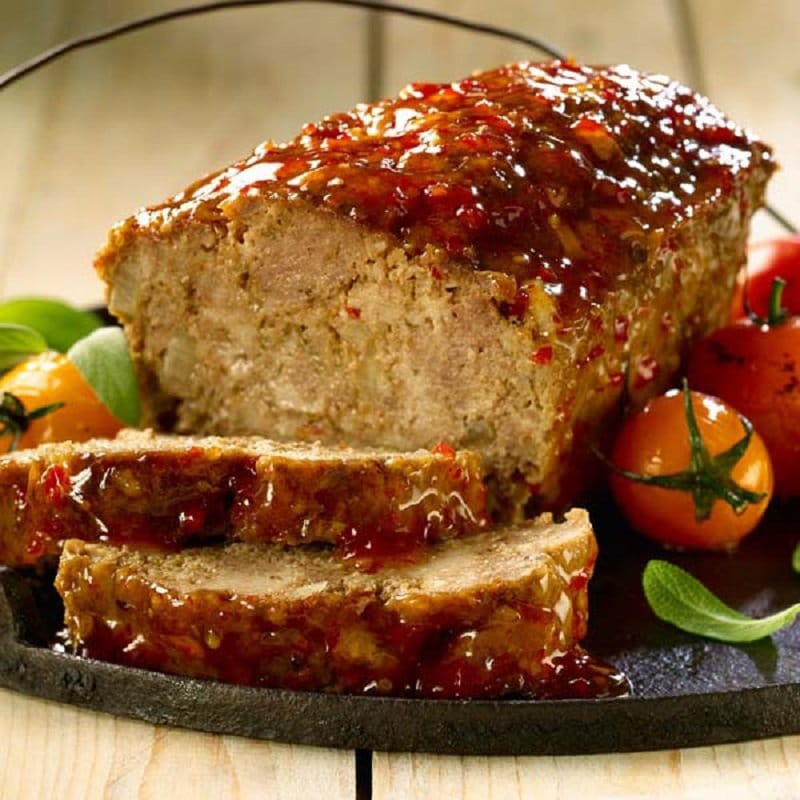 The stuffing mix adds body and flavor to this recipe.
Makes 6 servings.
Ingredients:
2 lbs ground meat chicken
2 eggs
1 box stuffing mix
1 cup hot water
1 small onion, grated
2Tbs of Dijon mustard
1Tbs of grill seasoning, or salt and pepper
2-3 cloves grated garlic (or 2 teaspoons granulated garlic)
½ teaspoon red chili flakes or to taste
1/4 cup low-calorie ketchup
Glaze:
1/2 cup ketchup
1/4 cup sweet chili sauce
1 Tbsp sriracha
Directions:
Preheat the oven to 375°F.
Mix all ingredients except meat and egg with the stuffing mixture. Allow stuffing to moisten.
When the stuffing mix has cooled, add the ground chicken and eggs.
Mix all the ingredients thoroughly.
Place the meat loaf ingredients into a loaf pan. Alternatively, line a baking sheet with foil, spray the foil with cooking spray, and form a loaf. Place the loaf on the cooking sheet.
Bake for 30-35 minutes.
To glaze:
Mix the glaze ingredients. Spoon the glaze over the meatloaf at 30 minutes into the baking time. Continue baking an additional 20 minutes.
The internal temperature, taken from the middle of the loaf, will be at 165°F when the loaf is done.
Easy Comfort-Food Chicken Meatloaf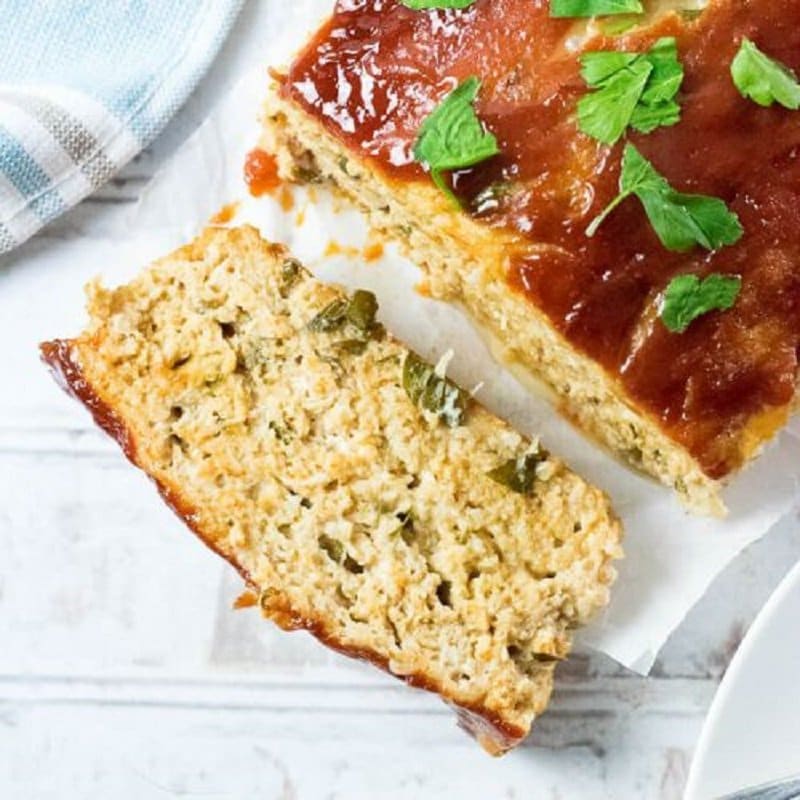 This is an undemanding recipe that delivers that comforting traditional taste.
Ingredients:
1 lb 100% breast meat ground chicken
1/3 cup 100% whole grain breadcrumbs
1 medium sweet onion, diced
1 tablespoon minced garlic
2 eggs
1/3 cup of ketchup
Instructions:
Preheat the oven to 400°F.
Mix ingredients well and place in a lightly greased casserole pan.
Bake for 45 minutes or until the loaf reaches an internal temperature of 165°F.
Meatloaf Muffins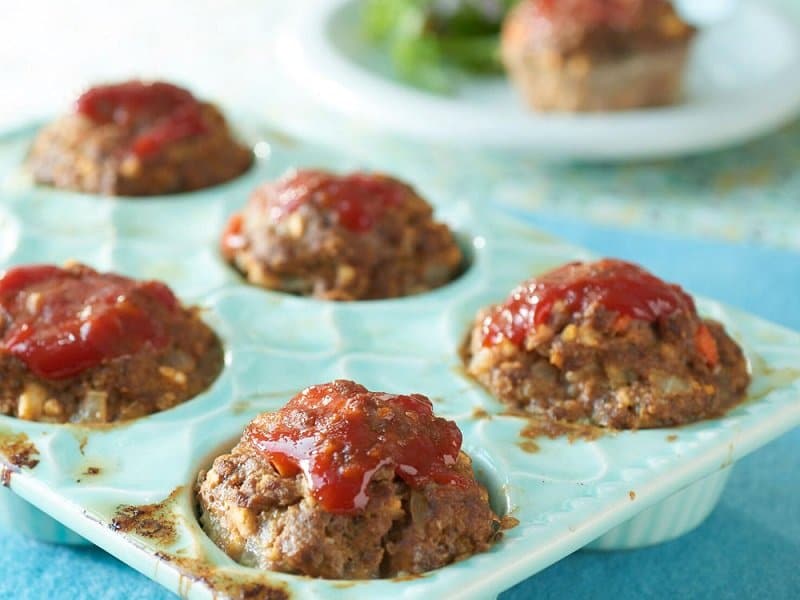 These individual servings pop right out of a muffin pan, cook up faster than a conventional meatloaf and are fun to eat. They're also convenient to cook ahead and freeze for those times when you need to grab something fast for lunch or dinner.
You May Also Like: Weight Watchers Meatloaf Recipe
Ingredients:
1 lb ground chicken
1 egg
1/2 cup onion, finely chopped
1/2 cup carrots, grated
1/2 cup mushrooms, finely chopped
1/4 cup fresh parsley, chopped
1/2 cup dried breadcrumbs
1 tablespoon Worcestershire Sauce
1/4 cup ketchup
1 teaspoon salt
1/2 teaspoon ground black pepper
Instructions:
Preheat the oven to 400°F.
Cook and stir the onions, carrot, and mushrooms in a large skillet over medium-high heat until the vegetables are tender.
Coat a 12-pan muffin tin with nonstick cooking spray.
In a large bowl, mix the ground chicken, egg, onion, carrots, mushrooms, parsley, and breadcrumbs. Add Worcestershire sauce, ketchup, and egg. Mix well but only until just combined – don't overmix. Best is to mix the ingredients with your hands.
Spoon the meatloaf mixture into the muffin cups, filling each one about two-thirds.
Bake for 20 to 25 minutes.
Use a meat thermometer to ensure that the internal temperature reaches 165°F.
If you prefer to make a traditional meatloaf, either shape one and put it on a lined baking sheet, or spoon the meat mixture into a loaf pan. Bake for 50-60 minutes.
If you're comfortable adding a couple of tablespoons of olive oil to the ground chicken mix, you will create a moist product.
Freezing Meatloaf Muffins:
Put the cooled meatloaf muffins in a freezer container or a plastic zip-lock bag for the freezer. They keep two months.
Quinoa and Chicken Meatloaf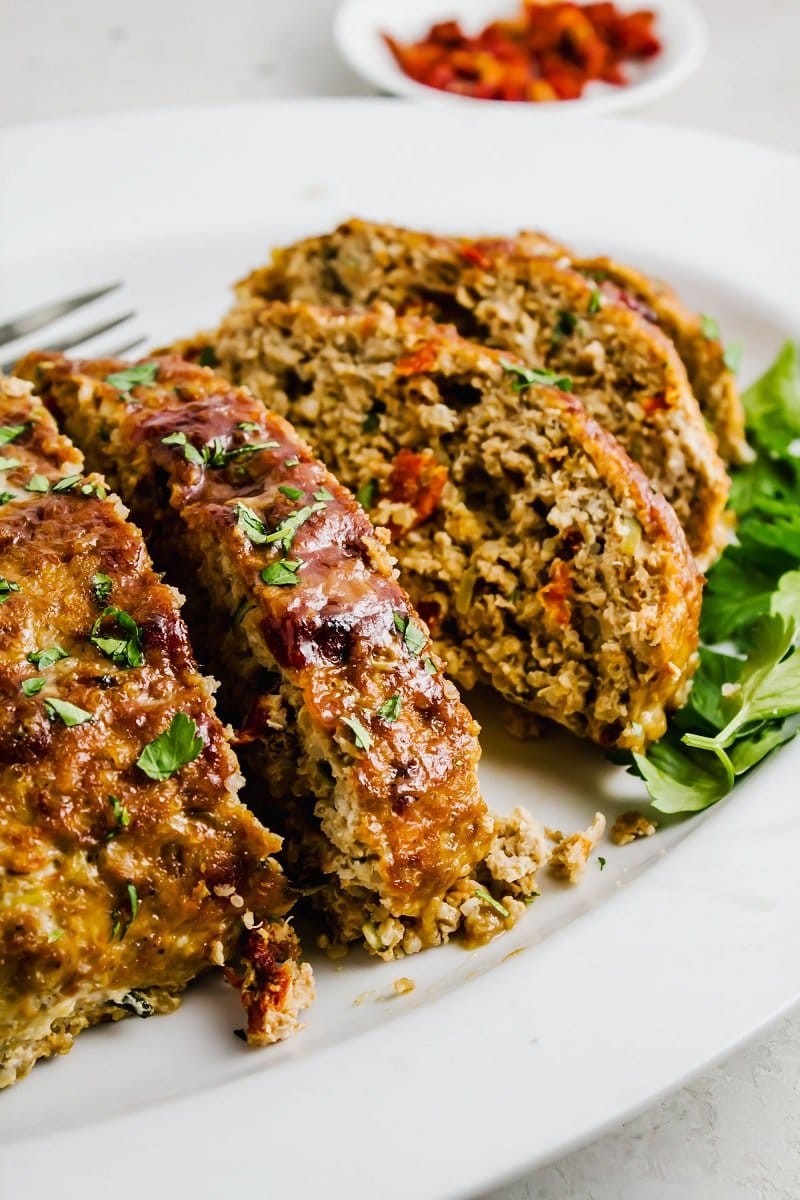 This golden meatloaf packs a big load of protein and tastes delicious.
Prep time: 5 minutes
Cook time: 45 minutes
Serves 4
Ingredients:
1 lb ground chicken, dark meat
1 cup quinoa, cooked
½ cup mushrooms, chopped medium-fine
2 garlic cloves, crushed
1 onion, finely chopped
1 small, grated zucchini
1 small, grated carrot
3/4 cup puffed rice, crumbled finely (you can crumble a couple of rice cakes until fine crumbs)
2 tablespoons Tamari soy sauce
2 tablespoons maple syrup
1 egg
Instructions:
Preheat the oven to 375°F.
Line a loaf pan with baking paper.
Cook quinoa according to instructions. Can also cook the quinoa in a rice cooker. Set aside to cool.
Place all ingredients into a bowl and mix thoroughly.
Pour into a loaf pan. Bake for 45 minutes or until cooked through.
How to produce a moist, tender chicken meatloaf
Ground chicken has almost no fat, which makes the meatloaf diet-friendly but also tends to make your final product somewhat dry. Choose whether to add a little healthy fat for moisture and flavor.
If you do, we recommend that you use olive oil or other healthy oil with a pleasant flavor. One or two tablespoons mixed in with the chicken and seasonings will make a difference.
We have included a recipe that includes breadcrumbs and milk, for the same reason: to add moisture. You may use broth, alternative milk, or water instead. Grated cheese added to any loaf also adds moisture, but on the other hand, calories, too.
How long to bake chicken meatloaf
It's important that your meatloaf reach an internal temperature of 165°F. degrees. Without a meat thermometer, press the center of the loaf after baking for 45-50 minutes. A fully cooked chicken meatloaf will be firm to the touch.
Storage:
Cover leftovers tightly with foil or plastic wrap. Refrigerate up to 3 days.
To freeze raw: Wrap the raw loaf in foil, then put it in a freezer bag. Freeze up to 6 months. Thaw in the refrigerator overnight before baking.
To freeze cooked: Cool the loaf. Wrap it well in foil, then put it in a ziploc bag. Freeze for up to 3 months. Thaw in the refrigerator overnight.
To reheat the cooked loaf
Have the oven at 300°F. Put 2-3 tablespoons of broth or water in a shallow pan and place the thawed loaf on top. Cover the pan tightly. Heat the loaf for 20-30 minutes.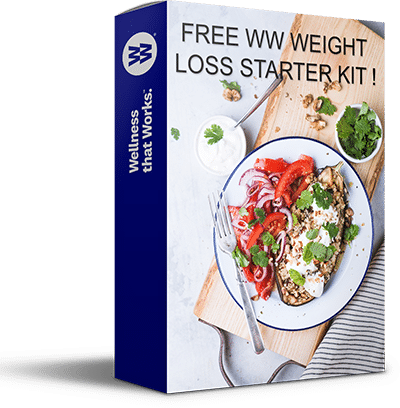 FREE WW WEIGHT LOSS STARTER KIT
+ exclusive tips, recipes & more to lose weight, increase confidence, and live a healthier and happier life !