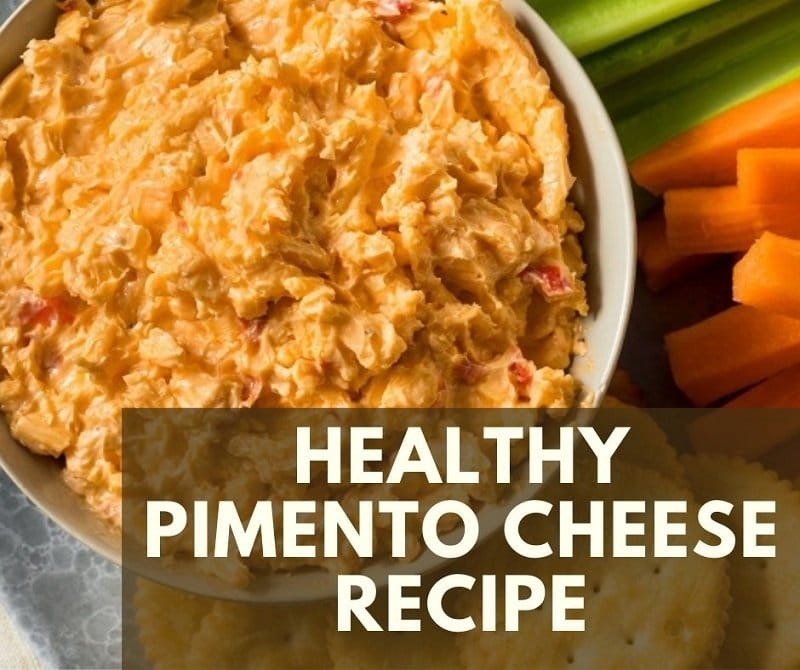 Pimento cheese is sometimes called "the caviar of the South," because, at every Southern social event, a bowl of it appears on the table. With its creamy texture and the tangy flavor contributed by pimento peppers, it's commonly eaten as a delicious dip or spread for crackers and sandwiches.
But there are many other ways of enjoying pimento cheese. Here are some suggestions:
Try a spoonful or two as a filling for an omelet or a grilled pimento cheese sandwich. Deviled eggs stuffed with pimento cheese make a change from the usual yolk-and-mustard stuffing.
Grill a low-fat hamburger and top it with a tablespoon of pimento cheese. Stuff a tomato, thick bell pepper slices, or cucumber boats with pimento cheese.
Classic pimento cheese recipes are made with plenty of mayonnaise. We offer healthier, low-fat versions of pimento cheese that you can whip up in a few minutes.
Healthy Pimento Cheese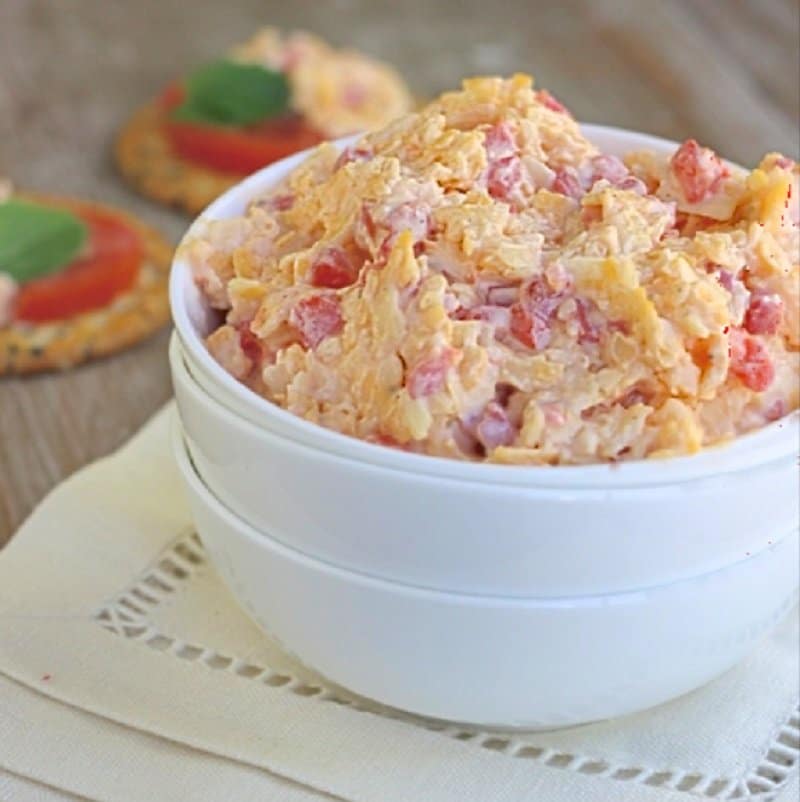 Yield: 2.5 cups
Ingredients
1 cup (4 ounces) shredded pepper jack cheese
1 cup (4 ounces) shredded reduced-fat sharp cheddar cheese
2 tablespoons unflavored Greek-style yogurt
1 (4-ounce) jar chopped pimentos
1/2 teaspoon Kosher salt
Freshly ground black pepper to taste
Dash of hot sauce, if desired
Instructions:
Combine all ingredients. Refrigerate until ready to serve.
Garlicky Pimento Cheese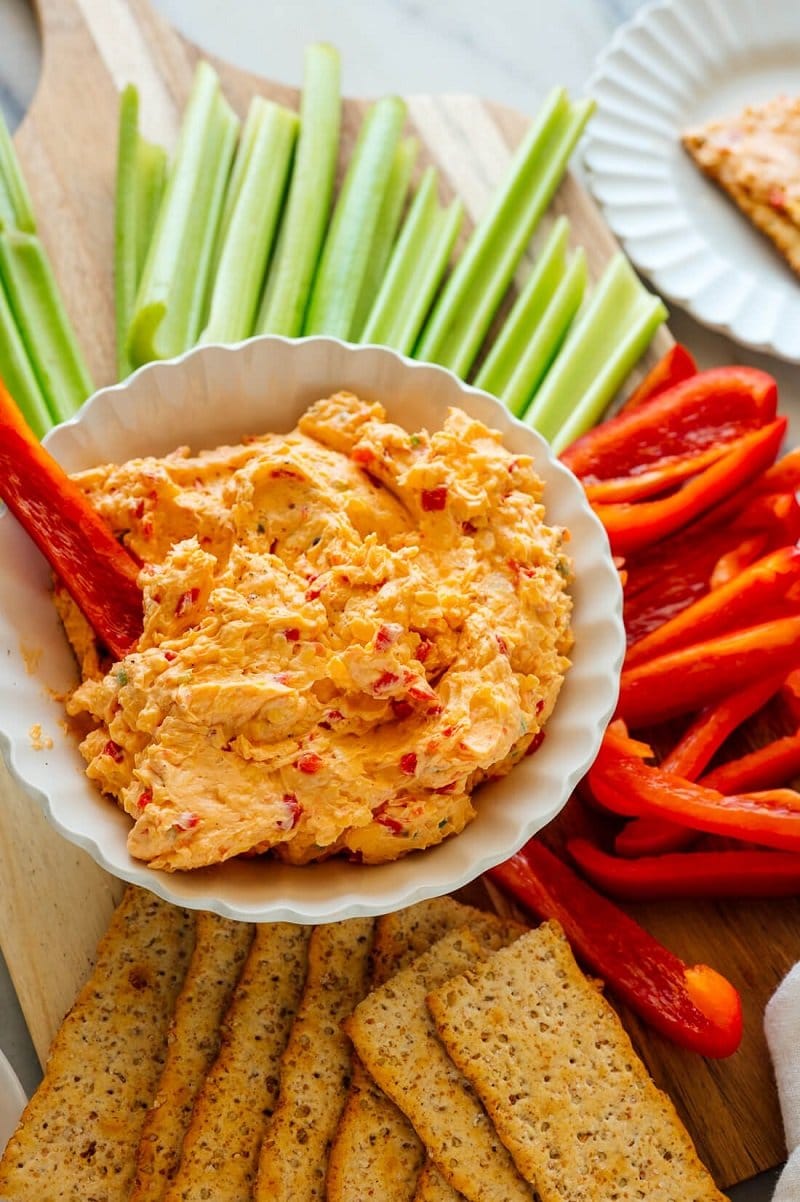 Prep time: 5 minutes
Servings: 4-8
Calories: 149 kcal
Ingredients:
2 cups shredded reduced-fat sharp cheddar cheese
1/4 cup unflavored zero-fat Greek yogurt
1/4 cup light mayonnaise
4 oz jar chopped pimentos, drained
1/2 teaspoon garlic powder
1/8 teaspoon salt
1/8 teaspoon pepper
Instructions:
Put all ingredients in a bowl and mix well.
Jalapeno Pimento Cheese, No Mayonnaise
This is great as a sandwich spread. Fill the sandwich with a big slice of juicy tomato.
Prep time: 5 minutes
Yield: 2 cups
Ingredients:
1 cup unflavored Greek yogurt
1 jalapeno pepper, diced (add more for extra spicy heat, or less for milder heat)
2 oz jar diced pimento
8 oz sharp cheddar cheese, grated
4 oz Monterey jack cheese, grated
Dash of cayenne pepper, if desired
Instructions:
In a medium bowl, mix all ingredients until combined.
Chill for ½ hour to meld the flavors.
Pimento Cheese with Scallions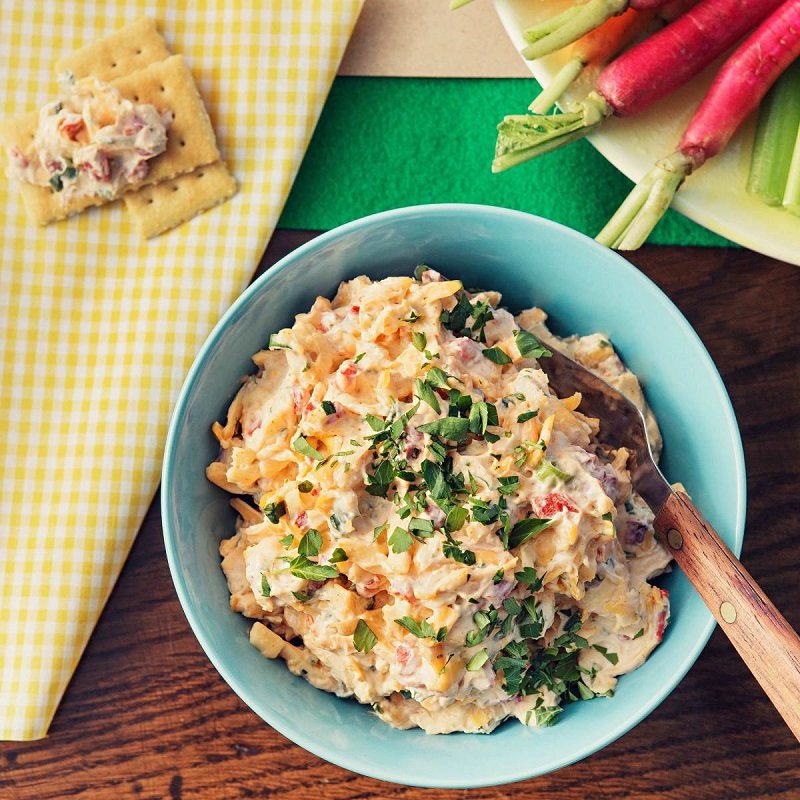 Scallions add a light, oniony touch to this version of pimento cheese.
Prep time: 5 minutes
Yield: 1.5 cups
Serving Size: 2 Tablespoons
Calories per Serving: 93.1
Ingredients:
1 ½ cups shredded reduced-fat sharp Cheddar cheese
¼ cup low-fat mayonnaise
1 ounce 1 4-ounce jar sliced pimientos, drained and chopped
2 tablespoons minced scallions
Optional: 1 tablespoon hot sauce
Instructions:
Combine cheese, mayonnaise, pimientos, scallions, and hot sauce (if using) in a medium bowl. Mix well.
Cover and refrigerate for up to 3 days.
Read Related Topic: Low-Fat Alfredo Sauce with Cream Cheese
Fat-Free Pimento Cheese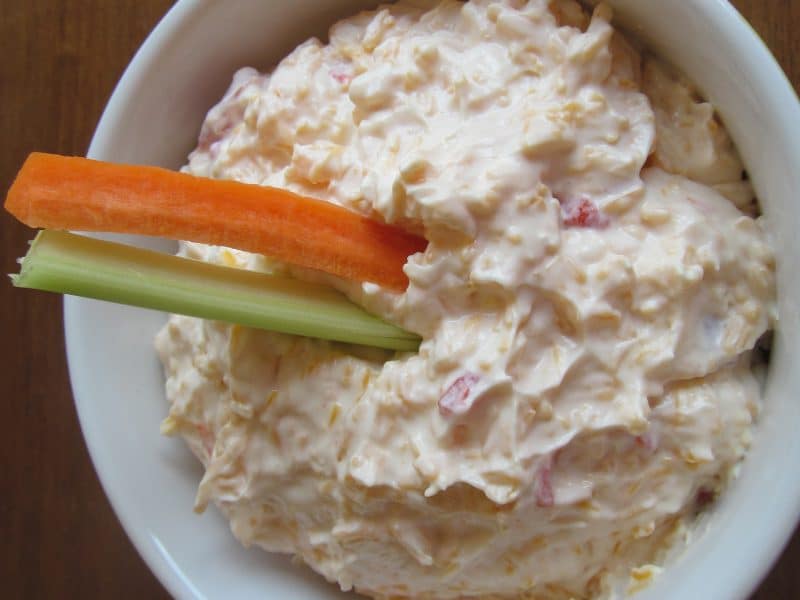 This skinny spread tastes surprisingly rich.
Prep time: 7 minutes
Yield: 6 servings of 1/3 cup each
Calories per serving: 115.9
Ingredients:
4 oz sharp cheddar, shredded
4 oz fat-free cheddar, shredded
¼ cup chives, diced
3 oz fat-free cream cheese
1/4 cup unflavored, fat-free Greek yogurt
4 oz jar pimentos, drained
1/2 teaspoon lemon juice
1/2 teaspoon Worcestershire sauce
1/8 teaspoon cayenne flakes
Salt and black pepper to taste
Directions:
Mix all ingredients in a medium bowl together. Chill in an airtight container.
Low-Fat Pimento Cheese
Prep time: 10 mins
Chill time: 8 hours
47.3 calories per serving
Servings: 20
Yield: 2 1/2 cups
Ingredients:
1 cup grated 2% sharp Cheddar cheese
1 cup grated 2% Monterey Jack cheese
½ cup reduced-fat mayonnaise
¼ cup nonfat plain yogurt
2 tablespoons pimento peppers, chopped finely, and more if desired
¼ teaspoon salt
¼ teaspoon garlic powder
¼ teaspoon onion powder
¼ teaspoon black pepper
1 teaspoon hot sauce
1 pinch paprika
Instructions:
Combine cheeses, mayonnaise, yogurt, pimentos, salt, garlic powder, onion powder, black pepper, hot sauce, and paprika in a bowl. Mix well. Cover with plastic wrap and refrigerate, 8 hours to overnight, before serving.
You May Also Like: Baked Mac n' Cheese with Hot Dogs & Tomatoes
Baked Pimento Cheese Dip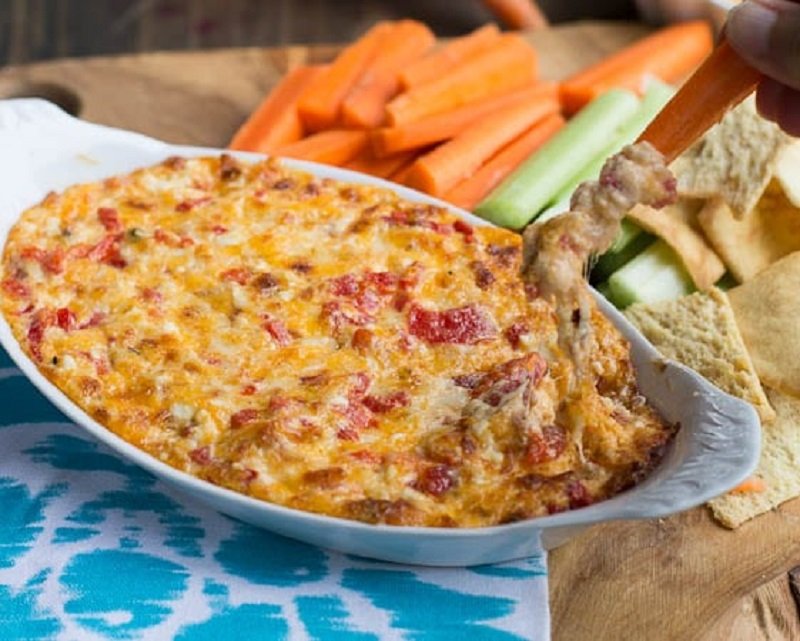 This is different: the pimento cheese is baked to a warm, sticky dip that's fabulous with celery sticks or crackers.
Prep Time: 10 minutes
Cook time: 25 minutes
Ingredients:
1 (8-oz package) reduced-fat cream cheese, softened
1/2 cup reduced-fat mayonnaise
1/2 cup sour cream
3 cups shredded cheddar cheese
1 cup shredded parmesan cheese
1 (12-oz) jar roasted red peppers
3/4 tsp garlic salt
1 tsp Worcestershire sauce
1/4 to 1/2 tsp hot sauce
Instructions:
Preheat oven to 350°F. Lightly spray a 9×13-inch pan with cooking spray.
Drain and chop the roasted red peppers.
In a bowl, combine all ingredients and mix until well combined. Spread into prepared pan.
Bake for 25-30 minutes, until bubbly.
Pimento Cheese Deviled Eggs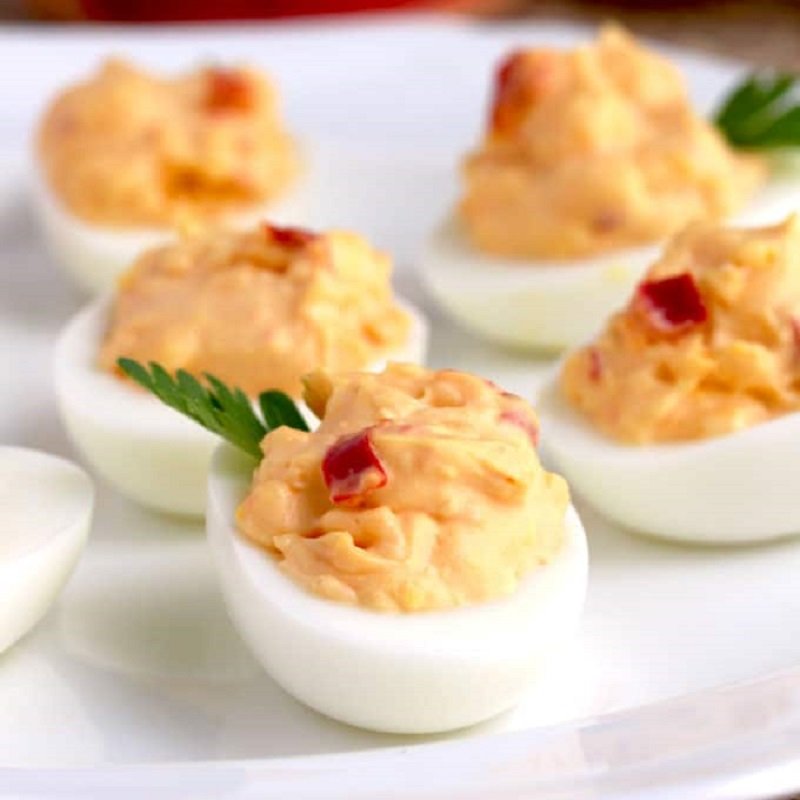 Prep time: 30 minutes
Yield: 12 servings
Ingredients:
6 hard-boiled eggs, peeled and halved
1/4 cup grated cheddar cheese
2 tablespoons reduced-fat mayonnaise
1 tablespoon pimentos, drained and chopped
2 teaspoons Dijon mustard
2 teaspoons chopped onion
1/2 teaspoon minced fresh garlic
Salt and pepper to taste
Finely chopped pimentos to garnish
Directions:
Remove egg yolks to a bowl. Reserve whites for stuffing.
Mix yolks thoroughly with the cheese, mayonnaise, pimentos, mustard, onion and garlic. Season with salt and pepper.
Spoon or pipe the yolk mixture into reserved whites. Garnish the eggs with chopped pimento.
Let's find out more about pimentos
Pimentos are a sweet, almost heat-free pepper. They're also known as cherry peppers because of their red color and heart shape. They usually measure about 3 to 4 inches long and 2 to 3 inches wide, with a short, thick green stem.
The pimentos you buy in jars are preserved in brine. You can also use fresh pimentos in any of the above recipes – raw and finely chopped, or roasted.
Fresh pimentos can be frozen. Wash and dry them, then decide if you want to freeze them whole, sliced, or chopped. They'll keep 6 months in the freezer. Frozen pimentos are best in cooked foods rather than pimento cheese, so we suggest using their mild flavor to liven up a pot of rice or any pasta dish. Or spread some over fish you intend to bake.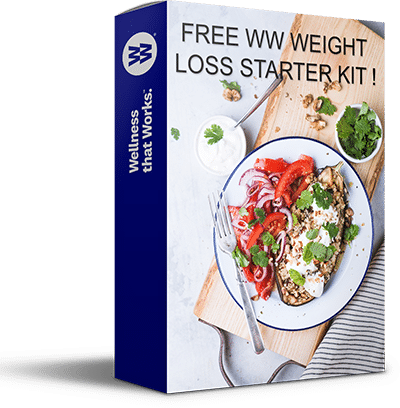 FREE WW WEIGHT LOSS STARTER KIT
+ exclusive tips, recipes & more to lose weight, increase confidence, and live a healthier and happier life !