A few weeks ago, I hit the road for a weekend road trip by myself.  I found that packing Healthy Snacks For Adults On The Road isn't as easy as I imagined.  Why?  Because when you are driving and want a snack, it's a bit harder to eat on the road.  At least, for me it is.  So, I came up with some great items that are easy to grab and eat while driving, and also healthy in the process.  This worked out great since I had just been given the chance to review and share about Entenmann's® Little Bites®.  I hadn't realized that they are great for snacking on road trips.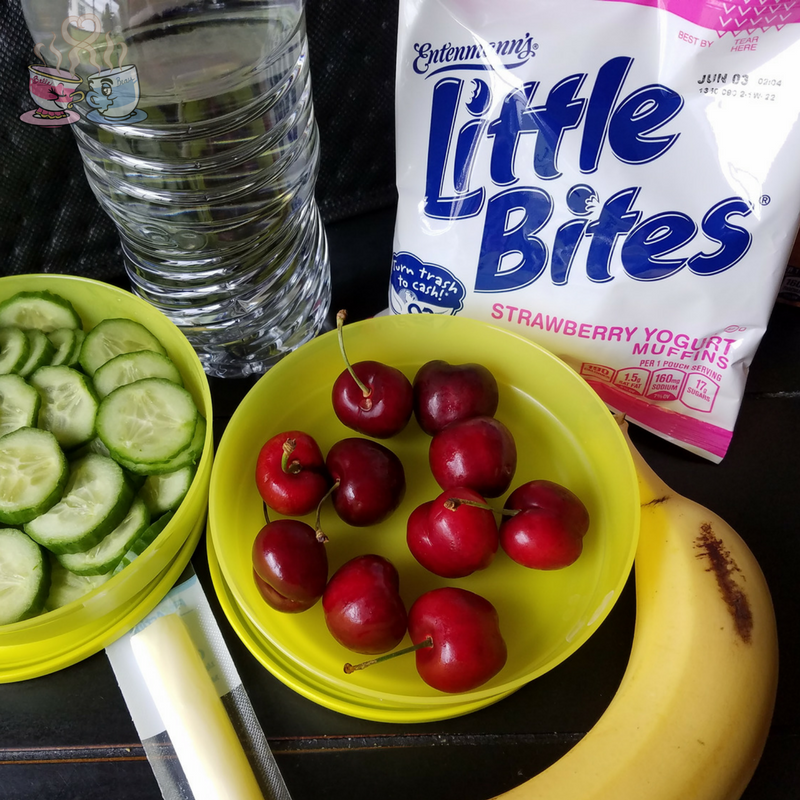 Healthy Snacks For Adults On The Road
Right away, I have to tell you that Entenmann's® sent me some Entenmann's® Little Bites® Strawberry Yogurt Muffins to review recently, and they were focused on seeing how my son enjoyed the muffins.  Frankly, my son loved them, but so did I.  In fact, it fit perfectly into my desire to write about healthy snacks for adults on the road.  So, here we are.  Talking about fighting with the Wee Child over which of us would get to eat these muffins!
Pack Entenmann's® Little Bites® Strawberry Yogurt Muffins:  Seriously, if you haven't tried this seasonal flavor, you need to do so now.  We have always been fans of Entemann's products, but knowing that these muffins contain no corn syrup or trans fats kept them on my "grab and go" list.  When I tried this flavor, I knew it would fit into my routine easily with a cup of yogurt or a glass of milk and a piece of fruit for breakfast.  It's also ideal for adding to my bag for a road trip.  This one does double duty as a great treat that kids will love while also being adult-friendly.
Back plenty of water:  We may not like having to stop for breaks along the way, but staying hydrated helps tremendously.  The older we get, and if we are overweight at all, means swelling and water retention can be an issue.  Staying hydrated with water versus soft drinks can help make this not be an issue.  Nobody wants to arrive at the destination with swollen ankles.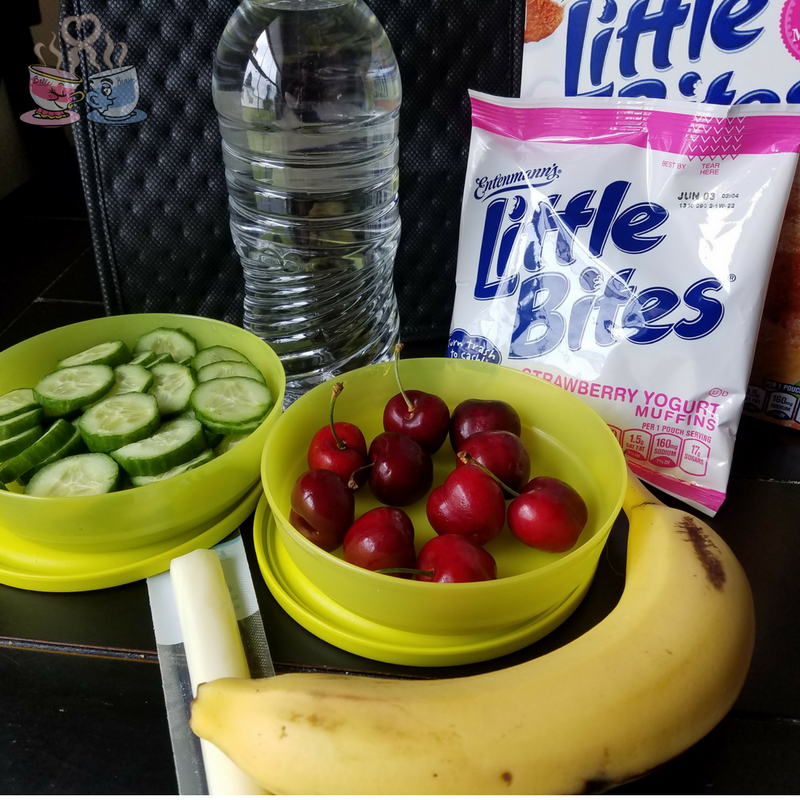 Don't skip the protein:  One thing that keeps me satisfied longer is a bit of protein as a snack.  The muffins are great and satisfying, but I love pairing them with a low-fat string cheese or some nuts for longer lasting satisfaction. Trust me when I say this will help you keep energy up while on the road.
Antioxidant-rich snacks:  When I am focusing on healthy snacks for adults on the road, I am also considering long-term health.  That's part of why I reach for the Entenmann's® Little Bites® Strawberry Yogurt Muffins.  They are a healthier and satisfying option, but I know I need some extra nutrients in my day.  I choose things like fresh cherries since they are so rich in antioxidants.  Plus, they are just sweet enough and easy to eat on the road.
Fruits and veggies:  I add in cucumber and banana to round out my bag for a day on the road, but that doesn't mean you can't get creative to add what you prefer.  These are just some of my favorites.  Cucumber adds some extra crunch that I need instead of chips, and a banana is always a favorite snack that satisfies better than some fruits.
Whether you are headed out for a fast road trip I recently was, or you are heading for a longer trip and need good snack ideas, this list is ideal.  Don't forget to grab the Entenmann's® Little Bites® Strawberry Yogurt Muffins to stuff into your bag for breakfast or a snack that is full of flavor, satisfying, and for my Weight Watchers friends, only 7 SmartPoints per bag!  Healthy snacks for adults on road trips are just as easy to find as those for kids!