This herbed air fryer chicken breast is a personal favorite way to add flavor to an otherwise bland protein. It's super easy to make, delicious, and kid-friendly. Plus, the air fryer means this is a fast and healthy dish. While paired with honey butter, it can be higher in points, the chicken by itself is a tasty low-point main dish.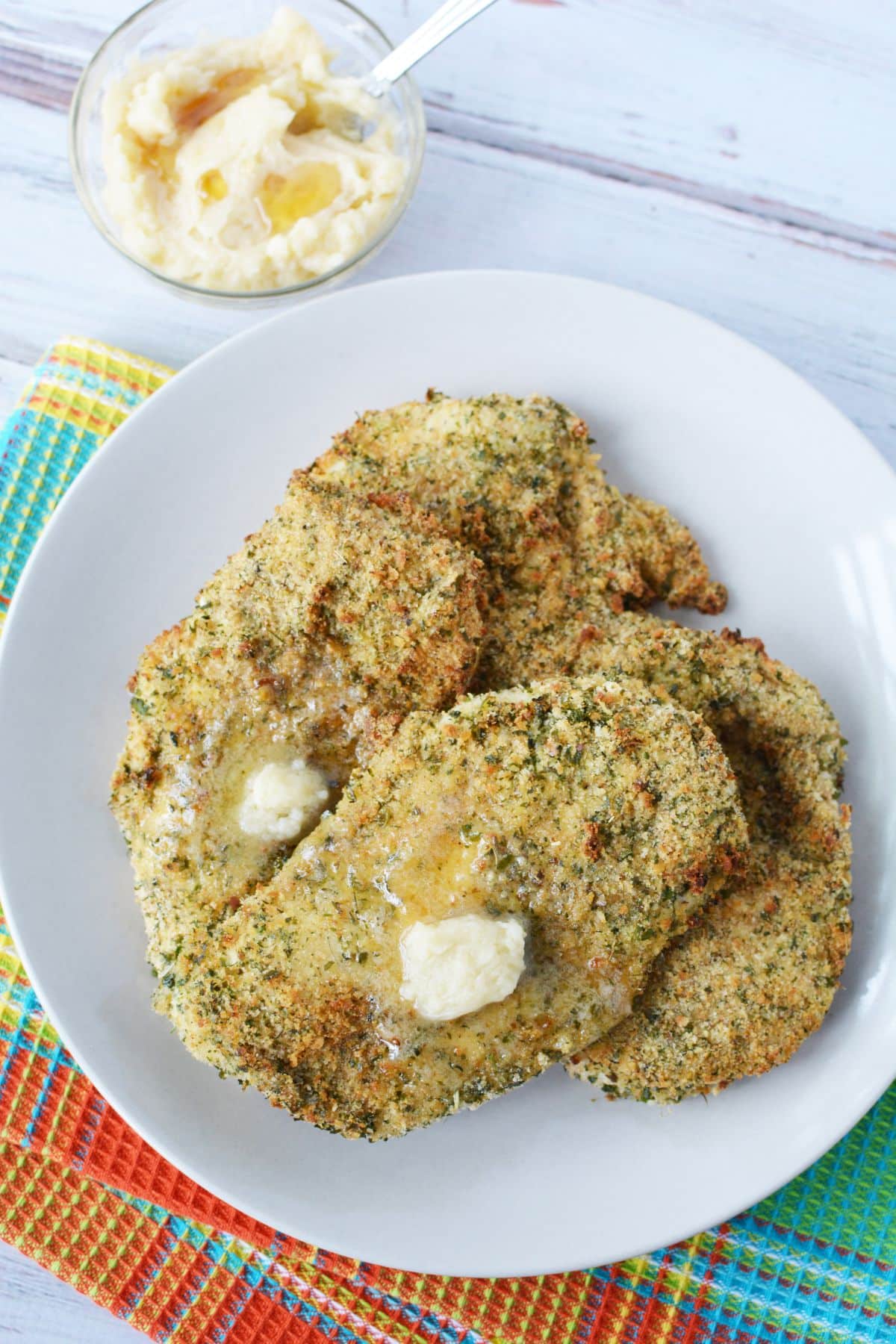 Honey Herbed Air Fryer Chicken Breast
One of the best ways to use your air fryer is to make this tasty air fryer chicken breast. A simply seasoned coating and fast cook time make it a go-to weeknight meal option. Served alone, with honey butter, or even as part of a wrap or sandwich, it's a great choice that fits into many diet plans and is ideal for WW.
What Goes with Air Fryer Chicken Breast?
This is a perfect entree to serve with simple side dishes. It goes great with a vegetable side like these slow cooker green beans, but can be just as tasty as part of a wrap, or sliced and on a salad with this Greek salad dressing. Of course, it can be served with cauliflower mac and cheese, baked potato, or even rice. It's super versatile and is a flavor profile that goes with almost anything you might want to prepare.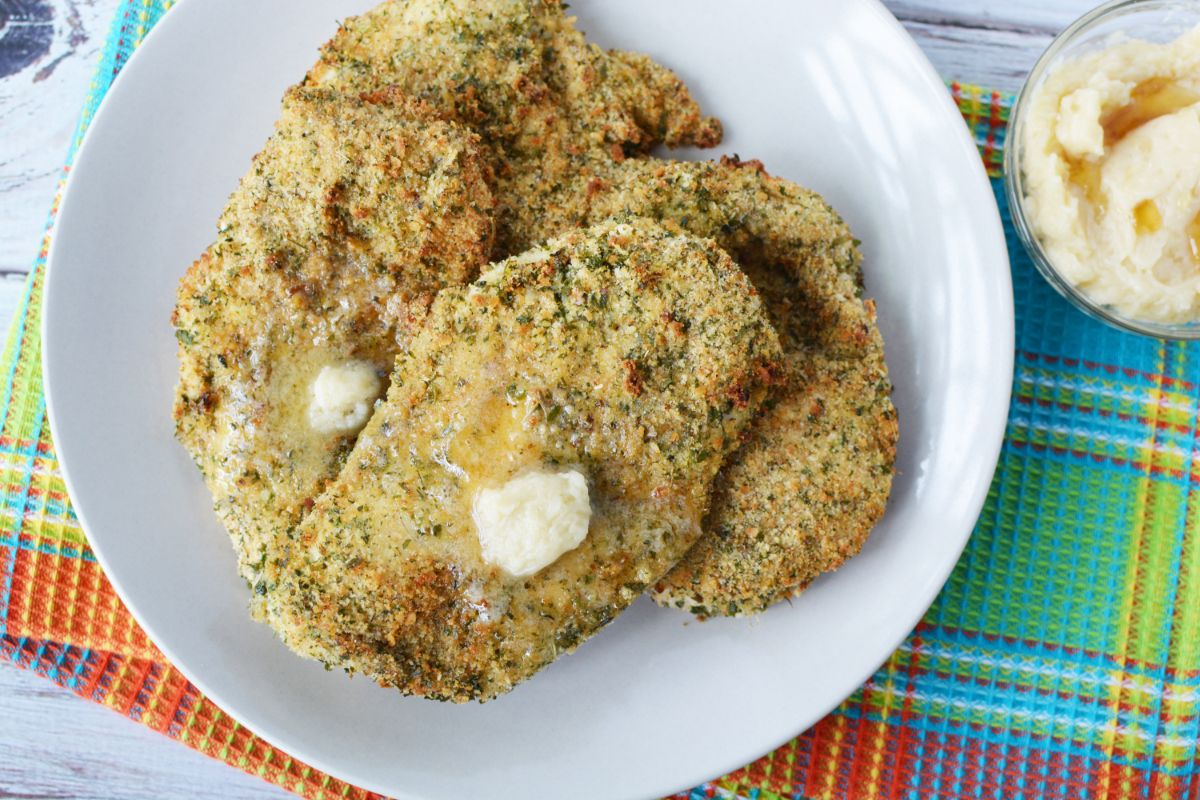 Ingredients
½ cup plain bread crumbs
2 tablespoons dried parsley
1 teaspoon Italian seasoning blend
1 teaspoon garlic powder
½ teaspoon poultry seasoning
½ teaspoon salt
¼ teaspoon black pepper
1 large egg
4 thinly sliced boneless skinless chicken breasts
Optional Honey Butter
⅛ cup butter, softened
⅛ cup honey
Note: You can use seasoned breadcrumbs or Panko breadcrumbs if you prefer different flavors or textures.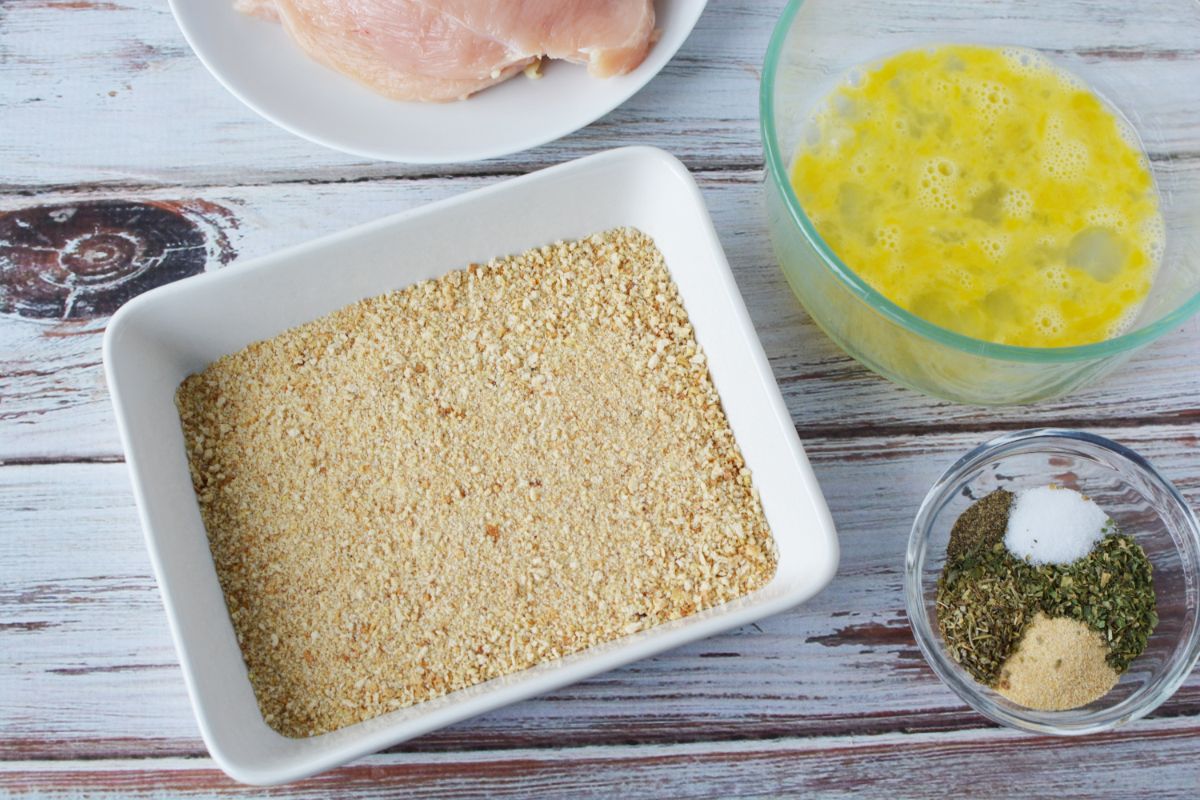 How to Make Honey Herbed Air Fryer Chicken
Start this recipe by spraying the air fryer basket with non-stick cooking spray or live with a piece of air-fryer parchment paper for easier cleanup. Then, lightly season the chicken with salt, pepper, and garlic, if desired. The coating will be seasoned, but I like to add additional directly on the chicken.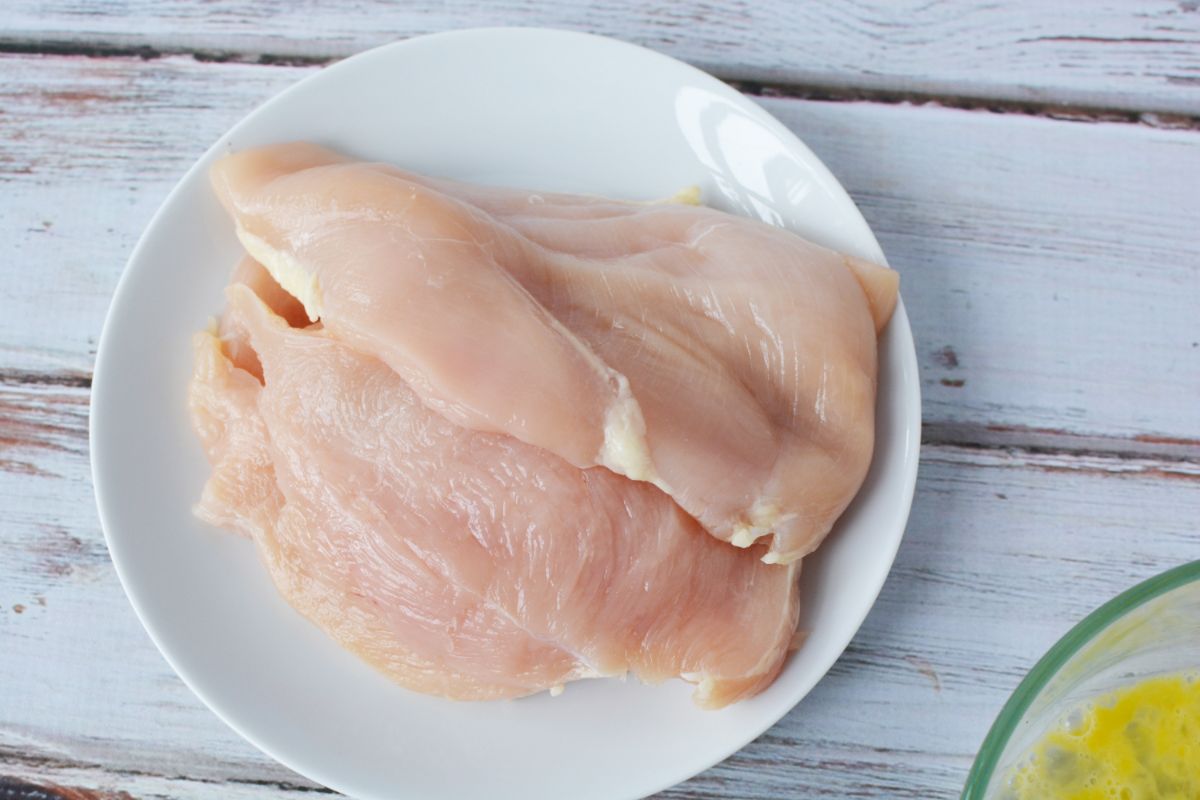 In a small shallow bowl, mix together the breadcrumbs, dried parsley, Italian seasoning, garlic powder, poultry seasoning, salt, and black pepper together until nicely combined.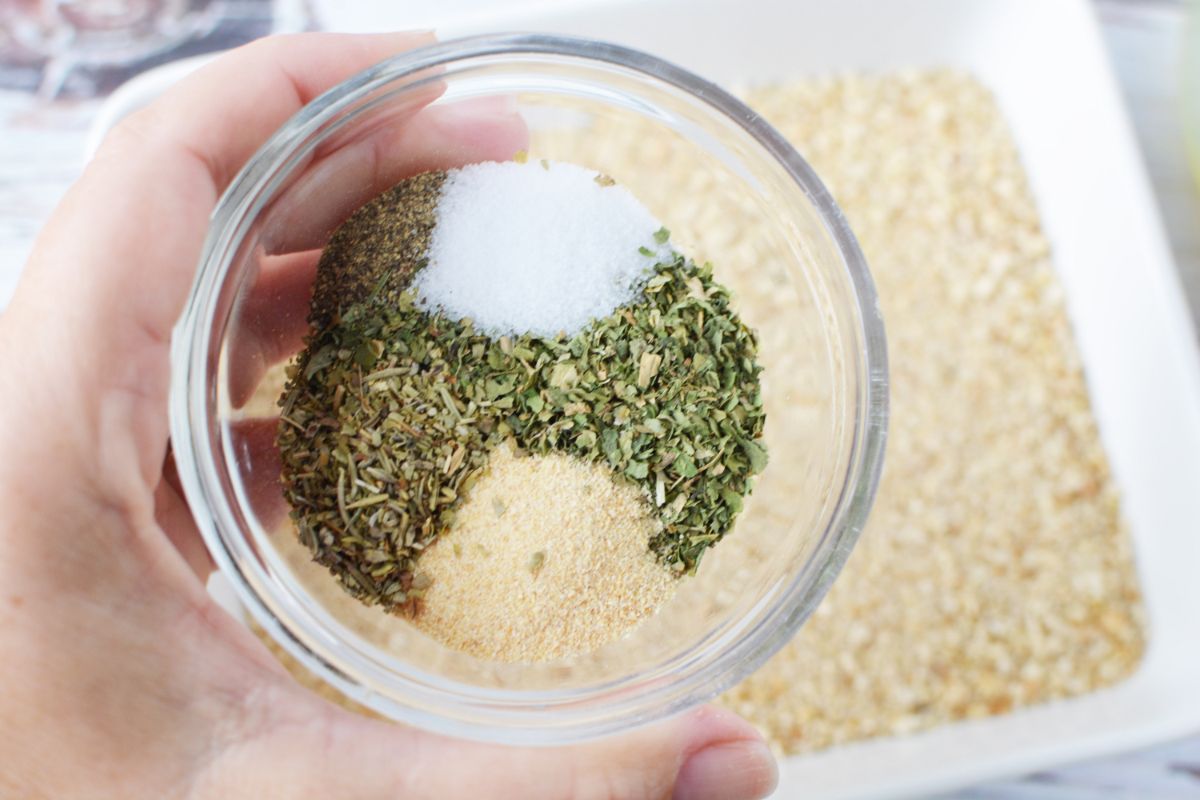 In a separate bowl, beat an egg well. These will be your dredging bowls.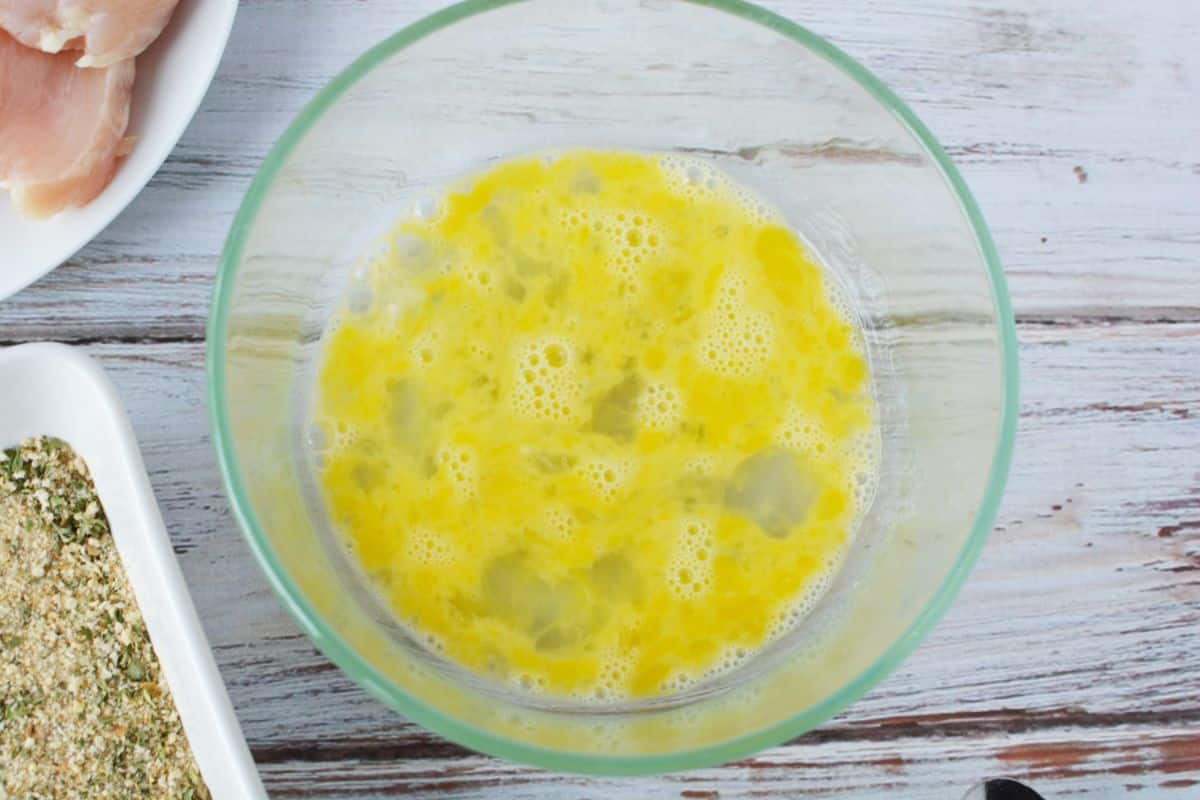 Dredge the chicken first into the egg, coating all sides.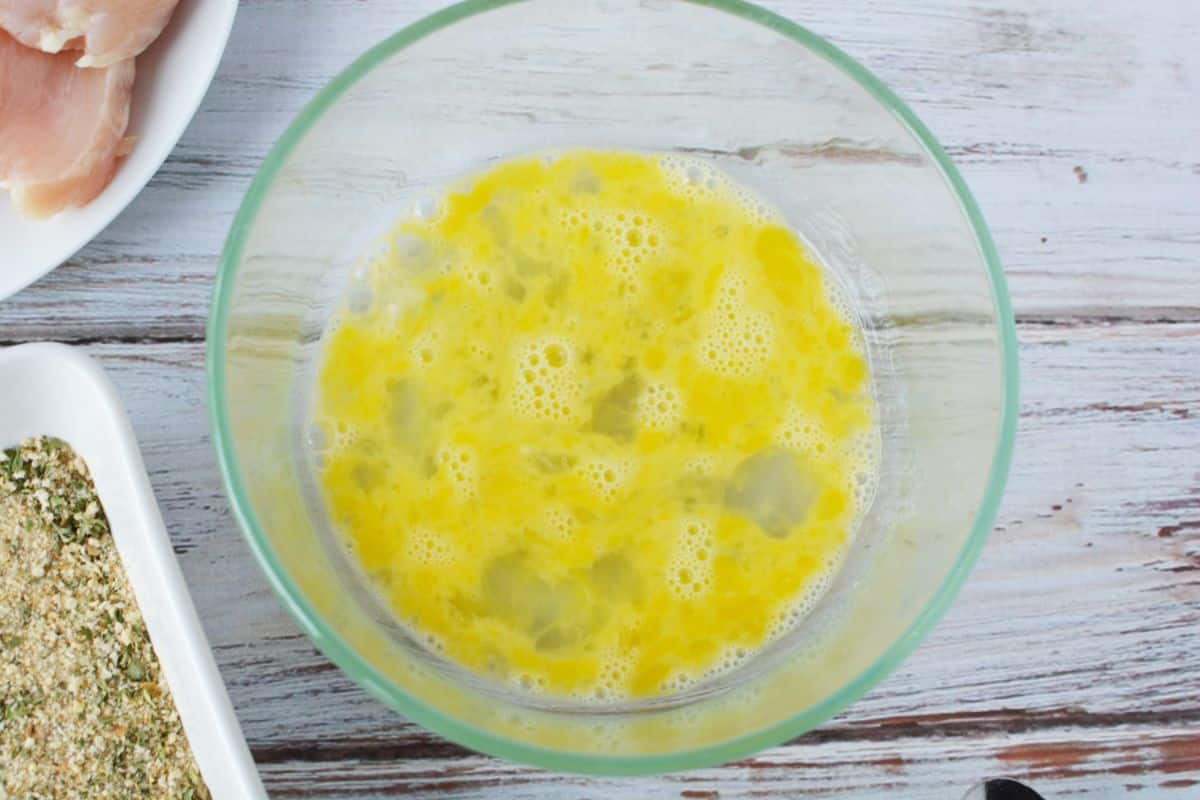 Then, put it into the breadcrumb mixture and coat both sides.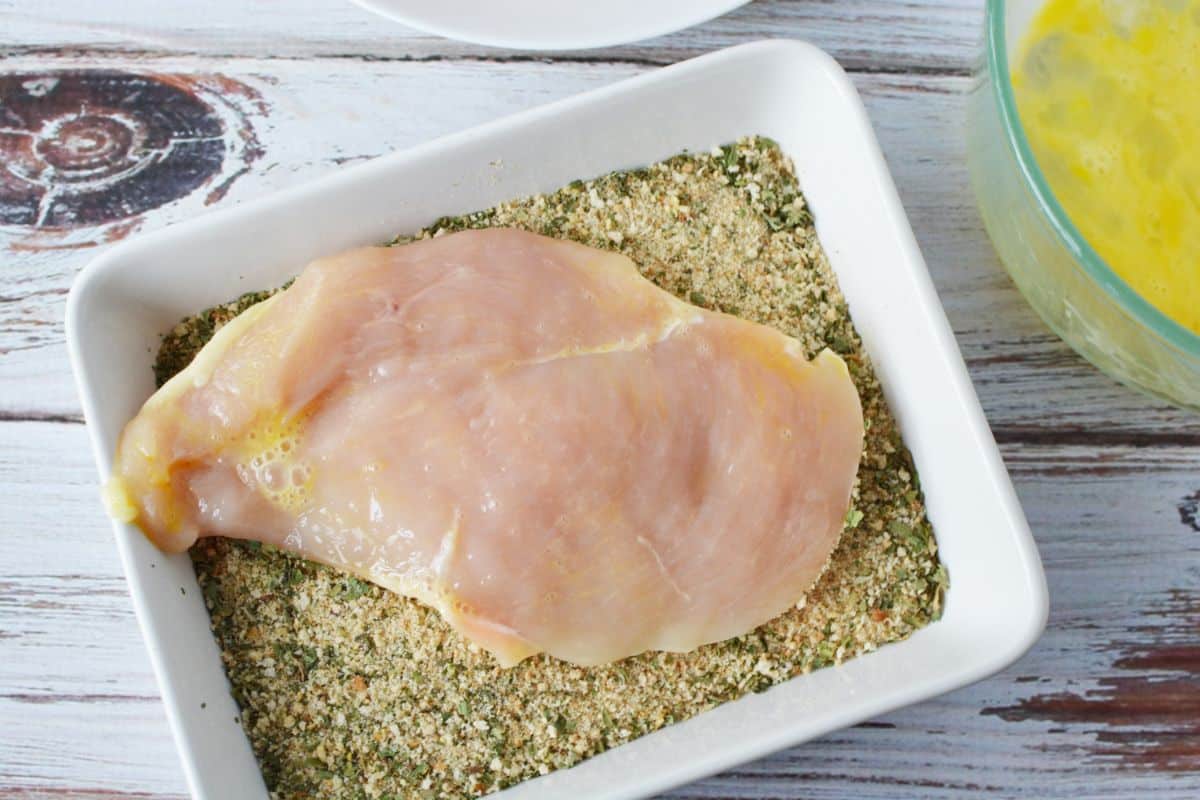 Place the breaded chicken breasts into the air fryer basket in an even layer.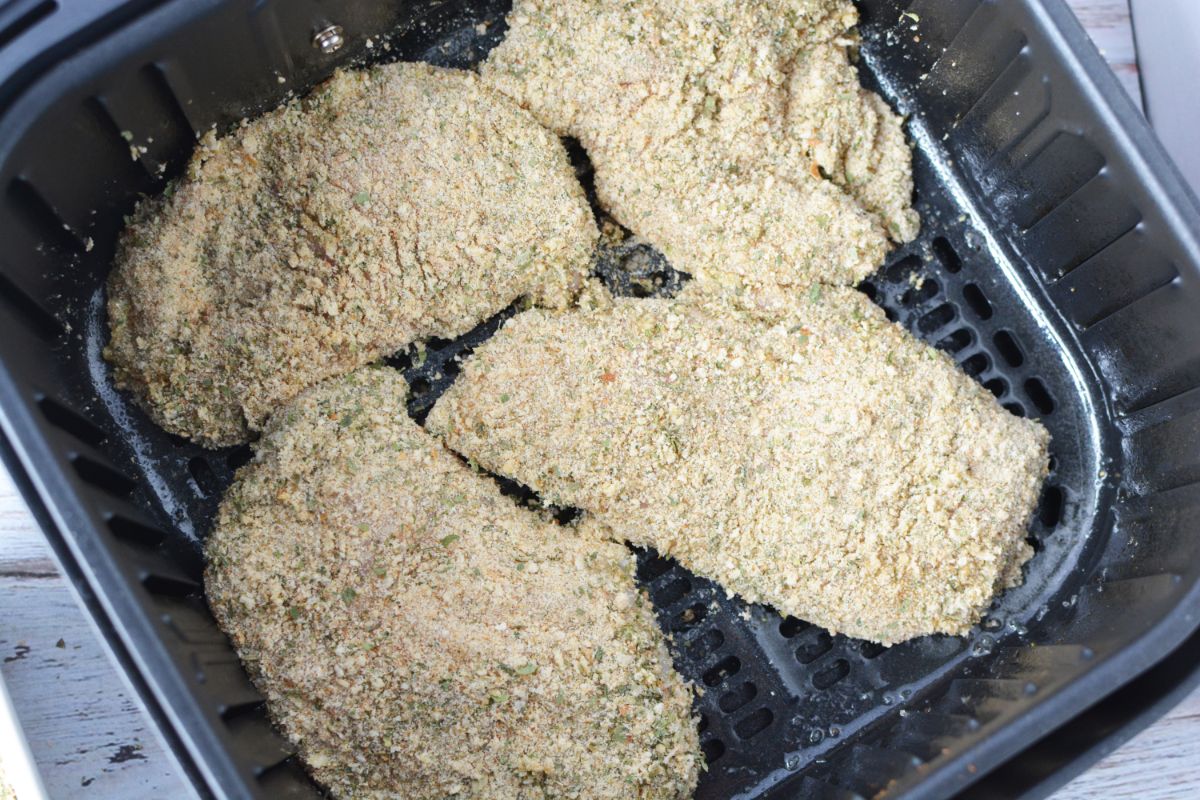 Put the air fryer basket into place and set the air fryer to 380°F. Cook for 8 minutes or until 165°F internally.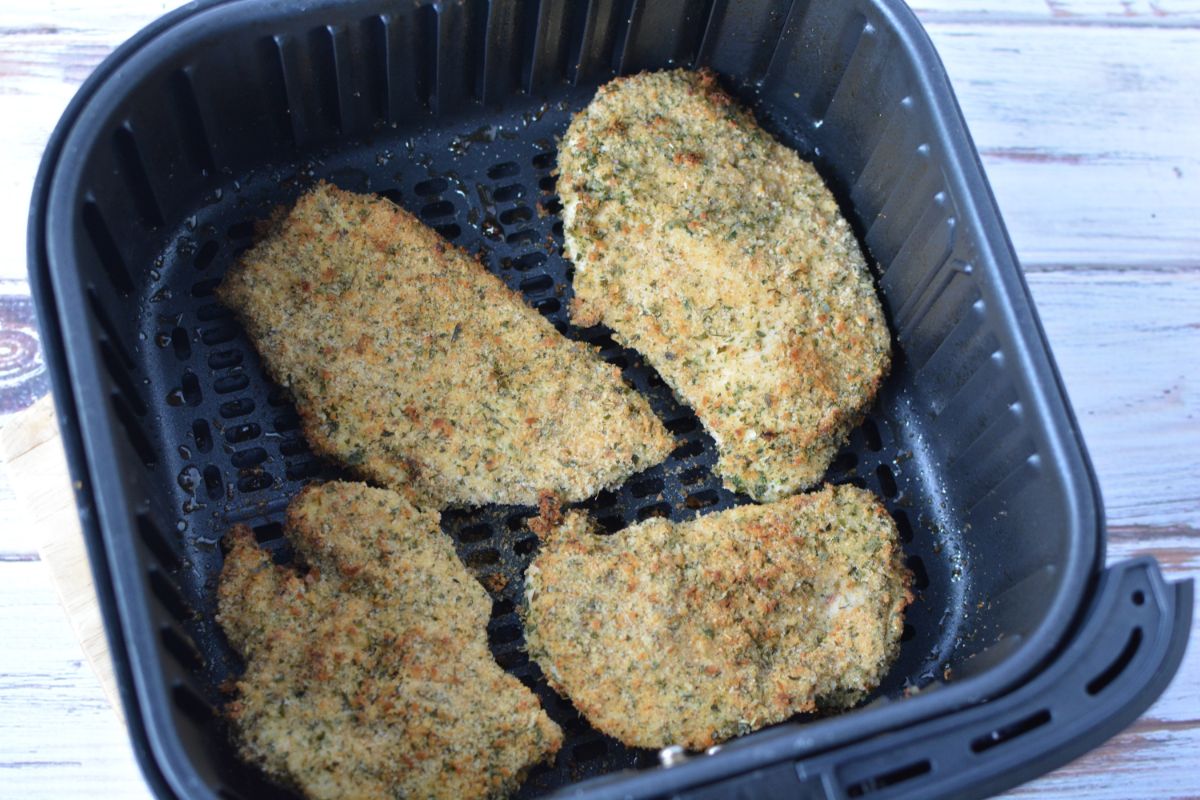 If desired, mix together the butter and honey to drizzle over the top before serving.
WW Points Per Serving
This recipe makes 4 servings and you can find the chicken recipe on the WW website or app for 2 points per serving.
The honey butter is a much higher point option and should be used sparingly. 4 servings of this would equal 8 points per serving. I feel a slight brushing of it over the chicken breast or drizzle would be more than enough for flavor. This can be skipped if you prefer to keep the points lower.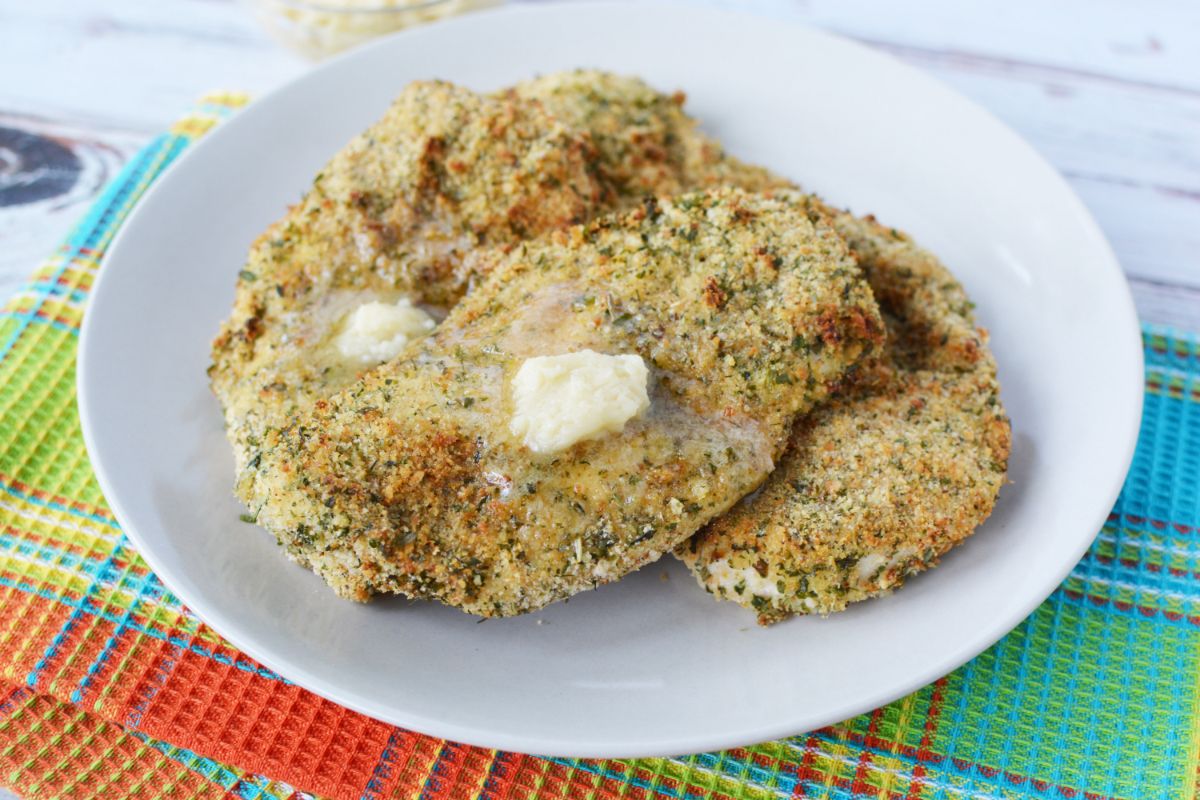 Frequently Asked Questions
How Long Do You Put Chicken Breast in an Air Fryer?
Depending upon the thickness of the chicken, it will take anywhere from 8 minutes all the way up to 18 minutes. This recipe uses chicken breasts that are labeled as thin-sliced, and are about ½ the thickness of full chicken breasts.
The full chicken breasts would be an uneven thickness and would need a longer cook time. I recommend slicing them in half and pounding them thin to cook them faster and more evenly.
Can I Put Raw Chicken in the Air Fryer?
Absolutely! Chicken breasts can be cooked from both frozen and thawed raw states in the air fryer. This recipe uses thinly sliced chicken breasts that are raw and cooks beautifully and safely.
What Temp Should You Cook Chicken in the Air Fryer?
This recipe cooks the chicken breast at 380°F. This is a typical temperature found on most air fryers and results in crispy chicken that is tender and juicy inside. You can also cook at lower temperatures, such as 350°F if you prefer, for a longer time period.
Do You Flip Chicken in the Air Fryer?
This is a personal preference. When cooking with thin chicken breasts like this it isn't necessary as it will cook and crisp evenly regardless. If you prefer to have a more even color/crispness, you can definitely flip the chicken halfway through the air frying time.
Can I Make Herbed Air Fryer Chicken with Chicken Thighs?
Absolutely. If you are using the WW plan, you will find that chicken thighs are pointed and so the recipe will be higher in points per serving. If that isn't a problem for you, then you can definitely use boneless skinless chicken thighs instead of breasts. Start with the same cooking time, and check the internal temperature for doneness. Continue cooking in 2-minute increments until at a safe temperature.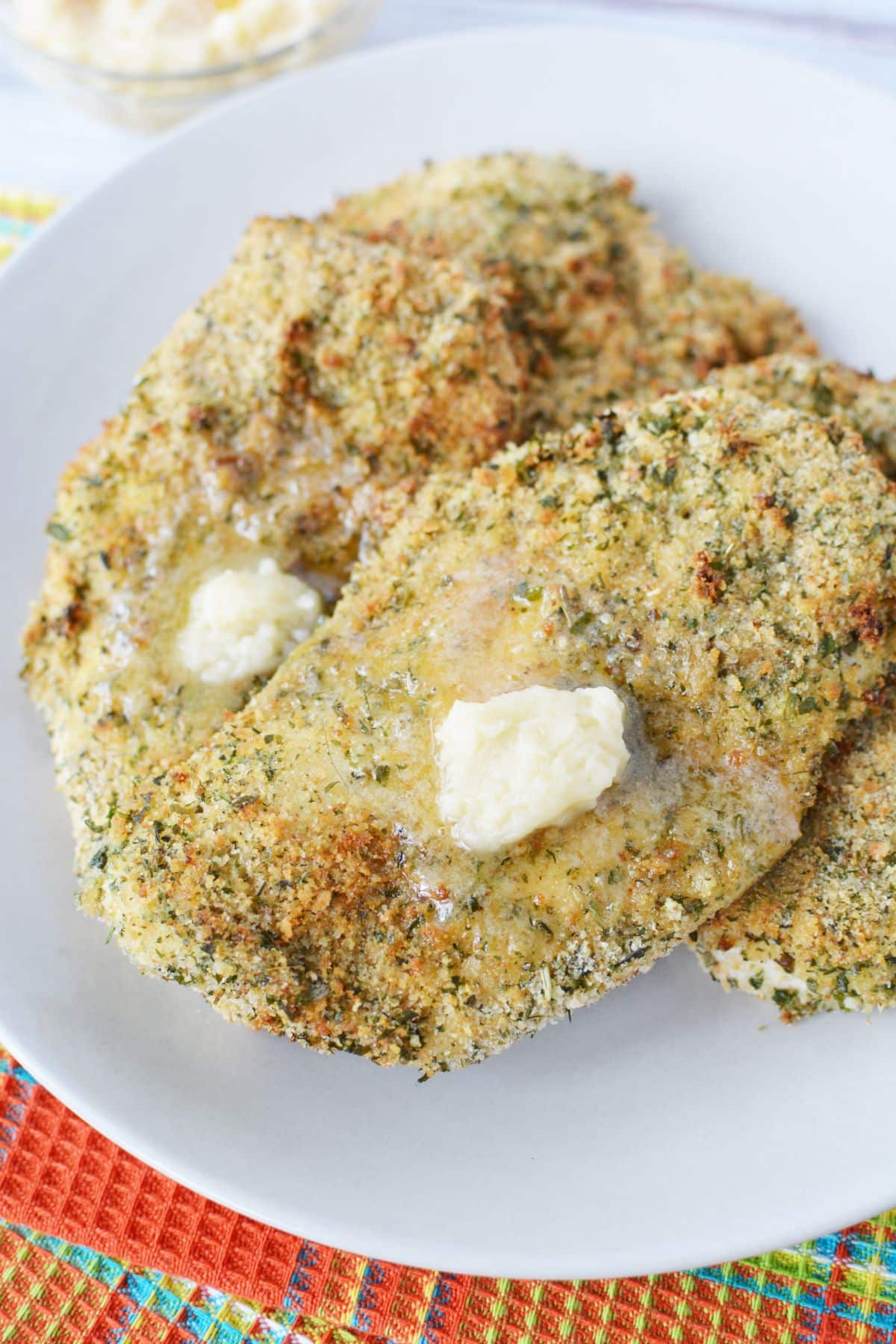 If you like this recipe, then make sure you check out my two air fryer cookbooks! The Mediterranean Air Fryer Cookbook has tons of great recipes, and you may also appreciate some of the recipes in the Clean Eating Air Fryer Cookbook.
More Air Fryer Recipes
If you love your air fryer as I do, then you will want to check out the recipes below. There are some amazing dishes that are perfect for adding to your menu. All are ideal for WW and healthier than traditional recipes, making them perfect for almost anyone! If you like these recipes, make sure you bookmark them, print out the recipes, or pin them to your WW boards on Pinterest so they are easy to find when you are ready to cook!
Yield: 4
Honey Herbed Air Fryer Chicken Breasts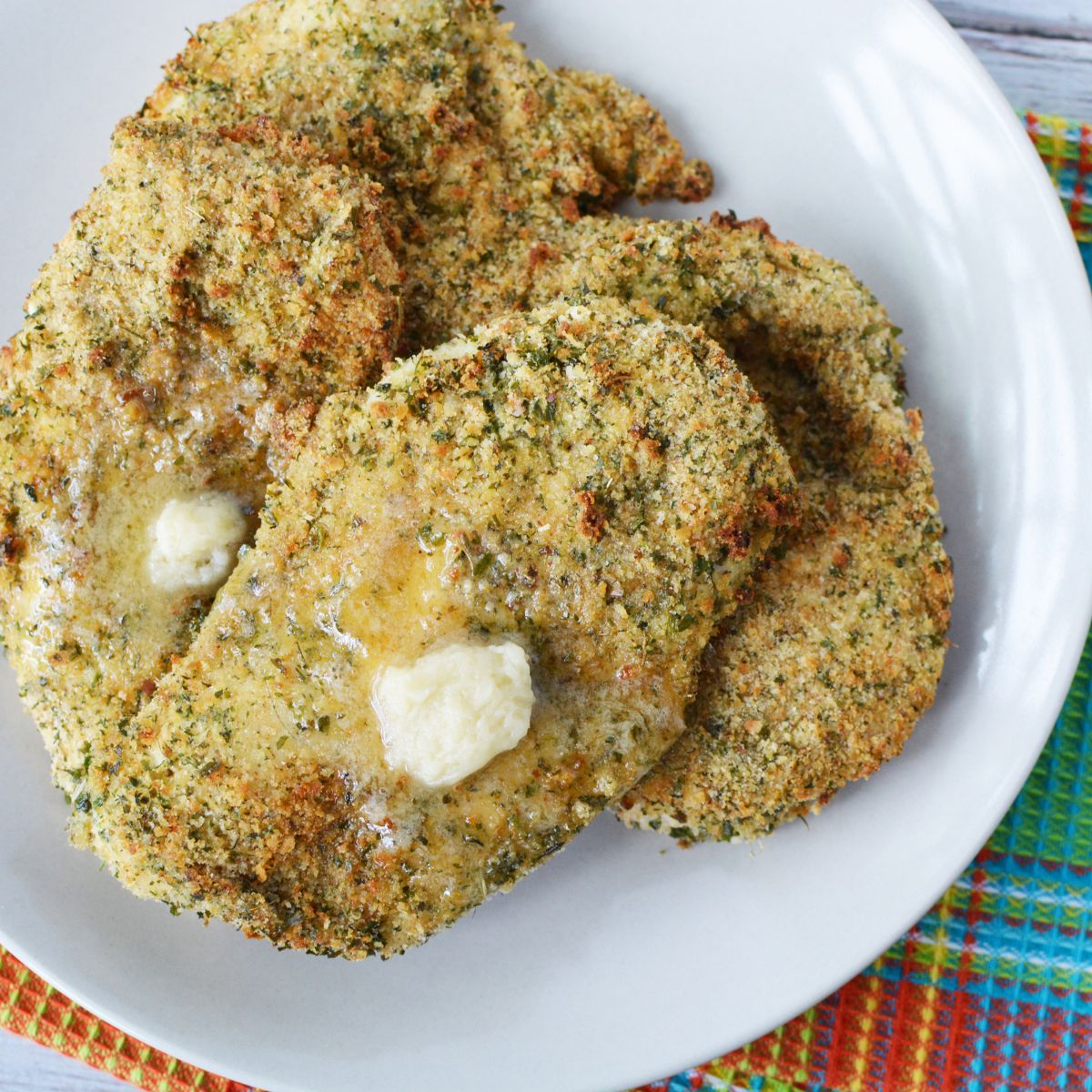 Make this simple honey-herbed air fryer chicken breasts recipe as the ideal WW-friendly entree. A tasty way to upgrade boring chicken!
Ingredients
½ cup plain bread crumbs
2 tablespoons dried parsley
1 teaspoon Italian seasoning blend
1 teaspoon garlic powder
½ teaspoon poultry seasoning
Instructions
Spray the air fryer basket with nonstick cooking spray and set aside.
Add bread crumbs, parsley, Italian seasoning, garlic powder, poultry seasoning, salt and pepper into a shallow dish and mix well.
In a separate dish, add egg and beat well.
Dredge chicken into egg, coating both sides, Remove and dredge chicken into bread crumb mixture, coating on both sides. Place into the air fryer basket. Repeat, until your air fryer basket, is full, and the chicken is in a single layer in the basket.
Set the air fryer to 380 degrees for 8 minutes, and turn halfway through the cooking time for even color and crispness. When the cooking cycle is complete, remove from the air fryer and serve topped with a generous dollop of honey butter.
Notes
Make sure the chicken has reached 165°F internally at the thickest point before serving.
Nutrition Information:
Yield:
4
Serving Size:
1
Amount Per Serving:
Calories:

355
Total Fat:

12g
Saturated Fat:

5g
Trans Fat:

0g
Unsaturated Fat:

5g
Cholesterol:

163mg
Sodium:

518mg
Carbohydrates:

20g
Fiber:

1g
Sugar:

9g
Protein:

41g