Roasted chicken breast is one of my favorite things to make, but I hate heating up the house with it in the oven. Plus, there is the time it takes to really roast a chicken. Whether I have a half a chicken, a whole chicken, or just some bone-in chicken breasts, it takes way too much time to bother with the traditional cooking methods. That's why, I love my Instant Pot, and I love this healthy and easy recipe for roasted chicken breast and vegetables!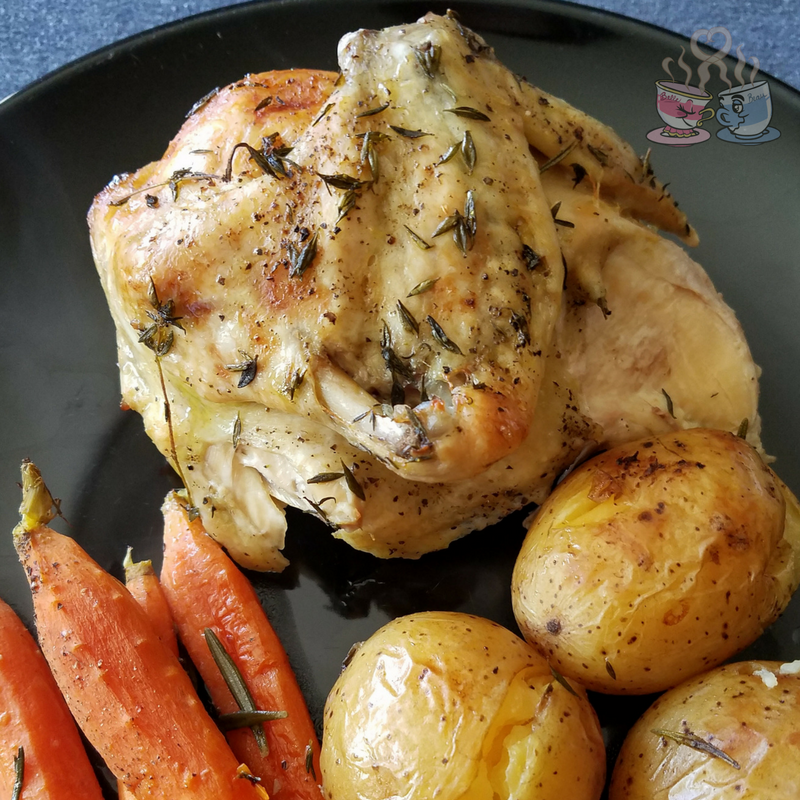 Instant Pot Chicken and Vegetables - Roasted Chicken Breast
This post contains affiliate links. I earn a commission for purchases made via these links.
To start, I have to mention that creating meals like this makes my entire family happy. The guys both love chicken and veggies, and I, of course, love something that fits so easily into my Weight Watchers plan. This meal including veggies is only 7 SmartPoints. I absolutely love that I can have such a satisfying meal for low-points. That leaves me room for dessert!
Note Regarding Cook Time: Time cooking really depends on the size of the chicken 20 minutes on the manual (high) setting is typically more than enough to cook through, but if you have an exceptionally large piece of meat, you may want to cook for longer.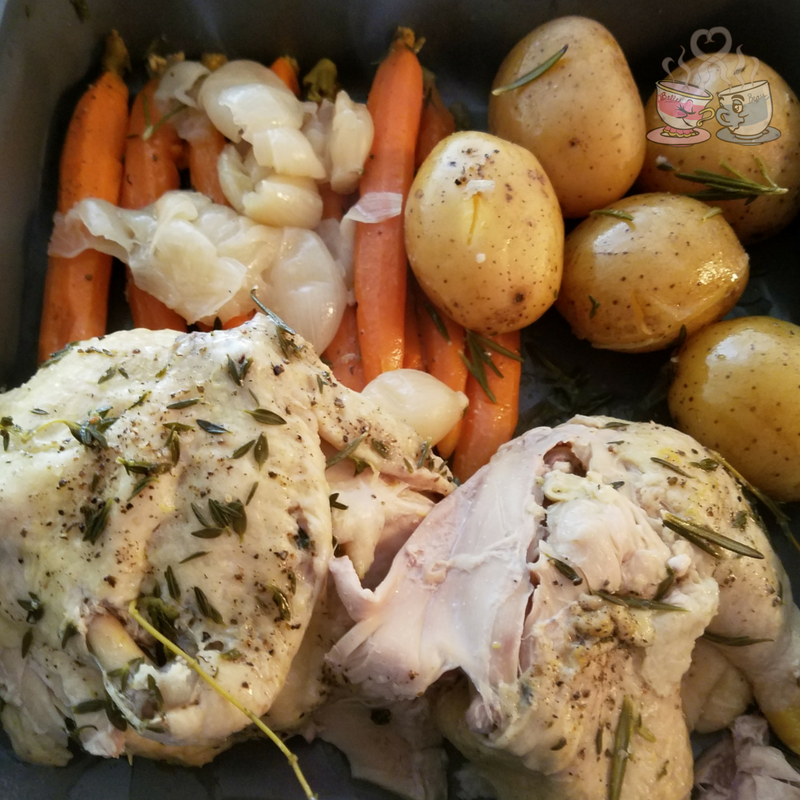 Yield: 4
Instant Pot Roasted Chicken Breast & Vegetables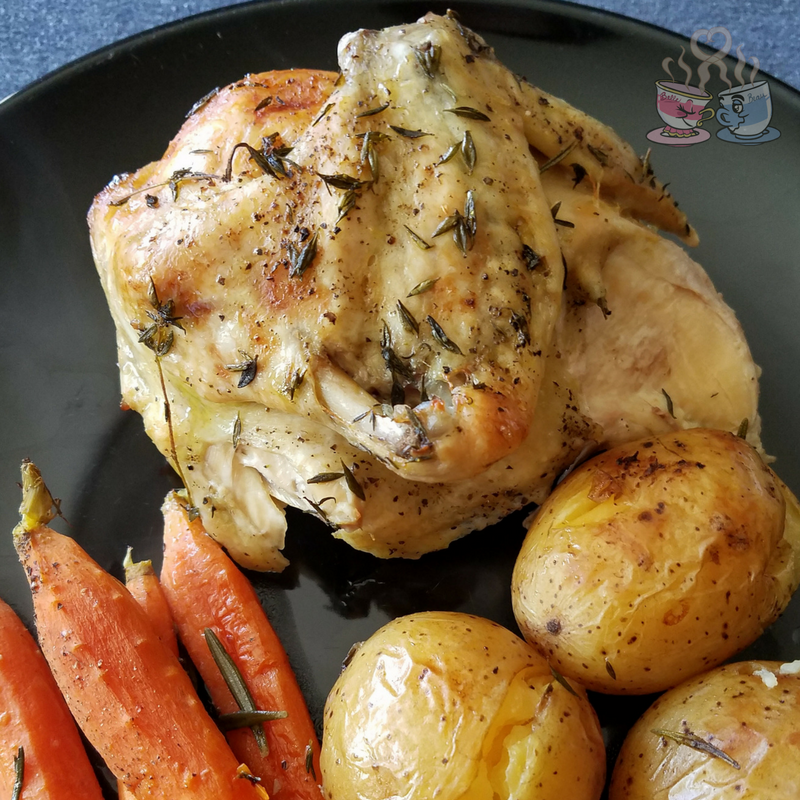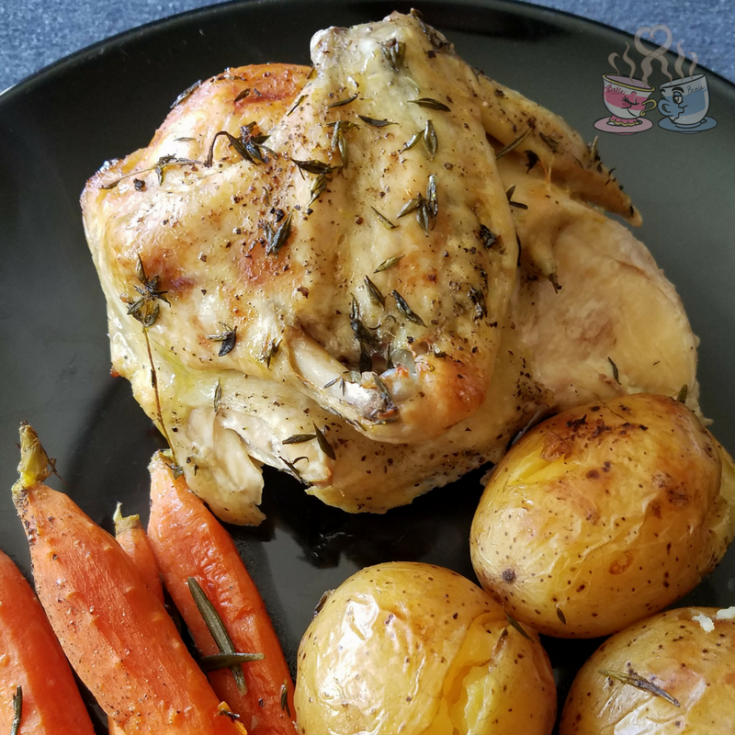 This delicious Instant Pot roasted chicken and vegetable dinner is a perfect addition to your meal plan!

Prep Time 10 minutes

Cook Time 25 minutes

Total Time 35 minutes
Ingredients
½ Chicken or 2 Bone-In Chicken Breasts
2 Cups Carrots
8 medium new potatoes (red or yellow)
1 cup pearl onions (or 1 onion chopped)
½ Cup Chicken Broth
1 Spring Rosemary
1 Spring Thyme
2 cloves garlic, minced
1 teaspoon salt
1 teaspoon black pepper
Instructions
Season chicken breasts with salt and pepper
Spread olive oil over the bottom of Instant Pot and pour chicken broth into bottom of Instant Pot
Place chicken on top of the broth and cover with onions, thyme, rosemary, and garlic.
Top with carrots and potatoes (you may wish to season with salt and pepper)
Place Instant Pot lid on and set to seal.
Set to the Manual Setting for 20 minutes.
Allow to NPR. Remove from Instant Pot.
For those who want crispy skin, remove the chicken from the Instant Pot and place under the broiler for 5 minutes.

Serving Size: 4 ounces chicken breast (skin removed), ½ cup potatoes, ½ cup carrots
WW FreeStyle Plan SmartPoints: 3 Per Serving if eating ONLY chicken breast
SmartPoints on Beyond the Scale: 7 Per Serving
PointsPlus: 7 per serving
While I calculate the points using my own account with Weight Watchers, I am actually not affiliated with them. However, I absolutely love how easy Weight Watchers has been for me, and having lost 40 pounds in 4 months, I know that it really does work. Focusing on healthier eating habits have made a huge difference in how I view food. You can also use the Weight Watchers SmartPoints Calculator if you don't want to join the monthly program.
**Know someone who would like a Quinoa Dish? Check out the easy and simple recipe here!**
As you can see, this flavorful and moist roasted chicken breast recipe is going to be easy and delicious. You'll love being able to make a great meal that everyone loves with just a few minutes of prep. That is one reason why I love my Instant Pot. Even on super busy days, I can make meals like this without having to tend the oven or stove top. Being healthy and full of flavor just makes it better!
More Weight Watchers Recipes: