When your kids come home from school with a bad attitude, it can be hard to deal. Not only is it hard for you to deal, but it is hard for them to deal with as well. Don't take it personally if your child is grumpy after school, they have had a long day. Just like having a hard or long day at work makes you grumpy, children are the same way. However, adults don't always have parents to help them deal with the grumps. You, however, can help your kids learn how to deal with it by making sure they are given what they need when they arrive home.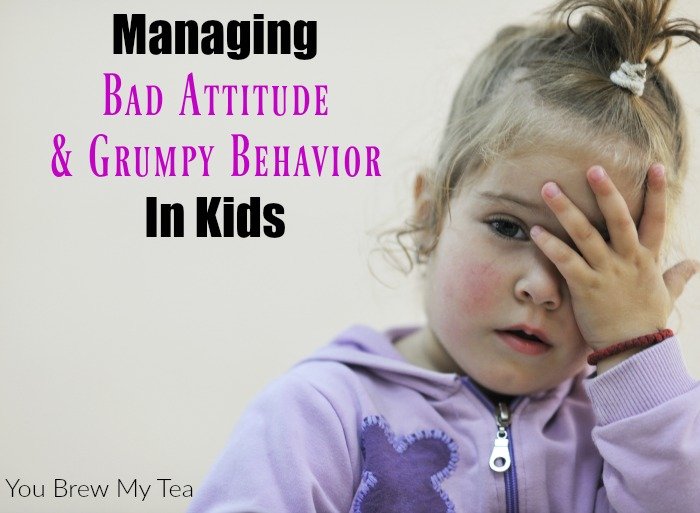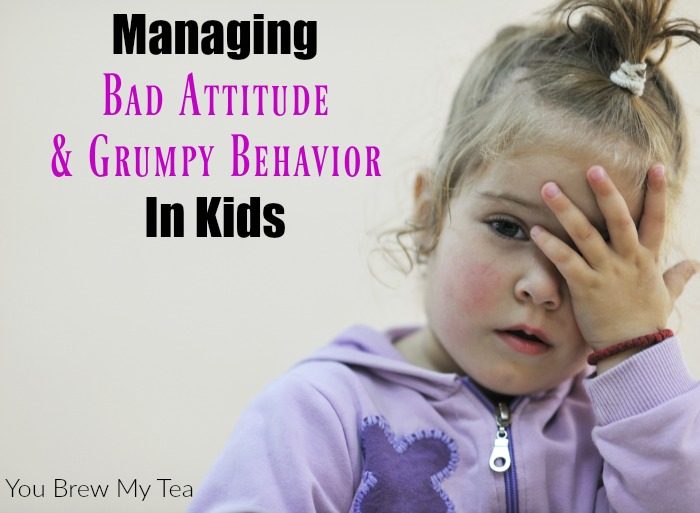 Managing Bad Attitude & Grumpy Behavior In Kids
This post contains affiliate links.
Have a snack ready
I don't know about you, but a snack always makes me happy. Try to avoid sugary snacks, but instead, offer a healthy snack for your kiddo. Sugar may just make things worse within their body. Offering fruits and veggies can help improve their mood.  I like preparing some healthy trail mix to have on hand, and just storing in simple portion containers they can grab as soon as they get home.
Offer a rest period
Something that helps almost every child with the grumps is a rest period. After a long day at school, nothing will feel better than resting for a short period of time. If you think your child will nap, offer a 20-30 nap to help refresh their minds and bodies. If your child won't take a nap, then a rest period will still work wonders for them.
Cuddling never hurt anyone
You're never too old to cuddle with your parents. When your child comes home with a bad attitude after school, spend a little time cuddling. There is something about cuddling that just melts away the stress and makes everyone feel better. Not only will this help your child feel less grumpy, it will help you feel less grumpy as well.
Sometimes sitting and holding them, praying for them, and singing a lullaby is what they need. Face it, we all just need our Mama sometimes.
Listen to your child
Your kiddo may have no interest in talking to you, but if they do, just listen. Sometimes your child just needs to tell you about their day. They don't need you to talk, just to listen. Prompt a few questions and see if your child opens up. You may be surprised as to what has happened to make them feel a little grumpy.
Find out what's making your child grumpy
Is your child grumpy from being tired? Are they grumpy because of the long day? Finding out WHY your child is grumpy can go super far in helping them deal (and you deal).
Tell a joke
What if your kiddo just needs a good laugh? When your kid has a bad attitude after school, tell a joke. Make them laugh. I know when I'm upset, my husband can tell a joke and it can be the dumbest thing, but it still makes me laugh. Telling a joke is a simple, but effective way to help deal with a grumpy kid after school.
Go on a surprise walk
With Pokemon Go being such a popular "thing" now, going on a walk will make anyone super happy. If your kid is a Pokemon Go-er or they just love being outside, go on a surprise walk. Being outside and taking in the fresh air, might just cheer up your little guy or gal.
Sing a song together
No matter how old your child is, singing never gets old. Turning on their favorite music and just drowning out the world and its problems can cheer anyone up. Try to be sensitive to how loud your child likes the music, though. If it's too loud, it could make things worse in grumpy land.  I know that any time we play Disney Karaoke, we all have a blast singing along to our favorite classic songs.
Give your kid some time to decompress
What if your child just needs time to themselves? Not all children love being around people when they have had a busy and exhausting day. Give your child some time to decompress. Let them go to their room or put together an area in the house in which they can spend time. This always works wonders for me personally and it may work wonders for your child to rid them of that frustrating bad attitude they came home with.
Allow your child free time
If your child attends a public school, they have spent all day being told where to go and what to do. Give your child some free time. Let them play video games, read a book (we recommend Stuart Gibbs books for kids), or play outside. Let them do what they want (within reason). This may be a way of cheering them up and helping them get their mind back on track.
When it comes to dealing with a grumpy kid after school, it may take a little work, but it's worth it. Seeing your child get rid of their bad attitude and cheer up never gets old.  It just takes a bit of determination and patience to make happen.
More Parenting Tips: