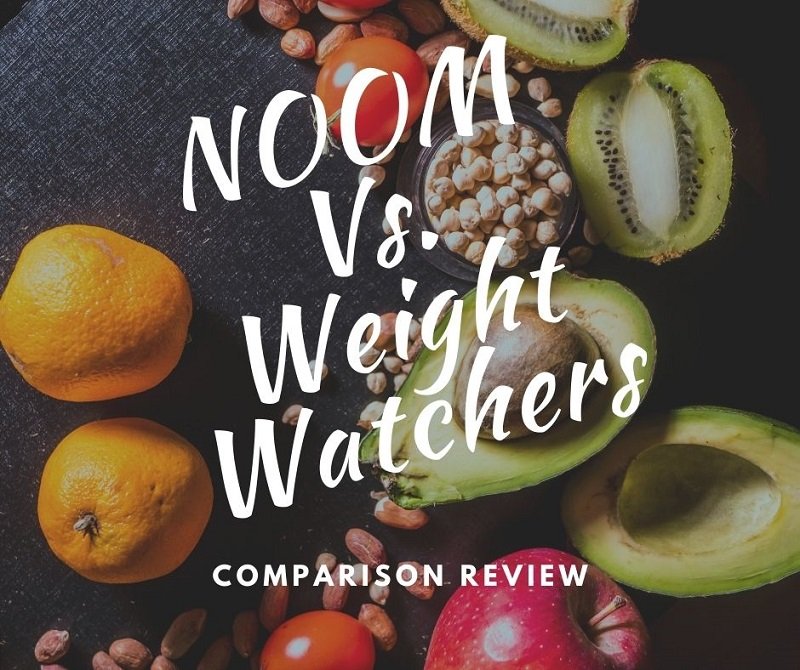 Breaking It Down
For many of us, unhealthy eating habits have taken over our lives and added unwelcome extra pounds to our bodies. Those extra pounds create a depressing spiral of low self-esteem when we catch sight of our reflections, or realize we have to spend money on new clothes to accommodate a larger size. Tiredness, feeling awkward in society, and in the long term, weight-related diseases often follow. Consequently, we're paying more attention to health and fitness now than ever before.
Yet even if all you want is to lose a few pounds to get back into your favorite jeans, you need a realistic diet plan. You can take your choice between several excellent diets and lifestyle change plans now available online and which are easily managed through apps. The most popular currently are WW, formerly Weight Watchers, and nowadays known as myWW in its latest version, and then there is Noom.
Today's diet programs require you to track the food you eat via their apps and track your exercise, too. It's a bit annoying if you're not a fan of texting information all through the day, but tracking keeps you alert to progress (and backsliding). Commitment to the program is key. You'll soon get into the tracking habit.
Both myWW and Noom offer tools to help you incorporate the best eating and exercise practices into your life. Both are suitable for ages ranging from young adults to seniors. But they differ from each other in their approaches, and in the practical steps that you're required to take.
Which is best? Dozens of respected medical sources have published their opinions about them. Hundreds of private people have put their reviews online. Let's explore each of these diet programs.

On joining, you'll fill in a form stating your age, weight, height, gender, physical activity level, the foods you prefer, weight-loss goals, and more. The answers build a picture of you. This is important because people have very individual ways of eating and moving. For example, some love vegetables but can't eat dairy foods. Some people work out regularly, and some don't. You receive a highly personalized plan with your daily and weekly SmartPoints® budget based on your profile.
SmartPoints are values assigned to every food, based on its calories, protein, sugar, and saturated fat. To get a general idea, an apple has one point, and a cup of rice rises to four. There's also a long list of ZeroPoint™ foods, which, as the name indicates, are freebies. You don't need to track or measure ZeroPoint foods. Expect to nosh on some fruits and low-carb vegetables, lean proteins, and/or whole grains, depending on the color-coded plan you chose within the system.
In myWW there are three flexible diet programs: Green, Blue, or Purple. The significant difference between them is your daily Points and ZeroPoint foods allowance. Each person receives a plan that suits their personal needs. The app keeps a running count of your points for each day, so you don't have to deal with calculating how many points you've used up and how many remain.
If you feel you need a tight structure rather than flexibility, you'll choose the green plan. There are 100+ foods on the green ZeroPoint list, mostly fruits, and vegetables. All other foods will need to be measured, weighed, and tracked. You're allotted 30 daily SmartPoints, and you'll naturally want to focus on the ZeroPoint foods for your snacks and to fill out a menu.
If this sounds a little dismal, you should check out one of WW's 5-day menus for the green plan: a breakfast of a mini-bagel smeared with whipped cream cheese, sliced tomato, and ½ cup of orange juice. A lunch menu follows including 2 fast-food soft tacos with salsa and a side salad. Surprising and tempting.
The blue plan is somewhat more flexible. It offers 23 daily SmartPoints and has a list of 200+ ZeroPoint foods that includes chicken or turkey breast, beans, legumes, eggs, and fish. You continue tracking non-ZeroPoint foods, of course.
The least demanding plan is the purple plan, with 16 SmartPoints and over 300 ZeroPoint foods. You'll be surprised to see whole-wheat pasta and potatoes referred to as foods you don't track. (Tips on portion control are recommended.) As always, you track the foods that aren't on the ZeroPoints list.
In all plans, if you haven't used up all your points on any given day, you can rollover up to four of those points to the next day's menus.
See Related Topic: Chicken Meal Prep for Weight Loss - A Comprehensive Guide
History
WW has been around since 1963, constantly improving its programs through scientific research and studies conducted by experts in nutrition, health, and psychology.
It took an international team of experts close to two years to create myWW. All three plans were tested with almost 20,000 members participating globally via interviews, concept testing, and clinical trials. The new myWW no longer depends on live meetings, having over 5000 digital workshops; yet over 500 physical locales, referred to as studios, exist in the USA for those who prefer to get together in real-time. If going digital is your choice, the app provides a full program for that too.
Support
WW provides in-person support, including trained coaches and guides who share weight loss techniques at physical and digital workshops. Participants may choose to chat with a live coach on the WW app or website - 24/7. Their exclusive social platform, Connect, offers the opportunity to connect with other WW members. In WW's Connect app you can post photos, bring up questions, and discuss whatever you need to about dieting. Many feel that Connect is the most supportive tool in the program.
The website offers helpful guides in exercise and fitness – for example, tips on exercising in hot weather. You can access audio workouts through the app and site, as well as guides to mindful eating, meditation, and naturally, culinary suggestions for delicious meals.
Pricing
The WW Digital membership is the cheapest. Their app features a digital food database and tracker, 24/7 Live Coaching via chat, a food barcode scanner, a members-only social network, and more. The cost is $19.95 per month. Studio memberships with workshops participation added cost $44.95 per month, and one-on-one personal coaching costs $54.95 per month.
It's worth checking out the site for new promotions. At the time of this writing (September 2020), these are the prices for plans based on time commitment.
The one-month plan. Join for free. Easy to cancel at any time; no annual contract. Plans automatically renew at the end of the applicable plan period, and you will be charged at the standard monthly fee (currently $20.95) until you cancel. Prepayment of total plan cost required.
The 3-month plan. Join for free and get a free month. Pay $13.96 per month for 3 months. The monthly fee is discounted to reflect a savings equal to the value of one month ($20.95). After the initial 3-month period, you will be charged the standard monthly fee (currently $20.95) until you cancel.
An early termination fee of $39.95 applies if you cancel at any time during the first 2 months of your 3-Month Commitment Plan. The average weekly cost is based on avg. length month assumes completion of full-term and will be $4.84 after the initial plan period.
The 6-Month Plan. Join for free, get a free month. After your first month, your account will automatically be charged $20.95 monthly, until the completion of your 6-month plan. After the initial 6-month period, you will be charged the standard monthly fee (currently $20.95) until you cancel.
An early termination fee of $39.95 applies if you cancel at any time during the first 5 months of your 6-Month Commitment Plan. The average weekly cost after your first month will be $4.84 based on the average length month and assumes completion of full term.
PROS
myWW suits individuals seeking a structured eating and exercise plan based on tracking food intake and activity.
Members get the practical and emotional support they need through the Connect community forum and real-life workshops. You can also opt for24/7 one-to-one personal coaching support.
No food is forbidden, as long as you keep portion control. So enjoy that (small) baked potato with a pat of butter on top. Fill up on freebies.
Thousands of free recipes are available via the website or app. Each recipe notes serving size, times for preparation and cooking, level of difficulty, and reviews by people who have cooked them. Each notes its SmartPoints value, eliminating calculating.
Grocery shopping is a snap with WW's list of staples for home cooking. At grocery stores, you can also find WW packaged foods and complete meals.
You can choose from several different time plans.
WW's decades in the fields of nutrition and weight loss make it a long-standing trusted program.
CONS
The myWW's points system, while relatively flexible, creates a structure in which members may become dependent on to the point where they may not be able to maintain their desired weight independently.
Most meals must be cooked at home.
Some features don't appear on the app, requiring that you revert to a desktop.

The Noom diet functions entirely through its app, which appeals to many comfortable working in a full digital setting. Its philosophy works on two grounds: planning how to eat wisely, and the psychology of dieters. It's a program that provides tools to help you see food and your food choices in a new way.
According to the Noom website, of 45 million users who tried the app over nine months, about 78 percent lost weight. Researchers note that weight loss results match the goals of the Centers for Disease Control and Prevention diabetes prevention program.
Based on questions about your weight, your weight loss and fitness goals, how dieting has worked (or not) in the past, and if you have - or are at risk for - heart disease, high blood pressure, and diabetes, Noom will calculate the date by which you'll achieve your goal weight loss. You'll receive a nutrition plan covering four months, and a digital coach. You and the coach communicate via the app's messaging feature. You'll also be given entry to a supportive virtual group.
You'll be asked to log your meals, snacks, exercise and weight every day. Added value comes from articles on nutrition and health that arrive daily via the app. They offer insights into setting goals, the social and emotional factors that may be preventing your commitment to weight loss; what can trigger a food binge, and much more. You'll be encouraged to read the articles and answer quizzes on them. Reading and thinking about these topics encourage you to make positive changes in your lifestyle.
The diet breaks foods down into healthy and less healthy categories coded by color into green, yellow, and red, according to calorie density; that is, calories per serving divided by grams per serving.
Green foods, considered the healthiest, are fruits, vegetables, and whole grains. About 30% of your diet will come from them.
Yellow foods add up to a moderate part of your daily food consumption. These are lean proteins and starches.
Red foods - red meats and desserts - should be eaten in smaller portions and less often.
The app tallies the calories you've consumed and tells you how many remain to you, over the day. Its accuracy depends on how faithfully you log in every single meal or snack.
Logging in faithfully is key. According to a 15-month pilot study published in May 2018 in the Journal of Medical Internet Research, participants who actively complete their Noom lessons lose more weight than those who don't. A study published in the Journal of Health Communications in 2017 came to a similar conclusion.
You'll be assigned a group and coach to chat with while staying anonymous if you like. Noom coaches aren't certified, dietitians. They study cognitive behavioral therapy for four weeks. When selecting coaches, Noom considers their empathic abilities as well. The training program is certified by the National Board for Health and Wellness Coaching (NBHWC).
Read Related Article: Tips For Getting Past A Weight Loss Plateau
History
The Noom app was created in 2008 by Saeju Jeong and Artem Petakov and launched in 2010. You can find it in the App Store and Google Play.
Pricing
Noom offers two monthly memberships: a "Healthy Weight Program" for $44.99 per month or a "Diabetes Prevention Program" for $89.99. There's no free version of the app, but there is a 14-day trial. You pay a $10 nominal fee for the trial, but you're required to submit your credit card information upfront. The subscription fee will be charged to your account at the end of the trial.
As of May 2020, the original cost was $129 for a three-month plan, but you may see discount offers of up to 80%. Custom meals and/or workout plans are available as an add-on. The full list price for a customized meal plan is $100, but discounts are possible, with a $49 fee offered in May.
PROS
The app is easy to use and provides a personalized diet.
The program's emphasis on education and self-knowledge motivates users to maintain changes in eating and lifestyle after finishing the program.
It offers a diabetes-prevention diet and a program for diabetics.
You get feedback on your food choices immediately, with frequent encouraging messages from the app and from your coach.
There's great community support from your virtual support group.
CONS
The focus is more on changing behaviors and less on nutritional guidance.
The food database is limited, so it can happen that certain foods you eat don't appear for you to log on.
It can get annoying to respond to multiple messages from your coach and support group all through the day, in addition to logging every single thing you eat or drink.
Your coach isn't available outside of business hours.
It's no news that diet apps require meticulous daily input in order to track your food intake and physical activity. You also need to update your daily weight on the app. Noom, in addition, expects you to read several articles daily and respond to quizzes about them. Whichever program you choose, you can't expect the app to give you accurate readings without keeping your data up to date. That kind of structure has its own rewards, such as Noom's daily weight-tracking graph that gives you a visual picture of how your weight loss is progressing, or myWW's product and service rewards.
myWW offers an extensive variety of menus and recipes. Their points-based programs allow you to choose between a freer daily regime or a more limited one. Noom's calorie-based diet plans are less sophisticated, but their concept of helping people to consciously change unhealthy habits through improved self-knowledge can give dieters the confidence they need to keep going.
Some love a tight structure and feel they depend on it to stay motivated. Others find it oppressive and opt for a program with wider choices. Motivation is what carries the dieter through the weeks or months of the program, and hopefully, stays with you beyond the program and into life afterward.
Researchers presented a study published in March 2017 by the Journal of Health Communications, where they found that among 384 Noom participants, the ones who most actively logged food intake, participated in their assigned groups, and used the app's resources – in other words, the most motivated dieters - were the ones who most consistently lost weight. This is true across the board.
Both myWW and Noom make it possible to eat out. Both programs' databases include meals taken from hundreds of restaurants and chains. Both apps will analyze a standard dish and show you how it stands in terms of a good or bad choice, myWW using SmartPoints, and Noom calculating calories.
So Which Is the Better Diet?
I'd like to say that it depends on the dieter. Both programs offer a reasonable expectation that you will achieve weight loss and a healthier lifestyle. In a large sense, myWW tells you what to eat. Their 5-day menu plan is a prime example. You can mix and match dishes from all the 5-day menus in your green, blue, or purple plan. You're also provided with a list of ingredients for your chosen menu. That can be reassuring for people who like that sense of direction but can create a feeling of loss when leaving the program.
Noom may be more for individuals who want to understand and overcome emotional barriers to weight loss, and who like to surround themselves with constant contact. Noom's diet plans are based on counting calories. If you want to dig a little deeper into the nutritional values of foods, you'll have to find the information on your own.
myWW's Smart Point values are based on calculating calories, saturated fat, sugar, and protein in any food you track. myWW also provides in-person support, which Noom doesn't. On its website Weight Watchers declares they have several thousand trained WW coaches and guides who use science-backed weight loss techniques at live workshops, on 24/7 living coaching chat offered on WW's app and website.
When following Noom, you get a personalized calorie budget, checklists, worksheets, and digital messaging to help you manage mental and emotional barriers to weight loss. Your contact with the organization and fellow members is exclusively virtual.
In US News and World Report Rankings, Weight Watchers was ranked no. 1 best diet for weight loss in 2020, for the 10th consecutive year. Noom received no rankings.
myWW has a reward program that helps keep you motivated. You earn Wins that you can redeem for products and services. Noom has no reward program.
Final Verdict: I choose myWW.
Weight Watcher's decades of scientific research and development gives me confidence in planning so drastic a life change as a diet. I also believe that most people will continue with these changes after leaving the program. And finally, the SmartPoints system, where every point's value is calculated according to its nutritional content, is a healthier way to diet than simply counting calories, as in Noom.