Last week I spent a lot of time at my parents house.  With my Granny passing away late in July, there were a lot of arrangements to be made and visitors coming through.  As is traditional in the South with churches, a lot of people brought food to my family to help out.  One family brought over a hash recipe they had first had at Silver Dollar City.  While I thought it was a tasty enough dish, but knew that it was chock full of fat and well, not so healthy things.  As a result, I created this Roasted Chicken Sausage & Potato Hash for dinner over the weekend.  Not only is it much healthier, I found it to be a lot more satisfying.

ROASTED CHICKEN SAUSAGE & POTATO HASH
Roasted Chicken Sausage & Potato Hash
Ingredients
4 Medium Red Potatoes (cut into ¼" pieces)
4 Links MSG Free Chicken Sausage (we buy a pepper & onion flavored sausage at our local Whole Foods)
1 Yellow Onion, Sliced Thin
1 Green Pepper, Sliced Thin
2 Tablespoons Extra Virgin Olive Oil
1 Teaspoon Black Pepper
1 Teaspoon Kosher Salt
1 Teaspoon Garlic Powder
½ Teaspoon Smoked Paprika
Instructions
Preheat oven to 375 degrees
In medium skillet, heat 1 tablespoon olive oil.
Cook chicken sausage for 3 minutes on each side (rotate as necessary to brown all sides)
Remove from heat. Let rest for 5 minutes.
Spray baking sheet or casserole dish with non stick cooking spray
Slice sausage into ½" pieces (may still be a little raw on inside). Mix together with potatoes, peppers, onions, seasonings and sausages and remaining olive oil until all are well coated.
Pour onto prepared baking sheet.
Bake for 12 minutes at 375 degrees. Remove from oven and use spatula to stir or turn mixture to help brown and crisp evenly. Bake for additional 8 minutes at 375 degrees.
Only 6 Weight Watchers Points Per Serving!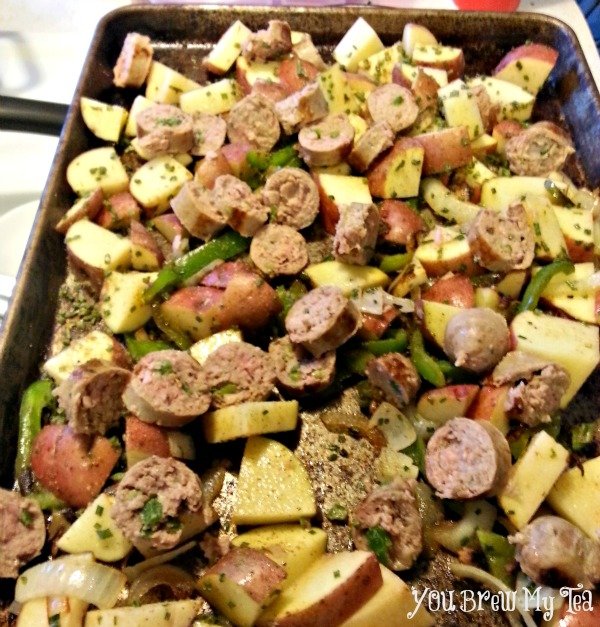 This hash is not only much tastier, but it is definitely much healthier.  Using a low fat sausage, just a little oil instead of the butter laden variety we were served last week made a huge difference in the calories of this meal.  Roasting the potatoes, onions and peppers gives this dish a much richer flavor. Yes, we are huge fans of roasting our vegetables.  The crisping that happens just adds a hint of flavor that makes them so much easier to eat for the kids.  While we used organic vegetables and a sausage that was made from free range antibiotic free chicken and had no MSG in it, you can use whatever your family would typically purchase.  I do recommend getting a fresh made sausage from the meat counter though.  Not only are they fresher, but I find the flavors to be much richer.
This Roasted Chicken Sausage & Potato Hash is a great option with a side of fresh steamed or roasted veggies as well.  We love the fact that it falls so well into our dietary needs and includes so many of our favorite foods in one dish.  Weighing in at Only 6 Weight Watchers Points per serving this is also a great meal to add to your menu plan if you are counting points!