I am fairly certain my parents would have been surprised if I had raved over this Unstuffed Cabbage Rolls Soup when I was a kid.  Back then, the idea of cabbage anything made me gag.  Now days, it is one of my favorite satisfying foods to cook.  Not only is it versatile in lots of dishes, but it is cheap.  Frankly, healthy and cheap are great in my book, and this soup is a huge hit in our house - even with the Wee Child.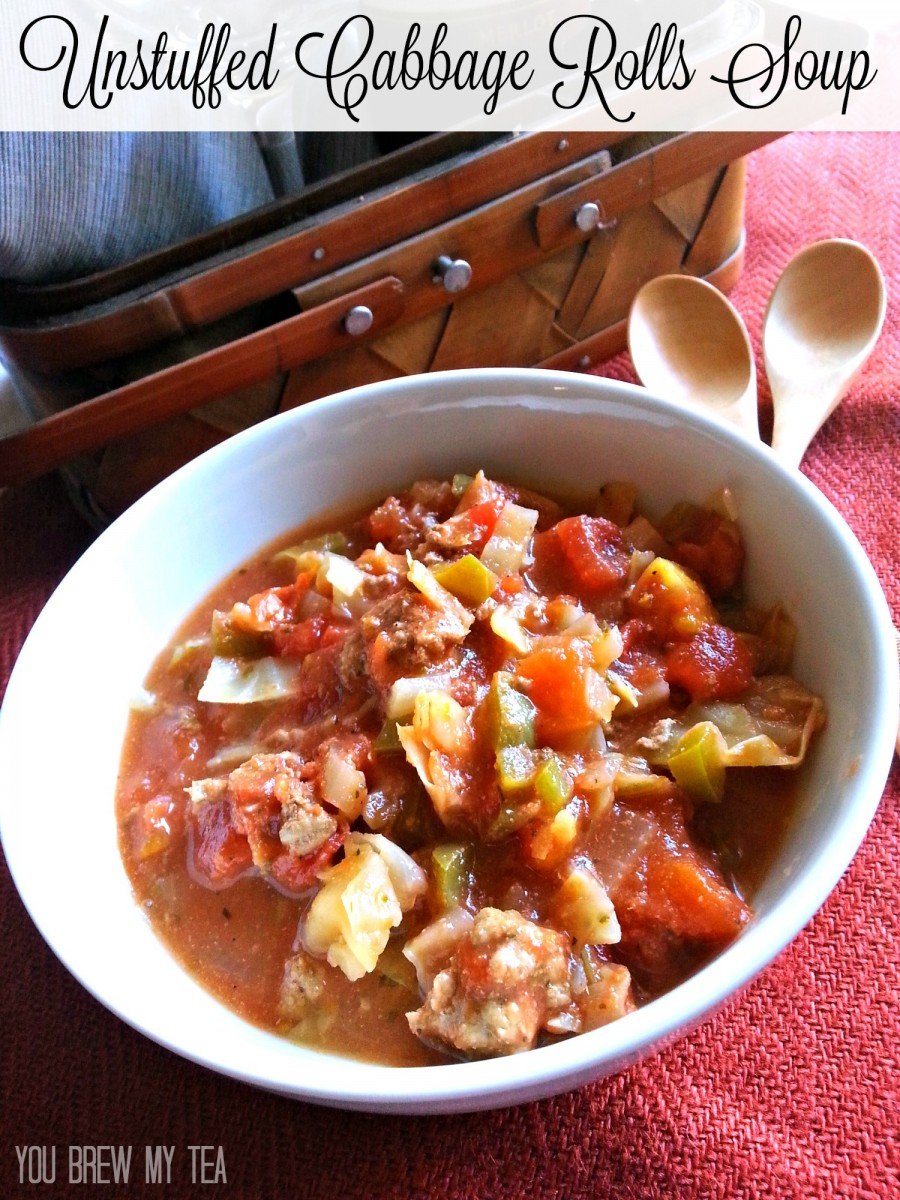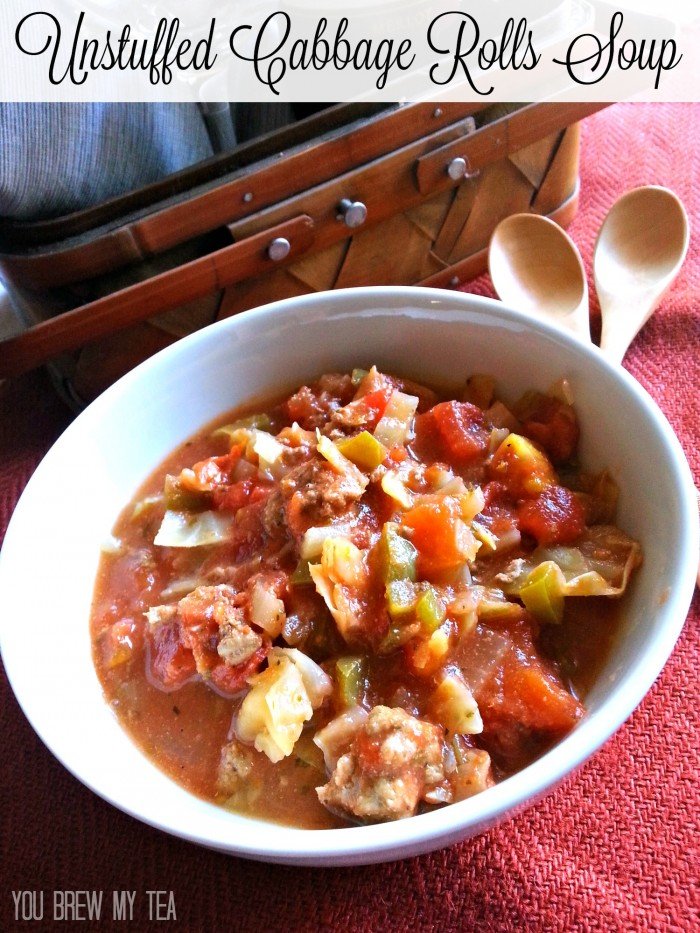 Unstuffed Cabbage Rolls Soup
This post may contain affiliate links. Purchases made through these links may earn me a small commission. 
So, I'll be honest here.  When trying to lose weight, I have to limit my carbs.  They just tend to slow my loss down.  Even on the Weight Watchers Plan.  I miss my bread. I miss pasta.  I miss all the "good things".  It's hard for me.  I am a very emotional eater.  When I am frustrated, depressed, tired, sad - I want to eat.  When I am happy and excited -  want to eat.  Best foods at those times are always the cheesy bread and pasta.  So what is a girl to do?  Find something healthy that is just as satisfying.
This unstuffed cabbage rolls soup is one of those things for me.  It has all the flavors and textures and just makes me feel happy inside.  Soup is always a hit in our house anyway, but this one has a rich broth, great textures, and tons of amazing nutrients thanks to the vegetables.  Quite frankly, I love it.
You can do a couple of different things to make this easier to make.  I chopped up my own cabbage, but you can easily grab the already shredded cabbage in the produce section to make things a bit easier.  Regardless of what you choose, it's a simple and fast meal.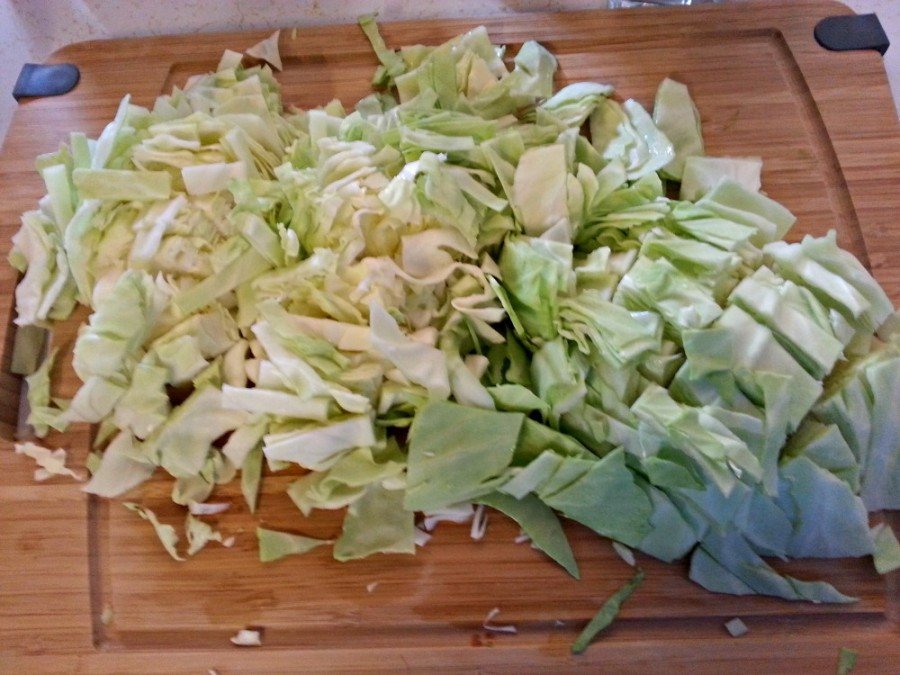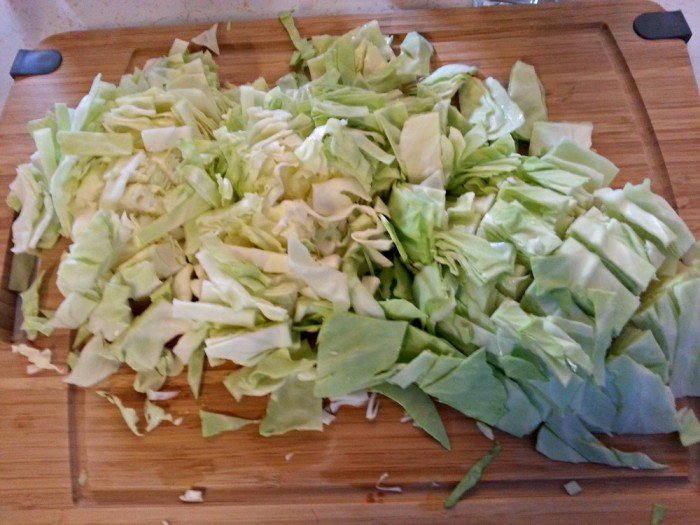 I start by adding my cabbage, bell pepper, garlic and onion to a large stockpot like my favorite Cuisinart Contour Pot with a bit of olive oil and salt. I cover and let cook down for about 15 minutes.  I'll stir it occasionally, but since cabbage has so much moisture it isn't a risk of it burning.  If you want a bit more flavor, you can cook a bit longer to caramelize the vegetables.  I am usually impatient and just want to get to the next step.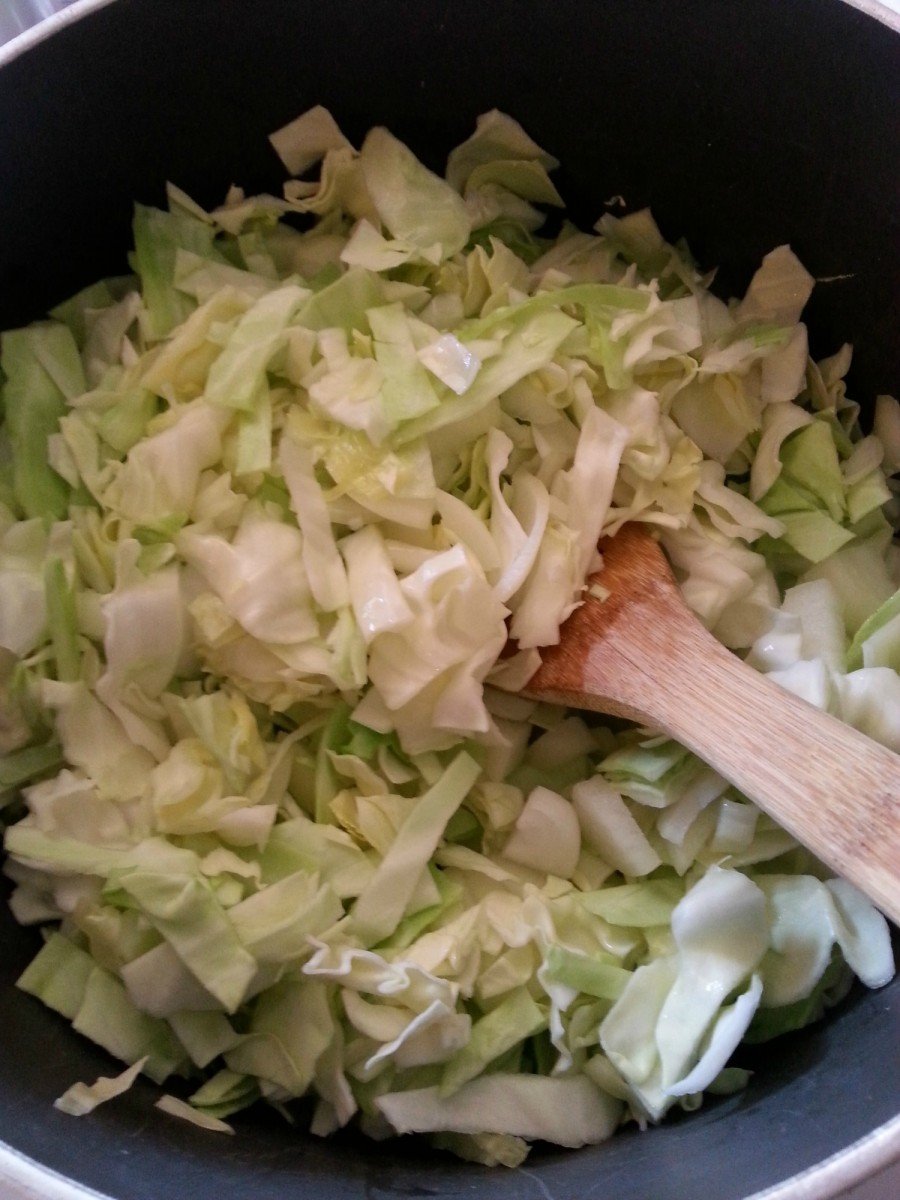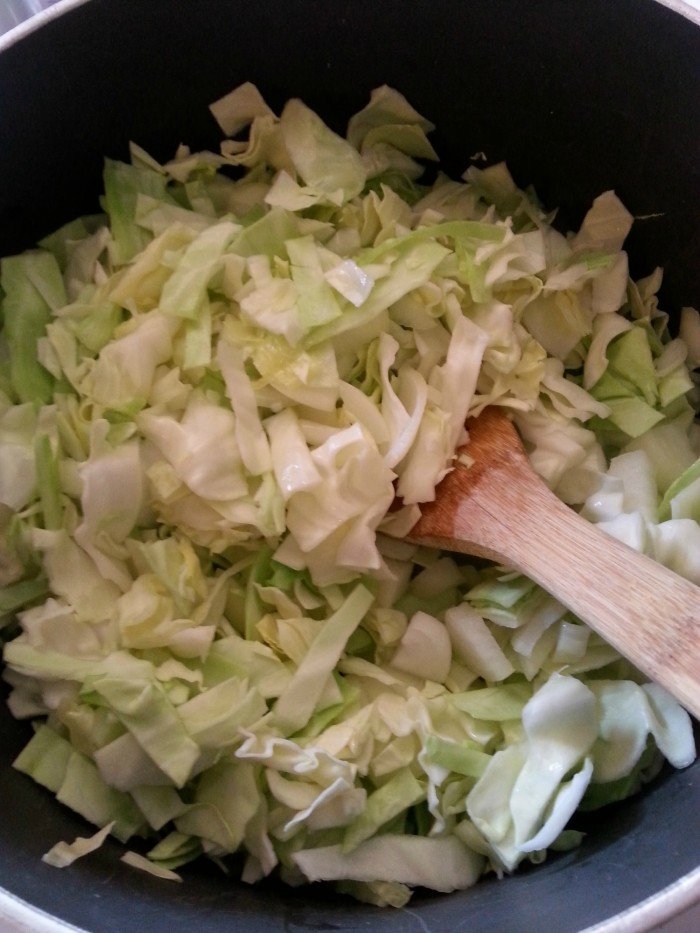 Now, I am picky about cooking ground meat.  I like it to be drained really well before using it in a recipe.  So, for this, I cook my ground turkey with some light seasonings in a separate skillet.  I usually add about ¼ of the seasoning blend to the meat as it cooks.  The rest of the spices will go directly into the soup.  I cook for 7-10 minutes or until it is cooked through.  For this recipe, since I know it's going to cook more, I usually don't grab the meat thermometer.  I just cook until it is no longer pink. I use lean ground turkey, but you can use ground beef or even ground chicken.  Some even prefer a sausage blend, but you want to consider the added fat if you are watching calories.
The next steps are super easy.  Toss your canned tomatoes, tomato sauce, spices, cooked meat and water into the stockpot with your cabbage and vegetables.  Stir well and let simmer over medium heat for about 30 minutes.  You can cook for longer if preferred, but that is sufficient to blend the flavors together.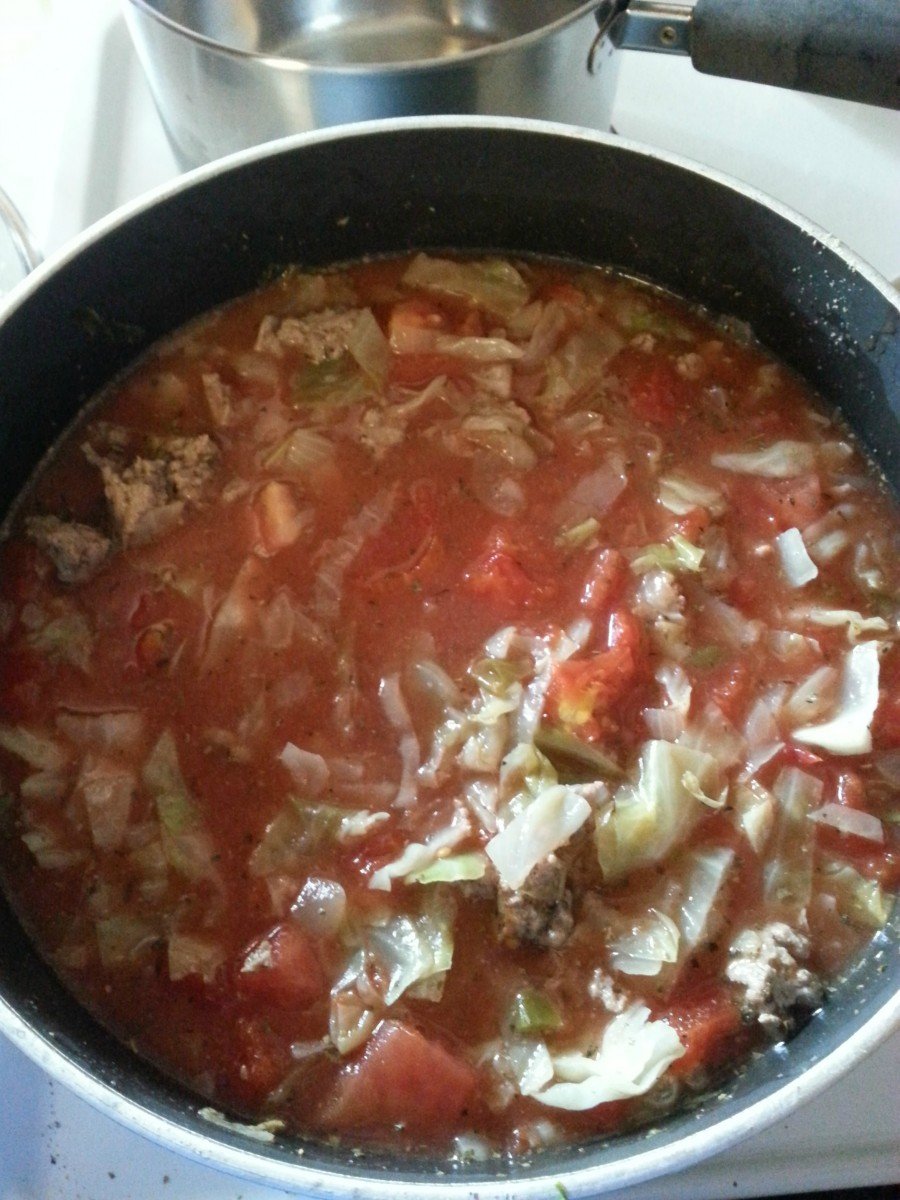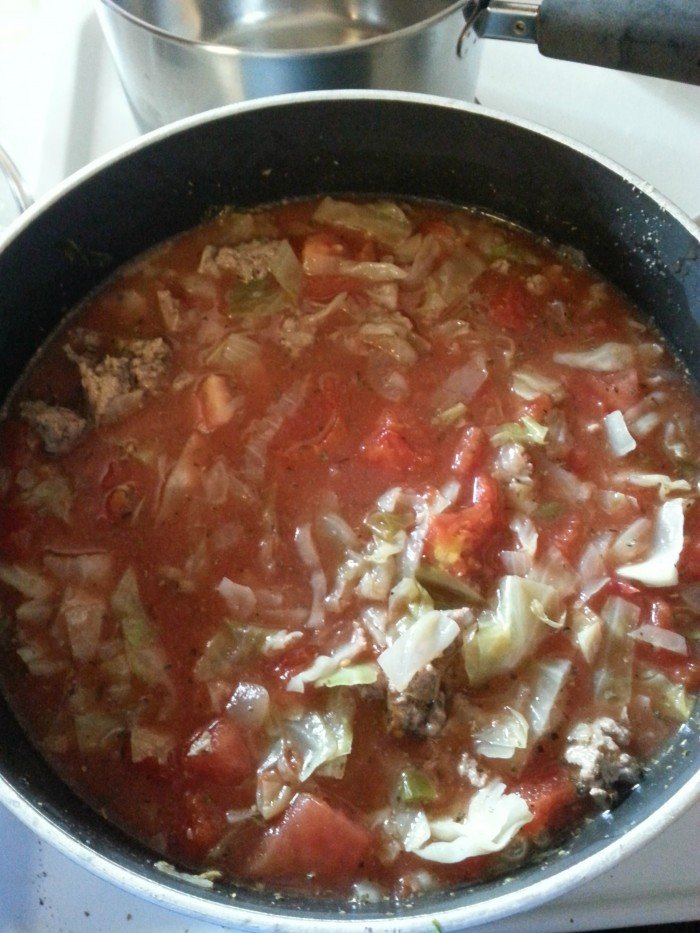 Unstuffed Cabbage Rolls Soup
Makes 10 servings 6 Pointeaspoonlus per serving 3 SmartPoints per serving on Beyond the Scale 1 SmartPoints per serving on FreeStyle Plan or FlexPlan
Ingredients
1 pound 99% fat-free ground turkey breast
1 head cabbage, shredded or chopped into small pieces
1 medium onion, chopped
1 bell pepper, chopped
1 garlic clove, minced
1 tablespoon olive oil
1 12 oz can tomato sauce
1 24 oz can diced tomatoes
4 cups water
1 tablespoon garlic powder
2 teaspoons onion powder
2 teaspoons Italian seasoning blend
¼ teaspoon chili powder (optional)
1 teaspoon salt
1 teaspoon black pepper
Instructions
In small bowl, mix together garlic powder, onion powder, Italian seasoning, chili powder (if you like a kick), salt and pepper.
In medium skillet, cook down ground turkey that has been seasoned with ¼ of seasoning blend. Drain and set aside.
In large stockpot, add olive oil, cabbage, onion, minced garlic, and bell pepper. Cook down for 10-15 minutes or until vegetables are tender.
Add ground turkey, tomatoes, tomato sauce, water, and seasonings to the vegetables in the stockpot.
Stir well and cook on medium heat for 30 minutes. Stir occasionally.
Nutrition Information
Calories:
259
Fat:
3.6
Saturated fat:
.3
Carbohydrates:
11.9
Sugar:
7.1
Sodium:
520
Fiber:
3.7
Protein:
47.2
Cholesterol:
113
I used the Weight Watchers Recipe Builder within my own paid plan to calculate this recipe.  You can also use the
Weight Watchers SmartPoints Calculator
.
Makes 10 servings (I divide into portioned containers when done for easy grab and go lunches)
6 Pointeaspoonlus per serving
3 SmartPoints per serving on Beyond the Scale
1 SmartPoints per serving on FreeStyle Plan or FlexPlan
As you can see, this unstuffed cabbage rolls soup recipe is a favorite because it is quick, easy, healthy and delicious.  The cabbage really does have a great hearty flavor when cooked down.  Some add a bit of rice to the mixture, but since we are going low carb we have always left that out.  I believe you could also easily add this to your Crockpot and cook on low for a few hours instead of on the stove top.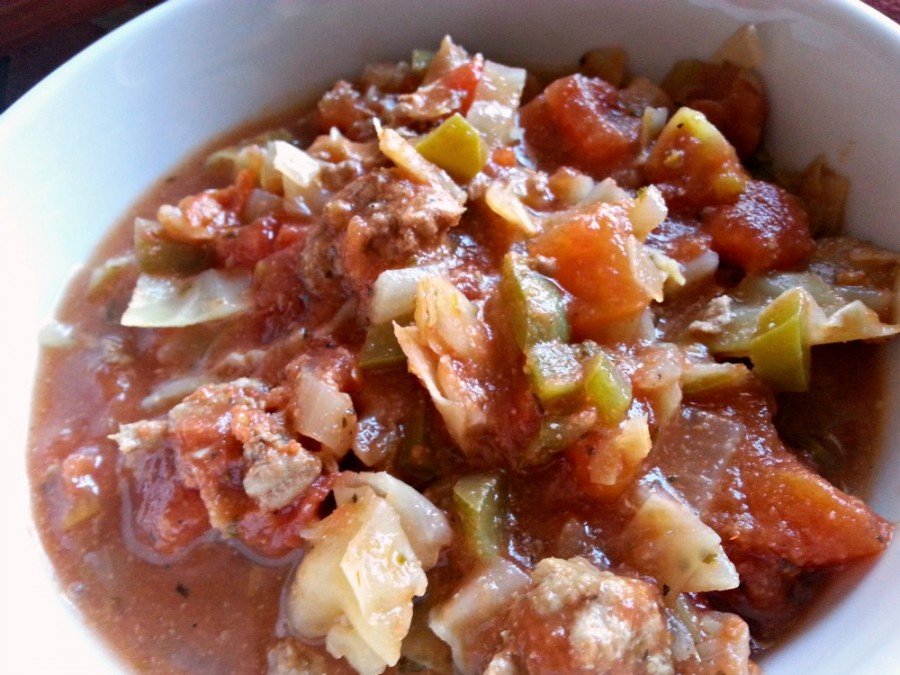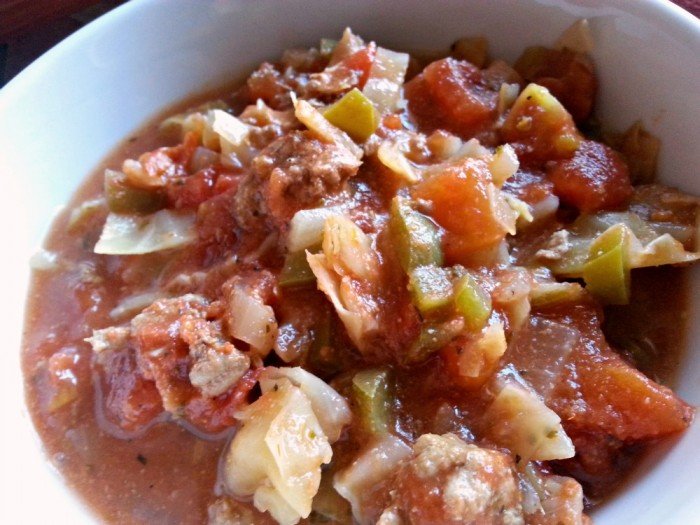 More Easy Soup Recipes:
Easy Beef Vegetable Noodle Soup
Weight Watchers Creamy Basil Tomato Soup