Sometimes you throw something together for dinner that is one of your family favorites, like this Easy Chicken Noodle Bowl.  Then you realize that others might like the recipe, and well - you haven't captured all of the process, but decide to share anyway.  Usually when I post a recipe here, I try to include some process pictures and share a bit more about how I made it.  This dish however, is one of those things that we make a lot and I think of as an easy quick meal in our house.  I forget that others might actually find it yummy and easy too.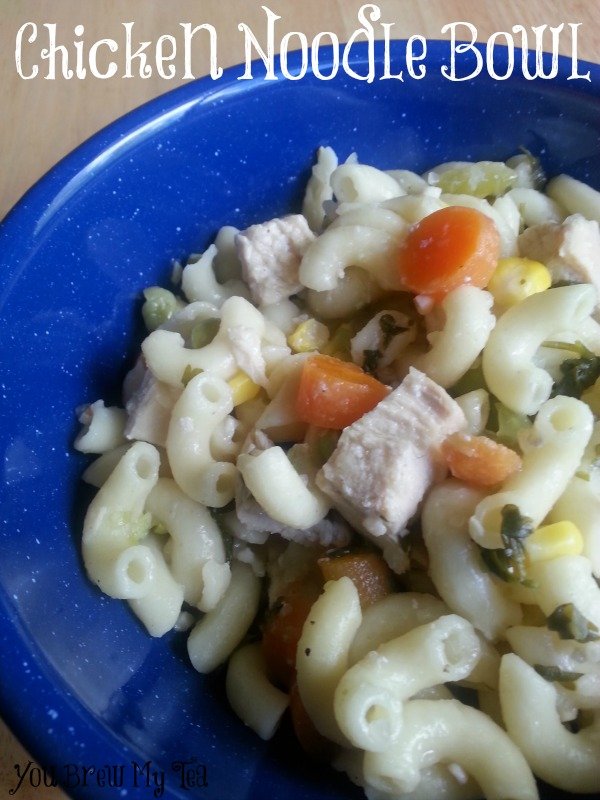 Easy Chicken Noodle Bowl
During the summer months, we love the soup flavors, but aren't always interested in eating hot soups.  This is a great way to have a dish that has all the benefits we love in chicken noodle soup, without all the broth.  For us, that is a plus since it is a bit heartier, but not as hot for summer month heat. Our recipe is pretty basic, but can easily be adapted for your preferences.  We love this because we keep all of these ingredients in our pantry at all times.  Since we are affiliates for Zaycon, we always have chicken on hand.  We keep frozen peas, corn and carrots on hand usually, and occasionally even have the bags of celery, bell pepper and onion mix that will go easily into this making less work for you.  Pasta and chicken stock are staple pantry items too.  Since it is a quick and easy pull from the pantry meal, it goes on our menu plan at least once a month if not more.
Boil and shred your chicken, and if you feel like it go ahead and toss garlic, onion, celery and carrot in that broth.  As it cooks the chicken, it also gives you a hearty broth to add to your dish. Add in the pasta, veggies and chicken and cook for 30 minutes or until pasta is cooked through.  You'll have a bit of broth leftover in the pan, but mostly you'll have a hearty chicken noodle bowl that everyone loves.  My Beau likes to add some fresh parsley to it, and serve with some crusty bread.  I like it just like it is, and yes - I will even eat it cold.

Easy Chicken Noodle Bowl
Ingredients
1 Pound Boneless Skinless Chicken Breasts
3 Cups Chicken Broth
2 Cups Water
1 Pound Pasta of choice
1 Cup Carrots, Sliced
3 Stalks Celery, Chopped
½ Cup Frozen Corn
½ Cup Frozen Peas
1 Small Onion, diced fine
1 Tablespoon Crushed Garlic
1 Teaspoon Black Pepper
1½ Teaspoon Salt
1 Bunch Parsley, chopped
Instructions
In large stockpot, cook chicken in broth and water until cooked through (approximately 25 minutes)
Remove chicken from pot and dice into cubes
Add in veggies, pasta and seasonings and cook for 30 minutes or until pasta and veggies are cooked through
This is a great easy chicken noodle bowl that even the kitchen inept can whip up easily. Since it makes a lot, it can easily be used for lunches or second meals later in the week.  We have frozen it for future use before, but when planning for that I usually leave the pasta a little more al dente.
Check out some of our other favorite chicken dishes!
Gluten Free Oven Baked Chicken Parmesan
Weight Watchers Sesame Chicken