Sometimes you throw something together for dinner that is one of your family favorites, like this Easy Chicken Noodle Bowl. Then you realize that others might like the recipe, and well - you haven't captured all of the process, but decide to share anyway. Usually when I post a recipe here, I try to include some process pictures and share a bit more about how I made it. This dish however, is one of those things that we make a lot and I think of as an easy quick meal in our house. I forget that others might actually find it yummy and easy too.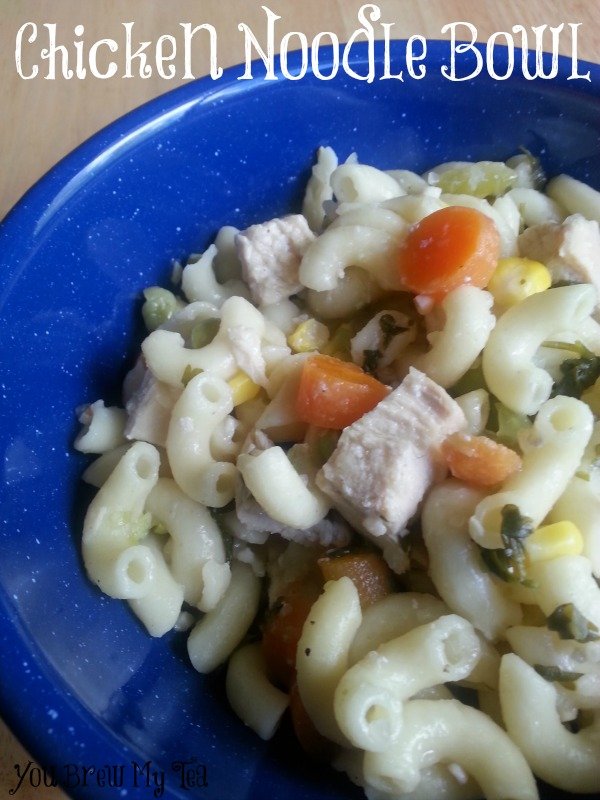 Easy Chicken Noodle Bowl
Not quite soup, but not quite a casserole, this chicken noodle bowl is one of my favorite ways to use up leftover chicken or to clean vegetables out of the refrigerator. I really love how simple it is and that it has great flavor plus protein, vegetables, and if you use whole wheat pasta is loaded with fiber.
Customize this with your own favorite vegetables and spices to give it a unique flavor. Add to your menu as a comfort food meal!
Ingredients
1 pound boneless skinless chicken breasts
3 cups chicken broth
2 cups water
1 pound whole-wheat elbow macaroni
1 cup carrots, sliced
3 stalks celery, chopped
½ cup frozen corn
½ cup frozen peas
1 small onion, diced fine
1 tablespoon minced garlic
1 teaspoon black pepper
1 ½ teaspoon salt
¼ cup fresh parsley, chopped
How to Make Chicken Noodle Soup Bowl
In a large stockpot, cook chicken in the chicken broth and water for 20 to 25 minutes until the chicken is cooked through.
Remove the chicken from the broth and cut it into small pieces.
Add the chicken, carrots, onions, peas, carrots, salt, pepper, and pasta back to the stockpot and cook over medium heat for 20 minutes until the pasta is cooked through.
Add the parsley and cook for an additional 5 minutes before serving.
How Many WW Points are in This Chicken Noodle Bowl?
You can verify your own unique PersonalPoints via the recipe in the WW app HERE.
PersonalPoints: 0-6
BLUE: 3
GREEN: 6
PURPLE: 0
SmartPoint: 3
Points Plus: 6
Yield: 8
Easy Chicken Noodle Bowl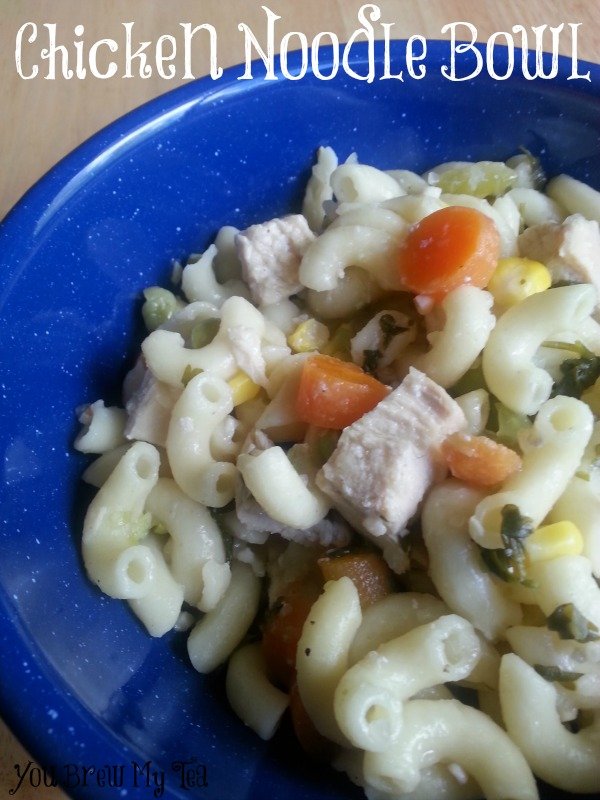 A tasty chicken noodle bowl is a perfect low calorie and comforting recipe to add to your menu this week!

Prep Time 10 minutes

Cook Time 1 hour

Total Time 1 hour 10 minutes
Ingredients
1 Pound Boneless Skinless Chicken Breasts
3 Cups Chicken Broth
2 Cups Water
1 Pound Pasta of choice
1 Cup Carrots, Sliced
3 Stalks Celery, Chopped
½ Cup Frozen Corn
½ Cup Frozen Peas
1 Small Onion, diced fine
1 Tablespoon Crushed Garlic
1 Teaspoon Black Pepper
1 ½ Teaspoon Salt
1 Bunch Parsley, chopped
Instructions
In large stockpot, cook chicken in broth and water until cooked through (approximately 25 minutes)
Remove chicken from pot and dice into cubes
Add in veggies, pasta and seasonings and cook for 30 minutes or until pasta and veggies are cooked through
Notes
You can verify your own unique PersonalPoints via the recipe in the WW app HERE. 
PersonalPoints: 0-6
BLUE: 3
GREEN: 6
PURPLE: 0
SmartPoint: 3
Points Plus: 6
Nutrition Information:
Yield:
8
Serving Size:
1
Amount Per Serving: Calories: 222Total Fat: 3gSaturated Fat: 1gTrans Fat: 0gUnsaturated Fat: 2gCholesterol: 50mgSodium: 820mgCarbohydrates: 25gFiber: 3gSugar: 3gProtein: 23g

This is a great easy chicken noodle bowl that even the kitchen inept can whip up easily. Since it makes a lot, it can easily be used for lunches or second meals later in the week. We have frozen it for future use before, but when planning for that I usually leave the pasta a little more al dente.
More WW Recipes
Gluten Free Oven Baked Chicken Parmesan
Weight Watchers Sesame Chicken