Have you ever thrown together a meal that was just way easier than it tasted?  That was the case with this Easy Chicken & Spinach Pasta.  I simply tossed together a few ingredients and came up with what is now a favorite meal in our house.  While we use gluten free pasta for ours, you can truly use any preferred pasta.  Spaghetti works really well, but I could see this mixture working well with rotini, shells or even fettuccine or angel hair pastas.  It is one of those dishes that is light, yet rich and savory.  It has umami for sure!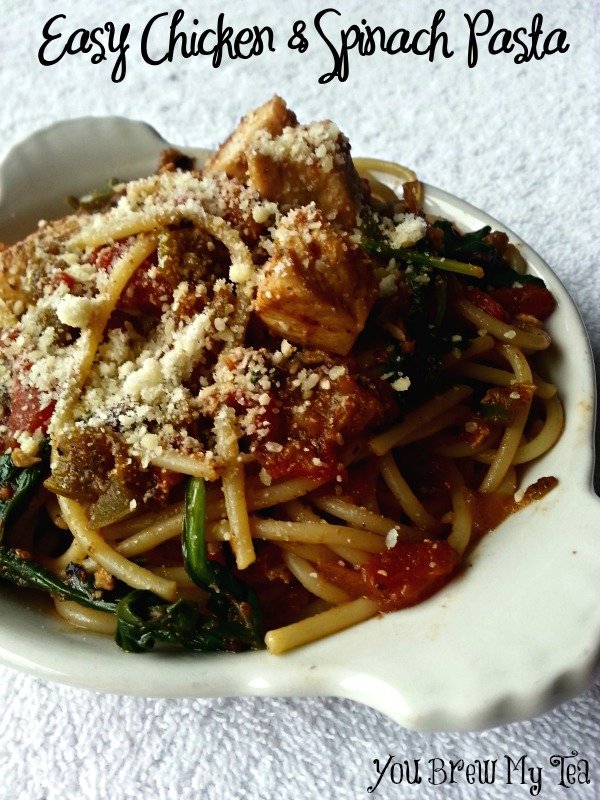 Easy Chicken & Spinach Pasta
This has very little pre work involved, which is something I really love.  Slicing and caremalizing onions is the only real step that takes much time.  After that, you simply have to cook the chicken through, then add the canned tomatoes, spinach and wine for a splendid little sauce that is bright, fresh and seriously perfect for entertaining.  While not quite a one pot dish, this s a great easy to throw together meal that your family will love.  I always have a hard time keeping my Beau and the Wee Child from snagging a few bites before I get it on the table!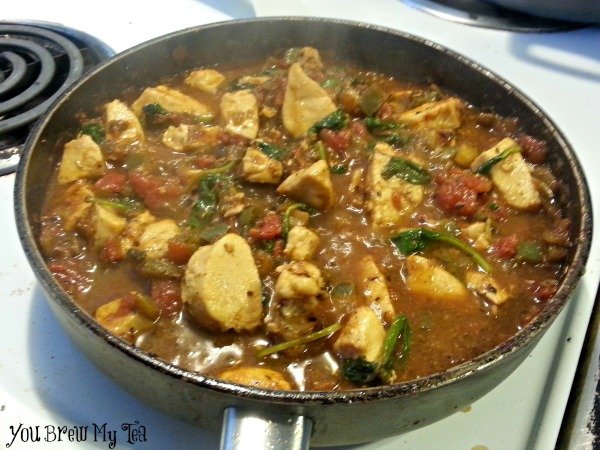 Easy Chicken & Spinach Pasta
Ingredients
1 pound boneless skinless chicken breasts
1 12oz can diced tomatoes (we prefer fire roasted)
1 small onion sliced thin
1 small bell pepper sliced thin
3 cloves garlic minced
3 cups baby spinach
1 cup white wine
½ cup fat free low sodium chicken broth
1 teaspoon oregano
1-2 teaspoons salt
1 teaspoon basil
1-2 tablespoons olive oil
1 package spaghetti or pasta of choice
Instructions
Prepare pasta as directed on package (drain and set aside)
In large skillet, heat oil, onions, garlic and bell pepper. Saute over medium heat until cooked through and beginning to caramelize.
Cut chicken into 1"-2" pieces. Season liberally with oregano, salt and basil.
Remove onions and peppers from skillet.
Add chicken to skillet and cook on medium-high heat for 4-5 mintues on each side. Stir or turn chicken to prevent sticking and cook evenly.
Reduce heat to medium and add back peppers & onion mixture, canned tomatoes and baby spinach.
Pour in chicken broth and bring mixture to a boil.
Add in white wine and cook on medium high heat for another 5-6 minutes. Stir occasionally to prevent sticking.
Pour sauce over pasta and toss well. May add salt to taste if needed
Serve with shaved Parmesan
We really love this, because it is super easy to assemble.  It's also a great way to get some extra spinach into our diets.  While the Wee Child will eat a salad with spinach in it, he usually scoffs at cooked spinach.  This is one recipe he really loves eating, especially with the spinach included.  You can add other fresh vegetables to the mix if desired, but this blend is truly amazing as it is.  We really love this easy chicken & spinach pasta as a great weekend treat!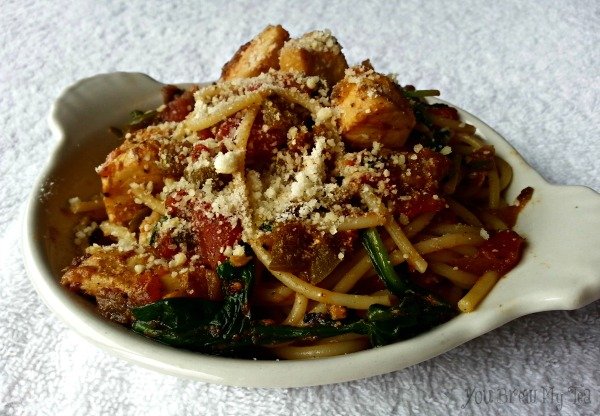 Check out some of our other favorite recipes!
50 Delicious Asparagus Recipes