Sometimes you simply need that meal that leaves you feeling satisfied like no other.  Since pasta is always a popular choice in our home, this Rustic Chicken Cacciatore is a meal that we truly feel is worth waiting for.  My Beau is always in the kitchen creating something new, and this is by far one of my favorite creations he has presented.  We loved how fresh and hearty the sauce is, but the chicken was truly superb.  I never knew that he could fry chicken so well, and while this is definitely not a normal indulgence in our home, it was worth every moment waiting and every calorie eaten.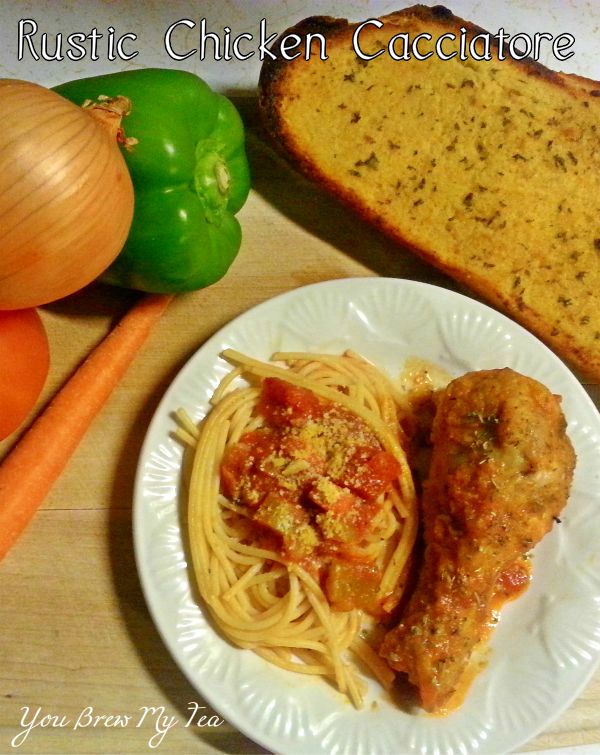 RUSTIC CHICKEN CACCIATORE
We recently had a chance to review Harvestland chicken as it fits into our desire to eat more antibiotic and hormone free meats.  This brand is affordable, high quality and available at your local Walmart along with other popular retailers.  When we picked up our chicken, we grabbed a few varieties, but one of those was these chicken legs.  Legs are not an item we usually buy, but I just knew they would offer us some great flavor, and if we cut the meat from the bone, we could even reserve the bones to make a hearty bone broth later on!
To get started, my Beau heated some olive oil and coconut oil in our favorite large stockpot.  We like the blend of the two for light frying purposes.  Next he mixed together some organic flour, salt, pepper, garlic powder and onion powder to give a nice flavor.  He dredged the chicken in the flour mixture and set it into the hot oil to crisp on all sides.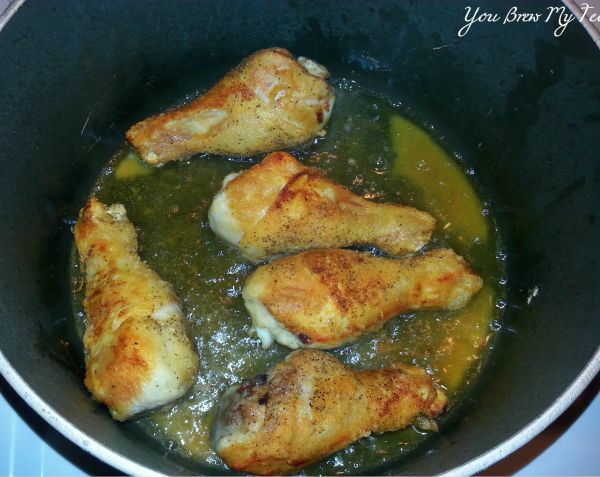 In the meantime he gave a rough chop to some bell peppers, onions, celery and carrots.  He wanted this to have a more rustic feel, and the addition of the large chunks of celery and carrots really elevated the sauce for me. I was surprised at how much flavor they brought to this meal.  Once the chicken was browned on all sides and cooked through, he removed from the pan and added in the vegetables to saute.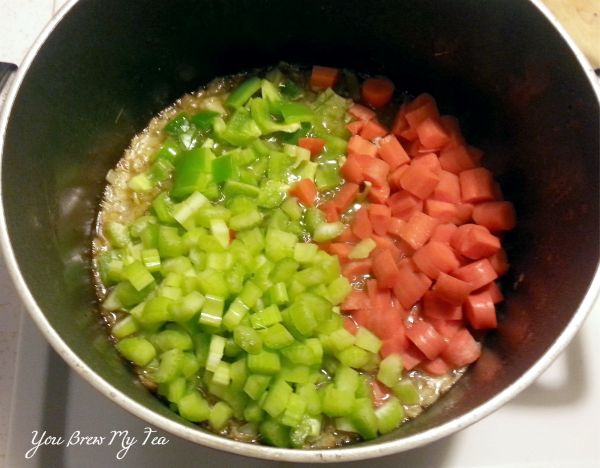 Once those cooked own, he added the diced tomatoes and tomato sauce and brought it to a simmer.  We prefer using the fire roasted tomatoes for a bit more flavor in our sauces, and it made this one that much better.  He let that simmer on low for about 20 minutes.  It took a bit of time, but was well worth the wait. While it simmered he cooked some of our favorite gluten free rice and corn pasta.  While we are not in need of gluten free products, we find the flavor and heartiness of the pasta to be preferred over whole wheat varieties.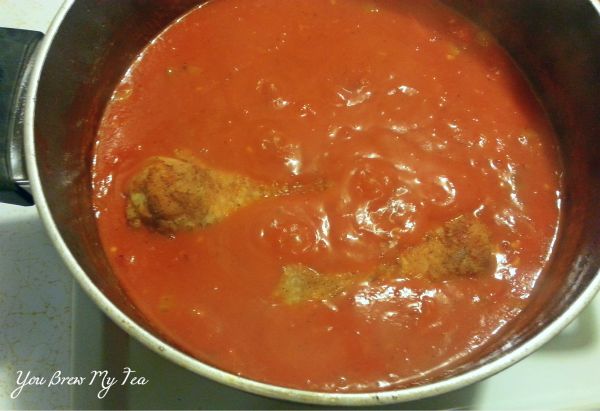 Lastly, he added the fried chicken back in for just a few minutes to coat the meat with this rustic sauce.

Rustic Chicken Cacciatore
Ingredients
1 Pound Chicken Legs
1 Cup Flour
1 teaspoon Garlic Powder
1 teaspoon Onion Powder
½ teaspoon salt
½ teaspoon black pepper
1 tablespoon Olive Oil
1 tablespoon Coconut Oil
3 Carrots, cut into ½" pieces
3 Stalks Celery, cut into ½" pieces
1 Yellow Onion, Chopped
1 Green Bell Pepper, Chopped
1 Bunch Fresh Basil chopped
2 Cans Fire Roasted Diced Tomatoes
1 Large Can Tomato Sauce
1 package pasta of choice
Instructions
Heat olive oil and coconut oil in large stockpot
Mix together flour, garlic powder, onion powder, salt and pepper in medium bowl
Dredge chicken legs in flour mixture and add to oil.
Cook 3-4 minutes on all sides rotating to brow and cook through
Remove chicken from pan and drain on paper towels
Reduce heat to medium and add in carrots, onion, bell pepper and celery.
Cook on medium heat stirring occasionally until mostly tender.
Add in canned tomatoes, sauce and fresh basil.
Stir well and cook on low to medium heat for 15-20 minutes
Add chicken back to sauce and cook on low for additional 5 minutes
If you are looking for a meal that pops with flavor and color, this is definitely the one for you.  Even the Wee Child loved the big chunks of vegetables in this Rustic Chicken Cacciatore.  We topped it with a bit of grated Parmesan cheese to highligt the flavors.  You could easily choose to use chicken thighs or breasts for this recipe, and you can even mix the pasta with sauce, place in a casserole dish with the chicken layered on top and cover with cheese.  Pop into a broiler and you have a delicious meal that could also become a favorite freezer meal for your family!
We used Harvestland antibiotic free chicken legs in this recipe.  Not only did we find the pricing of this chicken very reasonable in the healthier options without hormones or antibiotics, we loved the fact that the chicken did not shrink much in cooking.  It remained juicy and delicious without shriveling up.  That is a sure sign that it is not pumped full of extra water to appear bigger for sell.  You can find Harvestland products at many retailers, but we found ours at our local Walmart.  Make sure to check out Harvestland on Facebook,Twitter, Pinterest and Instagram for more information and locations it is available near you.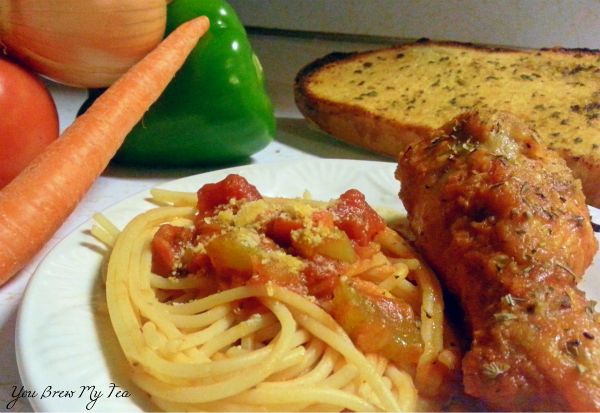 I received this product for free from the sponsor of the Moms Meet program, May Media Group LLC, who received it directly from the manufacturer.  As a Moms Meet blogger, I agree t use this product and post my opinion on my blog.  My opinions do not necessarily reflect the opinions of May Media Group LC or the manufacturer of this product.
We love this and other hearty and rustic recipes that remind you of home cooked meals of you childhood!
Roasted Chicken Sausage And Potato Hash
Garlic Roasted Purple Cauliflower & Cabbage