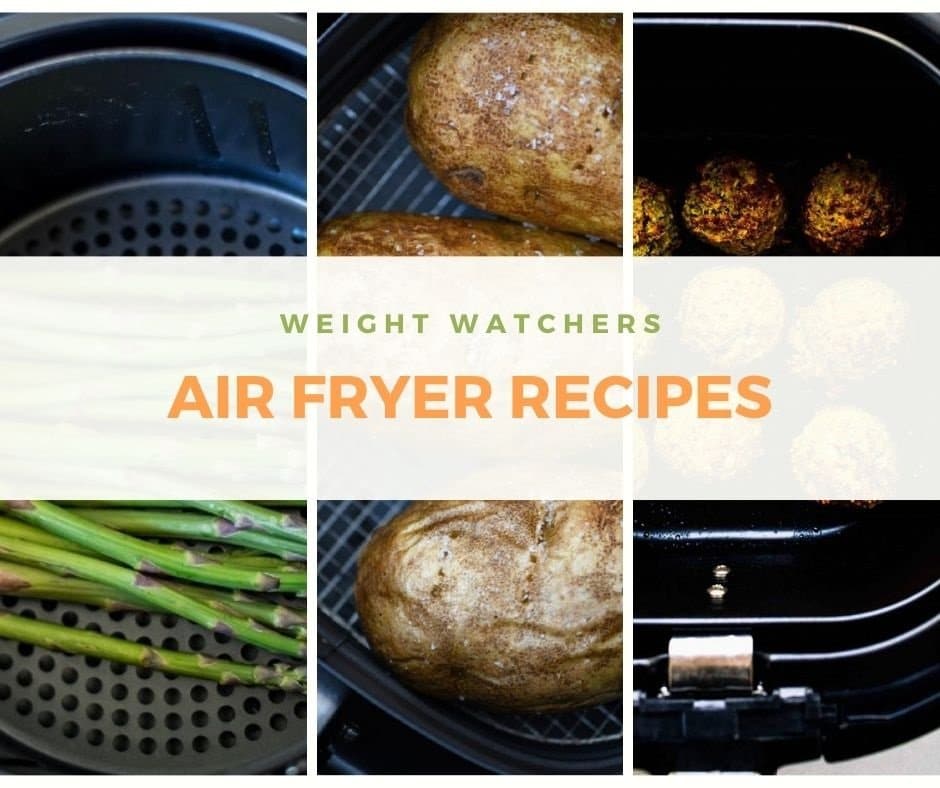 Basically, an air fryer is a convection oven sized down to fit on a countertop. It contains a heating device and a fan to blow the hot air around inside the unit.
The food is placed in a wire basket like those you see in conventional deep fryers. The heat circulating around the food cooks it up quickly so that the food comes out full of flavor and temptingly crisp – without having sizzled in oil.
Air fryers were first marketed to dieters who crave French fries and other deep-fried foods. The word fryer stuck, although there's absolutely no frying involved. But you can cook and bake an amazing range of recipes in one.
Weight Watchers Air Fryer Falafel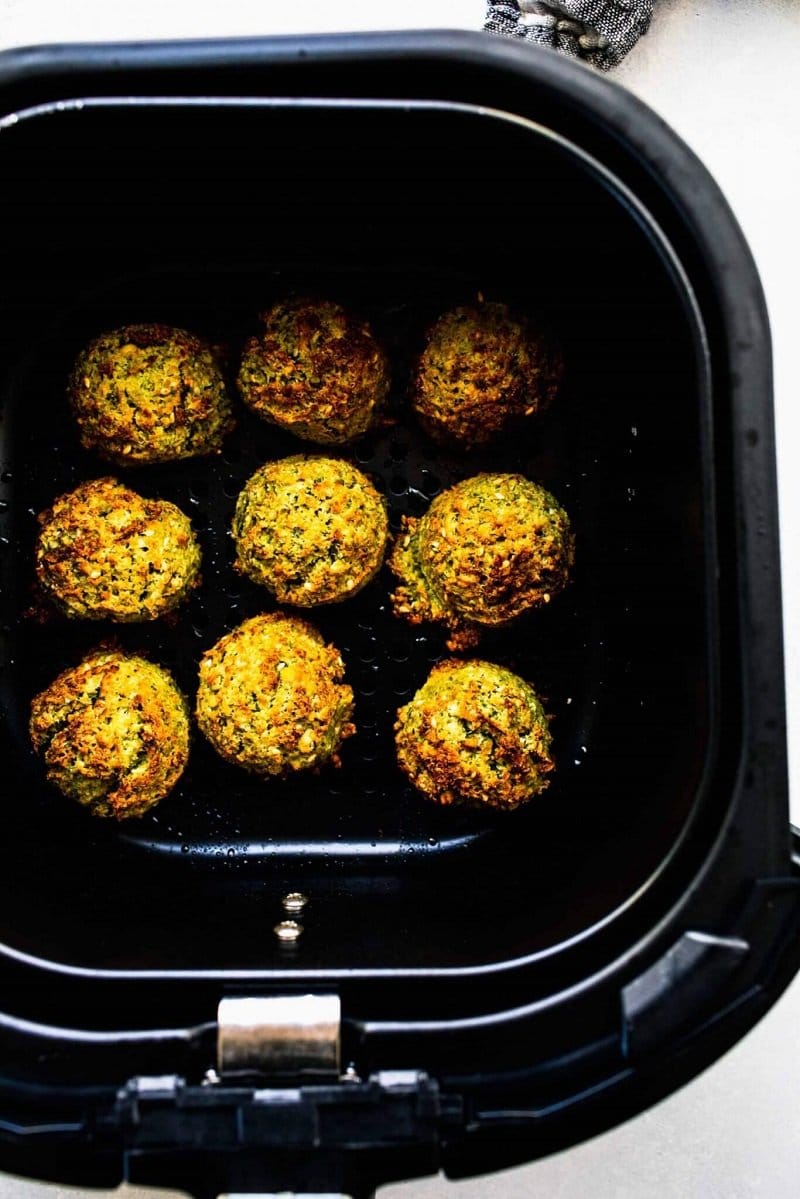 Imagine snacking on a couple of crisp home-made falafel balls: there's a low-point recipe for that, which we'll share below. Place them on plenty of salad and dribble a zero-point tzatziki sauce over everything, and you've got a tasty, low-point meal.
Yield: 8 Falafel Balls
Serves: 4, or 2 falafel balls per serving
Ingredients:
1 can cooked chickpeas, drained weight 240 grams
1 small onion, chopped roughly
2 garlic cloves, chopped roughly
2 tablespoon flour
¾ teaspoon salt
1 teaspoon ground cumin
½ teaspoon ground coriander
2 tablespoon coriander leaf (cilantro), chopped finely
2 teaspoon lemon juice
*Optional: ¼ teaspoon ground black pepper and/or ¼ teaspoon cayenne pepper flakes
Calorie controlled spray oil
Instructions:
Drain and rinse the chickpeas.
Place them in a food processor. Add the remaining ingredients.
Pulse the ingredients together, scraping down the sides occasionally, until you get a rough paste that holds together.
Divide the paste into eighths and roll each piece between your palms to form balls.
Place the falafel balls in the air fryer in an even layer. Spray them with calorie-controlled spray oil. Cook for 10 - 15 minutes, depending on the size of the fryer. Turn them halfway into the cooking and spray them lightly with oil again. Remove when they're brown and crisp.
Serve hot.
myWW Falafel Smart Points:
Freestyle plan: 1
Blue plan and Purple plan: 1
Green plan: 3
Zero Point Tzatziki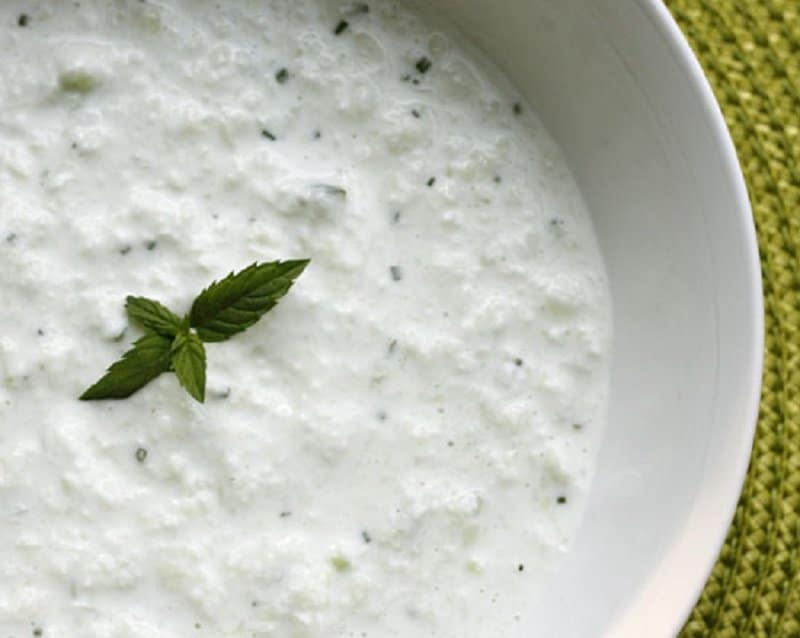 The tzatziki sauce is also excellent to serve with grilled fish or chicken or dribbled over air-fryer vegetables like asparagus or green beans.
Ingredients:
½ large cucumber, peeled
2 garlic cloves, chopped fine
1 tub fat-free Greek yogurt, (500 grams)
½ lemon
2-3 fresh mint leaves
*Optional: ½ teaspoon salt Instructions
Instructions:
Slice the cucumber in half lengthways.
Scrape the seeds from the inside of the cucumber with a spoon.
Grate the cucumber with a coarse grater.
Place the grated cucumber in a clean kitchen towel. Squeeze out the moisture as much as possible.
Place the grated cucumber in a bowl with the finely chopped garlic, chopped mint, juice from ½ lemon and salt. Mix.
Stir a tub of fat-free Greek yogurt in, and serve.
myWW Tzatziki Smart Points:
Weight Watchers Freestyle: 0
Blue and Purple plans: 0
Green plan: 3
Weight Watchers Air Fryer Baked Potatoes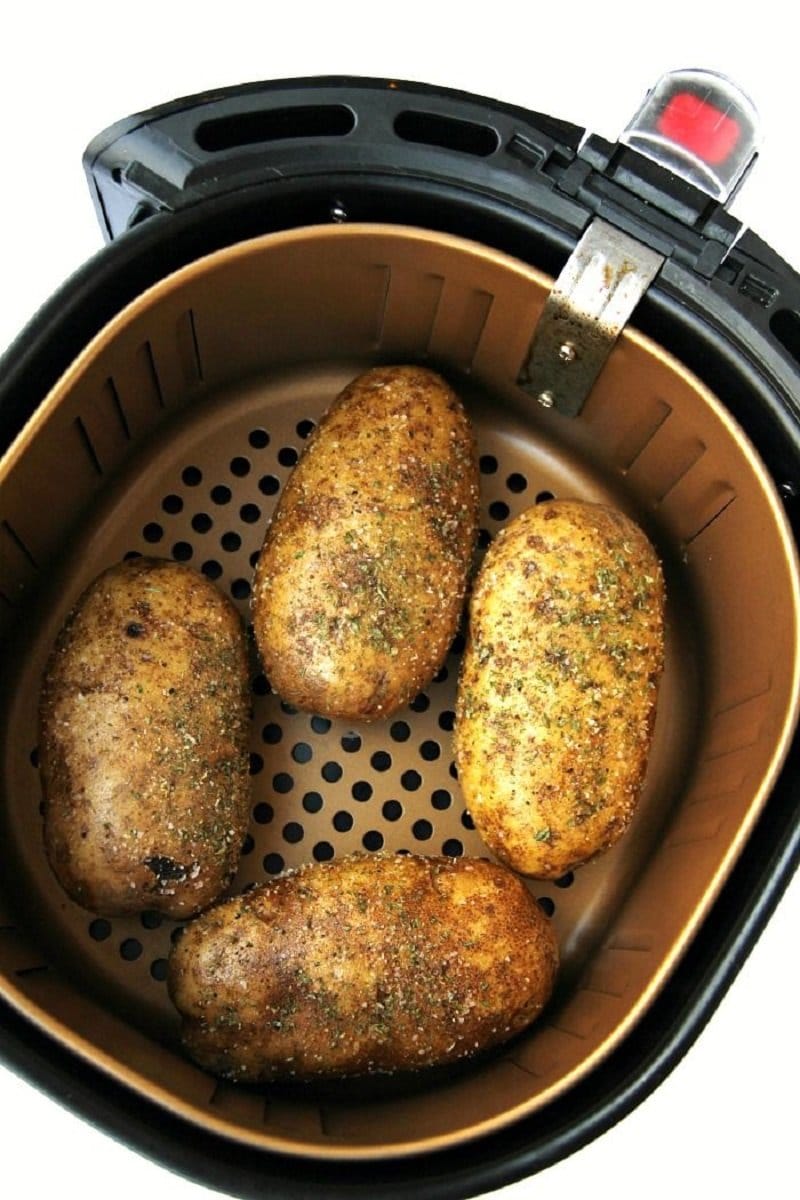 Craving a baked potato? Try this WW recipe for a crisp-skinned potato with a velvety smooth inside.
Cook time: 40 minutes
Yield: 2 portions
Ingredients:
2 medium-size Idaho or Russet potatoes
Cooking spray
2 tablespoon butter
Parsley for garnish
Instructions:
Preheat the air fryer to 400 degrees for 8 minutes, if preheating is required.
Spray the potatoes with cooking spray.
With a fork, poke several holes in the potatoes.
Place the potatoes in the air fryer basket.
Test the potatoes for doneness at 30 minutes. If needed, continue cooking for a further 10 minutes.
myWW Baked Potato Smart Points:
Blue plan: 5
Green plan: 5
Purple plan: 0
Weight Watchers Air Fryer Chicken Nuggets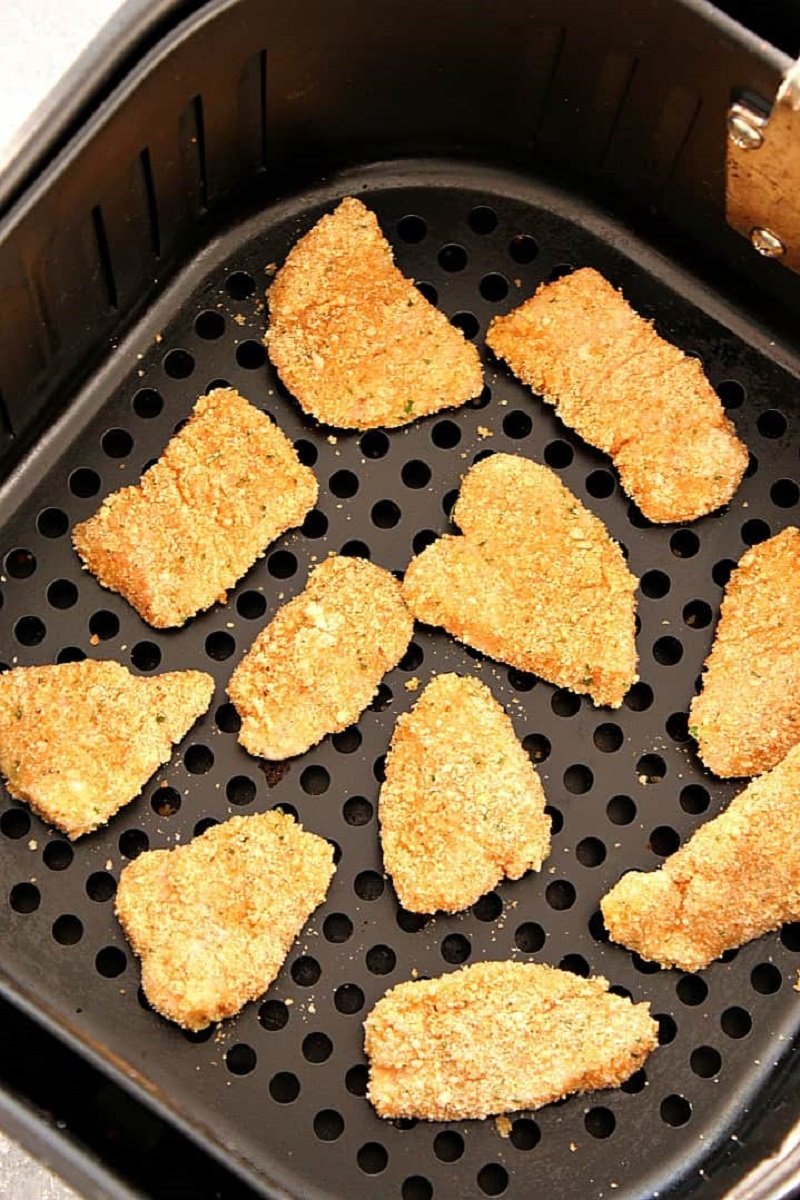 Try these delicious, fast, and easy chicken nuggets. A crowd-pleasing recipe.
Cook time: 20 mins
Yield: 4 servings
Ingredients:
2 large skinless boneless chicken breasts (16 oz. altogether), cut evenly into 1-inch pieces
½ teaspoon kosher salt and black pepper to taste
2 teaspoon olive oil
6 tablespoon whole wheat Italian seasoned breadcrumbs
2 tablespoon Panko
2 tablespoon grated Parmesan cheese
Olive oil spray
Instructions:
Preheat air fryer to 400°F for 8 minutes.
Have two bowls ready. Add olive oil into one bowl. In the second bowl, add breadcrumbs, Panko and Parmesan cheese.
Season chicken with salt and pepper in the first bowl. Add the olive oil and mix well to coat the chicken evenly.
Place the chicken into the breadcrumb mixture, a few chunks at a time.
Place them on the basket.
Lightly spray the tops with olive oil spray. Air fry 8 minutes, turning halfway to achieve even cooking.
myWW Chicken Nuggets Smart Points:
Blue plan: 3
Green plan: 5
Purple plan: 3
Weight Watchers Air Fryer Turkey Breast Tenderloin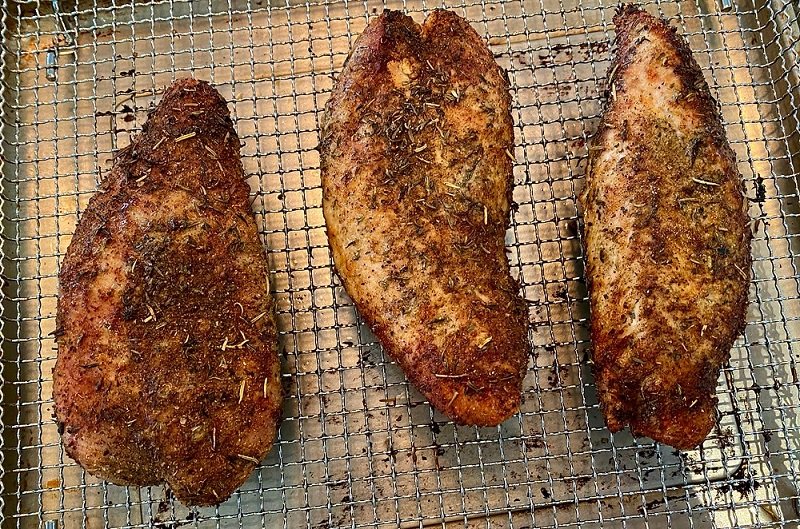 Turkey tenderloins are the boneless and skinless part of the turkey breast. It's very tender and cooks quickly. Watch out for overcooking; as it has almost no fat, it can dry out. This air fryer recipe produces juicy turkey breast tenderloin in 30 minutes or less.
Prep Time: 5 minutes
Cook Time: 25 minutes
Yield: 3 servings
Ingredients:
1 turkey breast tenderloin
½ teaspoon thyme
½ teaspoon black pepper
½ teaspoon paprika
½ teaspoon salt
½ teaspoon rubbed or crumbled dry sage
Cooking spray
Instructions:
Set the air fryer to 350 °F
Rub the herbs and spices all over the turkey.
Spray the air fryer basket with the oil spray.
Place the turkey in the basket and cook for 25 minutes. Flip it over at 12 minutes.
myWW Turkey Breast Tenderloin Smart Points:
Green plan: 2
Blue plan: 0
Purple plan: 0
You May Also Like: Air Fryer Greek Stuffed Chicken Breast
Weight Watcher Air Fryer Potato-Crusted Fish Fillets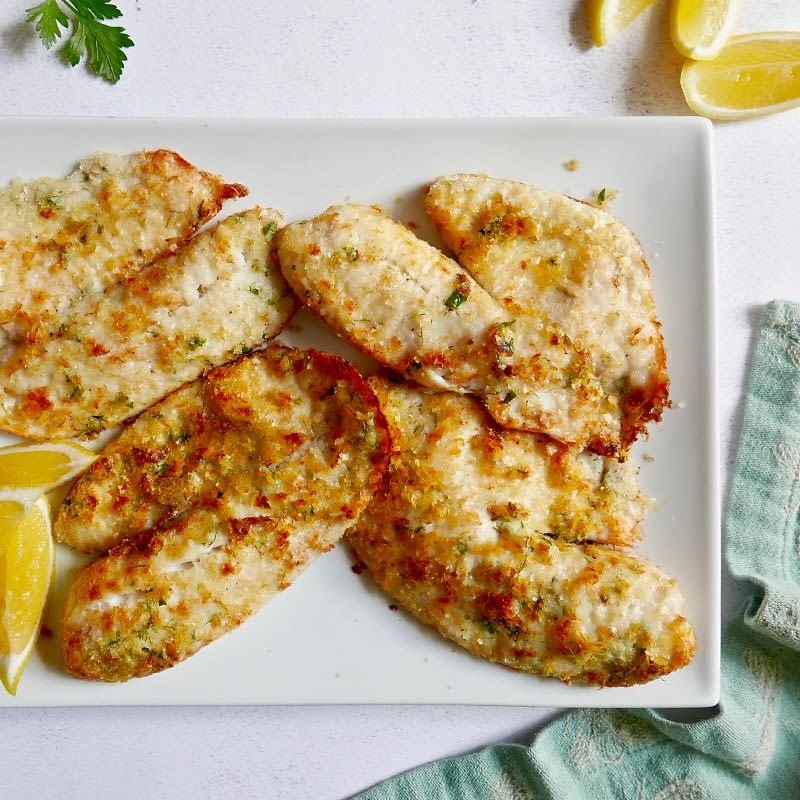 These tilapia fillets are air-fried until they're moist inside with a crisp crust on the outside. To be able to fit two in the air fryer at once, make sure that the fillets weigh no more than six oz. each.
Preparation time: 8 minutes
Cook time: 20 minutes
Yields: 4 servings
Ingredients:
¼ cup light mayonnaise
1 tablespoon chopped parsley
1 tablespoon chopped dill
½ teaspoon garlic powder
¼ teaspoon table salt
¼ teaspoon black pepper
4 six-oz. tilapia fillets (1½ pounds)
¾ cup dry potato flakes
Cooking spray
Instructions:
Pat the fish dry with paper towels.
In a pie pan or rimmed plate, pour in the potato flakes.
Combine the mayonnaise, parsley, dill, garlic powder, salt, and pepper in a bowl.
Preheat air fryer to 400°F.
Spread 2 fillets with 1 tablespoon mayonnaise mixture each.
Coat the fillets in potato flakes, pressing gently to make the potato flakes stick.
Spray the air fryer with cooking spray.
Place 2 coated fillets in the air fryer and spray them with cooking spray.
Air-fry about 10 minutes, until the breading is crisp and the fish is cooked through.
Remove the fillets from the air fryer. Keep them warm.
Repeat with remaining mayonnaise mixture, the uncooked fillets, and potato flakes.
Read Related Topic: Air Fryer Honey Mustard Pork Chops
myWW Air Fryer Potato-Crusted Fish Fillets Smart Points:
Green plan: 4
Blue plan: 3
Purple plan: 3
Weight Watchers Crispy Air Fryer Brussels Sprouts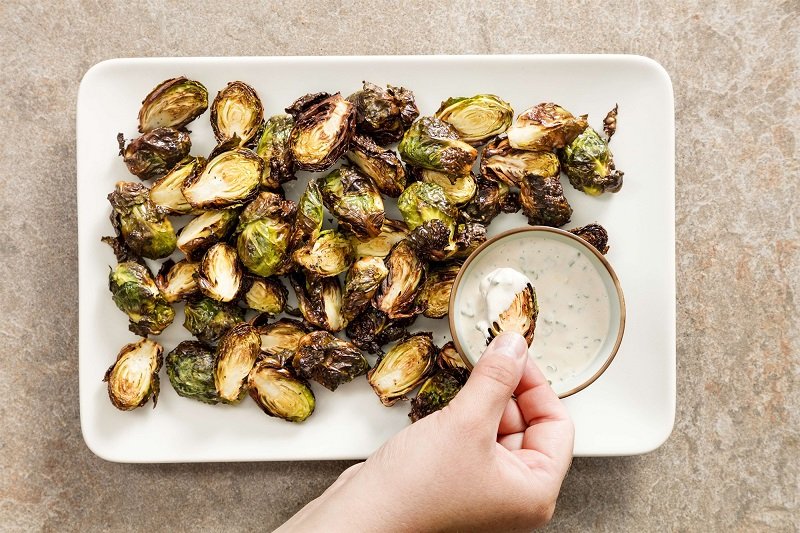 Let's get into some good, green vegetables now. What do you say to crisp Brussels sprouts? This simple recipe lets you taste the full goodness of the vegetable. But if you want it a little more sophisticated, sprinkle garlic and onion powder over the sprouts before putting them in to cook.
Prep Time: 2 minutes
Cook Time: 10 minutes
Yield: 4 Servings
Ingredients:
1 lb. fresh Brussels sprouts, trimmed, stems removed, and sprouts halved
Cooking spray
Salt
Black pepper
*Optional: garlic and/or onion powder
Instructions:
Preheat the air fryer to 350F / 180C.
Put Brussels sprouts into a bowl and spray with cooking spray.
Shake salt, black pepper, and optional seasonings over the sprouts. Mix gently until well coated.
Place the Brussels sprouts in the air fryer basket.
Fry 8-12 minutes. Remove the basket and shake it several times to ensure that all parts crisp up.
Serve warm.
myWW Air Fryer Brussel Sprouts Smart Points:
Green plan: 1
Blue plan: 1
Purple plan: 1
Weight Watchers Air-Fried Asparagus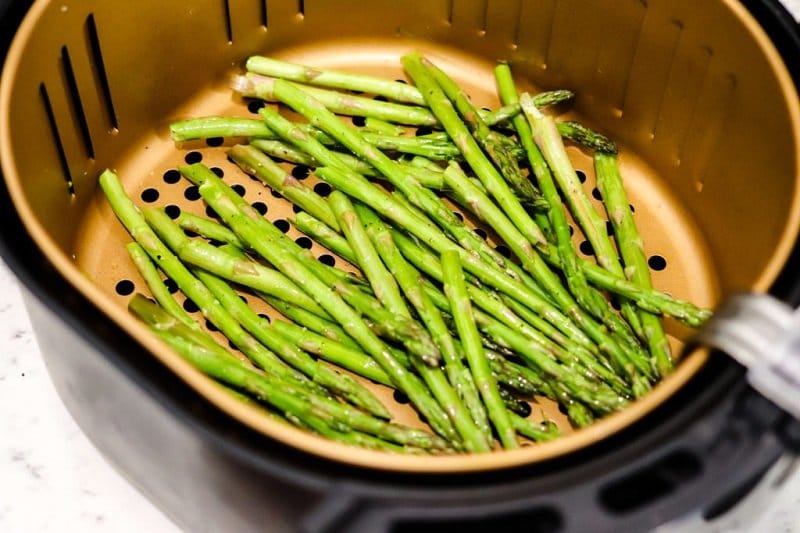 Cook time: 8 minutes
Yield: 4 servings
Asparagus is a surprisingly versatile vegetable. Its flavor combines easily with omelets and scrambled eggs, quiche or a soup, and gives a nice crunchiness to a big mixed salad.
Ingredients:
1 bunch of asparagus, trimmed, rinsed, and dried
Cooking spray
Salt
Instructions:
Preheat the air fryer to 400°F / 200°C.
Lightly spray the prepared asparagus with cooking spray, or gently tumble them in 1 tablespoon olive oil.
Sprinkle with salt.
Place the asparagus spears in a single layer inside the air fryer basket.
Cook for 5-8 minutes. Thinner stems will be done in 5 minutes and thicker stems will need to cook for 6-8 minutes.
myWW Air Fryer Asparagus Smart Points:
This is a zero-point treat.
Weight Watchers Crispy Air-Fried Buttermilk Onion Rings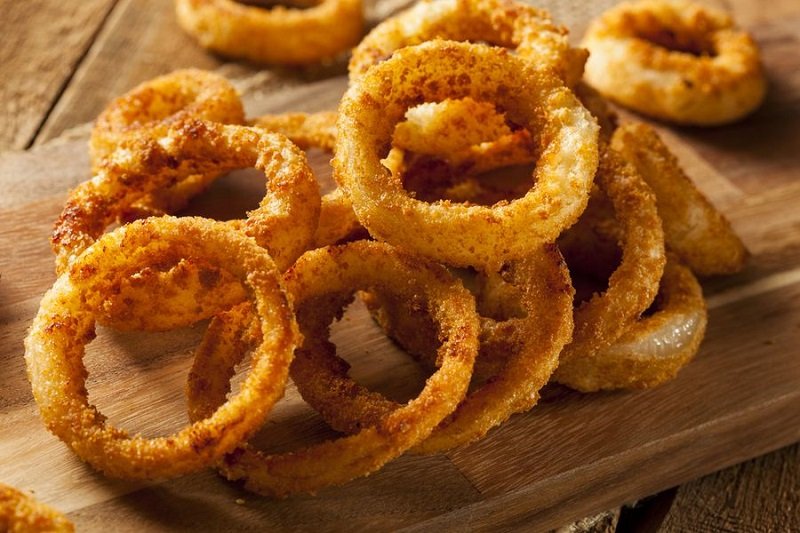 Love onion rings? You're in for a treat with this recipe for air fryer onion rings. Serve them with hamburgers, naturally.
Preparation time: 20 minutes
Cook time: 20 min
Yield: 4 servings of 5 onion rings
Ingredients:
¼ cup cornstarch
1 large egg or ¼ cup fat-free egg substitute
½ cup low-fat buttermilk
⅓ cup all-purpose flour
1 teaspoon hot pepper sauce or to taste
¾ teaspoon table salt
½ teaspoon paprika
1 cup Panko breadcrumbs
2 uncooked onions – about 16 oz., cut into ½-inch slices
Cooking spray
Instructions:
Spread the cornstarch on a sheet of wax paper.
Beat the egg in a medium bowl.
Whisk in the buttermilk, flour, hot sauce, salt, and paprika until smooth.
Spread the panko on a separate sheet of wax paper.
Separate the onion slices into rings, selecting the 20 largest and shapeliest rings.
Coat five onion rings with cornstarch, using a fork to turn them.
Use another fork to dip the cornstarch-coated rings into the buttermilk batter. Let the excess batter drip off.
Put the onion rings on the panko, turning them over with a clean fork to coat all.
On a baking sheet, lay them out in a single layer. Repeat to coat remaining onion rings.
Check the air fryer settings and preheat a 6-8 quart fryer to 360°F or 370°F for 3 minutes. Spray the basket with cooking spray.
Place 10 rings in the basket and spray them. Air fry 5 minutes.
Turn the rings over and spray them again. Air fry 5 minutes longer or until crisp. Repeat with the remaining 10 onion rings.
myWW Air Fryer Crispy Onion Rings Smart Points:
Green plan: 6
Blue plan: 6
Purple plan: 6
One advantage of air fryers is that they're very easy to clean, which is great because they really should get cleaned out after every use. Most have parts that are dishwasher-safe. And they keep the kitchen cool, as all the heat happens on the inside.
One disadvantage is that even small units take up valuable kitchen counter space. And unless you lucked into a discount, it's a costly apparatus, selling from $100-300, depending on the brand, size, and features.
Some rave about the crispness of foods coming out of air fryers and others say the food is tasty, but will never be as crisp as deep frying in oil.
Tip: coating the food in 1 measured tablespoon of oil before putting it into the air fryer yields a crisper texture. Track the oil in your WW app.
Air fryers are much more versatile than you'd think. Frozen foods like mozzarella sticks, French fries, and pizza are great candidates for oil-free snacks or meal sides. But it's useful in cooking foods made from scratch too, like crisp-skinned and flavorful tofu, crunchy vegetables, or even bagels. Weight Watchers has a recipe for those, too.
Weight Watchers sells the Dash 2 Qt Compact Air Fryer, which can be purchased through the Win or Feel Good system of rewards on their site. It's small, and useful when cooking for one or two people. Be aware, though, that it's often sold out. If you're determined to own an air fryer,