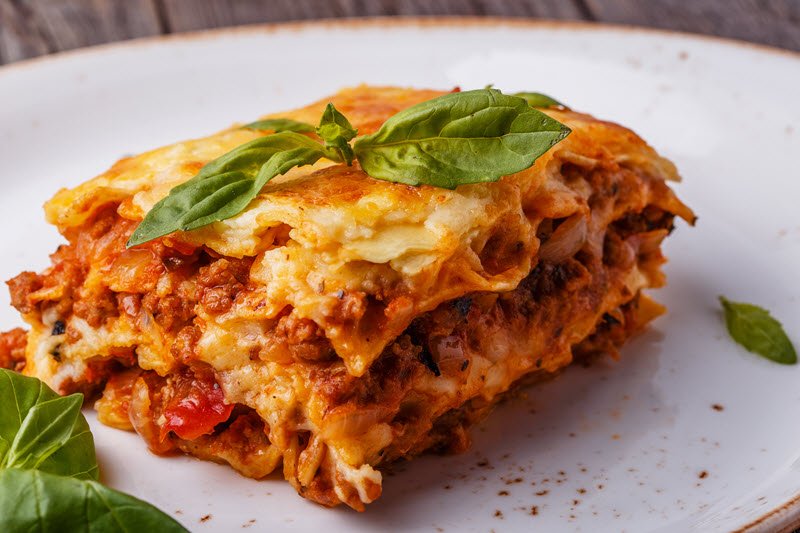 Who says you can't enjoy great tasting food when you are on a diet? A lot of people think that when they diet, they have to give up their favorite foods. That just isn't the case. In fact, if you deprive yourself of what you want, chances are that you are just going to end up binging and ditching the diet altogether. The best way to lose weight is to adopt a healthy eating style, and when you do that, you can enjoy your favorite treats on occasion without feeling guilty.
Take the Weight Watchers diet for instance. This is more of a lifestyle than a diet, and it doesn't work by counting calories. Instead, you count points, so you can eat until you run out of points. If you have something that is a treat, you just have to not have something on the other end. For example, if you want to enjoy some delicious lasagna, don't feel you can't because of the carbs and fat. Just use your points to make sure that you don't overindulge.
Today we are giving you one of the most delicious Weight Watchers recipes we can find, crockpot lasagna. It's easy to make, and oh so tasty. You won't believe you can have this indulgent treat and still lose weight.
Weight Watchers Slow Cooker Lasagna - Crockpot Recipe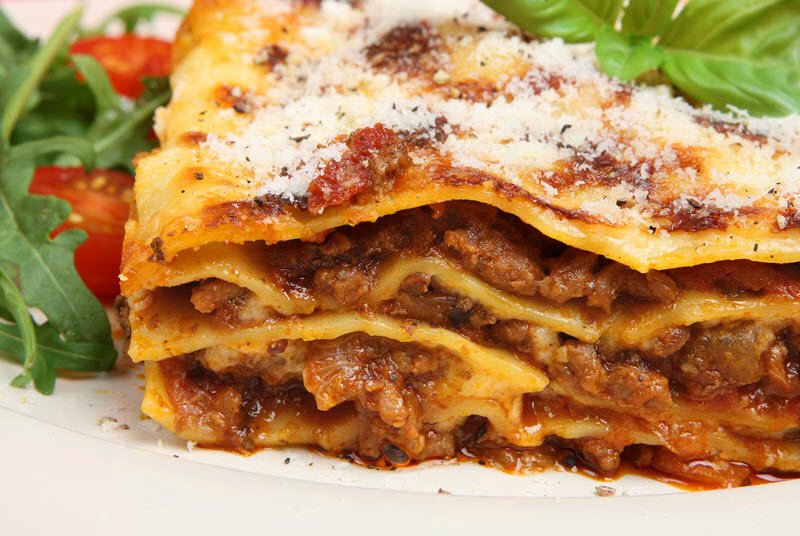 One thing to keep in mind when you are cooking lasagna in a crockpot is that you don't have to boil the noodles first. You also don't have to worry about buying the no-boil lasagna noodles. Just get regular noodles and the crockpot will do all of the cooking for you.

Weight Watchers Crockpot Lasagna
Ingredients
1 pound lean ground beef
1 small uncooked onion
1 garlic clove, minced
1 28-ounce can crushed tomatoes
1 15-ounce can tomato sauce
1 teaspoon Italian seasoning
1 teaspoon paprika
½ teaspoon chili powder
Salt and pepper to taste
1 C part-skim ricotta cheese
2 C part-skim mozzarella cheese, divided
1 box uncooked lasagna noodles
½ C shredded Parmesan cheese
Instructions
In a large skillet, add beef, onion, and garlic. Cook over medium-high heat, stirring frequently, making sure the meat breaks up into small bits while cooking. Use a wooden spoon to break up the meat. This should take about five to seven minutes. Remove pan from heat.
In a separate saucepan, combine crushed tomatoes, tomato sauce, and dry seasonings. Bring to a slow boil over medium heat, then turn to low and let simmer for 15 to 30 minutes so the flavors can combine nicely.
Add tomato mixture to beef. Heat over medium-low heat to combine flavors.
In a separate bowl, combine shredded mozzarella and ricotta cheese until well blended.
Place one third of the beef mixture into your slow cooker. Take three pieces of uncooked lasagna noodles and break in half. Arrange lasagna on top of the beef mixture.
Top noodles with half of the cheese mixture.
Repeat with meat sauce, noodles, and cheese layers.
Top with remaining one third of the beef and sauce mixture.
Cover the slow cooker, then to low, and cook for four to six hours. At end of cooking period, you may want to add more seasonings on top to taste.
In a small bowl, mix remaining mozzarella cheese with the grated Parmesan cheese and sprinkle on top of beef mixture. Replace cover and let sit for five to 10 minutes so the cheese melts and lasagna gets a bit firmer.
In order to stay within your points and not eat too much, remember to only eat a serving that is about one sixth the size of the entire lasagna. This is a great meal for the whole family, and if you keep the portions small, people can even have seconds.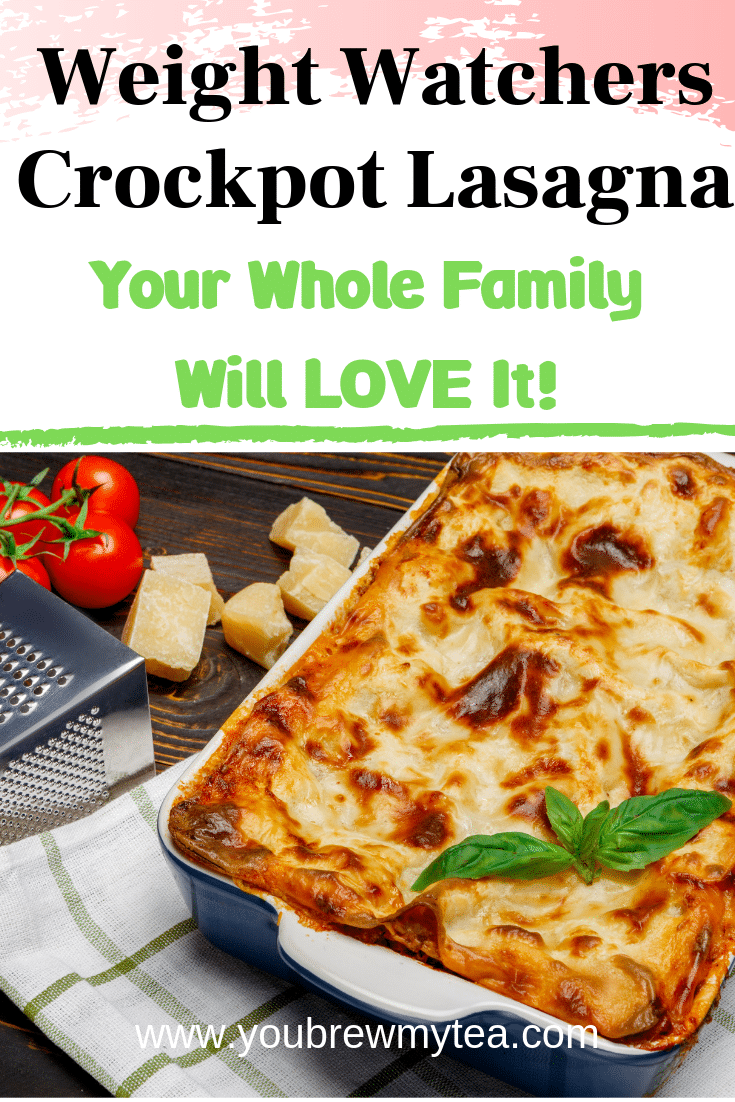 Nutritional Information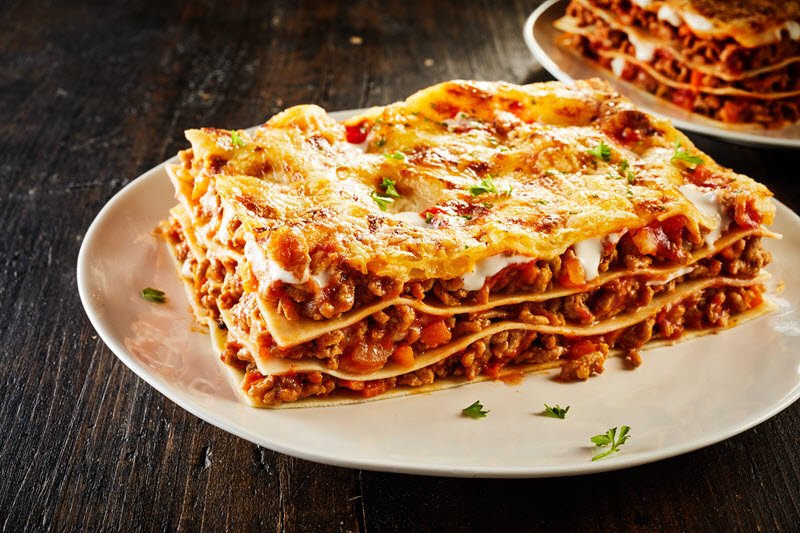 When you are trying to lose weight, one of the most important things you can do is read the nutritional information for everything you are eating so you know that you are putting healthy foods into your body that are going to help promote weight loss. Let's take a look at the nutritional values of this Weight Watchers Crockpot Lasagna.
Serving size: 372 grams
Servings per recipe: 6
Calories per serving: 360
Calories from fat: 125
Daily nutritional values
Total fat - 21%
Saturated fat (7g) - 33%
Cholesterol (69mg) - 23%
Sodium (999mg) - 41%
Total carbs (31g) - 10%
Dietary fiber (4g) - 15%
Sugars (8g) - 32%
Protein (28g) - 56%
Daily percent values are based on a typical 2,000 calorie per day diet. Depending on your caloric needs, the values you need may be higher or lower.
The nutritional information is based on the data available for the nutrients in this dish. Information may not be available for all ingredients.
Shopping Tips
One of the toughest things one can do is go grocery shopping while on a diet. Not only are there plenty of temptations in every aisle, there are also a lot of processed foods to avoid. You should always read the nutritional information on anything you are going to eat or feed to your family, to make sure that it is healthy and fits into your dietary lifestyle. Here are a few shopping tips to make sure you get the healthiest ingredients for this lasagna.
Try to buy ground beef that is 96% lean. If you can't get this, ask if they have 94% lean ground beef that has been grass-fed. This is often available at most supermarkets. Another option is to use ground turkey, which is even healthier because it is much leaner than beef
This recipe uses a total of three-and-a-half cups of pasta sauce. Look for one that doesn't contain a lot of sugars. One that we really love is Prego, which is thick and chunky and makes any dish even tastier. Other healthy options include Classico and Ragu. If you really love to cook, simply use tomato paste, unseasoned tomato sauce, and crushed tomatoes, and add your own seasonings to really make this recipe your own.