My friend Kassie shared this easy Weight Watchers Lunch Healthy Tuna Salad Wraps recipe with me this past week.  She used to have this recipe on her old blog, but since it is no more she said I could share it with you here.  You can check her out at Saving A Buck With Mrs. Buck.  She coupons about all kinds of great deals, but especially focuses on Texas stores!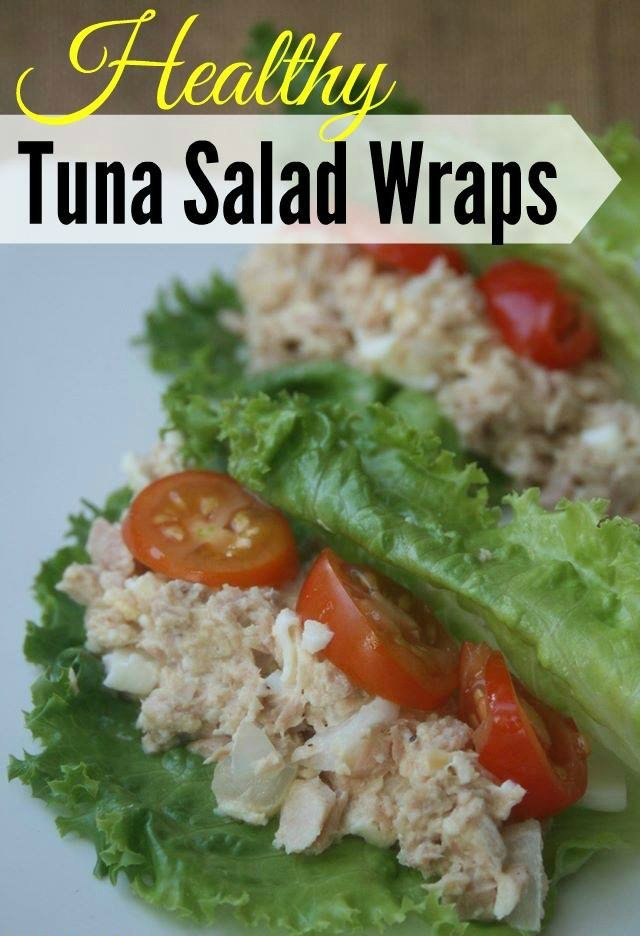 Weight Watchers Lunch Healthy Tuna Salad Wraps
I admit to not being a big fan of tuna in general, but on occasion, a bit of tuna salad or a tuna croquette is just what I want.  This healthy tuna salad recipe makes a great choice for a tasty and low point Weight Watchers lunch idea.  It's simple, fast, tasty and of course, the most important part is that it is super healthy.
Tuna is a great lean protein choice that is also affordable.  I do recommend buying your canned tuna only in water and not in oil.  That helps take away a ton of calories, and the flavor is so much fresher.  I also get mine low sodium so it's easier to season without it getting too salty.  Saltwater fish is obviously going to be a bit saltier than some meat choices, so going low sodium in water is the best choice for this healthy tuna salad recipe.
This recipe includes hard boiled egg, but that's something I would leave out if you want lower points or if you are like me and just don't care for egg much.  You could also add in your tomatoes directly into the tuna salad instead of just on top.  It's easy to mix and match to make this perfect for you and your taste buds.  While the base of the cream in this is Greek yogurt, I do add just a small amount of Mayonnaise for taste. Without it, the mixture is just a bit too bland and dry.  The added calories are negligible.

Weight Watchers Lunch Healthy Tuna Salad Wraps
Ingredients
1 12oz can Tuna, in water low sodium
1 egg, hard boiled
¼ Small Onion, chopped
1 Teaspoon Dill Pickle Relish
2 Tablespoons nonfat Greek Yogurt, Plain
1 Teaspoon Mayonnaise
½ Teaspoon Garlic Powder
½ Teaspoon Black Pepper
¼ Teaspoon Salt
Fresh Bib Lettuce for "wraps"
Tomatoes for garnish
Instructions
Drain water from tuna.
Pour drained tuna into a medium bowl and mix with all ingredients except tomato and lettuce.
Scoop into lettuce "wraps" and top with sliced tomatoes.
Makes 2 Servings
1 SmartPoint per serving on FreeStyle or Flex Plans
3 PointsPlus per serving
3 SmartPoints Per Serving on Beyond the Scale
This healthy tuna salad recipe is a great choice to have on lettuce as a low carb wrap, or you could serve alone, over a large garden salad or on your favorite toasted bread.  When you are looking for a healthy and delicious Weight Watchers lunch, grab the ingredients for this healthy tuna salad wraps recipe.  It's the perfect lunch for on-the-go and is full of great lean protein and heart healthy Omega-3 fats to help improve brain function and energy.
Check out some of our other favorite Weight Watchers recipes!
Weight Watchers Breakfast Strawberry Banana Smoothie
Weight Watchers Green Chile Chicken Enchilada Casserole
Weight Watchers Sweet & Sour Meatballs