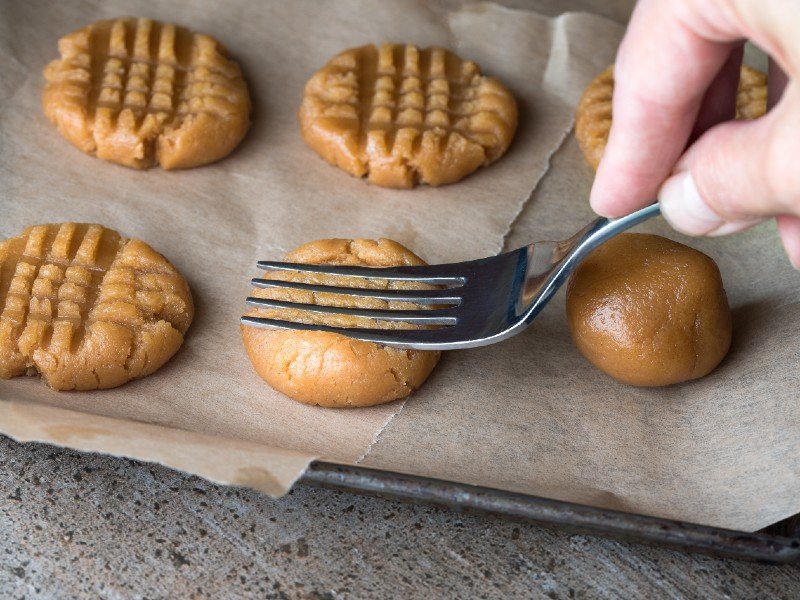 There is something special about peanut butter. It is sweet, salty, rich, and decadent all at the same time. Pretty impressive for such a common kitchen staple! When you've got peanut butter on the brain, nothing else will do.
Peanut butter is also so versatile! It can be used in savory sauces, added to fruits and oatmeal for a tasty breakfast, or just eaten straight up with a spoon. We've all been there, right?
But we all know where peanut butter fits best. Cookies. Hand-held and milk-dunkable, cookies are the perfect vehicle for peanut butter consumption.
There is only one thing between you and cookie time. Overly complicated recipes. It is always frustrating to find a recipe that sounds so perfect for what you're craving, only to find out that it requires an ingredient that either you've never heard of, or that requires a trip to the store. 
To avoid that sad situation, here are 5 Weight Watchers Peanut Butter Cookie Recipes that you can make right now, with what you already have on hand.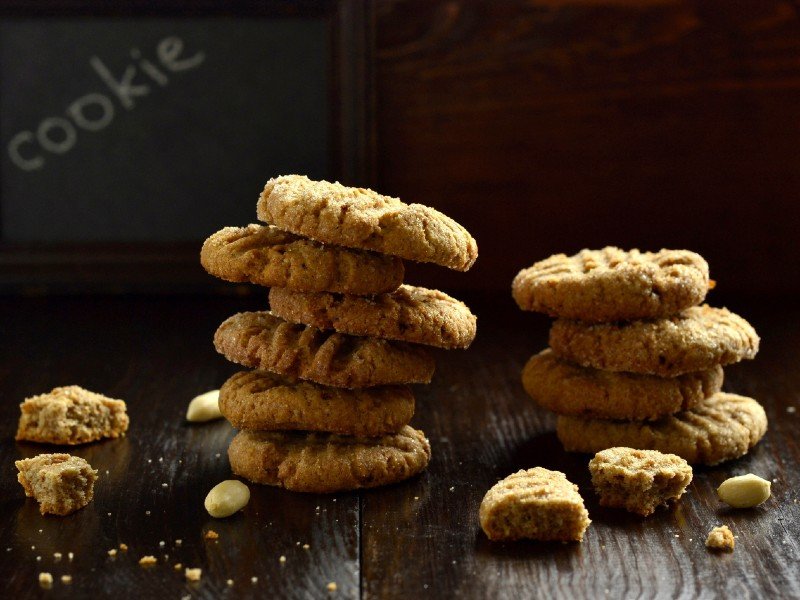 1. Simple Peanut Butter Cookies with Only 4 Ingredients
1 WW point per cookie for all plan colors.
These cookies are deceptively simple for how scrumptious they turn out! Chewy with a hint of molasses flavor from the brown sugar, you'll never believe they are only 1 point per cookie!
With a short preparation and bake time, you can be enjoying these easy weight watcher peanut butter cookies within the hour.
*Makes 5 dozen small cookies
Recipe
1 EGG

¾TH CUP BROWN SUGAR

¾TH teaspoon BAKING SODA

1 CUP PEANUT BUTTER 
Preparation
Preheat your oven to 350 degrees, and line 3 baking sheets with parchment paper.

Add all your ingredients into a large mixing bowl or stand mixer, and mix on medium speed until well combined, about 2 minutes.

Using a cookie scoop or small spoon, dollop the cookie dough onto the lined baking sheet, about 1 to 2 inches apart. For crispier cookies, press the back of your scoop or spoon gently on the dough ball to flatten it slightly. For puffier cookies, just leave them as they are.

Bake until the cookies start to rise, and turn golden around the edges, about 8 to 10 minutes.

Let cool on the baking sheet for 10 minutes before transferring to a wire rack to finish cooling. Once cooled, store in an airtight container at room temperature. 
2. Hearty Oatmeal Peanut Butter Cookies 
2 WW points per cookie for all plan colors.
Sometimes you might want a cookie that's a little more substantial, a little more filling. That's where oatmeal comes in. Oatmeal can turn any hum-drum cookie recipe into something satisfying. These hearty oatmeal peanut butter cookies tick all the right boxes when a tiny cookie just won't do.
*Makes 2 dozen large cookies
Recipe
½ CUP PEANUT BUTTER

2 EGGS

1 teaspoon VANILLA

1 ⅓ CUP QUICK OATS

½ CUP ALL-PURPOSE FLOUR

⅓ CUP APPLESAUCE

⅓ CUP BROWN SUGAR

1 teaspoon BAKING SODA
Preparation
Preheat the oven to 350 degrees. Line 2 baking sheets with parchment paper.

In a large mixing bowl or stand mixer, combine the apple sauce and brown sugar. Blend on medium until well combined. 

Once well blended, add in the eggs and vanilla. Continue to blend.

In intervals to make sure everything is fully incorporated, add in the oats, flour, and baking soda.

Next, using a large cookie scoop, drop the dough onto the lined baking sheet, squashing down slightly with the back of the scoop to flatten.

Bake for 10 minutes. Cookies should only begin to brown on the very edges. Be careful not to overbake.

Let cool for 10 minutes before removing to finish cooling on a rack. Store in an airtight container, refrigerated.
3. Peanut Butter Crispy Cookies with Chocolate Chip Center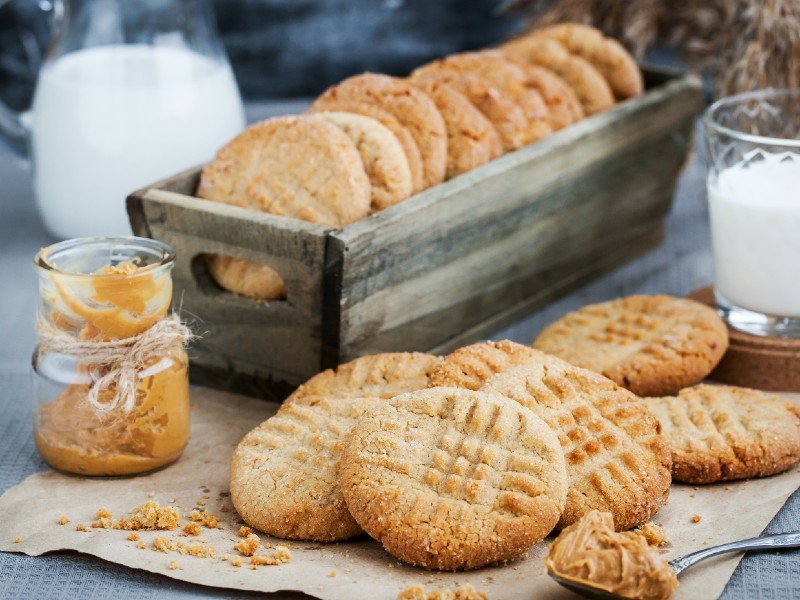 4 WW points per cookie for all plan colors.
Chocolate and peanut butter, has there ever been a more iconic duo? While peanut butter cups from the checkout aisle at the grocery may not be the best fit for Weight Watchers, there are other options!
These crispy peanut butter cookies are a healthier take on the classic peanut butter button cookies with the chocolate kiss in the center. They have a nice crunch and a melty chocolate chip in the middle to bring it all together. Crush those candy cravings and try these cookies instead! 
*Makes 2 dozen cookies.
Recipe
 ¼ CUP (half a stick) BUTTER

1 CUP ALL-PURPOSE FLOUR

2 EGGS

½ CUP CHUNKY PEANUT BUTTER

1 CUP SUGAR

½ teaspoon VANILLA

½ teaspoon BAKING SODA

½ teaspoon SALT

1 OZ DARK CHOCOLATE CHIPS

 
Preparation
Preheat the oven to 375 degrees. Line 2 baking sheets with parchment paper.

Into a large bowl or stand mixer, combine peanut butter, butter, and sugar.  Beat on medium speed until it becomes well combined. At this point, it should start to become lighter in texture.

Add in eggs and vanilla. Beat until combined.

Using a small cookie scoop, drop the dough onto the baking sheet. Since these cookies flatten out as they cook, give them ample space to spread, about 2 inches between cookies.

Bake for 11 minutes. Cookies should be a golden brown color. 

While still hot, press a chocolate chip into the center of each cookie. Doing this while the cookies are still hot allows the chocolate to partially melt and incorporate into the cookie.

Let cool for 10 minutes before transferring to a wire rack to complete cooling. Store in an airtight container, refrigerated. 
4. No Bake Peanut Butter Cocoa Cookies
4 WW points per cookie for all plan colors.
For our next recipe, let's skip the baking part altogether. Sometimes the oven isn't working right, or it's a hot day, and the last thing you want to do is make your kitchen even hotter by baking.
On those occasions, when a sweet tooth hits, these no-bake peanut butter cocoa cookies are the perfect solution.
It's hard to believe that such a short time on the stovetop can yield these decadent treats, bursting with peanut butter goodness and a hint of cocoa. Enjoy your cookie with a glass of unsweetened almond milk for a guilt-free dessert with just a little effort!
*Makes 3 dozen cookies
Recipe
3 CUPS QUICK OATS

1 CUP SUGAR

½ CUP ( 1 stick) BUTTER 

½ CUP 1% MILK

½ CUP PEANUT BUTTER

4 tablespoon COCOA POWDER

1 teaspoon VANILLA

¼ teaspoon SALT
Preparation
Line 2 baking sheets with parchment paper.

In a small saucepan, combine milk, sugar, and butter. 

Heat over medium heat, stirring occasionally.

Once the butter is melted, add the cocoa powder. Stir to combine.

Bring the mixture to a boil and let it cook for 1 minute.

Remove the saucepan from the heat after 1 minute, and stir in quick oats,  peanut butter, vanilla, and salt.

Mix very well, until the peanut butter has become smooth and creamy, and the oats are fully incorporated into the mix.

Drop the mix onto the parchment paper by the heaping tablespoon. 

Allow the cookies to sit for 1 whole hour to set up. After an hour, the cookies should be solid and easily peeled from the parchment paper.

Store in an airtight container in the refrigerator. 
5. Chocolate Chip Peanut Butter Banana Breakfast Cookies
2 WW points for all plan colors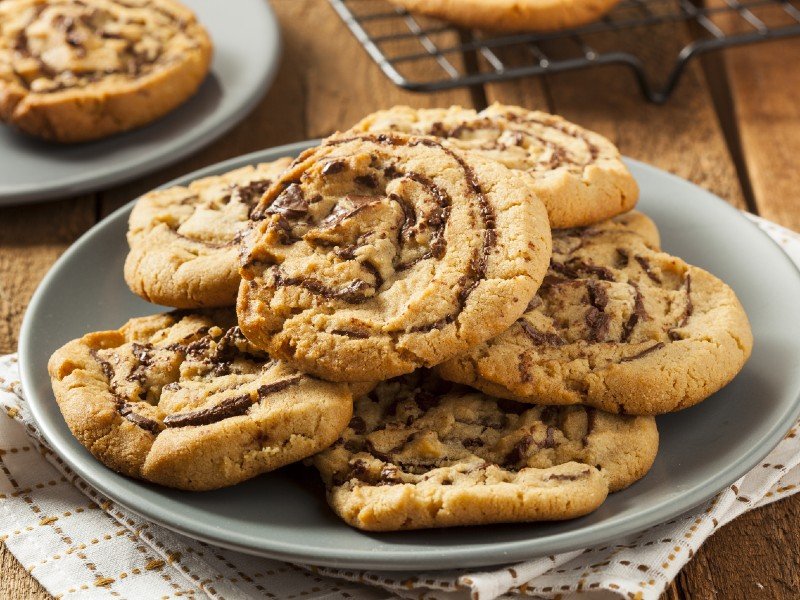 You read that correctly. Cookies for breakfast! These cookies are way more exciting than some peanut butter and bananas on toast. With the inclusion of chocolate chips, it's hard to believe these cookies are Weight Watchers friendly. But they are! 
Enjoy warm with your morning coffee for a bright start to any day.
*Makes 16 cookies. 
Recipe
3 BANANAS

1 ½ CUP QUICK OATS

⅓ CUP PEANUT BUTTER

¼ teaspoon SALT

¼ CUP CHOCOLATE CHIPS
Preparation
Heat oven to 350 degrees.

Cover a baking sheet with parchment paper.

Mash bananas with a fork in a large bowl. Add in peanut butter, salt, and oats. Mix well to combine.

Fold in chocolate chips.

Bake for 20 minutes. Remove from the oven and let cool for 5 minutes.

Transfer to a wire rack to finish cooling. Serve warm.
There we have it! 5 relatively simple, quick-to-prepare Weight Watchers cookie recipes that feature everyone's favorite sweet and savory ingredient, peanut butter. Best of all, there are no hard-to-find ingredients, protein powders, or chemical-tasting artificial sweeteners. All of these cookies are made with pantry staples that can be found in almost every kitchen. Talk about convenience! 
On the other hand, some ingredients, like regular milk or all-purpose flour, can be impossible for people with certain allergies to enjoy. While there are hundreds of different options for allergy sufferers to use instead of the traditional ingredients, it can be hard to know which one will make the best replacement for each dish. This is especially true for baking!
There is also a popular peanut butter substitute, powdered peanut butter, that has started to show up everywhere. Powdered peanut butter is commonly found in many Weight Watchers recipes, so it's only fair to include it in our substitution list. 
Not everyone's pantry staples are the same, and let's be fair. Everyone deserves cookies.
So if you're wondering about substitutions for these recipes, we've got the answers for you!
Substitutions 
Milk
1:1 Ratio substitutions.
Milk is one of the most common intolerances, and when it appears in so many dishes, especially baked goods, it can be discouraging to try and find something dairy-free. The great news for our 5 peanut butter cookie recipes is that wherever milk is required, a milk substitute can be used without an issue!
If the reason you're avoiding milk is lactose intolerance, there are brands of lactose-free milk. They are nearly identical in taste to regular milk. If you aren't drinking milk for another reason, or you just prefer a dairy-free substitute, almond or oat milk both work as well. 
For butter, simply swap with margarine.
Why not try a few different milk substitutions for our cookies and decide for yourself which you like best? After all, there are worse things in the world than multiple batches of peanut butter cookies.
Flour
1:1 Ratio substitutions. 
For those with a gluten allergy or celiac disease, baking can be a real hassle. The good news is that the baking world has fully embraced the challenge of making baking accessible for those that can't have traditional flour.
Almond flour is the most popular substitute in baking. This all-purpose flour substitute is made by grinding almonds to a powder, without the skin. It is especially yummy in our peanut butter cookie recipes because the light almond taste perfectly complements the peanut butter.  
Recently, there have been a lot of gluten-free all-purpose flours hitting the shelves that are safe for those with gluten allergies or celiac disease. These are almost identical to regular flour and are great options for making our peanut butter cookies.
Powdered Peanut Butter
1:1 Ratio substitute.
Powdered peanut butter sounds sort of strange, right? While high-quality regular peanut butter has a lot of great qualities, like high protein and beneficial fats and oils, a lot of people have turned to powdered peanut butter for its health benefits and convenience.  
Powdered peanut butter is made by pressing the fats and oils out of ground peanuts. While you can't exactly eat it out of the jar with a spoon like regular peanut butter, powdered peanut butter can effortlessly be added to a ton of things like smoothies and coffees for a quick punch of peanut butter flavor.
When it comes to our weight watchers peanut butter cookies, just rehydrate the peanut butter powder and use it in a 1:1 ratio for regular peanut butter.
Rehydrate by mixing 4 tablespoons of peanut butter powder with 1 tablespoon of water. This makes 2 tbsps of usable peanut butter substitute.
I hope everyone enjoys one or more of these Weight Watcher peanut butter cookie recipes. Life is just a little more fun with cookies involved, wouldn't you agree?
[eh_optimize_youtube_embed video="https://www.youtube.com/watch?v=1W3D07QG3YQ" banner="https://www.youbrewmytea.com/wp-content/uploads/2021/06/Screen-Shot-2021-06-24-at-8.42.41-PM-min.jpg"]