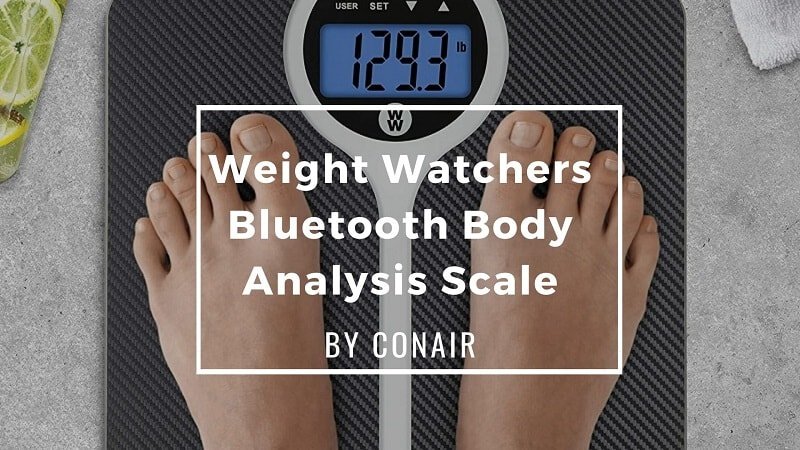 A Deep Dive Into The Weight Watchers Bluetooth Body Analysis Scale By Conair
Weight Watchers started their quest to help people with their weight management back in 1963 in New York City. Now, more than 50 years into their weight loss mentoring, they are the most widely used diet in the world and are available in hundreds of cities.
If you are a fan of the Weight Watchers diet, you will appreciate being able to go on a road trip or holiday overseas and still be able to attend a local meeting. Having such widely available support groups really helps its members stick to a routine and maintain a responsibility to eat a balanced diet even during hectic times.
Over the years, Weight Watchers started to release more and more diet-friendly products to aid dieters to use such as energy bars and recipe books. Their collection of diet items and tools has slowly but surely grown, and now consists of everything kitchen and diet-related. You can buy anything from air fryers to diet popcorn mixes, right through to egg bite makers, and more, all approved and sold by Weight Watchers.
About Weight Watchers Bluetooth Body Analysis Scale
The Weight Watchers Bluetooth Body Analysis Scale by Conair is probably the most versatile and appealing scale that Weight Watchers has to offer. This Conair scale is digital with a sleek and discrete design to ensure it won't stick out like a sore thumb in your bathroom.
To date, Weight Watchers has six scales on the market, however, unlike Conair's Bluetooth Body Analysis Scale, the others cannot compare in the high tech features arena, such as calculating body fat percentage, water content, bone mass, and muscle mass. However, keep in mind that you do not have to use all of these helpful features every time you weigh yourself.
This scale is designed to be used no more than once per week while you are dieting. This is to ensure that regular, non-diet related weight fluctuations do not leave you concerned or disheartened about your progress. For anyone that is maintaining their weight, you should weigh yourself a couple of times per week and stick to the '5-pound rule'.
The 5-pound rule is a proven weight maintenance strategy. People that keep their weight within a 5-pound range maintain their weight for longer than those that fluctuate above and below 5-pounds.
It is often difficult and unmotivating to shop for a scale because using them to track your weight is hardly the highlight of your dieting progress. Nevertheless, this is an important tool, and Weight Watchers Bluetooth Body Analysis Scale by Conair scales can accurately read up to 400 pounds (180 kgs), but it can do so much more to keep you motivated.
Analyzing your fat percentage and muscle mass more than once or twice per month can be disheartening and will not help you to accurately gauge your progress. These features can easily turn what is meant to be a quick weekly weigh-in, into a complicated body tracking session if you rely on them along with your weight progress on a weekly basis. Leave the complicated tracking for your healthcare provider and stick to the basics when you are at home.
Who is the Weight Watchers Bluetooth Body Analysis Scales by Conair For
These scales are perfect for dieters that are 300 pounds and above as the scales give an accurate and reliable weight reading. The glass platform is easy to get on and off from comfortably and quickly too.
Fortunately, this scale is so well made, that you won't be looking to replace them for the next few years. Its durability and longevity certainly are not reflected in the price either, and you will find that the Weight Watchers Bluetooth Body Analysis Scale by Conair is super affordable.
If you are looking for a fussy and complicated scale, you will be disappointed with this one. Conair has stripped it back to the basics with this scale. If you are expecting the scales to write you a detailed diet plan, or for them to tell you what food you are intolerant to then look elsewhere. Your water retention, bone mass, muscle mass, fat percentage, and weight in lbs or kgs is more than enough information for you and these scales tell you all of that.
The digital screen is extra large and easy to read. Hey, you might even be able to take your glasses off for the weigh-in! An easy to read digital screen is more important than you might think, especially because some digital scales only display the results for a couple of seconds and then they turn themselves off. No one wants to get on and off the scales multiple times just to see the results.
Tap the scale with your foot and the scale is turned, no bending is involved whatsoever. It is best when weighing yourself to stand in the same spot every time to keep measurements consistent. Moving your scale around could result in you weighing yourself on uneven ground, resulting in a different weight reading every time.
What We Like About the Weight Watchers Bluetooth Analysis Scale By Conair
There is an app that will sync your scale and the Weight Watchers app. This is a brilliant way of tracking your weight and monitoring your progression.
We love how flawlessly it works, no faffing about with settings necessary. If you have a dedicated corner for the scale in your bathroom, you only need to tap it with your toes to turn it on and it will turn itself back off automatically when you are done!
Although the scale is made of glass, it is sturdier than you think. Stepping on and off of them doesn't need to be done with very much care as they really do support your body weight brilliantly.
The weight readings are very accurate when compared with other scales. Even after over a year of regular use, the scale is reliable, right down to the ounce.
It may sound complicated, after all, it does connect to Bluetooth and send your weigh-in results to your Weight Watchers app, but it is very easy to use. The features have been simplified so that the tech-phobic amongst us can use it without hiccups too.
What We Don't Like About the Weight Watchers Bluetooth Body Analysis Scale By Conair
If you do not have even floors anywhere in your home, it will not give an accurate and reliable reeding. The same goes for carpeted floors, digital scales shouldn't be used on carpets or rugs.
The Bluetooth feature could do with some more work. When the scales are synced to the app the whole program crashes and freezes, or it just works very, very slowly. (it seems to have a harder time syncing to Android.)
Yes, having an auto shut-off is great because you don't need to bend over and turn it off yourself, but they don't stay on long enough. The scales switch off before you have a chance to connect them to your phone, or even see what the reading said.
You need to be quite aggressive with the touch-on feature. If you just lightly tap the scales, they won't turn on. Over time, the touch-on feature needs to be tapped harder and harder which surely can't be good for a digital device.
PROS
Gives a reliable reading when used correctly
Easy to see and understand the reading
No more bending over to turn the scales on, just tap and go
Accurately weighs up to 400 pounds
Can be synced to the Weight Watchers app
CONS
The Bluetooth feature is hit and miss
Doesn't work well on carpet and uneven floor
The tap-on feature requires a lot of force
What's Included?
When you order this product from Amazon, you will get a long-life lithium battery in the box. There is absolutely no assembling required nor do you need to set any settings, just step on the scales and record your reading.
Overview Of Features
The scales have a Bluetooth feature that is brilliant for connecting to your smartphone or tablet. This feature could do with some fine-tuning as it disconnects frequently and doesn't connect at all to some phones and tablets (mainly Androids).
Weight is displayed in 0.1 pound increments making it very specific indeed. This is an important feature for anyone on their weight loss journey, more than for people that are maintaining their weight.
Having a weight capacity of 400 pounds is such an important tool for many reasons. Firstly, dieters that are on the higher range of the spectrum do not feel disheartened by not having a scale that accommodates their weight. Being able to see the number on the scale go down is an important part of the journey.
The tap-on feature is brilliant. No one wants to bend over to turn their scales on and off. The only thing I would say is that the scales do not stay on for a long enough period of time.
The digital screen is large and very easy to read. No more squinting at the reading first thing in the morning!
Finally, the aesthetics of the scale are very high end and the construction is extremely durable. The scales fit into your bathroom setting without drawing too much attention to them. The glass is very strong and feels sturdy when you step on and off the scales.

Review Summary
The Weight Watchers Bluetooth Body Analysis Scale by Conair is overall very reliable and is a brilliant tool for your weight loss and weight maintenance journey. It is not overly complicated at all, yet it includes advanced features that can be synced to the rest of your dieting apps.
The scale is very reasonably priced for the level of service you get and 100% worth the investment. Let's face it, you are not going to use the body analysis feature every time you weigh yourself, nor will you remember to sync your phone to the Weight Watchers app, but it is nice to have the option there for you.
We highly recommend going for the Weight Watchers Bluetooth Body Analysis scale because it is one of the newest scales to be developed by Weight Watchers and is very luxurious to use. Why settle for anything that is less than brilliant?
Weight Watchers Bluetooth Body Analysis Scales By Conair FAQ
Here are some of the most common questions that are asked regarding these scales;
Q) What color is the display?
A) The display is black. This is a newer model so the display does not light up like its preceding models.
Q) What are the dimensions of the scales?
A) It is 13 ½ inches from front to back with a width of 12 ¼ inches and a 1 ½ inch thickness.
Q) What is the trick to successfully pair the scale with the app?
A) Tap on your profile, you will see a page with lots of badges such as your goal weight and the 'WW' in a red circle. Click on the red WW and your scales and app should sync together. Be sure to stay logged into the Weight Watchers app until you have finished your weigh-in.
Q) Are these scales accurate? Is there much of a difference when the results are compared with other scales?
A) The Weight Watchers Bluetooth Body Analysis Scale is very accurate indeed. There are factors that you can control to keep what is on the scale consistent. Try weighing yourself with the same clothes every time, at the same time every day, consistently weighing in the same place.
If you are still not convinced that the scale is accurate, go to your healthcare provider and use their scale and see if there is a difference. Your Weight Watchers group leader will be happy to assess your weight too if you so wish.