Family Fitness & Home Exercise Program is something that I promise is going to be a goal for this year with my family.  As much as the kids and I love sitting on the couch, we must get up and move. Who am I kidding?! My kids love being active and moving around and so do I. The hard part is trying to find fitness activities that we all love. I have decided to make some family fitness goals for us for the New Year and here is what I came up with!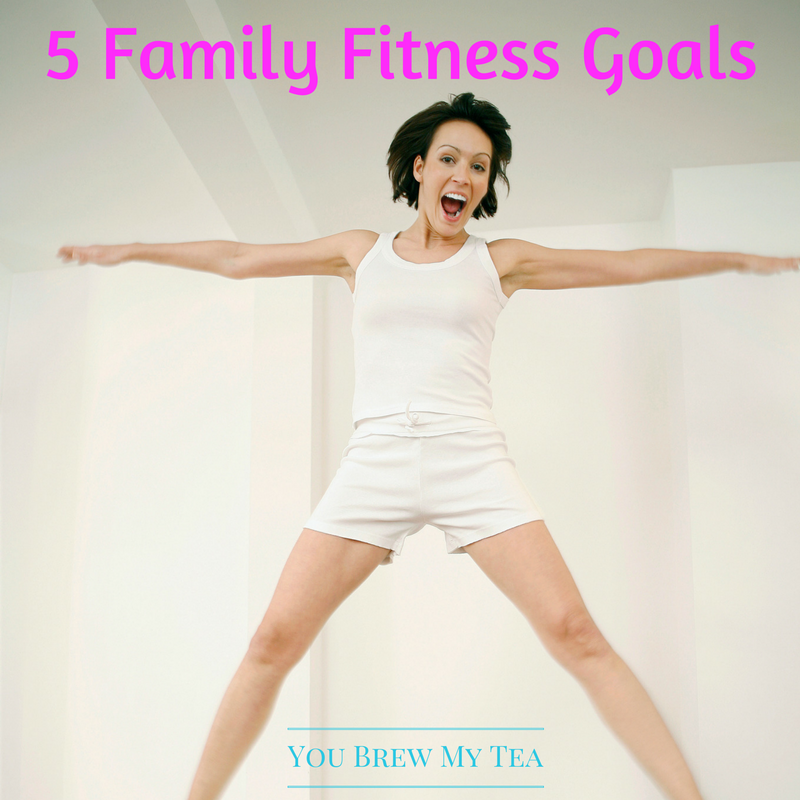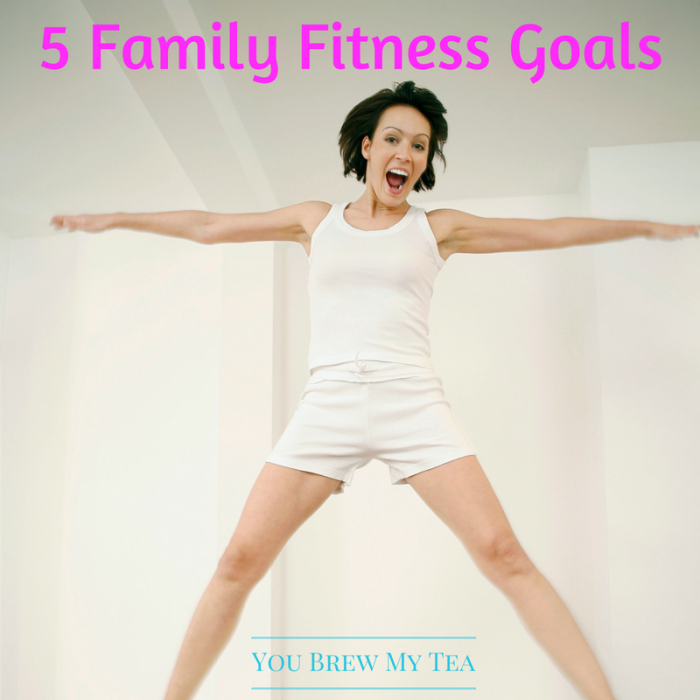 5 Family Fitness Goals Any Family Can Accomplish
This post contains affiliate links.  I may earn a commission through purchases made through these links. 
As always, if fitness is new to you, then check in with your physician before beginning any family fitness program.  This is important not just for adults but children as well.  A regular wellness checkup before you begin any change in exercise is a great idea.
These family fitness ideas are some of the easiest to do on a budget.  For us, that is really important to keep in mind.  With four children, it is really expensive to have a family gym membership or even to sign up for co-ed sports programs.  Being able to do simple things together is much more manageable.  I hope this list gives you some great ideas that are easy for your family to budget as well.
Take more walks – My family recently moved and we didn't get to walk as much this past summer as we are used to. For the New Year, I look forward to going on tons of walks with my family.
If you don't have a nice neighborhood to walk in, head to a local park, your local mall, or even check out the local school football field or track.  There are always tons of places you can find local to you to walk together as a family.  For families with older children, an at home family fitness room complete with a treadmill or elliptical is a great option as well for taking walks at home year round.
Get involved in family activities – Things like sledding, skating, and skiing are all on our list to be more active as a family. Now that the kids are getting older, it's super important for us to be able to do physical fitness activities together.
I love the idea of using family fitness as another way to fit in some great memory building activities for our family.  Winter months in our area bring about a good deal of snow.  So, grabbing the snow sleds and going sledding is an obvious choice.  Don't miss out on other great winter sports ideas like skiing and more that you can check out on Winter Ninja if you need ideas. .
Skating whether it is with roller skates in our driveway in summer or at a local roller rink is always a fun way to burn off energy.  Skiing can be something that you do in winter on ski slopes or in the summer behind a boat.  Whatever you choose, these are usually fairly inexpensive but definitely fun family fitness activities.
Run a 5K together – Again, my kids are getting older, so stuff like this is becoming easier. Training together with my older boys will be a ton of fun. I know the whole family will get involved as they can.  There are some fees involved to register with some, but you can often find low-cost 5K events that don't require much to enter.  There are also a lot of options for family registry or group registry that offer discounts.  The really family fitness isn't just about the 5K itself, but about the daily training you'll do to prepare for the end race.
Try something the kids love – Being physical as a family, isn't just about what we want as parents, it's about what the kids want. The kids may want to get involved in Tai Kwan Do, so that is something we would all try!  There are so many great things you can do together just for your kids.
We often get so focused on what we enjoy as family fitness that we forget that we aren't asking our kids what they actually enjoy doing.  Maybe that is martial arts.  Maybe that is gymnastics. Perhaps it is soccer, basketball, or even softball.  Ask your children what they have an interest in, then work on it together as a family.
Have more dance parties- If there is something that I have noticed about my kids, they love to dance. Dancing is a great way to get that heart rate up and have fun at the same time.  Getting silly together with great music is one of the best family fitness options you can really focus on this year.  Honestly, it's my favorite.  I can turn on the music and just let loose.  There aren't any special dance moves you have to know.  You don't have to be good at it.  You don't even have to keep time with the music.  You simply have to move.
I love using my Amazon Prime membership to play the latest hot dance music on Amazon Music to get the kids moving.  This is especially handy since I can even censor for kid-friendly or pick my favorite Christian musicians that have upbeat songs and play just them.
Family fitness is definitely a much easier way to manage your health this year.  By focusing on doing things together, you can build healthy habits that are long lasting not just for you as parents, but hopefully for your children.  Having struggled with weight loss and my health as an adult, I want my children to learn now early in life how to beat the odds and make easy healthy choices.  I want to start with these family fitness goals now.
Home Exercise Program You Can Do Long Term
I have tried to create a home exercise program that I can do from the comfort of my home every day because I recently decided working out is something I have to incorporate back into my life.  I made the decision that I have to make time for it every day.  It's not just a desire, but a necessity.  When I exercise regularly, I am not only healthier but happier.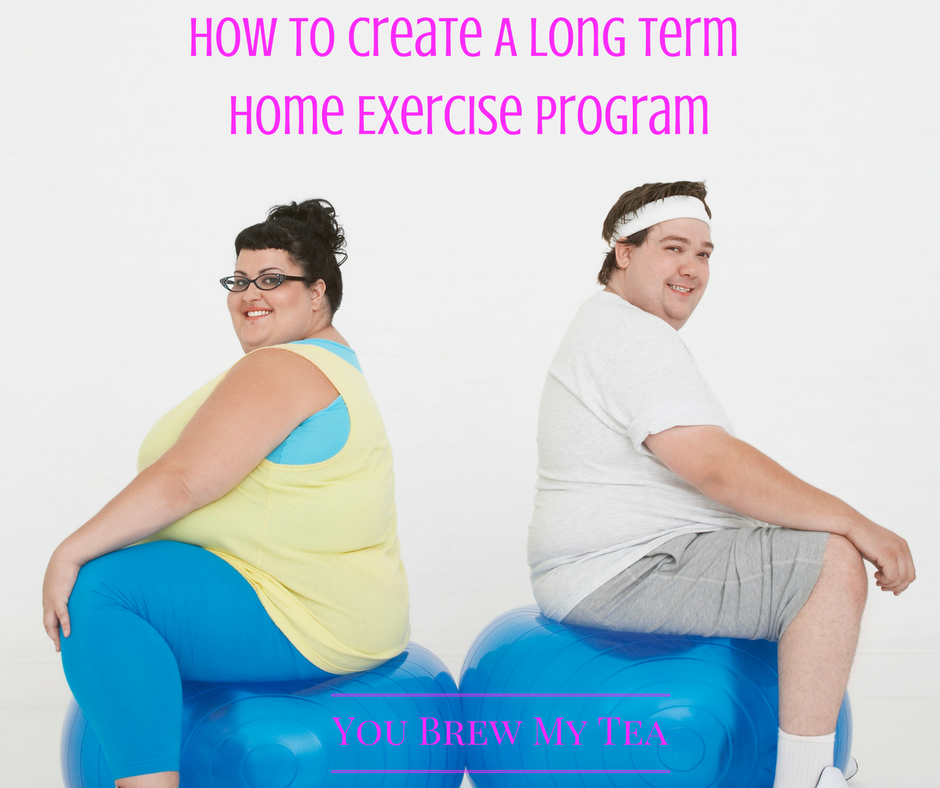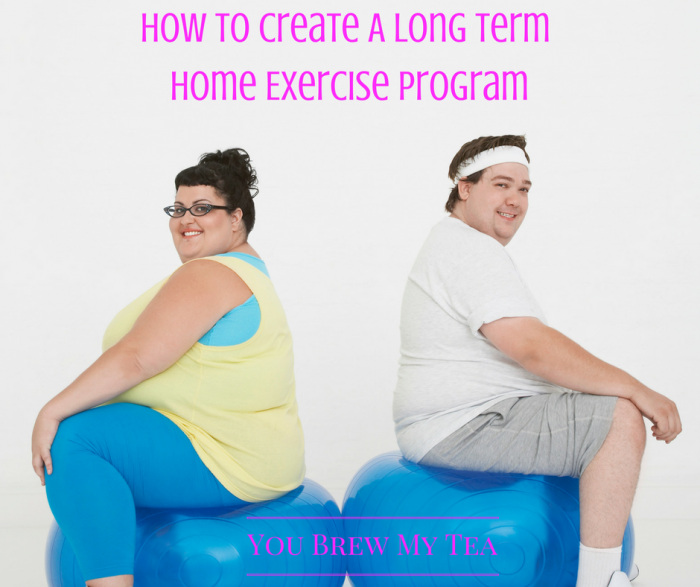 This post does contain affiliate links.  I make a small commission through purchases made through these links. 
Choosing a home exercise program is a must for me.  With four children at home and a work at home job, it's a must.  It's just not always feasible for me to head out to a gym like some families often do.  Not only is it hard to fit into our family budget some months, but let's face it, juggling all 4 kids into the care, trusting a stranger to watch them while I workout, and not dealing with mom guilt in the process is tough.  So, the solution is to use one of these home exercise program solutions.
YouTube
I actually love looking on YouTube to find new workouts. There are workouts of all kinds on YouTube! Whether you want to dance, do yoga, or do cardio, you can find it on YouTube. You can mix up your workout on a daily basis and keep things switched up!
Try Different Workouts
I have noticed that there are a million and one ways to create a home exercise program. You have to choose a workout that best fits your needs. The best thing about working out at home is that you get to choose what workout best fits you!
I fell in love with the DVD series by Leslie Sansone several years ago called Walk Away The Pounds.  It is great for when you can't get out and about because your kids are younger and you need to stay at home during the day.  Just pop the video in and get moving in your living room.  However, it can get boring.  That's when you start branching out and try different things.
A few years ago, Katie mentioned using the classic Richard Simmons Sweatin' To The Oldies DVD series.  They got her off the couch and having fun dancing.  This helped her get out of the rut of just walking, and made it more fun.  There are dozens of workout options to choose from.  Dancing, walking, Zumba, or even classic Yoga or Pilates are all great options you can choose from.
Make Something Up
Not all of us are skilled in the area of working out. However, we can all try to be healthier! Some days I jog in place and other times I do pieces here and there of workouts that I have tried over the years.  An at-home exercise program doesn't have to be a specific workout.  You can simply get up and get moving.
One thing a doctor once told me was that exercise didn't always consist of specific routines done for set increments of time.  It once was simple regular daily movement in life.  So, the actions of daily life can be plenty for our bodies if we are consistent.  That means some days, I simply take the time to get up and move around more.  I walk around the block a few times or walk up and down the stair to the basement more times than necessary.  Lifting the baby up and down off the floor can be fun for her and for me.  All of these things are great exercise that doesn't fall into the basic normal exercise routine but is still a way for me to burn off calories.
Follow People You Love on Facebook
I get a lot of my inspiration for exercising from people on Facebook. Moms who find time every day to work out inspire me! Sometimes I watch their videos and try some of the workouts they do. I have also been known to try different workout programs from the people I follow on social media.  Simply search for various well-known fitness guru's and check out what they have to share on social media.  One of my favorite pages to follow is Go Adventure Mom.  This year they have an amazing challenge that is all about getting out and walking every day this year!
Amazon Prime
I absolutely love using Amazon Prime for two things:  Amazon Music and Amazon Prime Videos.  Not only can I stream movies and TV shows, I have found occasionally there are also workout videos and fitness programs.  I've even found around the new year that some hot fitness instructors will add a few sessions of their workout videos to the free section hoping you will get hooked enough to pay for more of their episodes.  I love streaming the music for their workout playlists or creating my own workout playlist to dance and play with the kids for fun family fitness time that is ideal for a home exercise program.
I think to create a home exercise program you can do long term; you need to switch it up. I do not do well by doing the same workout over and over again. What about you?  Make sure to check out our other home exercise tips below!
More Home Exercise Program Ideas: