This Simple Turkey Chili Recipe is one of my all-time favorite zero point foods on the WW FreeStyle Plan. It is so easy to throw together in under 30-minutes. I've made it dozens of times, and love the results every time. In fact, there are never leftovers for long since everyone loves this!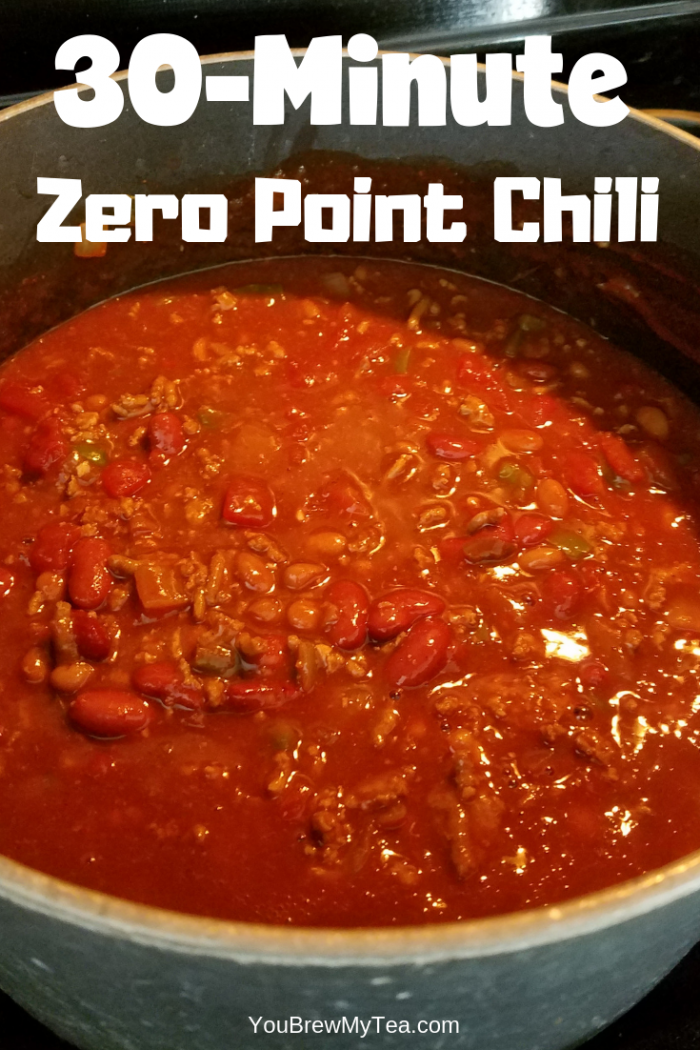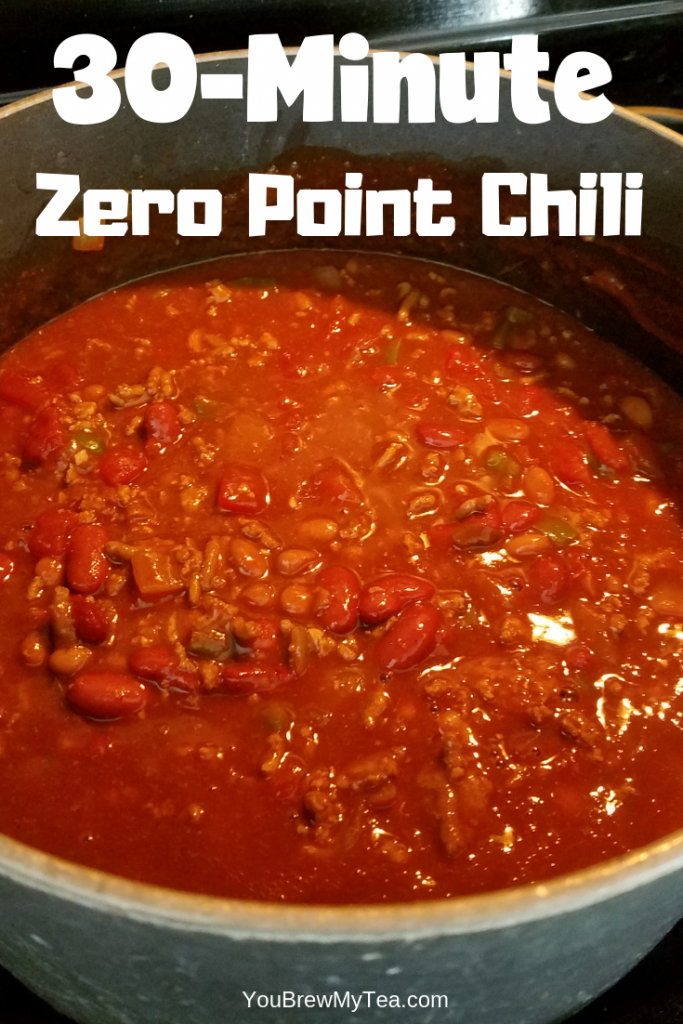 Zero Point Simple Turkey Chili Recipe
This post contains affiliate links. I earn a small commission on purchases made via these links.
The pictures of this recipe aren't great, but it tastes amazing and is super easy to make. I love that it is zero points because I can add my favorite cheese and some crackers with absolutely zero guilt. For an amazingly simple dinner, this is going to become a family-favorite meal to add to the rotation.
If you are looking for something that freezes well, you won't be disappointed. This simple chili recipe is great for making in larger batches, and then you can easily separate into individual portions to put into freezer soup containers for a later date. Just make sure you label each container with the recipe name and date it was cooked.
Tips for Making Chili in 30-Minutes
Chili is typically best when it is simmered slowly all day. I have often made this same recipe in my Instant Pot or Slow Cooker, but sometimes you just need a fast stovetop recipe. Below are my two most important tips to share.
Invest in the Freshware Vegetable Chopper. This is one of the most amazing kitchen gadgets I have ever found. It makes dicing onions and peppers take seconds. Plus all of the pieces are the same size, so they cook more evenly.
Season your ground turkey while it cooks. I find that for a better flavor in a shorter time when cooking on the stovetop, I mix ¼ of the seasonings into the meat as it cooks. This imparts a flavor that cooks in longer.
You May Also Like: 4 Healthy Chilis Rellenos Recipes and Preparation Guide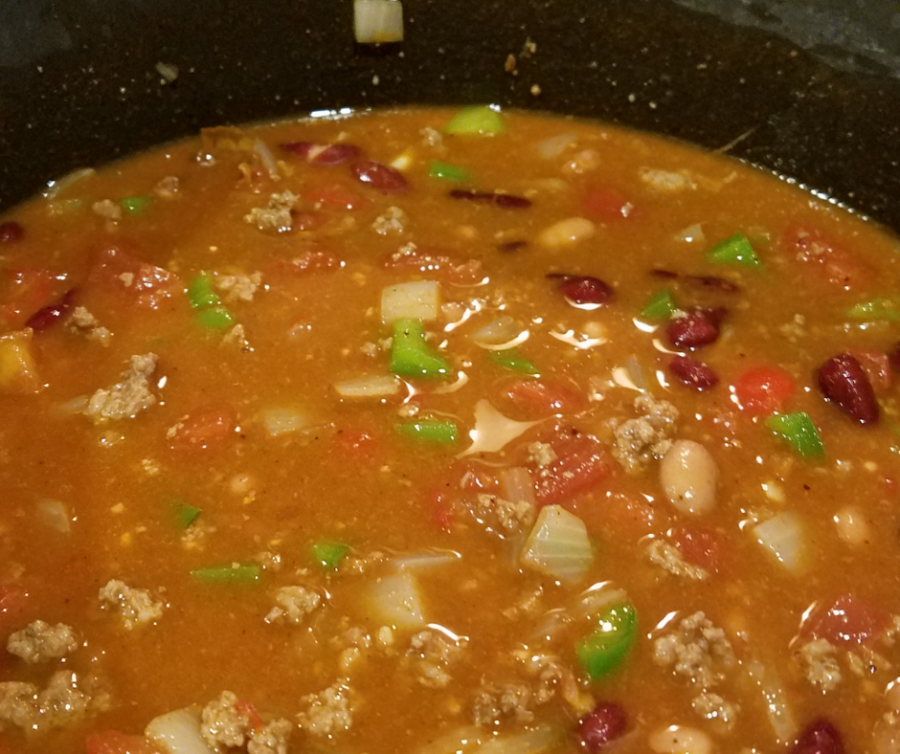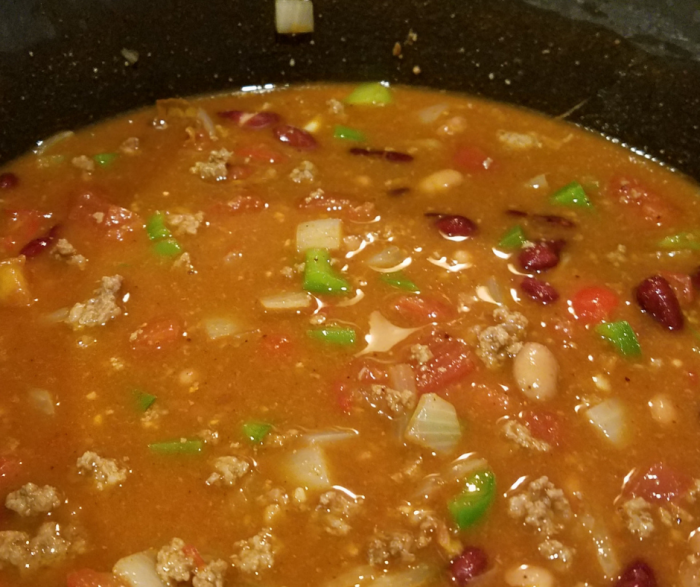 Way to Serve Zero Point Chili
I love making chili as an easy low-point lunch throughout the week. Over the last year, I have discovered a few ways that I enjoy serving this chili, as well as my Chili Cheese Dip or White Bean Turkey Chili. Keeping these low in points but still delicious is a must. My favorite methods are listed below for you to check out.
Cut up light string cheese and mix into the chili for that cheesy goodness without a lot of added points since most light string cheeses are only 1 SmartPoint each on the WW FreeStyle Plan.
Pour over baked french fries for a fun loaded fry recipe
Serve a cup of soup over diced lettuce with a few crumbled tortilla chips for a "taco salad"
Add a spoon to the top of a turkey hot dog on a low-point bun for a healthier chili dog recipe
Yield: 8
Zero Point Simple Turkey Chili Recipe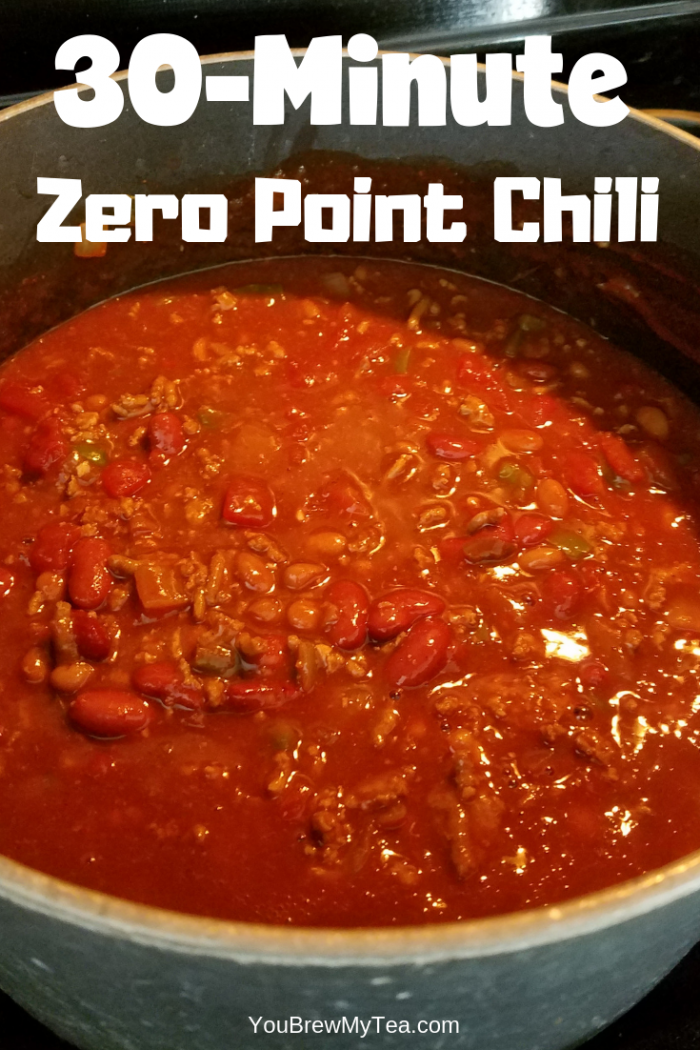 This delicious recipe is a perfect protein-packed meal that is ready in just 35-minuets! A turkey chili recipe that will fool even those who say they don't like ground turkey!
Ingredients
1 pound ground 98% fat-free turkey breast
2 cups of water or stock
1 can pinto beans
3 cloves garlic minced
1 can kidney beans
1 can dice tomatoes
1 yellow onion diced
1 bell pepper diced
1 medium tomato diced
1 ½ tablespoon chili powder
1 teaspoon ground cumin
½ teaspoon onion powder
⅛ teaspoon cayenne pepper
¼ teaspoon garlic powder
⅛ teaspoon black pepper
¼-1/2 teaspoon salt (to taste)
Instructions
Stovetop Directions
In a small bowl, mix together chili powder, cumin, onion powder, garlic powder, cayenne, and black pepper.
Using a nonstick stock pot, brown ground turkey over medium heat adding ¼th of the spice mixture to the meat. Continue cooking until cooked through and no longer pink.
Add in all other ingredients except salt and mix until well combined.
Simmer over medium heat for additional 25-30 minutes
Taste and add salt if desired/needed to taste.
Serve with favorite chili toppings and sides
Slow Cooker Directions
Brown ground turkey in a nonstick skillet.
Once cooked through, add to slow cooker and combine with all other ingredients except salt.
Cook on low heat for 2-3 hours.
Remove lid, taste, and add in salt if needed/desired to taste.
Instant Pot Directions
Turn Instant Pot to saute and cook ground turkey until cooked through and no longer pink making sure to stir regularly so it doesn't stick.
Add in broth or water and stir well scraping any bits off the bottom of the pot.
Mix in all other ingredients except for salt, and set the lid to seal.
Turn to manual pressure for 10 minutes
Once done cooking, allow to naturally pressure release for 5 minutes. Release remaining pressure.
Stir well and taste. Add salt if desired or needed to taste.

Notes
PersonalPoints™: 0-7
BLUE: 1
GREEN: 2
PURPLE: 1
SmartPoints: 4
PointsPlus: 5
Nutrition Information:
Amount Per Serving:
Calories:

204
Total Fat:

2.6g
Saturated Fat:

.5g
Cholesterol:

60mg
Sodium:

465mg
Carbohydrates:

17.4g
Fiber:

6.1g
Sugar:

2.5g
Protein:

30.2g
How Many WW Points are In This Turkey Chili?
A 1 ½ cup serving is what the points below are based upon.
PersonalPoints™: 0-7
BLUE: 1
GREEN: 2
PURPLE: 1
SmartPoints: 4
PointsPlus: 5