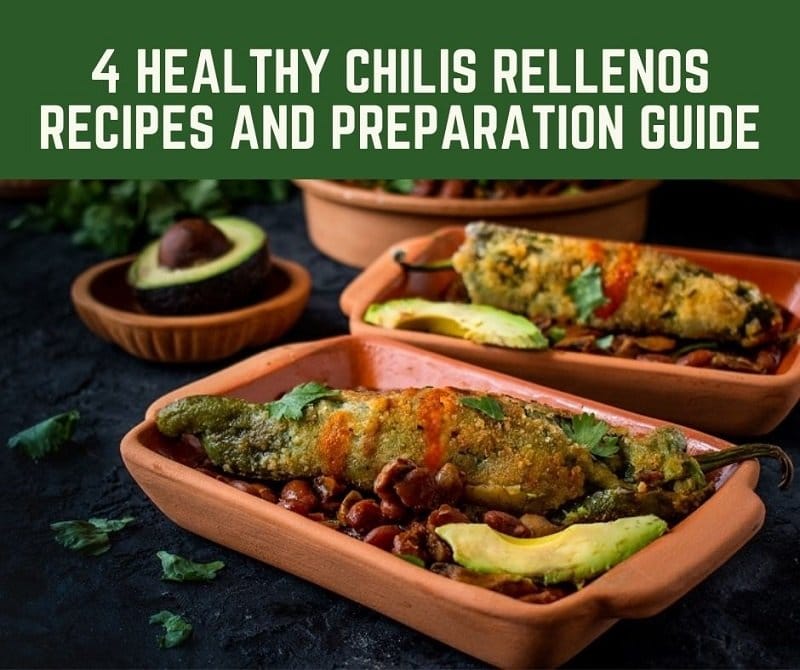 What are Chile Rellenos, and what does it mean in English?
Chile Rellenos simply means "stuffed peppers." They're poblano peppers stuffed with cheese or a ground meat mixture which are then turned over in an egg white or corn masa batter and fried. Typically, they're served in a spicy sauce.
There are plenty of variations; for instance, you can swap Hatch, Anaheim, or jalapeño peppers for poblanos. It depends on how spicy you want them. Poblanos are popular because their spiciness is mild, and they're a good size to stuff.
The sauce that accompanies them can be tomato-based, or a blended mix of roast aromatic vegetables. You can sprinkle them generously with Cheddar cheese, or serve with red or green salsa.
To keep your Chile Rellenos lean, you can fry them in minimal, good-quality olive oil, without the batter coating. And they don't have to be fried at all, although that's traditional. In this article, we include a baked version and instructions on how to cook them in an air fryer.
The filling can vary to your taste. Some fill chile with the ground or shredded pork. Vegans often use tofu.
Here's a recipe for healthy Chile Rellenos stuffed with black beans and cheese, roasted instead of fried.
Roasted Chile Rellenos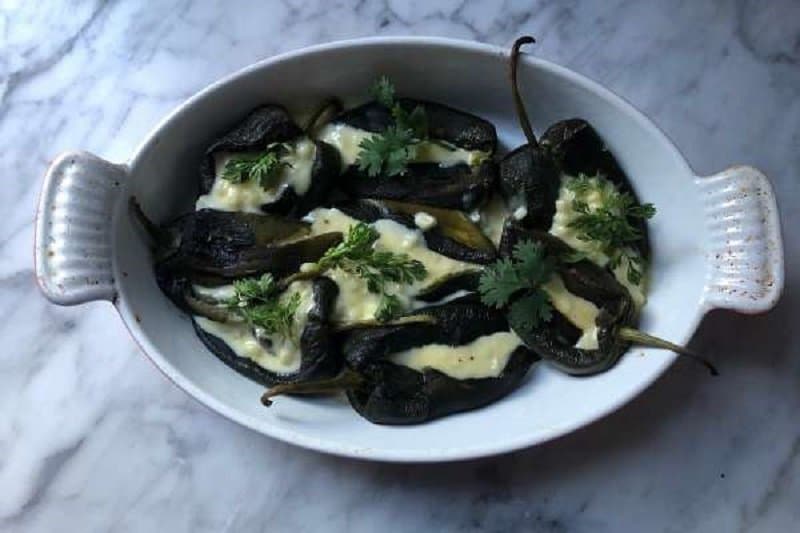 Ingredients:
4–6 extra-large whole poblano peppers, with stems on.
6 ripe, medium tomatoes
6 whole, big garlic cloves, peeled
1 large onion, chopped
2 small jalapeño peppers, halved
2 tablespoons olive oil
For the filling:
14 oz. can of seasoned black beans, drained, or plain black beans seasoned with a teaspoon each cumin and chili powder
6 oz. grated jack cheese or Mexican queso fresco – or 1 cup herbed tofu ricotta
Seasoning for the sauce:
2 teaspoons cumin
1 teaspoon coriander
1 teaspoon chili powder
1 teaspoon dried oregano
1 teaspoon salt
1 tablespoon tomato paste
¼ cup fresh cilantro leaves, and some more for garnish
¼–½ cup water or broth
Instructions:
Preheat the oven to 450°F.
Roast the vegetables: Line a baking pan with baking parchment. Cut the tomatoes in half. Place them on the pan together with the sliced onion, garlic, jalapeños, and whole poblano peppers. Leave a little space between the vegetables, so as not to steam them.
Drizzle olive oil and sprinkle salt and pepper over the vegetables.
Place the pan on the middle rack. Cook for 15 minutes.
When the garlic and the peppers are tender, remove them with tongs to a platter. The garlic may be the first to cook through. Leave the peppers if not done yet, but keep an eye on them and remove them as soon as tender.
Roast the tomatoes and onions 15-20 minutes longer until cooked through and have released some juice.
Make the filling: Mix the canned beans with the cheese or herbed tofu ricotta. Mix a little less than half the chopped onion into the filling. Season with salt and pepper.
When the poblanos are tender, remove the sheet pan from the oven, but leave the oven on. Lower the oven temperature to 425°F.
Make the sauce: Blend the remaining half onion with the roasted tomatoes, jalapeños, garlic, and juices from the pan, in a food processor or blender.
Add the cumin, coriander, chili powder, oregano, salt, tomato paste, and fresh cilantro to the blender. Add a little water by tablespoons, blending, until the mix has reached a sauce consistency.
Stuff the poblanos: Cut a slit in the poblano peppers from stem to end. Rinse them under cold water, gently working the seeds out.
Pour half the sauce onto a casserole or large cast-iron skillet. Place the poblanos on top of the sauce, slit side up. Stuff the filling into each one. Pour the rest of the sauce over top. Top with shredded cheese, if desired.
Cover the casserole or skillet with foil. Bake for 20-25 minutes. Remove the foil and bake for 5 more minutes.
Healthy Chile Rellenos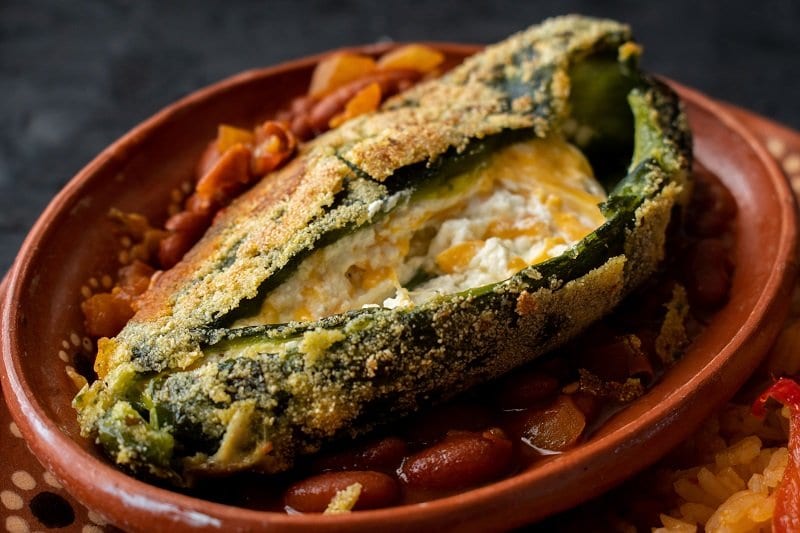 Broiled instead of fried, these Rellenos are filled with turkey, black beans, and jicama, a Mexican root vegetable.
Prep Time: 10 minutes
Cook Time: 20 minutes
Yield: 4 stuffed poblanos
Ingredients:
4 poblano chile
For the filling:
2 teaspoons olive oil
8 ounces lean ground turkey breast
½ cup diced white onion
1 teaspoon minced fresh garlic
½ teaspoon cumin
¼ teaspoon chili powder
¼ teaspoon kosher salt
¼ teaspoon black pepper
½ cup diced jicama root
½ cup canned black beans, drained
1 tablespoon seeded and minced jalapeño pepper
1 tablespoon fresh lime juice
2 tablespoons chopped fresh cilantro
½ cup sour cream or large-curd cottage cheese
½ cup shredded Monterey Jack cheese
Instructions:
Heat broiler to high, rack 6 inches from element.
Roast poblanos under the broiler until charred on all sides, about 8 minutes, rotating every few minutes. The poblanos can also be roasted on a grill placed on the stove. Transfer the poblanos to a bowl. Cover with plastic wrap or a recycled plastic bag. Let them steam for 10 minutes.
Heat the oil in a large skillet over medium heat. Add the turkey, onion, garlic, cumin, chili powder, salt, and black pepper. Cook for 5 minutes or until the turkey is browned.
Add jicama, black beans, and jalapeño. Cook for another 2 minutes and remove from heat.
Stir in lime juice, cilantro, and ½ cup sour cream or cottage cheese.
Peel skin from Chile under running water. Don't worry if a little skin remains.
Cut a slit, lengthwise, down one side of each chili. Gently scrape the seeds out.
Stuff chile with turkey mixture. Top with cheese and broil until the cheese is bubbly and starting to brown, 1–2 minutes.
You May Also Like: Zero Point Simple Turkey Chili Recipe
Healthy Vegan Chile Relleno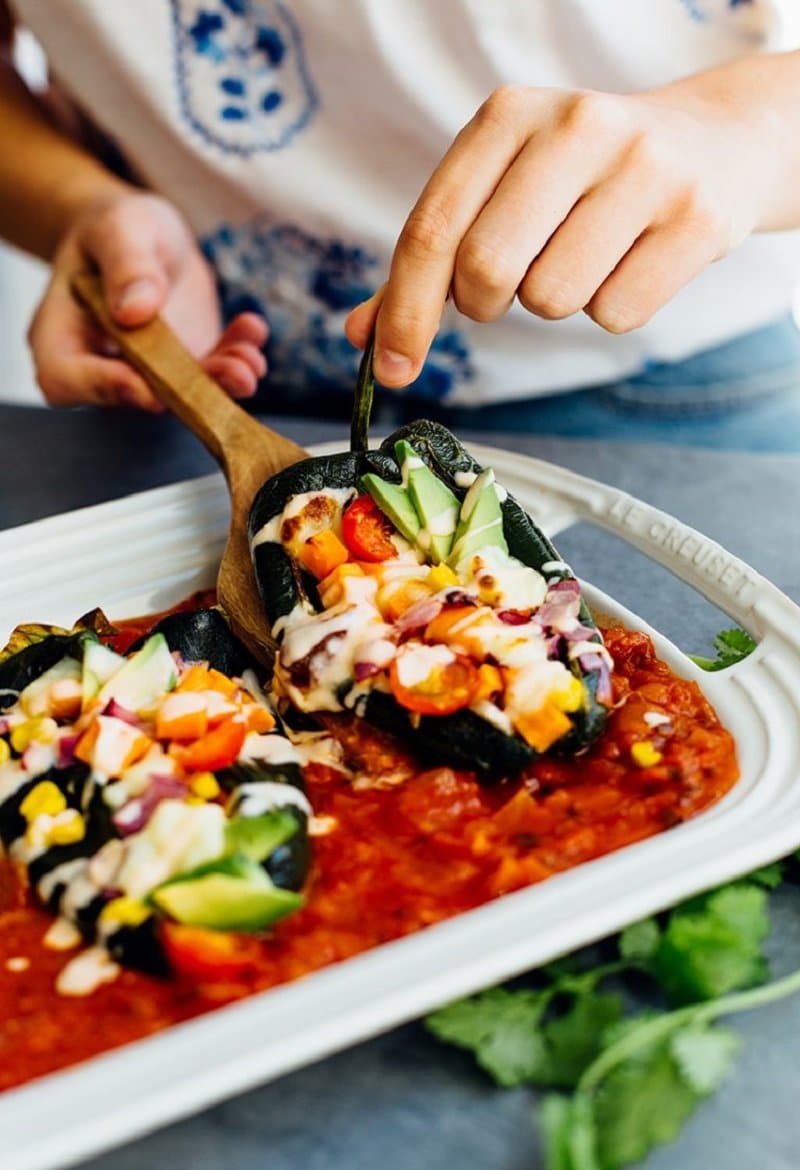 This light and healthy Chile Relleno recipe include nutritious beans and quinoa.
Prep Time: 15 minutes
Cook Time: 45 minutes
Yield: 4 servings
Calories: 239kcal
Ingredients:
Roasted vegetables:
4 whole poblano peppers with stems on (about 1 pound)
5 Roma tomatoes, halved
1 serrano pepper, halved and seeded
½ white onion, thinly sliced
1 small garlic bulb, bottom trimmed off, or ½ large bulb
Quinoa and Spinach Filling:
1 15-ounce can black beans, or 1 ½ cups cooked dried beans
4 packed cups spinach leaves, chopped
1 cup cooked quinoa
½ cup corn kernels
1 teaspoon taco seasoning (recipe for home-made taco seasoning below)
2 tablespoons tomato paste
¼ cup fresh cilantro leaves
Sea salt and freshly ground black pepper to taste
Instructions:
Preheat the oven to 450°F. Line a baking pan with parchment paper. You may need 2 pans.
Place the whole poblano peppers and the onions slices on the pan. Add the tomatoes, serrano pepper and garlic bulb to the pan, cut side down.
Roast for 25-30 minutes, scooping the peppers and onions over halfway through cooking. Roast until the peppers are blistered on both sides and the vegetables are tender.
Make the filling: Cook the spinach in a large skillet or pot. Drain the liquid, but reserve it to add back in by tablespoons, if needed. Add the cooked quinoa, black beans, corn, and taco seasoning to the spinach.
Cook a few minutes longer to blend the flavors. Add a little spinach cooking water if needed to prevent sticking, but keep the mixture just moist, not wet. Season with salt and black pepper, to taste.
Remove the roasted vegetables from the oven. Reduce the oven heat to 400°F. Let the vegetables cool for 10 minutes.
Make the sauce: Put the tomatoes, onions, and serrano pepper in a blender. Put the garlic cloves on a cutting board and squeeze the flesh out, from the pointed end. Scrape it into the blender.
Add the tomato paste and cilantro to the blender. Blend on low, gradually increasing to high speed. Add salt to taste.
Choose a baking dish just big enough to contain the peppers. Pour the sauce into the bottom of it.
Place the poblano peppers on the cutting board. Carefully slice one side of each pepper down the center lengthwise, making sure not to slice the other side. With a spoon, scoop out the seeds and membranes from the peppers.
Fill each pepper with ¼ of the filling. Put them into the baking dish, cut side up.
Cover with foil. Bake for 20-25 minutes at 400°F, until the filling is hot and the sauce is bubbling.
Home-made taco seasoning: Mix ½ teaspoon chili powder, ¼ teaspoon ground cumin, ⅛ teaspoon oregano, ⅛ teaspoon onion powder, 1 pinch of cayenne, garlic powder, and salt.
Chicken Chile Rellenos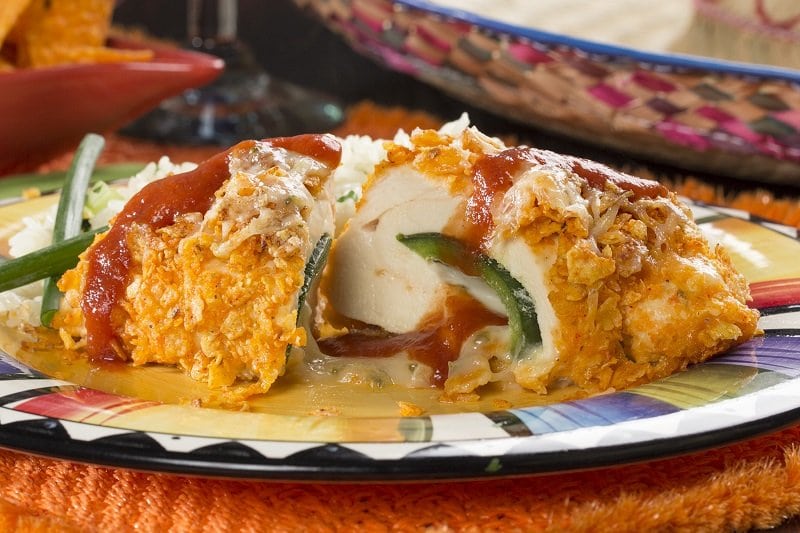 This is a lean and heart-healthy Chili Rellenos recipe that's bursting with Mexican flavors.
Yield: 4 servings
Ingredients:
1 lb. boneless, skin-free chicken breast
1 tablespoon rice wine vinegar
½ cup low-sodium chicken broth
1 bunch fresh cilantro leaves, leaves chopped and stems reserved
1 chipotle pepper in adobo sauce
1 teaspoon olive oil
1 large onion, diced
4 medium poblano peppers
¼ teaspoon ground cumin
¼ teaspoon salt
½ cup reduced-fat cheddar cheese, shredded
½ cup cornmeal
¼ teaspoon garlic powder
½ teaspoon chili powder
Instructions:
In a small bowl, combine broth, vinegar, olive oil, and cilantro stems.
Place chicken breast in an even layer in a medium baking dish. Pour broth mixture over chicken, cover, and bake for about 25 minutes, until fully cooked. Remove chicken from dish to a platter. Discard the cilantro stems. Place the chicken in the refrigerator.
Remove the chipotle from the adobo sauce. Wearing gloves, cut it in half and mince the half. Keep the other half for another time.
Heat the oil over medium heat. Add the onion and chipotle pepper. Cook for about 5 minutes. Remove from heat. Chill in the refrigerator.
Turn the oven on to broil. Broil the poblanos for about 10 minutes, turning them every 2-3 minutes. The skin will begin to char. After the last turn, remove peppers and place them in a bowl. Cover with plastic wrap or a recycled plastic bag. Set aside to cool.
When peppers are cool, peel gently. Slice each pepper on one side lengthwise. Remove the seeds and membranes.
Preheat the oven to 350°F.
Shred the chicken with 2 forks. In a large bowl, combine onion mixture, chopped cilantro, cumin, salt, and shredded cheese. Form the mixture into 4 rolls and place them inside the peppers. Close the peppers.
Mix the cornmeal, garlic, and chili powder.
Sprinkle about 1 tablespoon of cornmeal mixture on top of each stuffed pepper. Place the peppers on a greased baking sheet.
Bake for 15 – 20 minutes. Serve warm with 2 tablespoons Relleno sauce
Read Related Topic: Slow Cooker Chili Cheese Dip Recipe
Chile Relleno Sauce
Combine a can of diced tomatoes with half a chopped green pepper, half a chopped onion, 1-2 cloves garlic, plus chili powder, cumin, brown sugar and salt and pepper to taste. Bring to a boil and simmer for 10 minutes, then cool and blend in a food processor or blender.
How to make Chile Rellenos in an air fryer
These are basic instructions for making 4 Chili Rellenos in an air fryer, with approximate ingredients. For a more exact recipe, choose one of the recipes above.
For the peppers:
Place peppers in the air fryer basket. Set the air fryer to 400°F for 10 minutes, turning peppers halfway through cook time.
Remove the charred peppers from the air fryer and cover with plastic wrap or a recycled plastic bag. Allow to steam for 10 minutes. Peel the skin off gently. It helps to do this under running water.
In a medium bowl combine corn, scallion, cilantro, salt, black pepper, and grated cheese; set aside.
Make the sauce: Heat the oil in a large skillet over medium-high heat. Cook onion in the oil for 5 minutes or until wilted.
Add garlic; cook for 30 seconds. Stir in tomato paste, chile powder, oregano, and cumin, and salt. Cook and stir for 1 minute. Whisk in chicken stock, and lemon juice. Bring to a simmer, stirring occasionally. Cool slightly, then blend.
Cut a slit down the center of each poblano pepper, starting at the stem and continuing to the tip. Scrape the seeds out with a spoon. Be careful not to pierce the bottom of the pepper.
Stuff each chile with a quarter of the corn and cheese mixture, and 1 tablespoon of the sauce.
Place stuffed peppers in a 6-inch heat-proof pan and place the pan in the air fryer basket. Set the air fryer to 400°F for 10 minutes or until the cheese has melted.
Can I swap another pepper for poblanos?
Anaheim peppers work well in place of poblanos, being similar in shape and easy to stuff. They're a bit spicier, though.
If you don't like heat, cook bell peppers instead of poblanos. They're tasty, but they won't have that authentic, hot, Mexican flavor.
If you can't get enough chili heat, mix diced jalapeños into the filling.
What's the traditional cheese for Chile Rellenos?
Traditionally, it's a mix of Asiago and Monterrey Jack cheeses. But there's no harm in using only one, or the other cheeses suggested above. If spicy heat really isn't your style, use mozzarella.
Accompany your Chile Rellenos with a platter of sliced avocados and tomatoes, or a fresh, leafy salad, sour cream, salsa, or lime wedges to squeeze over the hot dish. Coleslaw is also excellent as a side dish. For an entire, satisfying meal, cook up some quinoa to serve with the chile.
How long do Chile Rellenos last in the refrigerator?
Refrigerate the dish within two hours of cooking, in airtight containers. The chile should last 3-5 days chilled.
How long can Chile Rellenos be left at room temperature?
Do not eat the peppers if left out for more than two hours. Refrigerate them as soon as they cool down or are just barely warm; that's your best guarantee of safety when you're not going to serve them right away. And don't worry, Chile Rellenos reheat beautifully in the microwave, on the stovetop, or in the oven at medium heat. Just cover them and keep your eye on them, to prevent the sauce from drying out.
Freezing Chile Rellenos
You can safely freeze the cooked stuffed poblanos. Store them in airtight containers or heavy-duty Ziploc freezer bags. They will last frozen up to a year. It's worth making a big batch, to have some on hand when the craving hits.
The safest way to thaw them out is to let them sit in the refrigerator for a day. Cooked peppers that have been thawed in the refrigerator can be kept for an additional 3 to 4 days before reheating. If you thaw them out in the microwave, don't plan on leftovers, but eat them right away.
How to tell if the Chile Rellenos are still good?
Don't taste any suspicious-looking stuffed Chile (or any other food). Inspect them closely and smell them. Throw out anything that looks or smells off.