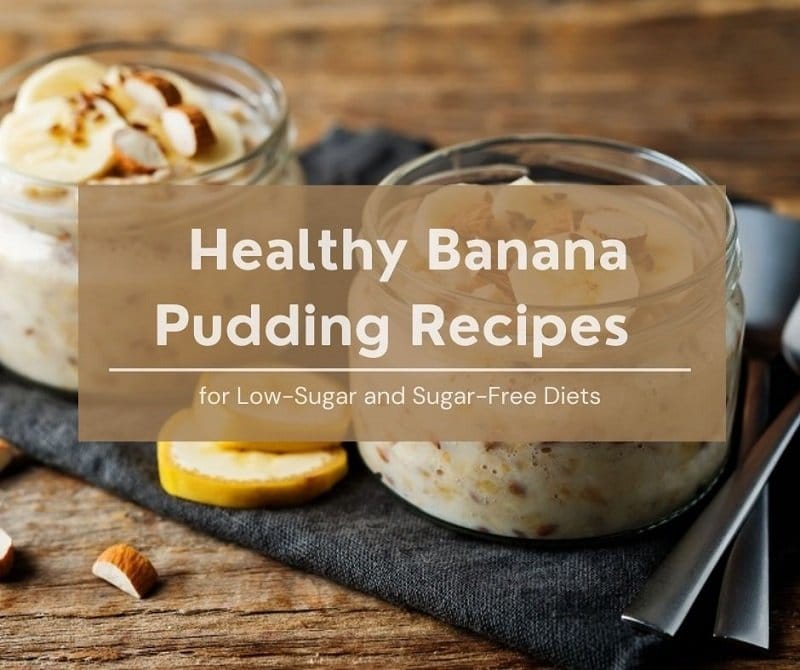 It's hard to give dessert up when you change your diet. Reducing sugar is crucial for the success of your weight-loss program, but you still miss everything that's sweet and creamy.
The good news is, you can have a dreamy dessert and still cut calories and sugar. Think banana pudding!
Banana pudding is one of the great foods that have come out of the southern United States. Any Southerner will tell you how banana pudding is the kids' delight at family parties or social gatherings. And it's no secret that the kids continue to love and ask for banana pudding all through the years they grow and become adults.
We offer some great ideas for homey, comforting banana pudding here. Kids will love at least one, if not more, of these recipes and no one will know how much healthier they are unless you tell them.
Guilt-free dessert without the taste of artificial food. Sound good? Let's go. Enjoy these low-fat versions of the traditional Southern dessert.
Homemade Banana Cream Pudding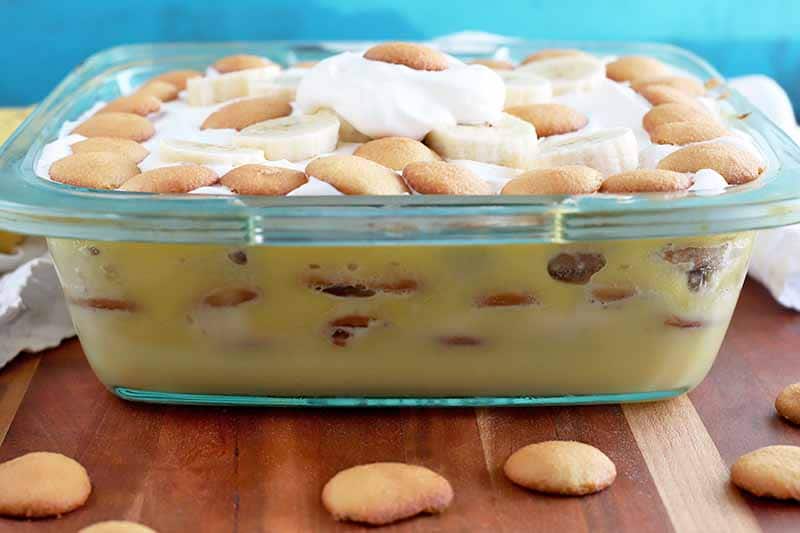 Fresh, sliced bananas give a great sweet flavor to this classic, low-sugar pudding recipe.
Prep time: 10 minutes
Yield: 4 servings
Calories: 237kcal per serving
Ingredients:
2 cups of milk
¼ cup granulated sugar
2 egg yolks
3 tablespoons cornstarch
1 teaspoon vanilla
¼ teaspoon salt
2 large bananas
Instructions:
Whisk together sugar, cornstarch, salt, milk, vanilla, and egg yolks in a medium saucepan.
Cook the mixture over medium heat, whisking constantly. Cook until the mixture begins to thicken, about 6-8 minutes. Remove from heat.
Spoon the pudding into a serving bowl or individual cups. Chill.
Just before serving, slice the bananas and distribute them evenly over the pudding.
Banana Peanut Butter Pudding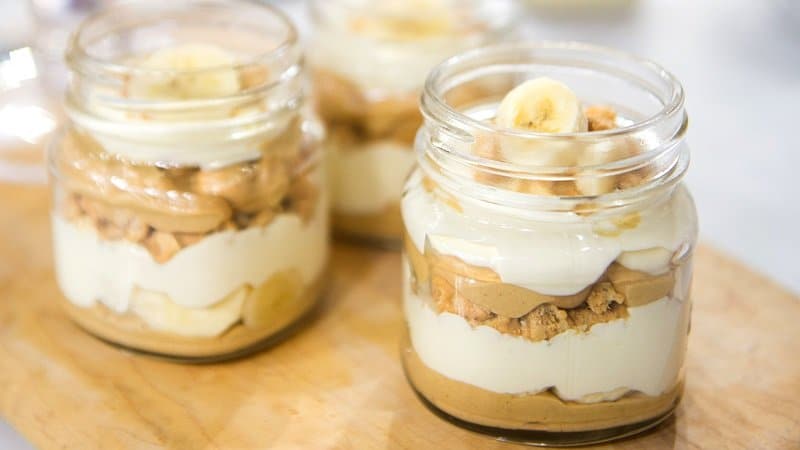 This pudding is vegan and gluten-free. Crushed peanuts add protein and a satisfying crunch. Layer the pudding, fruit, and peanuts as described below to make an especially attractive presentation.
Prep Time: 10 minutes
Cook Time: 1 hour
Yield: 4 servings
Calories: 320kcal per serving
Ingredients:
For the pudding:
1 cup soft tofu
1 ½ cups very ripe banana
1 ½ tablespoons natural peanut butter
1 teaspoon natural vanilla extract
1 teaspoon coconut sugar, or more to taste
¼ teaspoon cinnamon
Garnish:
1 sliced banana
1 teaspoon coconut sugar
½ cup crushed freeze-dried fruit
¼ cup crushed unsalted peanuts
Instructions:
Purée the tofu until very smooth. Use a small food processor or blender for this.
Add the bananas, peanut butter, vanilla, sugar, and cinnamon to the puréed tofu.
Blend all until smooth and creamy.
Chill 1 hour at least.
Let a medium skillet get warm over medium heat. Add the coconut sugar and the sliced bananas. Turn them gently once, cooking until the bananas caramelize.
Keep an eye on them and take the skillet off the heat as soon as the bananas are caramelized, to prevent burning.
Spoon a little freeze-dried fruit and a few crushed peanuts into each of four glasses. Spoon about half the pudding over the fruit and peanuts, distributing it evenly between the four glasses.
Add the caramelized bananas (reserve 4 slices for garnish) and some additional freeze-dried fruit to each. Spoon a layer of the remaining pudding into each glass. Lightly sprinkle peanuts, and freeze-dried fruit over the portions, and top each with a slice of caramelized banana.
See Related Topic: Healthy Banana Cake Recipe
Roasted Banana Pudding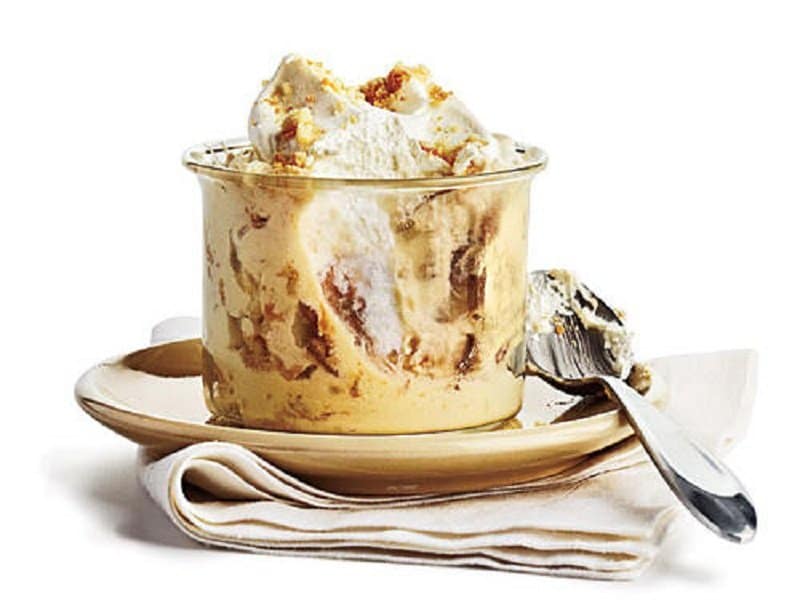 Roasting the bananas brings out their sweetness. This recipe needs a little more work than the usual stove-top pudding, but it pays off in the compliments you'll get. Make sure your bananas are ripe; green bananas will be hard and not sweet.
Prep time: 36 Mins
Cook time: 45 minutes
Total time: 2 hours 26 minutes
Yield: 10 servings of ⅔ cup
Ingredients:
5 unpeeled medium-size bananas, quite ripe
2 cups reduced-fat milk
⅔ cup sugar, divided
2 tablespoons cornstarch
¼ teaspoon salt
2 large eggs
1 tablespoon butter
2 teaspoons vanilla extract
1 12-ounce container of frozen fat-free whipped topping, thawed and divided
45 vanilla wafers, divided
Instructions:
Preheat the oven to 350°F.
Line a baking pan with baking parchment.
Place the unpeeled bananas on it. Bake for 20 minutes.
Remove 3 bananas from the oven. Let them cool down. Peel them and cut into ½-inch-thick slices.
Bake the remaining 2 bananas for an additional 20 minutes.
Peel them and mash until smooth.
Add milk and ⅓ cup sugar in a saucepan, heat over a medium-high heat. Bring it to a simmer.
Whisk together the remaining ⅓ cup sugar with the cornstarch, salt, and eggs in a medium bowl. Gradually whisk in the hot milk and sugar mixture.
Return the above mixture to the pan. For 3 minutes cook the ingredients over medium heat, whisking constantly. The mixture should be bubbly and thick. Remove from heat.
Add the mashed bananas, butter, and vanilla, stirring until the butter melts.
Have ready a bowl large enough for the pan to fit inside. Fill it with ice. Or fill your sink with ice water. Place the pan in the icy bowl or sink. Stir a few times.
Leave the pudding in the cold for 15 minutes or until it cools to room temperature.
Add half of the whipped topping to the pudding and stir gently to barely combine.
Line an 11 x 7-inch baking dish with baking parchment Spread 1 cup custard evenly over the bottom.
Spread 20 vanilla wafers and half of the banana slices over the custard. Spoon half of the remaining custard over bananas.
Repeat the same steps with all 20 wafers, banana slices, and custard.
Spread the remaining half of whipped topping evenly over the last layer of custard. Crush the remaining 5 wafers. Sprinkle over top.
Refrigerate for 1 hour or until thoroughly chilled.
Banana Pudding For Dieters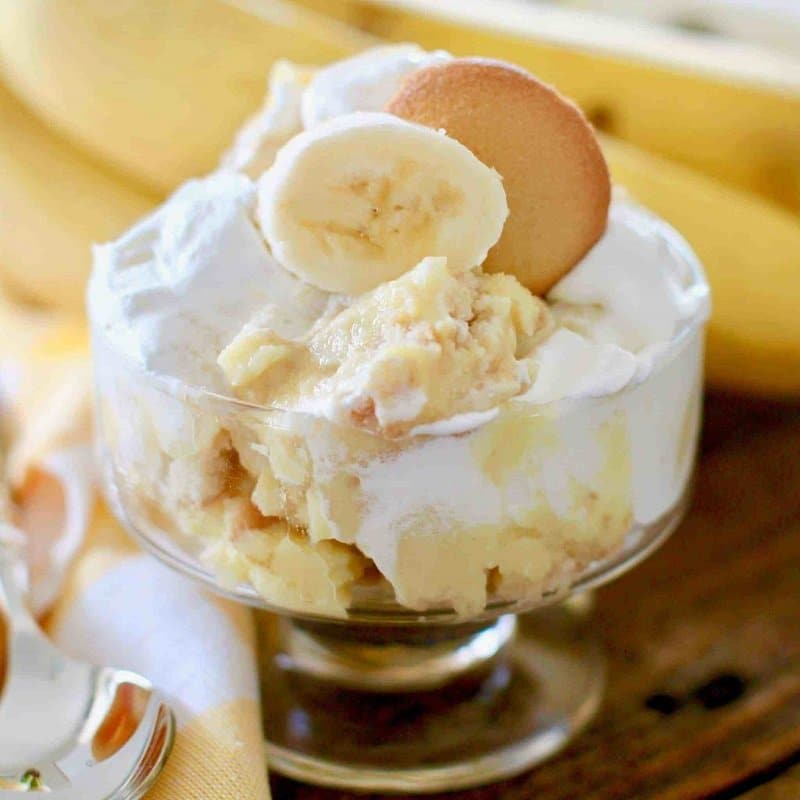 Prep time: 20 minutes
Total time: 8 hours 20 minutes
Yield: 12 servings
Ingredients:
3 cups skim milk
2 boxes of French Vanilla instant pudding and pie filling mix (each 4-servings)
4 containers (6 oz each) French Vanilla yogurt
1 container (8 oz) Cool Whip frozen whipped topping (fat-free) thawed
48 reduced-fat vanilla wafer cookies
6 small ripe bananas, sliced
Additional banana slices for garnish
Instructions:
Mix the milk and pudding mix with an electric mixer on low speed. Add yogurt, mixing well. Stir the whipped topping in gently until just combined.
Singly layer the 24 vanilla wafers in an ungreased 3-quart (13x9-inch) glass baking dish. Spoon half of the pudding mixture over wafers.
Place 6 sliced bananas over pudding mixture. Spoon remaining pudding mixture over bananas. Arrange the remaining 24 vanilla wafers over top of the pudding. Cover
Leave in the refrigerator at least 3 hours but not longer than 8 hours. Garnish with additional banana slices.
You May Also Like: Wild Berry Banana Smoothie
Weight Watchers Banana Pudding Parfaits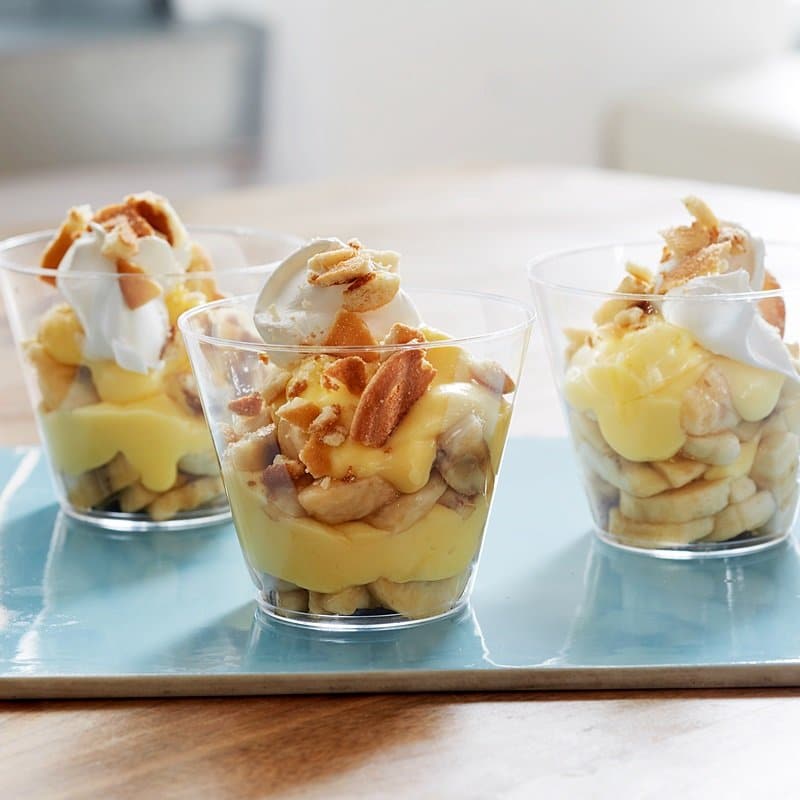 This dessert is only 4 Smartpoints per serving for all the myWW plans, Blue, Purple, or Green. You can make it even skinnier by omitting the crushed cookies.
Prep time: 15 minutes
Chill time: 1 hour
Yield: 16 parfaits, 9 oz. each
Calories: 129 kcal per serving
Ingredients:
2 small boxes (small), 3 oz fat-free vanilla pudding
4 cups low fat milk or
3 cups fat-free whipped topping, divided
10 large ripe bananas, chopped
16 reduced-fat Vanilla wafers, crushed
Instructions:
Prepare pudding according to box directions. Chill until set.
Fold in 2 cups of whipped topping.
Alternate ⅓ cup bananas and 1 ½ tablespoons pudding twice in each cup.
Chill until ready to serve.
Spoon 1 tablespoon reserved whipped topping over each parfait. Crush one wafer per parfait and scatter over the whipped topping.
Healthy Banana Pudding With Chia Seeds And Almond Cookie Crumble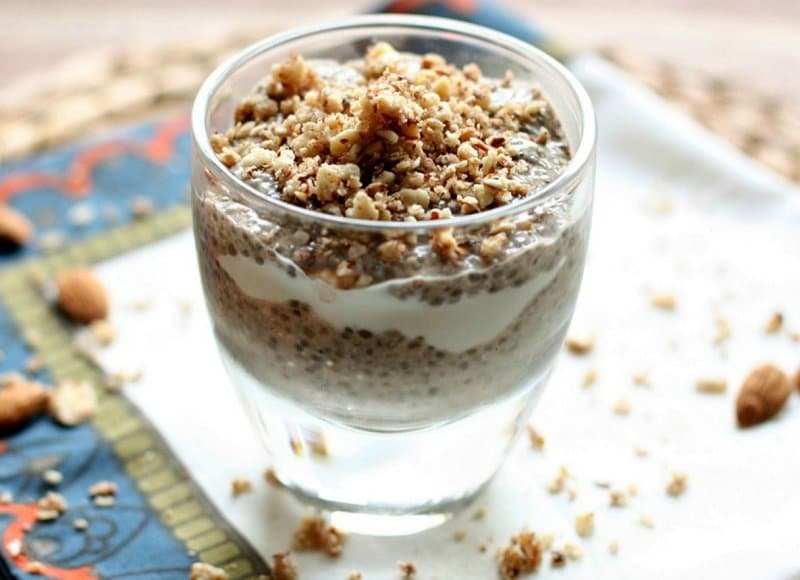 This banana pudding tastes decadent but is low in calories. Although a little time-consuming, it's easy to make. It's worth doubling the recipe to serve more people. Or just to have on hand for the next day. And note: this delicious pudding is sugar- dairy- and gluten-free.
Prep time: 4 hours
Cook time: 14 minutes
Yield: 2 servings
Ingredients:
2 ripe bananas plus 1 banana for garnish
¼ cup almond or other alternative milk (do not use soy milk; it won't set)
1 tablespoon maple syrup, coconut nectar, or agave syrup
1 tablespoon chia seeds
Almond Cookie Crumble Ingredients
1½ cups almond flour
3 tablespoon coconut oil, melted
½ teaspoon cinnamon
1 tablespoon coconut sugar
½ teaspoon baking soda
½ teaspoon vanilla extract
Coconut Whip Ingredients
1 can full-fat coconut milk, refrigerated overnight upside down
1 tablespoon coconut sugar
Instructions:
Use a blender or food processor to blend 2 bananas, ¼ cup almond milk, and maple syrup until the mix is smooth.
Pour out the mixture into a bowl, add chia seeds and mix well.
Put in the refrigerator for at least 3 hours and up to overnight.
Coconut Whip Instructions:
The refrigerated coconut milk, stored upside down, will have formed a solid layer at the top. Open the can and pour the clear liquid out. Spoon the solid milk into a bowl. Whisk it with the coconut sugar until it's light and smooth. Refrigerate the coconut whip until it's time to assemble the pudding.
Almond Cookie Crumble Instructions
Preheat the oven to 350°F.
Mix all almond cookie ingredients (except the coconut oil) together. Add the oil and mix until the batter forms clumps.
Shape the dough into a ball. Line a cookie sheet with greased parchment paper. Place the dough ball on the cookie sheet.
Press the dough ball flat, about ¼ inch thick.
Bake for 12-14 minutes. Allow the cookie to cool for 20 minutes.
Crumble the cookie.
Assemble the pudding
Slice the reserved banana.
Spread the chilled banana chia pudding at the bottom of a bowl. Sprinkle almond cookie crumbs over the pudding.
Spread coconut whip over the pudding. Garnish with banana slices.
Easy Low-Fat Banana Pudding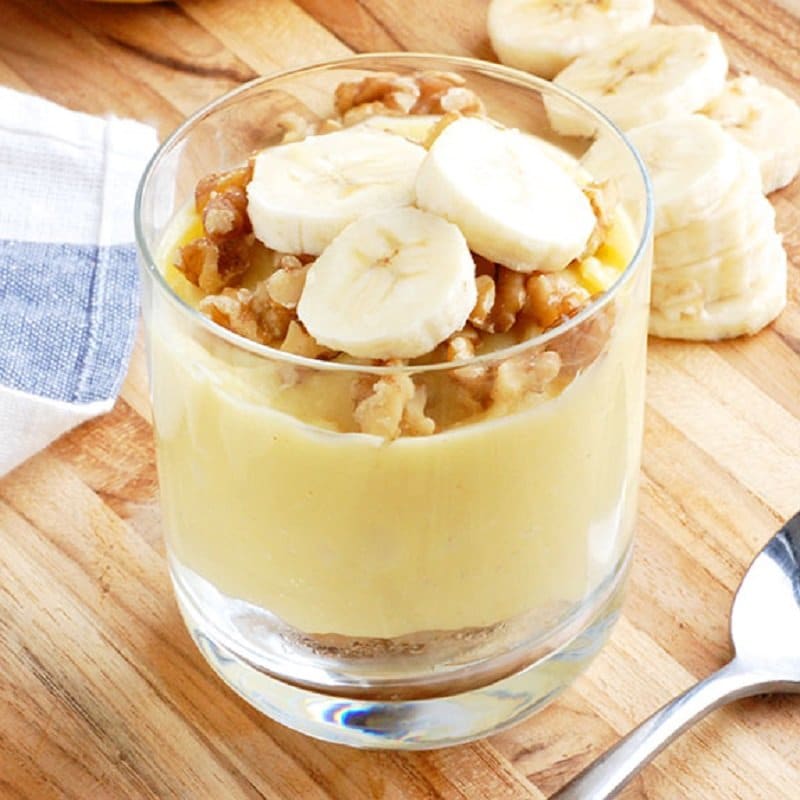 We include this easy recipe based on instant pudding for your convenience.
Prep time: 20 minutes
Cook and chill time: 3 hours
2 packages (1.0 oz. each) JELL-O Vanilla flavor sugar-free, fat-free instant pudding
3-¾ cups cold fat-free milk, divided
33 reduced-fat vanilla wafers
2 bananas, sliced
2 cups thawed Cool Whip whipped topping
Mix pudding mix with 3-½ cups milk in a large bowl, for 2 minutes using a whisk.
Let the pudding stand for 5 minutes.
Arrange 11 wafers on the bottom and along the sides of a 2-quart serving bowl.
Drizzle the wafers with 1 tablespoon of the remaining milk.
Layer ⅓ of the bananas over the wafers, followed by ⅓ of the pudding.
Repeat twice.
Cover with Cool Whip.
Refrigerate 3 hours.
Garnish with additional banana slices and vanilla wafers.
Almond Butter and Banana Chia Pudding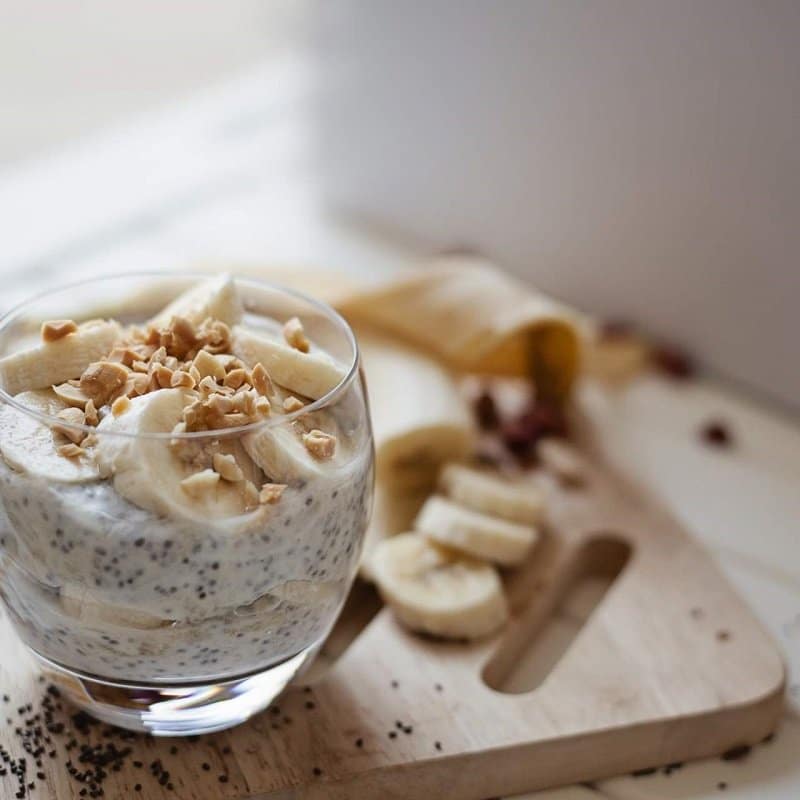 An updated banana pudding chock-full of good-for-you ingredients like fiber-rich almond butter and chia seeds. And so easy to put together. You need to make it the night before to enjoy it the next day, but in the meantime, the fridge is doing all the work.
Prep time: 5 minutes
Chill time: 6 hours
Yield: 2-3 servings
Ingredients:
1 ripe banana
2 cups of milk
1 scoop vanilla protein powder
3 tablespoons chia seeds
1 tablespoon almond butter
Dash of cinnamon
Instructions:
Combine all ingredients in a food processor. Process all to obtain a smooth, creamy blend.
Pour the pudding into 2-3 small bowls or ramekins.
Chill for 6-8 hours for the pudding to set.
Banana Yogurt Disguised As Pudding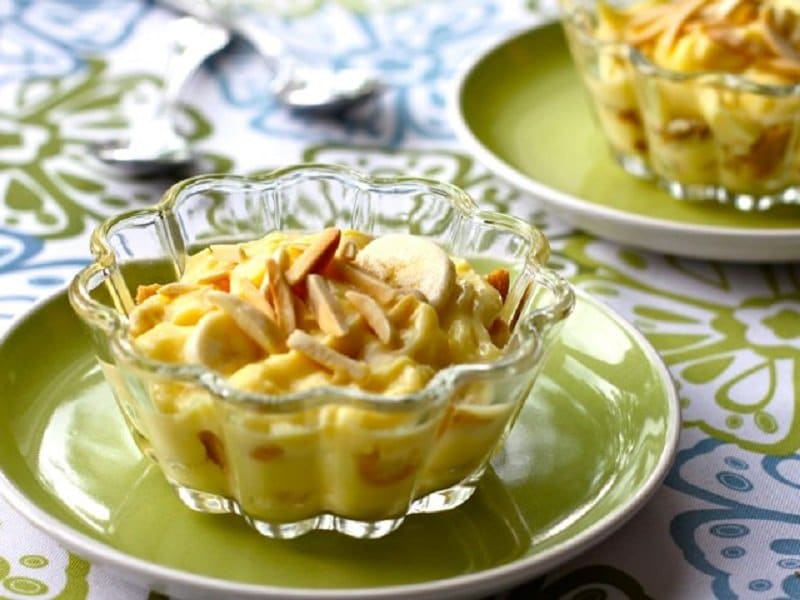 Vanilla yogurt is the base of this pudding-like confection. Add a little whipped cream for a smooth and comforting texture. It's so easy to put together. This makes one serving. Multiply it as needed, but take care to have the right number of ramekins or small dishes on hand.
Ingredients:
8-10 vanilla wafers
2 tablespoons vanilla yogurt
½ ripe banana
Instructions:
Use a small ramekin to contain the yogurt "pudding."
Put 3 wafers into the ramekin.
Spread a good spoonful of yogurt over the wafers.
Layer 5 banana slices over the yogurt.
Repeat the layers once more.
Spread more yogurt over the last banana layer.
Refrigerate for 5 hours.
Banana Pudding For Breakfast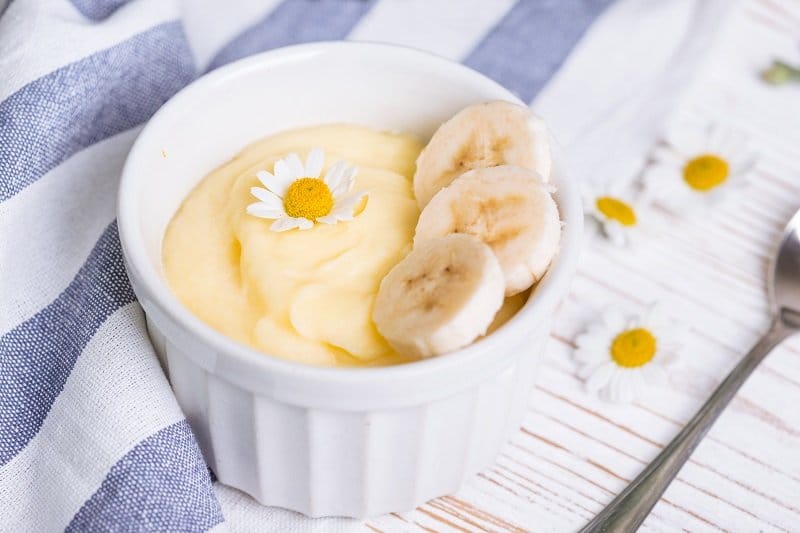 You can consider this other yogurt-based "pudding" breakfast for the granola in it. The truth is, it's delicious any time of the day.
Ingredients:
4 vanilla wafers, crushed
1 6-ounce container vanilla Greek-style yogurt
¼ cup granola cereal
½ large, ripe banana, sliced
Whipped cream if desired
Instructions:
Put the crumbs of 2 crushed vanilla wafers into the bottom of a cup.
Spoon half of the yogurt onto the crushed vanilla wafers.
Spoon the granola over the yogurt.
Add a layer of banana slices.
Repeat the layers of crushed wafers, yogurt, granola, and banana slices.
Top with whipped cream and more crushed vanilla wafers.
Old-Time Southern Banana Pudding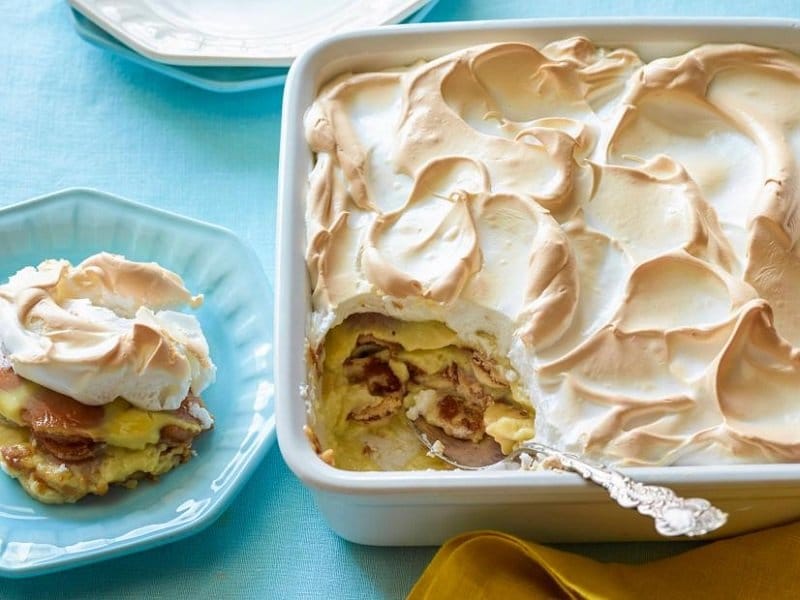 We saved this pudding for last because it's a really old-fashioned, cooked recipe that your grandmother or great-grandmother could have made, back in the days before instant mixes were invented.
Ingredients:
¼ cup sugar
⅓ cup flour
3 egg yolks
1 cup skim milk
2 tablespoon low-fat cream cheese
1 box vanilla wafers or Chessman cookies
6 ripe bananas
½ teaspoon vanilla
Dash salt
Instructions:
Place a layer of cookies in the bottom of a medium-sized mixing bowl.
Slice a banana over the cookies. Put down two more layers of wafers and bananas.
Arrange a double boiler on medium-low heat.
Cook the sugar, flour, egg yolks, skim milk, salt, vanilla, and cream cheese for about 15 minutes. Whisk constantly. Make sure the pudding doesn't stick and scorch.
When the pudding thickens, remove from the heat.
Allow the pudding to cool until just warm.
Pour the pudding over the wafers and bananas in the bowl.
Chill for about 2 hours. The wafers will absorb some of the pudding.
Tips for achieving the best-cooked banana pudding
To make sure your pudding is smooth and free of lumps put all the ingredients in a saucepan and whisk thoroughly before cooking.
Whisk the pudding constantly for 3-4 minutes. Don't leave the stove: the pudding will catch and scorch in a blink if you stop whisking. Luckily, it's only a few minutes until it thickens and you can take it off the heat.
You can tell the pudding is done when it bubbles. It will spatter, so watch out.
Presentation
A pretty presentation is easy to achieve with the yellow pudding plus the fluffy white whipped topping, and sliced bananas. Whether you're serving the family or guests, take a few minutes to create a tempting-looking pudding. We do eat with our eyes, after all!
Use sherbet glasses or other transparent dishes to show off the layers of pudding and bananas from all sides.
Whip some cream. Spoon and it over the top of the pudding. Melt a little chocolate and drizzle a thread of it over the pudding.
For added color, slice a strawberry in half or in quarters and place it over the whipped cream topping. A few frozen blueberries gently dropped over the pudding will also add color and a touch of drama. But not too much fresh or frozen fruit – you want the banana flavor to shine through most.