It is that time of year again where everyone is going crazy over their favorite pumpkin treats.  I too love a great pumpkin dish, but all of my favorites have always been sugar or fat laden.  As we are moving toward much less processed food in our diet, less sugar and of course seeking out organic ingredients, I have found making my favorite treats from scratch has become the best choice.  I was excited to discover this batch of 100 Calorie Moist Pumpkin Muffins I whipped up early this week are seriously delicious and healthy!  Packed full of flavor, fiber and the standard yummy pumpkin flavor we crave they are sure to be a standard in our kitchen from now on.  As you can tell, I have a love for muffins for breakfast and snacks.  They are small, easy, feed my sweet tooth and can often be made with alternate ingredients to make them both refined sugar free as well as gluten free.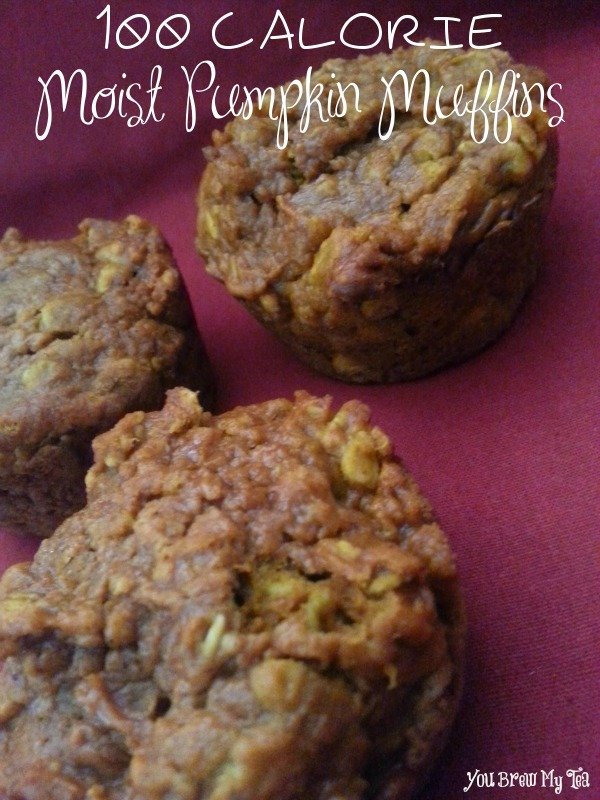 With our recent desire to only eat organics as much as possible, I have been experimenting with a lot of different stores and brands to satisfy this need.  In the case of this recipe, a few items were used that I now keep in my pantry.  I prefer buying my organic whole wheat flour from the bulk bins at Whole Foods or our local Kroger Marketplace.  Both have quality at reasonable prices.  Organic Rolled Oats are often less than $2 a package in the Simple Truth brand that Kroger carries.  Alternately, we love the Simply Balanced Organics brands at Target.  All of these are reasonably priced, frequently have coupons available in store or on the store website and are high quality.
100 CALORIE MOIST PUMPKIN MUFFINS
100 Calorie Moist Pumpkin Muffins
Ingredients
2 Cups Organic Pumpkin Puree (we use 365 Brand from Whole Foods)
1 Cup Organic Rolled Oats (Simple Truth from Kroger)
1½ Cup Organic Whole Wheat Flour
1 Teaspoon Baking Soda
1 Teaspoon salt
1½ Teaspoons Organic Pumpkin Pie Spice
2 Tablespoons Organic Extra Virgin Coconut Oil (we prefer Tropical Traditions but other brands are excellent)
1 Large Egg
1 Cup Unsweetened/Light Coconut Milk
½ Cup Organic Wildflower Honey
¼ Cup Stevia
Instructions
Preheat oven to 350 degrees.
Spray muffin tin with nonstick cooking spray and set aside.
Sift together flour, baking soda, salt and pumpkin pie spice. Set aside
In large bowl mix together pumpkin purree, coconut oil, egg, coconut milk, honey and stevia until well blended.
Mix in oats and flour mixture until just blended. Don't overmix as this will make the muffins tough.
Bake at 350 degrees for 17-20 minutes or until browned and toothpick inserted in center comes out clean. (They will be moist but the batter will not sling to toothpick in liquid form).
Makes 12 muffins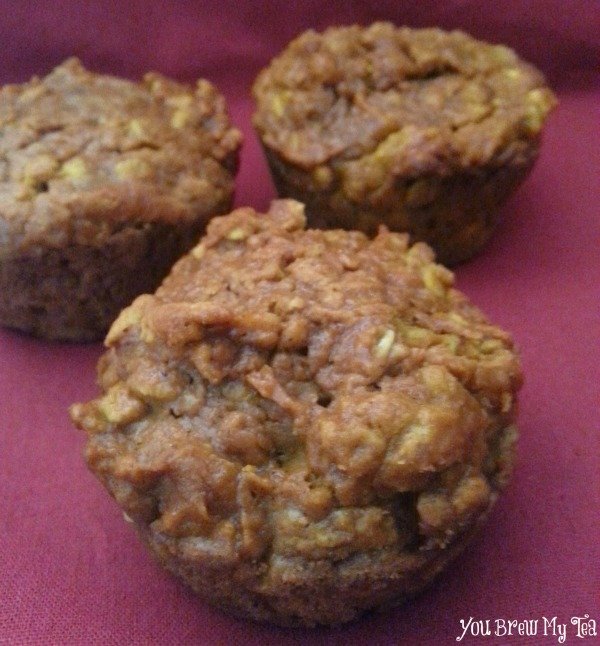 I will be honest.  I was doubtful when I had these in the oven.  I just wasn't sure how they would turn out.  Needless to say these super moist pumpkin muffins are perfect.  They aren't overpowering as some pumpkin dishes can be.  The coconut milk and coconut oil offer a lower calorie, nutrient dense moisture that is light and leaves a barely noticeable hint of flavor.  Quite frankly, they are some of the best muffins I have ever tasted!
Weight Watchers Points Plus Only 1.5 Points Each!!!!
Check out my Organic Coconut Lime Muffins as well as my Organic Sugar Free Lemon Poppy Seed Muffins for another delicious treat option for breakfast this week!