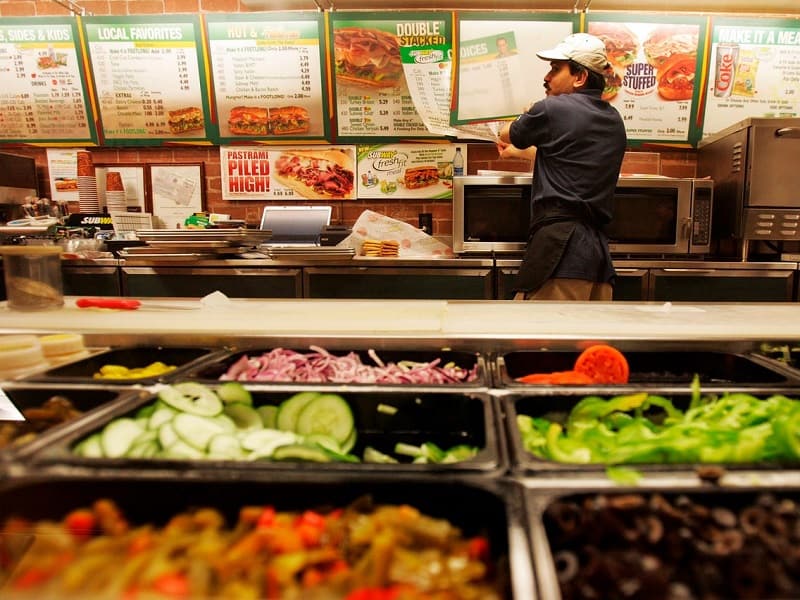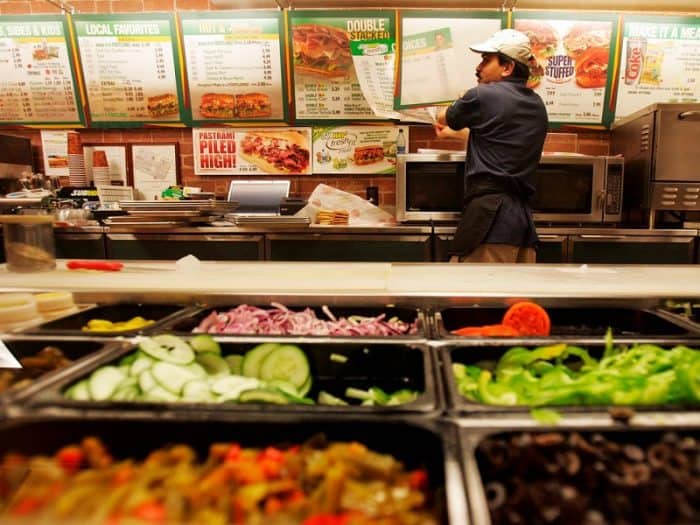 Who doesn't love a bit of a devilish treat now and then? We all do, and us dieters certainly don't have to be excluded from all the fun. One of the best things about Weight Watchers is that there isn't any food that is totally 'off-limits'. 
Weight Watchers is designed to be a lifestyle, not a diet. You learn healthy food habits on the plan that can be adapted to suit you. We will be looking at the top 10 best fast food for Weight Watchers made up of 5 dinings out meals and 5 at home fast food recipes that will keep you on track to achieving your diet goals. 
Related Reading: McDonald's Weight Watchers Points Guide
5 Fast Food Weight Watchers Recipes to Make At Home
Many of us associate diets with salads, bland lifeless food and the constant feeling of hunger. Show your friends a thing or two when they come over for a bite to eat, or maybe curl up on the couch with your cat or dog on a rainy evening and indulge in one of our naughty but nice diet-friendly fast food recipes.
Below are our favorite at home fast food Weight Watchers recipes that certainly won't tip the scale. The best thing about it is, none of these recipes are complicated or take hours to put together. So next time you are tempted to reach over for that takeaway leaflet from the Chinese restaurant down the road, have a look back at our diet-friendly indulgent suggestions. 
The NEW myWW Program is Here and it's Our Most Customized Ever! WW is Weight Watchers Reimagined. Join Today!
10 Minute Nachos
Nachos are a fast food go-to for many people, a timeless and tasty snack that can be thrown together at home in the blink of an eye. You can make this into a meal by adding a hearty side salad or keep it as a snack by keeping it simple. 
The recipe makes one serving.  If you are making it for guests simply multiply the ingredients by the number of guests you have.  This recipe equates to 5 Smart Points per serving on the green, blue and purple plan.
Ingredients 
2 oz deli roast beef slices (cut into strips)

¼ tablespoon ground cumin

¼ tablespoon dried oregano

7 tortilla chips

2 tablespoons fat-free shop-bought salsa (you can make your own if you like)

2 tablespoons fat reduced Mexican cheese (you can purchase this cheese already shredded)

Pickled jalapenos (recommended 2 tablespoons, you can add more if you love a bit of spice)
Instructions 
Mix the beef slices with oregano and cumin.

Place the tortilla chips on a plate, ensure that the chips are not overlapping.

Microwave the chips for 30 seconds.

Evenly divide the beef over the tortilla chips and sprinkle with cheese.

Microwave for 30 seconds so that the cheese melts slightly and the beef warms up.

Either place the salsa in a side bowl for dipping or evenly spread it over the tortilla chips. 

Scatter the jalapenos over the chips.
Top Tip: You can put the nachos in the oven to get more of a crispy texture.
Hamburgers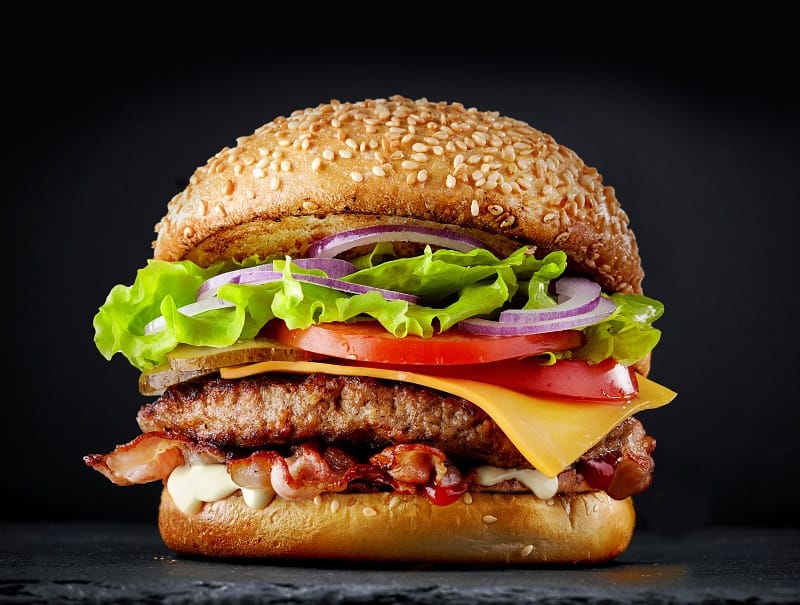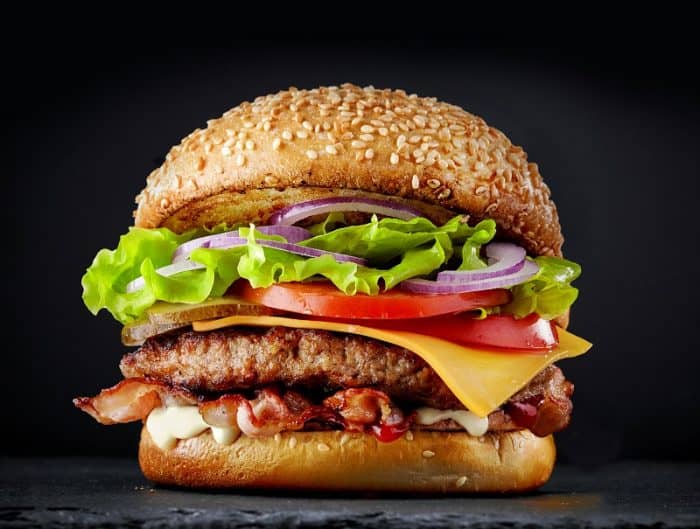 The first image that comes to mind when we think of fast food is often of a big juicy cheeseburger dripping with yumminess. Luckily for you, You Brew My Tea have created a Weight Watchers friendly hamburger recipe for your guilt-free pleasure.
Be prepared to part with 7 blue, purple or green SmartPoints per serving. Not a bad price to pay hey? This recipe will provide you with 4 servings.
Ingredients 
½ teaspoon table salt

4 low-calorie burger buns

¼ teaspoon ground black pepper

1 lb 93% lean ground beef (you can use turkey mince if you prefer) 

Cooking spray

1 tablespoon Worcestershire sauce

2 tablespoons garlic paste (you can use two crushed garlic cloves if you like)
Instructions
Spray a griddle pan with the oil spray.

Preheat the pan on a low to medium heat.

Mix the beef or turkey in a bowl with the Worcestershire sauce, pepper, salt, and garlic.

Divide the mincemeat into 4 and mold into patties 1 inch in thickness.

Crank the heat up to medium/high and place the patties on the pan.

Turn the burgers every 5 minutes or so, to make sure each side gets cooked evenly.

Pop the patties in the burger buns and enjoy.
Top Tip: Do not overcook the burgers as that will dry them out. Put a slice of tomato in the bun to add juiciness to the burger.
Weight Watchers Pizza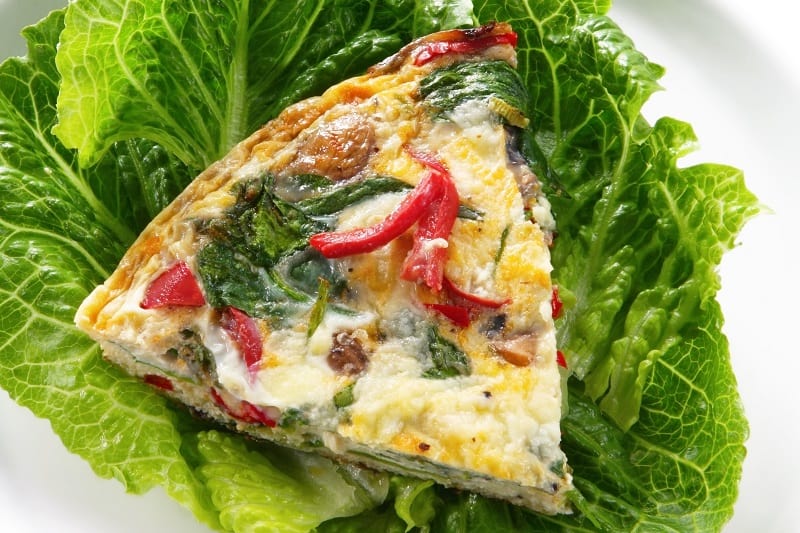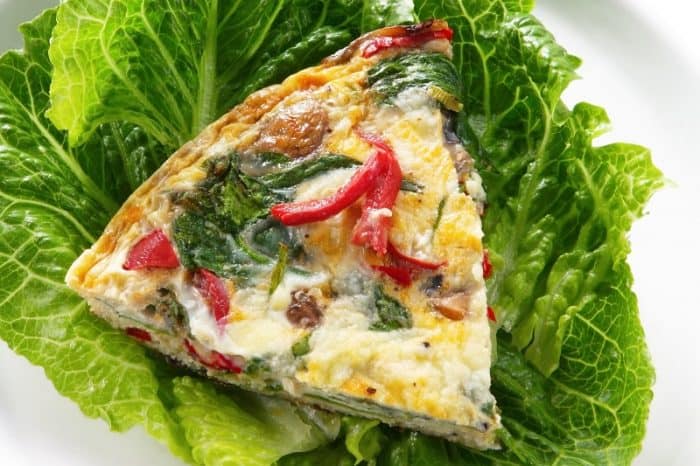 I think there is a theme going on here, cheese or dough is a staple of fast food meals. When made in the right way with low-calorie ingredients, pizza can be fun and diet-friendly. 
You will even be making your own pizza dough if you follow this recipe. 30 minutes is all it will take from start to finish. The pizza dough and sauce will equate to 7 SmartPoints per serving.  The toppings can be kept points free or down to a minimum. We are going to be looking at a cheeseless, points-free topping option for you. 
Ingredients 
2 tablespoons low calorie ready-made pizza sauce

1 sliced tomato 

Rockett

1 tablespoon olive oil

1 sliced zucchini 
For the dough:
1 cup white whole wheat flour

1 teaspoon yeast

2 ¾ cups bread flour

¾ teaspoons table salt

1 ½ cups water
Instructions
Start by making the dough.

Mix bread flour, white whole wheat flour, salt, and yeast together in a large bowl.

Add water at room temperature and mix it with your hands.

Cover the bowl and leave until the dough has doubled in size (usually takes about an hour).

Separate the dough into 8 balls (these will be 1 serving).

Now chop up the tomato, Rockett, and zucchini into thin slices.

Roll a dough ball into a round circle about 7 inches in width.

Top with 1 teaspoon pizza sauce, a few slices of zucchini and tomato and a sprinkle of the rocket.

Drizzle 1 teaspoon olive oil and put aside for cooking.

Repeat with all dough balls.

Cook for 20 minutes.
Top Tip: Having 1 mini pizza equal 1 serving prevents you from overeating and makes tracking points easier. Freeze any leftover mini pizzas for later.
Shrimp and Vegetable Fried Rice
Chinese takeaways and other Asian cuisine are notorious for being fast foods to avoid while on a diet. Not any more! Our Weight Watchers vegetable fried rice recipe is packed with veggies and will keep you full until your next meal.
Our recipe serves three, so share this meal with a loved one and have plenty left over for later. Better yet, it is complete points free on the purple plan, 3 SmartPoints on the blue Weight Watchers plan and 5 points on the green plan. 
Ingredients 
1 cup frozen shrimps

1 teaspoon white wine vinegar 

4 teaspoons low sodium soy sauce

1 ½ cups cooked brown rice

1 teaspoon garlic paste

1 teaspoon root ginger paste

Cooking spray (you will use about 2 or 3 sprays)

2 beaten eggs

2 uncooked scallions

1 cup frozen peas and carrots

1 thinly sliced pepper (red peppers are the sweetest)
Instructions 
You will need a large wock and a small frying pan.

Throw the scallions, prawns, carrots, peas, and pepper sliced in the pre-sprayed wock.

Cook until prawns are warm all the way through (5-10 minutes)

Cook the scrambled eggs in the smaller frying pan.

Add the brown rice to the wok with the vegetables and prawns.

Heat through and add the cooked scrambled eggs.

Mix together on the wock on low heat.

Serve.
Top Tip: this will only take you 20 minutes to throw together and is much more satisfying than getting a take-out.
Breakfast Wrap
I know, I know, going to your local bakery for a freshly made breakfast wrap is one of the many joys in life. Instead of having one from a fast food joint that will only fill you up for 5 minutes, spoil yourself and make it at home. It only takes 10 minutes! 
For 3 SmartPoints on the green, blue and purple plan, turn this takeaway treat into an at-home fast food meal! Go on, give it a go. 
Ingredients 
Nonstick cooking spray

2 eggs 

1 laughing cow cheese wedge 

1 tortilla wrap 

Cooked turkey crumbles 
Instructions 
Spray your pan with 1 spray of non-stick spray.

Scramble your eggs in a bowl.

Add the scrambled eggs to the pan and cook through.

Grab your tortilla and spread the cheese wedge evenly on the tortilla.

Sprinkle the turkey crumbles on the tortilla.

Put the cooked eggs on the tortilla.

Roll into a wrap.
Top Tip: This recipe serves one person.
5 Best Weight Watchers Recipes to Choose While Eating Out
If you find yourself in a rush between meetings or appointments and craving fast food while you're out, there are a few great places to choose from that won't use up all your weekly SmartPoints. The following section will look at the 5 best fast-food restaurants to choose from while on Weight Watchers, and what we recommend from their menus.
Taco Bell
You won't find many zero points items at Taco Bell. In fact, there is only one thing that is zero points and that is their hot and fire sauce as well as their mild sauce. 
Surprisingly though, their menu isn't packed full of high points meals and sides at all. Here are a few things we recommend you order:
The Grilled Chicken Power Menu Bowl is a filling meal that will only cost

12 SmartPoints.

One taco is

5 points

, pair that with a side of rice for

3 points

and you have yourself a low point meal.

A whole Mexican pizza is only

15 points. 

Ordering a Spicy Tostada will cost you

4 points.

If you are a fan of the Black Beans side, each little bowl is

1 point.
A filling meal at Taco Bell will come to roughly 12-15 points if you choose from the above suggestions. If you only want a snack, try the Shredded Chicken Quesadilla for 6 points, both filling and low in points. 
Wendy's
Wendy's is a classic American fast food joint. Everyone has been to Wendy's at least once in their lives, it may as well be a fact. Eating here won't 'ruin' your diet or throw you off track by any means. Just be smart about what you choose and treat yourself.
Wendy's fries are a delight! It's hard to go to Wendy's and not order them. A small order of fries will set you back

10 points

. 

A small portion of chicken nuggets is

5 points,

eat them with a small order of fries and you've got yourself a

15 point meal.

Kiddies cheeseburgers are only

9 points.

They are filling enough to eat without a side of fries, so not a bad option to go for.

The Grilled Chicken Wraps are really good, and also only

9 points.

Another light lunch option for less than 10 points!

Avoid salads. They are higher in points than they look. For example, half an Avocado Salad with a small packet of dressing is

8 points.

You're better off making a salad at home and enjoying a burger or fries at Wendy's.
KFC
You are likely to come across KFC almost anywhere in the world. If you're on holiday and don't know much about the local fast-food restaurants, KFC is a good choice.
There are lots of points-free items tucked away in their menu that you can order. Here are a few of the pointless options:
Green Beans 

House salad (with NO dressing)

Corn on the cob

Sweet kernel corn
Not bad for KFC!
Here are a few more low point recommendations.
A Caesar Salad without any dressing is only

1 point per serving. 

1 serving of chicken wings or drumsticks are

2 points per serving.

That is only if you choose the grilled option. The fried wings and drumsticks are coated in batter so they are much, much higher in points.

Mashed potatoes are

3 points. 

Good old mac 'n' cheese is surprisingly low in points, at only

5 points per portion.
Subway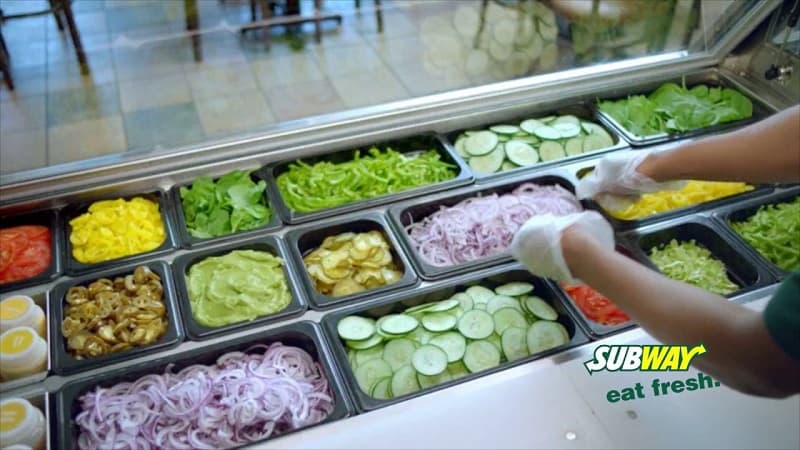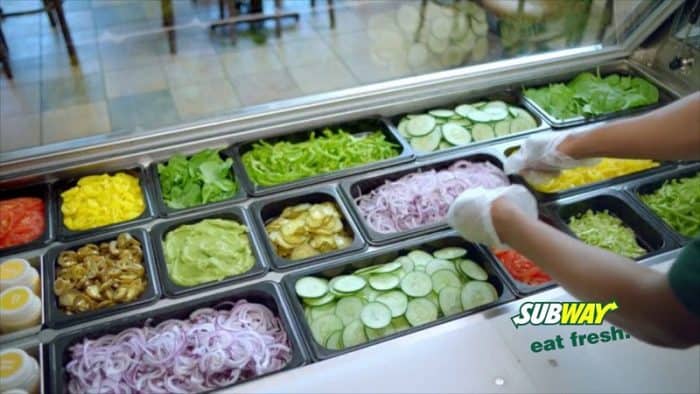 Subway has sandwiches and salads, a little different from KFC, Wendy's and Taco Bell menus.  At first glance, it looks super-duper healthy. As you probably already know, salads from take-outs are actually high in hidden calories and even higher in Weight Watchers Points. 
Here is what we suggest you choose from the Subway menu:
Let's get this bit out of the way, the Subway sauces and the low-fat balsamic vinegar dressing is about

2 points per squeeze or splash.

So take this into consideration if you want to add a sauce to your salad or sandwich.

The Veggie Delight and Oven Roasted Chicken salad are both only

1 point per salad bowl. 

The Veggie Delight and Turkey Breast Sub are only

6 points each.

That is only if you order the 6 inch sandwich on 9-grain whole wheat bread. If you go for a foot long it will come to

12 points without any sauces.

A surprising

6 points

for the Sweet Teriyaki Chopped Salad without the sauce.
Subway is probably the best fast food restaurant to go for because you can eat a filling meal for 6 points on average, and sometimes even less if you are really careful. 
For more Weight Watchers Points for Subway, check out our article here!
Chipotle
You will not find it difficult to keep your points down at Chipotle either. Fill your bowl or wrap with pinto beans, fajita vegetables, and salsa as they are all 0 points. Yay! What else is great at Chipotle?
The crispy corn tortilla is the lowest in points at just

6 points. 

The chicken or steak filling is your best bet, costing you only

3 points

per portion.

Avoid white rice and Lime rice.

Load on the pinto and black beans instead.

Lettuce is also

0 points

and adds a really pleasant crisp to the otherwise heavy and saucy tortilla.

If you are dying to have a side of chips, order the kids chips for

4 points

. They are 5 times lower in points than the guacamole chips, and 4 times lower in SmartPoints than the fresh tomato salsa chips. 
Go for a burrito bowl rather than a tortilla burrito as that will really help you keep the points to a minimum. Spend the points you saved on the tortilla on sour cream or cheese for an extra bit of flavor. 
What is your favorite fast-food restaurant to go to, or meal to cook at home while you're on Weight Watchers? We would love to hear your suggestions!