This Creamy Vegetable Soup recipe is full of deliciously roasted root vegetables in a rich creamy soup base that gives you all the flavor and comfort you expect in a winter soup recipe.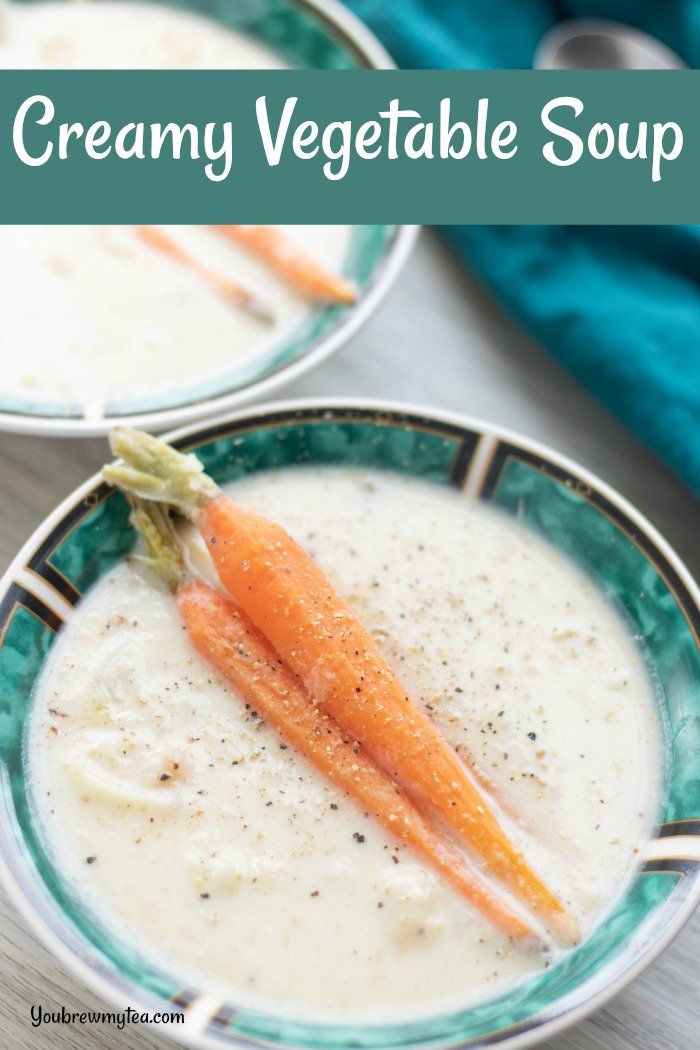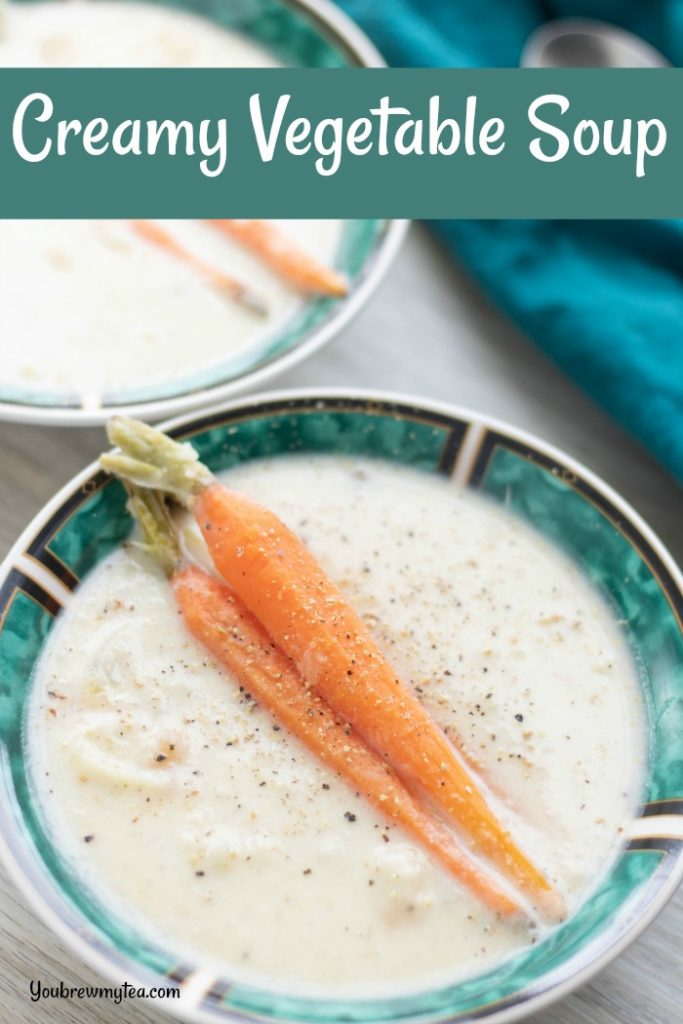 Creamy Vegetable Soup Recipe
Most people go for the normal chicken and noodle soup when they eat any soup. But, for me, chicken and noodles just aren't always enough to satisfy the craving.  I need more flavor, more veggies, and to feel satisfied after a big bowl of heartwarming soup. This soup recipe is full of flavorful roasted vegetables and that creamy base that really makes me feel satisfied.  
This recipe can be made in as little as 30-minutes. It is simple, flavorful, and satisfying whether its a cold night, a warm night, or a sick night. Potatoes and rutabagas are the base vegetables in this, but it can be made with broccoli, carrots, peas, celery, green beans, corn, and cauliflower. I can guarantee you will get your fill of all the veggies you need.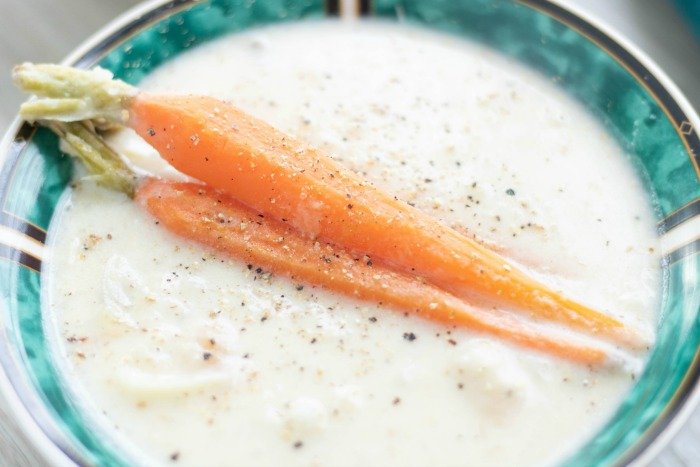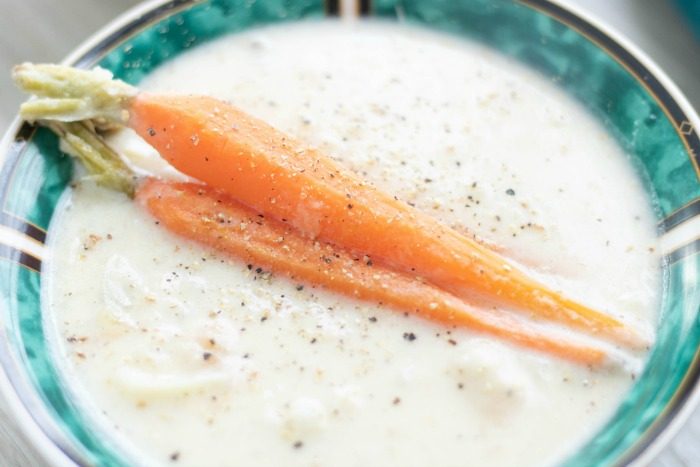 Tips for Making Cream Based Soups
Cream based soups are some of my favorites, but when following any diet plan, you will find they can be a bit harder on macros.  If you are worried about extra fat in this recipe, you can sub in half and half in place of the heavy cream.  This would drop both the points and calories substantially.  You can also do the same with potatoes by adding only zero point vegetables.
Here are a few tips you can use:
Use frozen veggies instead of fresh veggies for a quicker meal.

Kick it up a notch by adding hot sauce or spicy seasoning mix.

Top your soup with crumbled bacon and cheddar cheese.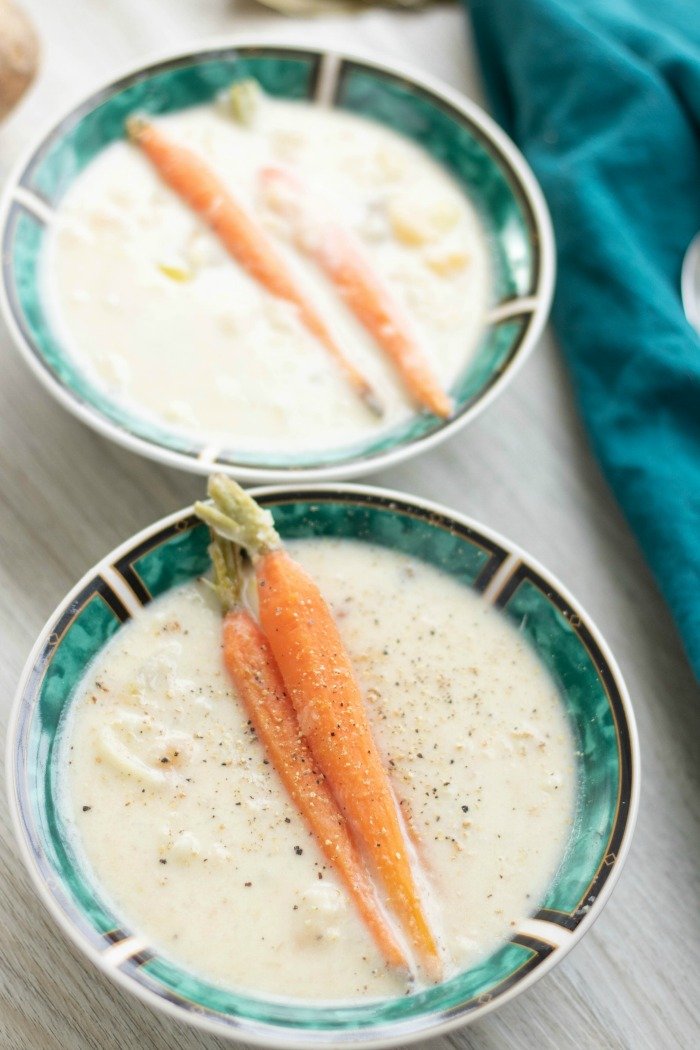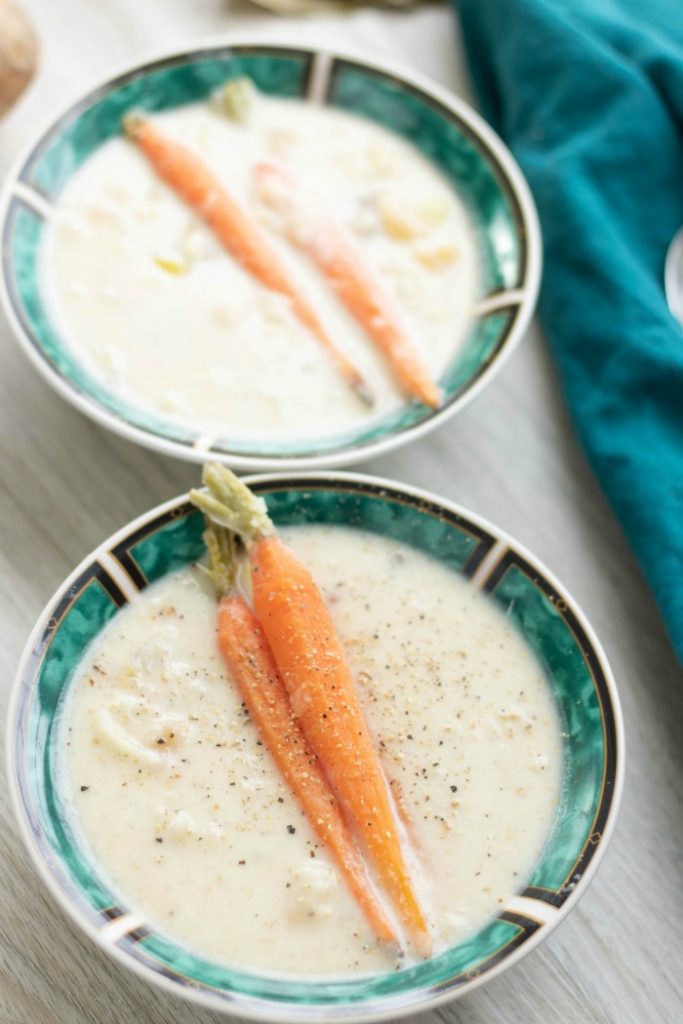 Can I freeze this soup for later? 
Yes!  One thing I love about making this soup is that it does well when reheated.  As a matter of fact, since it makes a fairly large batch, I will split it into two meals.  Freezer containers made just for soup are ideal for portioning into individual servings.  That way you can grab one and thaw in the refrigerator overnight then reheat on the stovetop or in the microwave when ready.
Ingredients Needed
Chicken Stock (or chicken base for creating broth)
Heavy Cream
Rutabagas
Potatoes
Leeks
Carrots
Onions
Salt
Black Pepper
Bay Leaves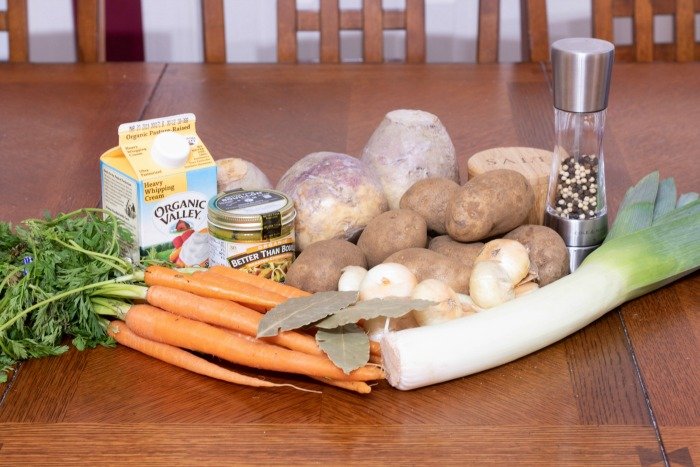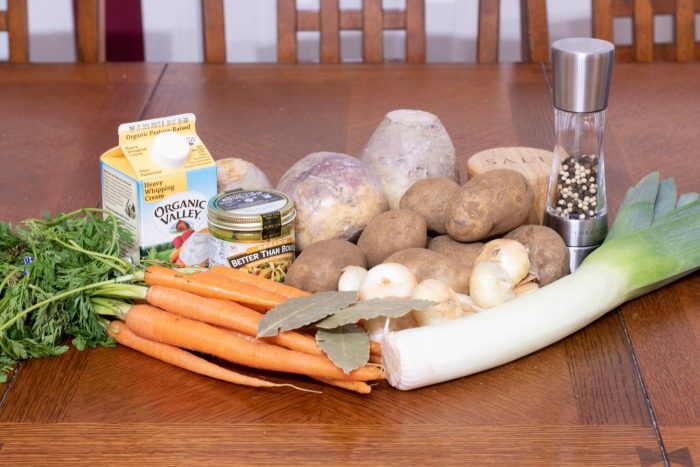 How to Make Creamy Vegetable Soup
With any recipe, I recommend reading the printable recipe before beginning.  Start by gathering all of your ingredients and preparing everything to cook.  This includes washing and cutting vegetables as needed, as well as measuring additional ingredients.  For this soup, you will begin with bringing your broth and part of the vegetables to a boil.  While you wait for this to happen, you can save time by popping your other vegetables into the oven to roast.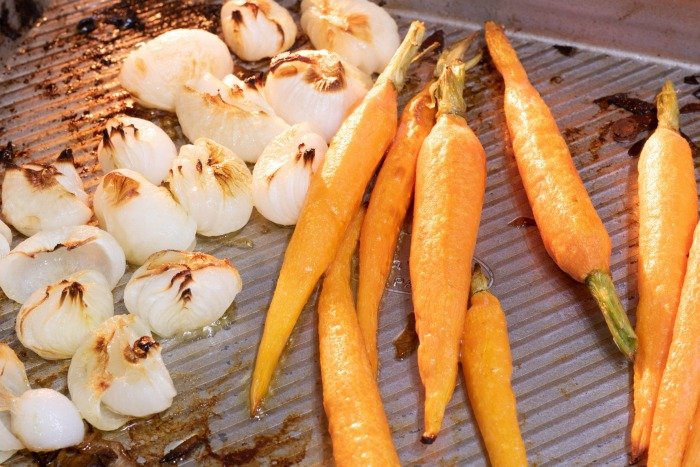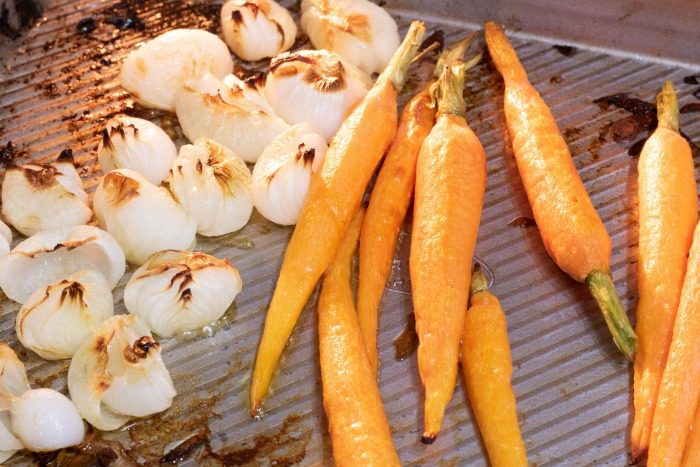 Tip: Always watch cream soups closely as they can burn easily.  Never cook on high heat when the cream is added.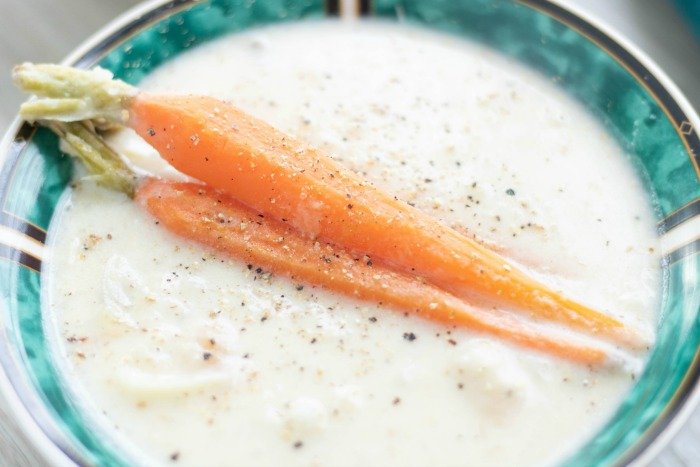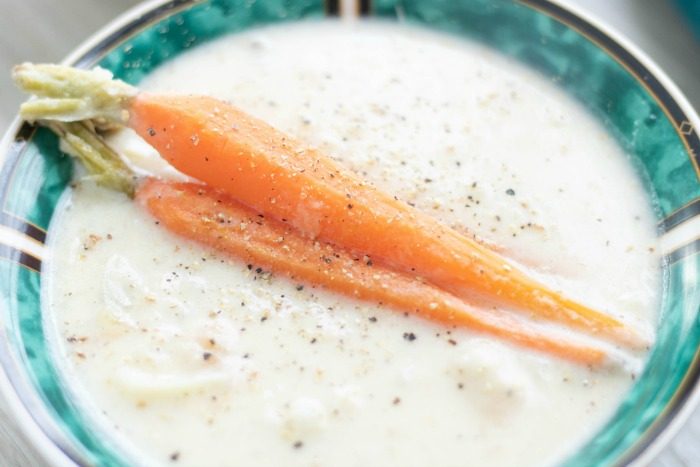 Creamy Vegetable Soup
Serving Size: 1½ cups 6 SmartPoints per serving on WW FreeStyle Plan and Weight Watchers Beyond the Scale Plan 4 PointsPlus per serving
Ingredients
8 cups chicken stock
3 cups rutabaga, cut into 1-inch cubes
2 cups russet potatoes, cut into 1-inch cubes
8 ounces yellow cipollini onions (or any tiny, yellow onion)
1 Leek
12 small carrots with greens still attached
1 cup heavy whipping cream
Salt and pepper to taste
2 bay leaves
Instructions
In a large pot, bring the chicken stock to a boil.
Lower heat, add rutabaga and potatoes, cover
Simmer for 30 minutes or until rutabaga is soft
Mash roughly half of the potatoes and rutabaga, leaving larger pieces.
Preheat oven to 450 degrees F
Halve onions, thinly slice white section of leek, and peel carrots leaving some greens attached (about an inch).
Place on a baking sheet and spray the tops with Nonstick Cooking Spray (Olive Oil Flavor)
Roast for 15 minutes, remove leeks, add them to soup, and continue roasting onions and carrots for 20 additional minutes
Add cream and salt and pepper to taste. Mix until combined.
Remove from heat and add the carrots and onions.
Nutrition Information
Serving size:
1½ cups
Calories:
149
Fat:
6.3
Saturated fat:
3.6
Carbohydrates:
21.4
Sugar:
9
Sodium:
982
Fiber:
4.7
Protein:
3.2
Cholesterol:
21