When we were asked to create a #Saucesome meal using Ragú® Sauce recently, we knew that this Gluten Free Oven Baked Chicken Parmesan was sure to be a hit in our house.  Ragú® is currently reaching out to help families share what they call Saucesome meals. These are things that make meal time extra fun or special.  In our house, that almost always means we are involving the Wee Child in the cooking process.  He absolutely loves helping with everything from prep to dishing up our plates.  With some supervision, we can have a Saucesome good time in the kitchen with him, and that is exactly what Ragú® had in mind with this fun project.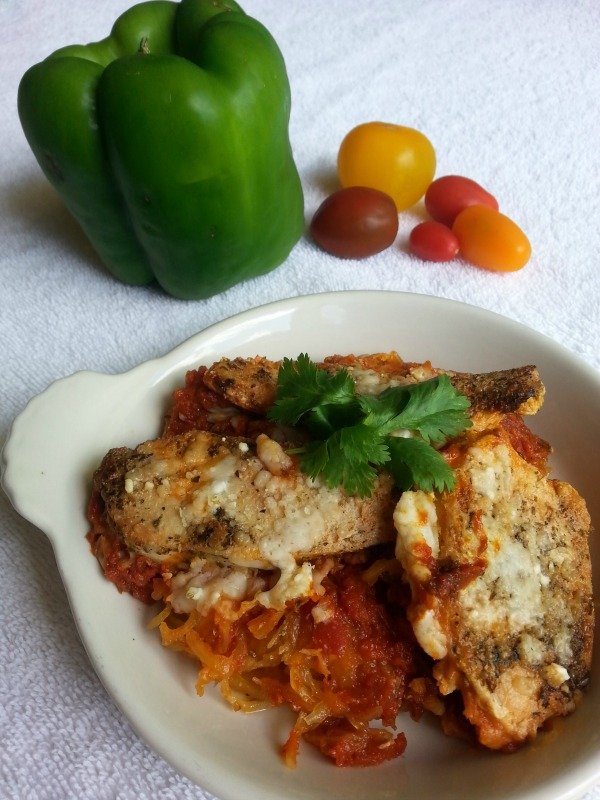 Gluten Free Oven Baked Chicken Parmesan
We chose this dish not just because we wanted gluten free, but because we wanted to add an extra bit of nutrition to our meal.  Traditional Chicken Parmesan includes pasta as well as a breaded chicken cutlet.  We skipped the breading, chose spaghetti squash to substitute for pasta and created a meal that got our son to eat a ton of vegetables while also giving us a healthy and hearty meal that fit into our dietary needs with fewer calories but high flavor.  Since some varieties of Ragú® sauce can contain gluten products, we chose the Ragú® Old World Style® Sauce for our meal to make sure we had ingredients that were truly gluten free.
First on our list was to slice up a boneless skinless chicken breast into small pieces that would cook quickly and easily in the oven.  We are all about using one dish if possible, and although this process takes a bit of work, it still leaves you will little cleanup.  We seasoned the chicken breasts on both sides with a blend of Italian seasoning, garlic, salt and black pepper.  A drizzle of olive oil and they went into the oven. While the chicken cooked, we sliced our spaghetti squash in half and removed the seeds.  You can roast this in the oven for 25-30 minutes while your chicken cooks, or use the easy route like us.  We placed ours on a microwave plate and cooked on high for 5-15 minutes in 5 minute increments.  Ours was a large squash and took right at 10 minutes to cook.  Once we removed the squash from the microwave, we let it cool for a few minutes then used a fork to pull the insides into strips that look similar to spaghetti.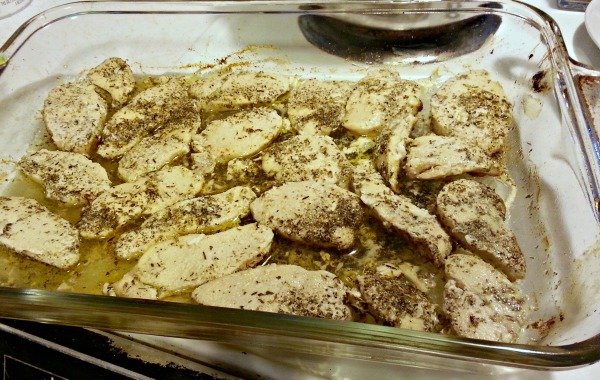 We pulled the chicken from the oven after about 15 minutes.  Cutting it into smaller pieces meant our cook time was short, and everything flowed easily in our kitchen.  To save on cleanup and add flavor to the squash, we pulled the chicken from our casserole dish, and set aside in a bowl.  Next we poured the squash into the casserole dish and tossed it with the little bit of oil and seasoning left behind from the chicken.  This was a quick and easy way to season the squash, and limit the dirty dishes we created.  Now it was time for the Wee Child to pour on the sauce, spread it out and add the chicken back to the top.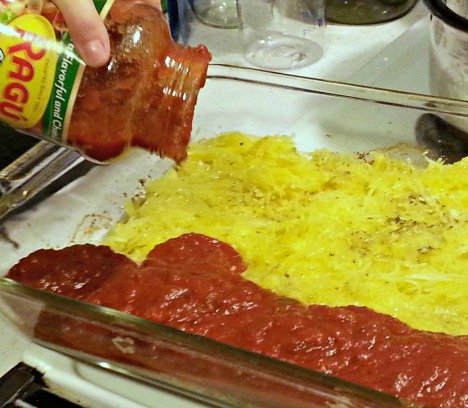 He especially loved the chance to sprinkle fresh grated Parmesan cheese across the top of the chicken after we had everything assembled.  While he can't do everything in the kitchen, this Saucesome recipe allowed him the chance to help with several steps.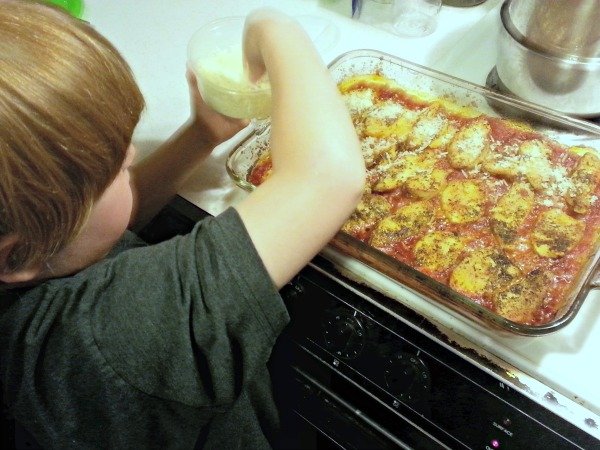 A few minutes in the oven to heat through and brown the chicken and cheese, and we had a great meal that was full of vegetables and even kid approved!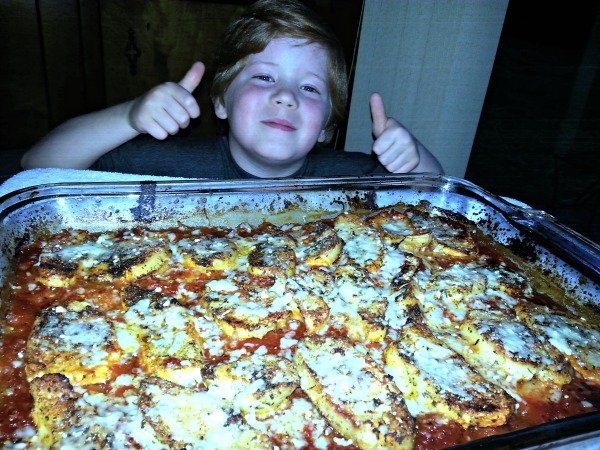 Gluten Free Oven Baked Chicken Parmesan With Ragu #Saucesome
Ingredients
1 Pound Boneless Skinless Chicken Breasts
1 Tablespoon Olive Oil
1 Tablespoon Italian Seasoning
1 Teaspoon Garlic Powder
1 Teaspoon Salt
1 Teaspoon Black Pepper
1 Large Spaghetti Squash
1 Jar Ragú® Old World Style® Sauce
½ Cup Shredded Parmesan
Instructions
Preheat oven to 375 degrees
Slice chicken breasts into medallions or ½" thick slices.
Season chicken with Italian seasoning, garlic, salt and pepper. Drizzle with olive oil and place in 9"x13" casserole dish. Bake for 15 minutes at 375 degrees.
While chicken is cooking, slice spaghetti squash in half. Remove seeds.
Cook in microwave for 5-15 minutes on high, checking every 5 minutes for doneness.
Remove squash from microwave, and allow to cool. Shred squash with fork and set aside.
Remove chicken from oven, then transfer chicken only into bowl.
Pour squash into casserole dish and toss with any remaining oil and seasoning in bottom of casserole pan.
Top withRagú® Old World Style® Sauce, chicken and sprinkled Parmesan on top.
Bake at 375 degrees for 15-20 minutes or until heated through and cheese has melted.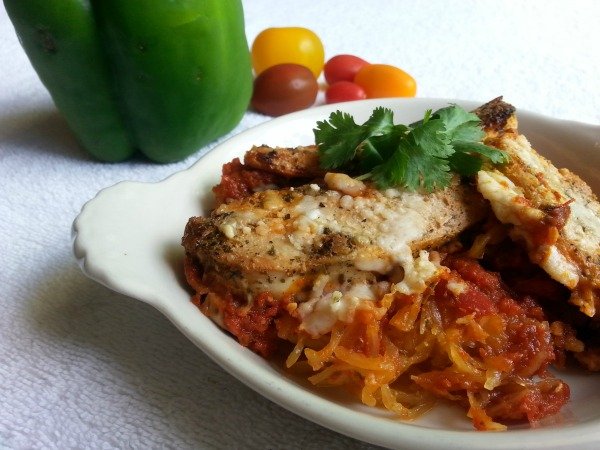 Ragú® Sauces are excellent choices for busy families to use.  They add a great slow cooked flavor to a fast and delicious meal.  With low fat and gluten free sauces available, they even fit the market for people like us who are always looking for healthier meal alternatives.   While we are not following a strict diet, we have found that limiting our gluten helps with some tummy issues we have had in the past.  Having delicious hearty meals like this gluten free oven baked chicken Parmesan in our meal rotation helps us feel satisfied.  Ragú® Sauces make it that much easier to assemble.
Don't forget to visit 
www.RaguSweeps.com
 for a chance to win a variety of Saucesome prizes, including a grand prize of $12,000 towards a Saucesome kitchen makeover!
This is a sponsored post on behalf of Modern Mom and Ragú®.  All thoughts and opinions within are 100% ours.