Sometimes a long soak in a hot tub is just what your aching, sore, tired muscles need. But other days you just may not have the time or the getting out will be harder than the benefit of getting in- but you still need some relief. I was having one of these times the other day, wanting to enjoy the benefits of my favorite essential oils for relieving a sore body but no time for a long bath.  So I quickly whipped up a batch of my favorite Sore Muscle Body Scrub homemade body treatments- a sugar scrub, and added some relief giving oils to create one of my new favorite treatments- Sore Muscle Rub. While the sugar and coconut oil leaves your skin soft and richly moisturized the essential oils absorb into your skin easing the aches and pains of day to day life, flu symptoms ( they also have the benefit of opening up your sinuses for this),
SORE MUSCLE BODY SCRUB
Ingredients:
1 cup granulated sugar
¼ cup unscented, Mild Castile Soap
¼ cup Coconut Oil
8-10 drops Peppermint Essential Oil
8-10 drops Frankincense Essential Oil
10 drops Lavender Essential Oil
8-10 drops Wintergreen Essential Oil
If you have all these oils on hand, great, if not just use the ones you have.  I also usually incorporate some doTerra Deep Blue Rub into it (which includes peppermint and wintergreen) for a stronger mixture as well.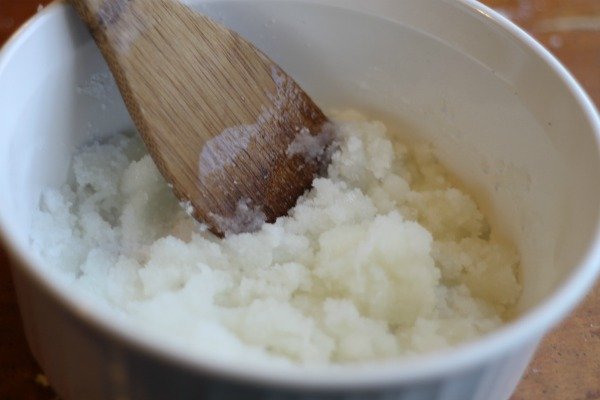 Combine all  ingredients in a bowl stirring well to incorporate everything evenly.
Store in a jar with an airtight lid next to or in your shower.
To use: Rub over sore areas-avoid face and other "sensitive" areas, allow to stay on for 2-3 minutes for oils to absorb then rinse away, pat dry.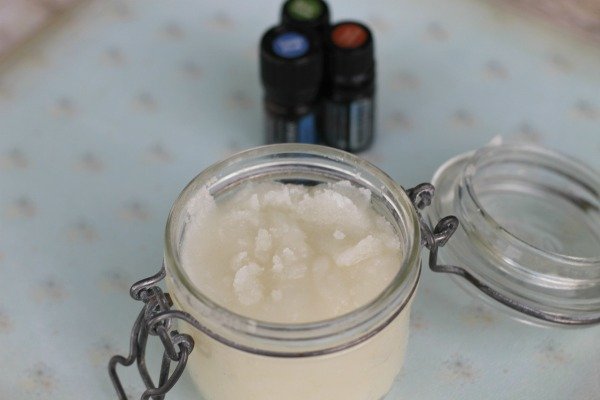 This sore muscle body scrub is a great way give yourself both a break from the pain, but also a fun spa treatment.  Homemade body scrubs are great for making your skin feel luxurious at a fraction of the cost of a regular spa treatment you attend or even products you purchase ready made.  Being able to customize them with special ingredients like these essential oils is an added bonus!
If you like this great homemade body scrub, then make sure to check out our other popular homemade body products!
Whipped Gingerbread Body Butter