While I am not a big fan of eggs, these Country Style Breakfast Tacos are a favorite in our house.  The secret for me is – they don't taste super eggy.  Why not?  Because I take the time to add tons of veggies, lean ham or turkey sausage and of course my personal blend of taco seasoning.  We just love the combination of a flavorful corn tortilla loaded with a little of this delicious egg mixture.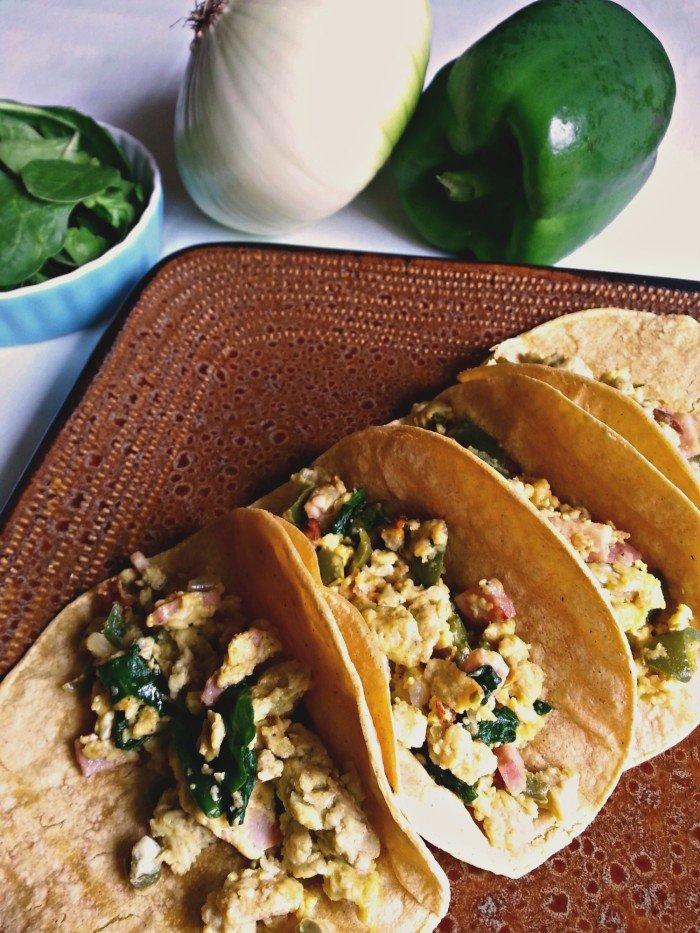 Country Style Breakfast Tacos
I usually start with either some lean turkey breakfast sausage or some lean ham diced into chunks.  I heat the meat through and then set aside to saute the veggies. Diced onion, bell pepper and garlic are the base.  I take my time with these to caramelize them well so they have that added richness.
Once the veggies are cooked through, I add the meat back in and then the eggs I have whisked with my seasoning blend.  It's a simple process to stir and cook like you would any scrambled egg dish.  As a last second addition, I usually add in 1-2 cups of fresh baby spinach.  This is one of those sneaky ways to feed your kids spinach that I love.  They will love the taco flavor so much they wont even notice it.
We usually have a bit of cheese, fresh tomato or salsa on hand for anyone who wants to add that to their tacos, but honestly these are super yummy breakfast tacos even without those additions.
This is a large batch to make, because we freeze into portion cups to reheat in the microwave to quickly create an on the go breakfast.  Eggs freeze surprisingly well and are fast to reheat in the microwave on medium heat.

Country Style Breakfast Tacos
Ingredients
12 eggs
1 pound turkey breakfast sausage or 1 cup cubed lean ham
1 tablespoon olive oil
½ yellow onion, diced
1 green bell pepper, diced
2 cloves garlic, chopped
1 tablespoon cumin
1 teaspoon onion powder
1 teaspoon paprika
½ teaspoon salt
1 teaspoon black pepper
¼ teaspoon chili powder
1-2 cups fresh baby spinach
½ cup shredded cheese
20 corn tortillas
Instructions
In a large skillet, cook your sausage or heat ham through. Once cooked remove from pan and set aside.
Add 1 tablespoon olive oil, onion, bell pepper and garlic to skillet and saute over medium heat for 7-10 minutes or until softened and caramelized
Add meat back into skillet.
In large bowl, whisk together eggs with seasoning
Pour eggs over meat & veggie mixture in skillet and cook stirring regularly for another 5 minutes. Turn off heat and stir in baby spinach and cheese as desired.
Serve in corn tortillas (2 tacos per serving). Tomato, salsa or cheese are optional additions to tacos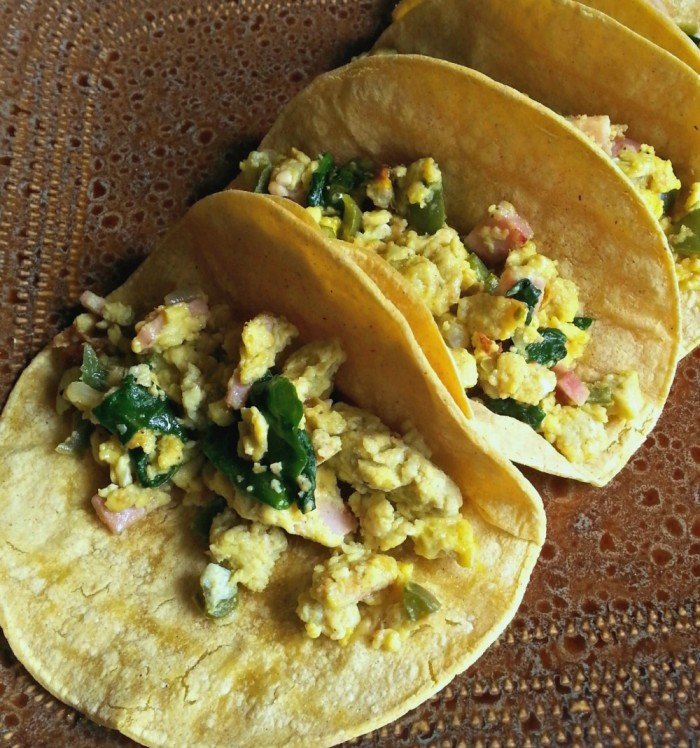 These country style breakfast tacos are seriously an easy and delicious option for breakfast.  They take just a few minutes of prep work, but the result is a great way to get veggies into your kids diets.  Trust me, this is one of the few veggie laden dishes our boy loves!  Of course, I tend to want some extra cheese and salsa on mine, but if you can do without those things you can have a very healthy meal with this as well!
Check out some of our other favorite breakfast dishes!
Weight Watchers Apple Cinnamon Steel Cut Oatmeal
Wild Blueberry Banana Smoothie
Weight Watchers Banana Pancakes
Weight Watchers Veggie Egg Scramble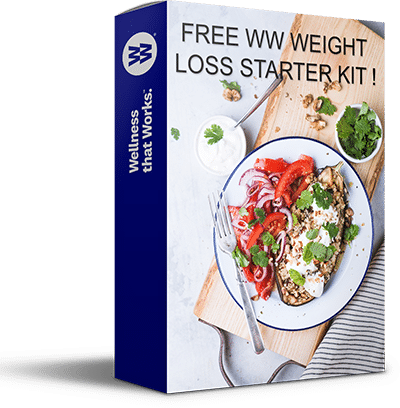 FREE WW WEIGHT LOSS STARTER KIT
+ exclusive tips, recipes & more to lose weight, increase confidence, and live a healthier and happier life !