This weight watchers breakfast recipe may be surprising to some considering my declarations of hatred for all things egg.  As a rule, I am not a fan of classic breakfast foods.  I enjoy a nice waffle, donut or pancake on occasion, but typically I avoid them along with bacon, eggs and the like.  Over the last few years, however, I have learned that I really enjoy our simple Weight Watchers Veggie Egg Scramble.  Not only is it well seasoned, but it contains some of my favorite veggies and just a touch of cheese.  This has become one of our quick go-to breakfasts and is loved by everyone in our house.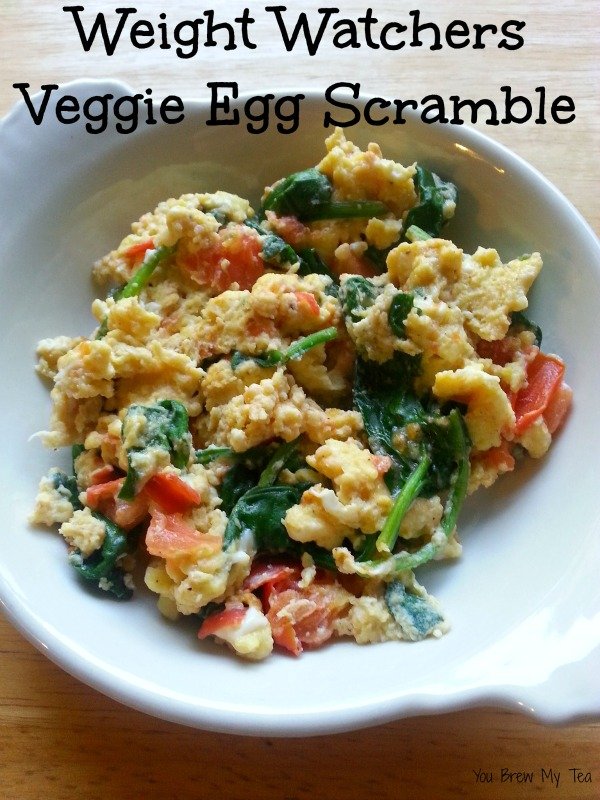 Weight Watchers Veggie Egg Scramble
I tyically use a combination of spinach, onion and tomato in this veggie egg scramble, however, I really love that this kind of dish can be amped up with all of your favorite vegetables and flavors.
Consider adding: 
Green onion
Bell Pepper
Cumin or Taco seasoning
Broccoli
Cauliflower
Black olives
Mushrooms
Salsa
Verde sauce
Jalapeno Peppers
Green Chile
Why this over other breakfasts?  For our family, even me the one who doesn't like eggs typically, this packs flavor, fiber, and protein.  All things I need to feel full and satisfied.  The little bit of sharp cheddar gives me that richness I am looking for, and the veggies add not just nutrients, but they add fiber which is great for my digestion, but also for helping me stay full longer.
I don't have to add meat into it, but if I do it is usually something like a side of this homemade chicken or turkey breakfast sausage from my friend Melissa's blog.  It is simple, easy and can be made in large batches.  It's a great Weight Watchers breakfast item that is low in points value also, so you can have a super hearty breakfast for under 10 points.  While that may seem like a bit much for one meal, it really is a great meal that would keep you satisfied for hours.

Veggie Egg Scramble
Makes 6 Servings 5 PointsPlus per serving 3 SmartPoints per serving on Beyond the Scale 1 SmartPoint per serving on FreeStyle Plan or FlexPlan
Ingredients
6 Large Eggs (Cage Free)
1 Organic Tomato Diced
3 Cups Organic Baby Spinach
½ Organic Red Onion Diced
1 Clove Garlic Crushed & Minced
1 Teaspoon Fresh Cracked Black Pepper
1 Teaspoon Kosher Salt
½ Cup Organic 2% Sharp Cheddar Cheese (we love Cabot brand)
1½ Tablespoons Organic Extra Virgin Olive Oil
Instructions
In a large bowl, beat together eggs, black pepper, and salt, set aside.
Bring olive oil to temperature in large skillet
Add in tomato, spinach, onion, and garlic and sauté for 5-7 minutes or until veggies are cooked through.
Pour beaten eggs over vegetables and cook for additional 3-4 minutes stirring occasionally. Cook until egg is set.
Remove from heat and sprinkle with cheese.
Makes 6 Servings
5 PointsPlus per serving
3 SmartPoints per serving on Beyond the Scale
1 SmartPoint per serving on FreeStyle Plan or FlexPlan
This simple veggie egg scramble is a perfect meal to make in advance and portion for easy on the go breakfasts. The Wee Child loves this in a toasted corn tortilla like a taco or burrito.  He even adds a touch more Verde sauce or salsa for heat.  I am always amazed at this boy and his love of hot foods!
While we love this blend of vegetables, you can easily add or omit other fresh vegetables your family prefers.  My Beau loves when I add mushrooms and use a bit of Feta instead of the cheddar on his servings.  The base is the same, yet can easily become whatever your family loves the most with the simple suggestions listed above.
Check out other favorite Weight Watchers Recipes! 
Weight Watchers Banana Pancakes
Weight Watchers Apple Cinnamon Steel Cut Oatmeal
Weight Watchers Creamy Tomato Basil Soup
Weight Watchers Green Chile Chicken Enchilada Casserole