I have been looking for a good Weight Watchers breakfast ideas, and never even considered oatmeal to be a choice.  I have been anti-oatmeal since I was a little girl.  I remember my Sister loved instant oatmeal, and I always tried to like it because it smelled so good, but it just didn't taste right.  As an adult, I have tried various kinds and always found the same problem.  Between texture and overall flavor, I just didn't like it.  That is until I started making steel cut oatmeal for my Beau.  As I was creating various flavor combinations, I would test to make sure I had it right.  Lo and behold, I found that I actually liked the texture of steel cut oatmeal.  This Weight Watchers Apple Cinnamon Steel Cut Oatmeal is now in our regular breakfast rotation, and I gladly eat it too!
I love this Weight Watchers oatmeal breakfast because it not only tastes delicious, it is really satisfying.  With the addition of fresh or dehydrated apples to the oatmeal, I find it hearty enough to eat a smaller portion.  It sticks with me until my morning snack (usually Greek yogurt or fresh fruit).  Not only is it easy to make on the stove top, you can easily put this into your Crockpot on low and make a big batch to portion out later!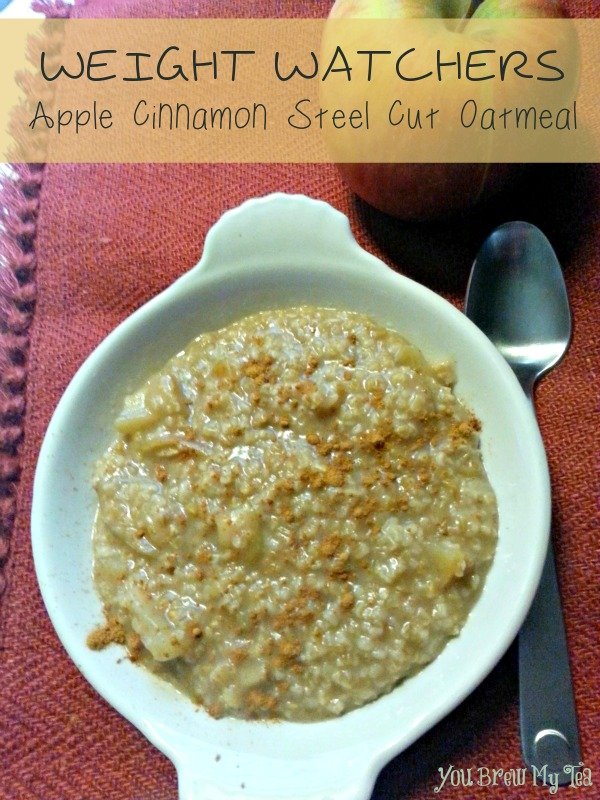 WEIGHT WATCHERS APPLE CINNAMON STEEL CUT OATMEAL
The Wee Child hasn't quite gotten into the habit of eating steel cut oatmeal, but he likes this one because of the flavor.  It can be tough finding a Weight Watchers breakfast or Weight Watchers oatmeal that everyone in the house will love, but this one does the trick.
We typically sweeten with honey, but you can easily use maple syrup or black strap molasses instead.  Whatever your preference, this recipe is simple to adapt.

Weight Watchers Apple Cinnamon Steel Cut Oatmeal
Ingredients
½ cup steel cut oats
1 Organic Gala Apple Peeled & Diced (you may use your favorite type of apple - we prefer Gala)
2 Cups Water
1 Cup 1% Organic Milk
2 Tablespoons honey
1 Teaspoon Organic Pure Vanilla Extract
1 Teaspoon Cinnamon (may sprinkle more on top if desired)
⅛ Teaspoon Salt
Instructions
In a medium saucepan, bring water, milk, honey, and vanilla to a boil.
Mix in apples and oatmeal and stir well.
Turn to medium heat and allow to simmer for 10 minutes, stirring occasionally to prevent sticking.
Add the cinnamon and salt.
Continue cooking for 3-5 minutes.
Remove from heat and serve.
If cooking in Crockpot, spray Crockpot with a non-stick spray and pour all ingredients into the crock mixing well. Cook on low for 1½-2 hours or until desired consistency.
Makes 4 servings
3 PointsPlus per serving
4 SmartPonts on Beyond the Scale, FreeStyle Plan, and Flex Plan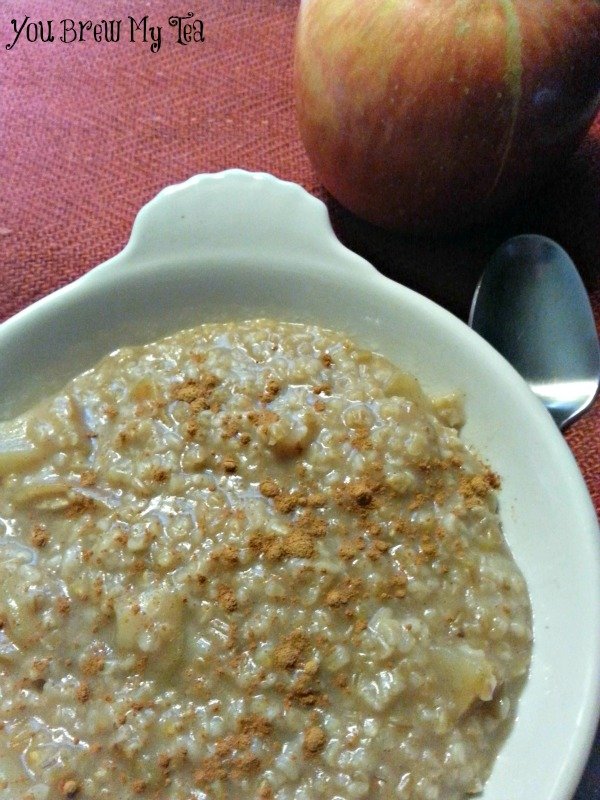 Since this Weight Watchers oatmeal takes a little bit longer to cook than the common quick cut oats, you may prefer the simple Crockpot directions listed above.  Additionally, cooking larger batches and portioning to freeze is a great idea.  This apple cinnamon steel cut oatmeal reheats quickly in the microwave and retains it's texture well from freezer to microwave to table.
For a non-oatmeal fan, this Weight Watchers Apple Cinnamon Steel Cut Oatmeal is a great breakfast.  It is also a wonderful treat for dessert, or depending on your calorie or point allowance, it can make a great snack too!
Be sure to check out all of our favorite Weight Watchers Recipes!
Weight Watchers Veggie Egg Scramble
Weight Watchers Baked Veggie Egg Rolls
Weight Watchers Green Chile Chicken Enchilada Soup
Weight Watchers Sesame Chicken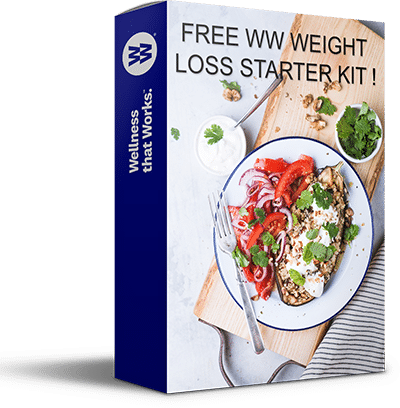 FREE WW WEIGHT LOSS STARTER KIT
+ exclusive tips, recipes & more to lose weight, increase confidence, and live a healthier and happier life !