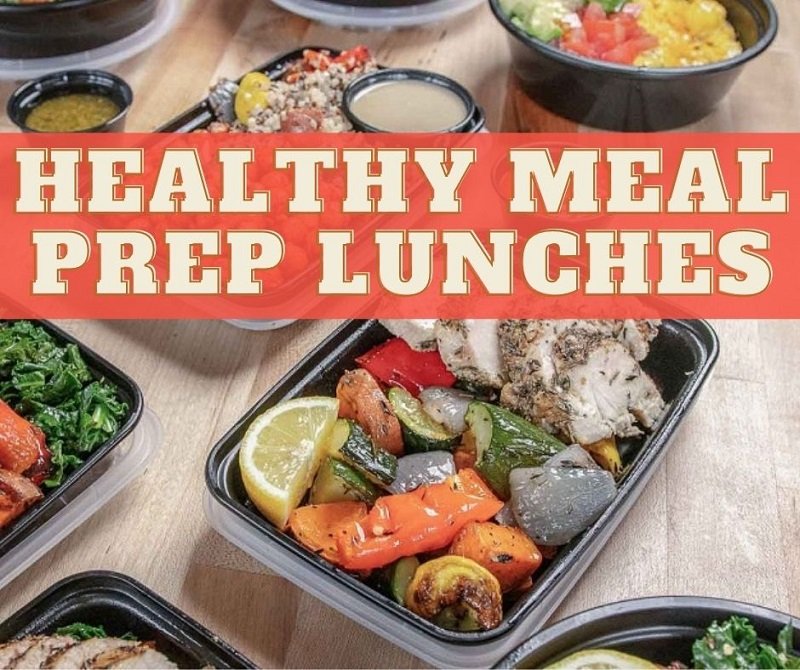 Organizing lunches ahead of time is the smart way to manage meals over the week, whether you're working from home or going out to an office. Spend one or two hours preparing on the weekend, and you'll have quick, healthy meals for the next 4 or 5 days.
One more session during the week will guarantee no-brainer meals to see the whole week out. You'll eat the foods you like best, fixed the way you like them.
No more worrying about what to make for lunch, just take a container out of the fridge or freezer and you sit down to good food a few minutes later. And consider that meal prep lunches are money-savers, compared to eating out and ordering take-out.
You might want to keep a few different container types to use as you need. A glass container or mason jar lets you enjoy a salad right from the fridge, while microwave-safe containers let you heat foods like rice and beans, meatballs, and stir-fry in minutes. Plan the food you'll want for the week and have the appropriate containers at hand.
Roasted Cauliflower Salad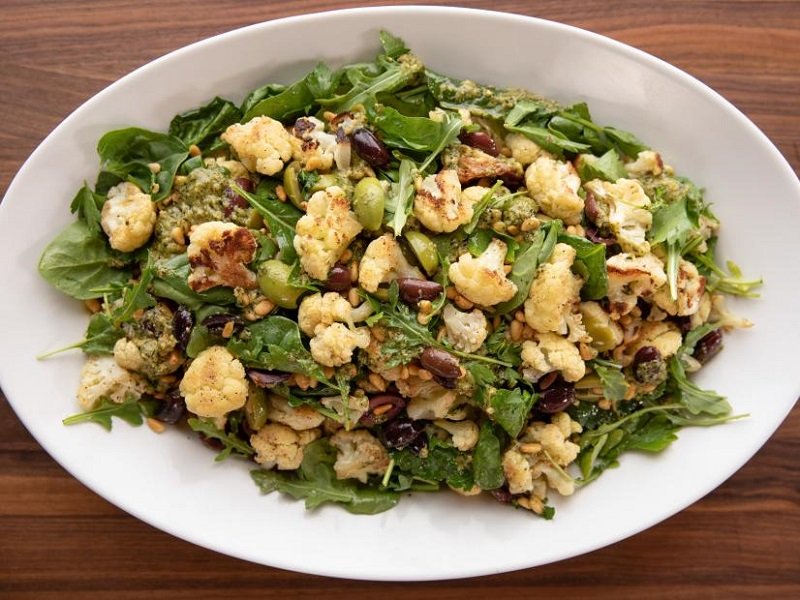 This hearty salad is vegan and gluten-free
Prep time: 15 minutes
Cook time: 30 minutes
Serves: 4 as a side dish, 2-3 as a main dish
Ingredients:
Florets from 1 small head of cauliflower
Extra-virgin olive oil, for drizzling
2 cups arugula (rocket) leaves, rinsed
½ cup cooked green lentils
Lemon wedges, for squeezing and serving
⅓ cup prepared tahini sauce
¼ cup pine nuts or sliced almonds
¼ cup chopped black olives
Salt and freshly ground black pepper
Instructions:
Preheat the oven to 425°F and line a large baking sheet with baking parchment. Put the cauliflower florets on the lined sheet and toss with drizzles of olive oil and a light seasoning of salt and pepper.
Roast the cauliflower for 20-25 minutes, or until the edges are brown.
In a medium bowl, toss the arugula and roasted cauliflower with a little more olive oil, a good squeeze of lemon, and little more salt.
Spread the vegetables on a platter. Sprinkle the lentils, pine nuts, and olives over them.
Dribble the tahini sauce over the salad. Taste for lemon, salt, and pepper; adjust if needed.
See Related Topic: WW Blue Plan Week Meal Plan
Meatballs Glazed with Sriracha and Honey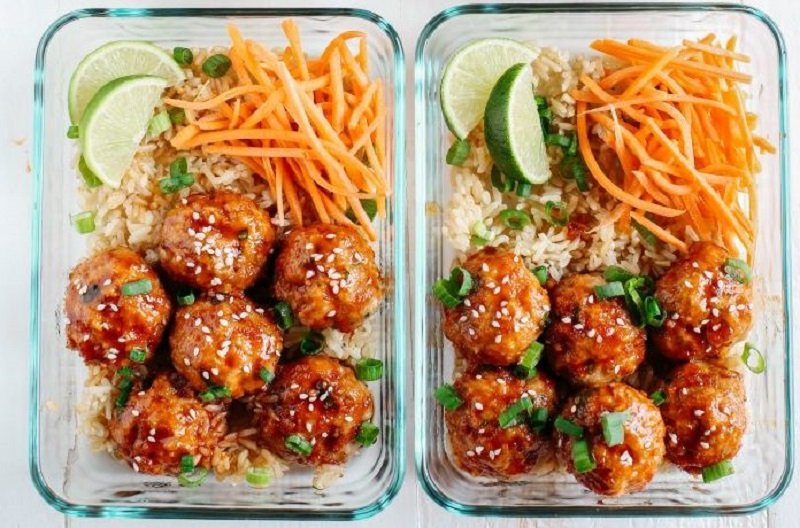 Spicy, sweet meatballs bursting with flavor! A quick-cook recipe.
Yield: 8 Servings
Prep time: 5 minutes
Cook time: 25 minutes
Ingredients
Meatballs:
2 lb. lean ground turkey
1 cup whole wheat panko breadcrumbs
2 eggs
½ tsp. minced fresh garlic
½ tsp. salt
½ tsp. black pepper
Sauce:
¼ cup Sriracha
3 tablespoon soy sauce
3 tablespoon rice vinegar; if not available, apple cider vinegar
3 tablespoon honey
1 tablespoon grated fresh ginger
3 cloves garlic, minced
½ tsp. toasted sesame oil
Preheat oven to 375° F.
Instructions:
In a large bowl, mix turkey, breadcrumbs, eggs, garlic, and salt.
Form the turkey mix into about forty 1-½-inch balls.
Spray two baking sheets with cooking spray. Place the meatballs on the baking sheets, making sure to separate them from each other.
Bake meatballs for 20-25 minutes, or until browned and cooked through.
Mix the sauce ingredients in a saucepan and place it over medium heat. Whisking constantly, bring the sauce to a boil. Lower the heat and simmer the sauce 8-10 minutes. Spoon the sauce over the meatballs.
Scatter the scallions over the meatballs.
Serve with rice.
Beef and Broccoli Stir Fry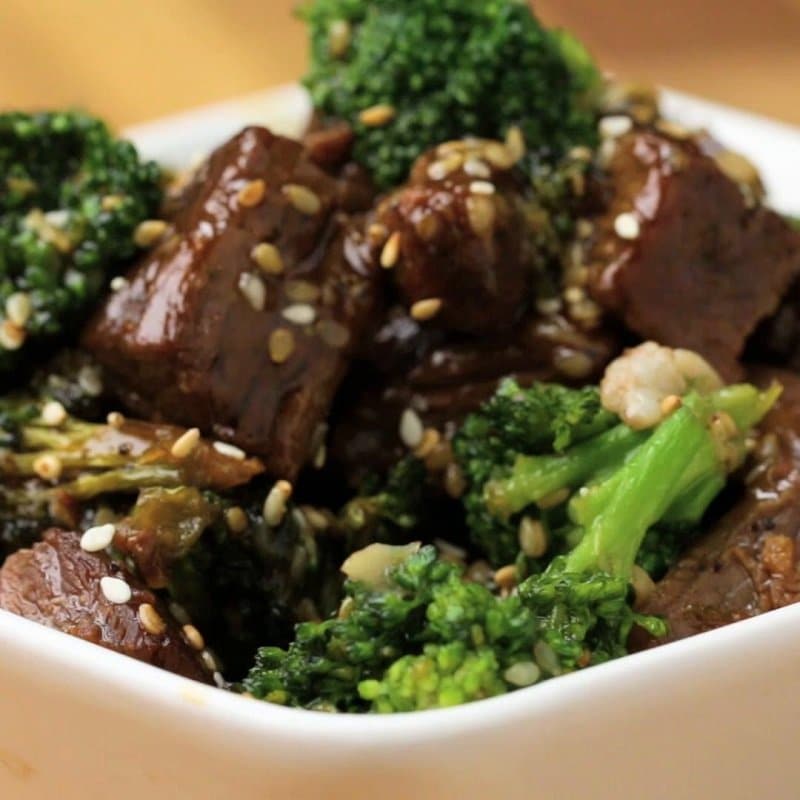 Marinated lean beef stir-fried with broccoli. This is one to reheat in the microwave.
Prep time: 14 minutes
Cook time: 12 minutes
Resting time: 10 minutes
Servings: 4
Ingredients:
¾-lb. pound flank steak or sirloin, trimmed of fat, very thinly sliced against the grain
1 Tblsp cooking oil
2 cloves garlic, finely minced
¼ teaspoon grated fresh ginger
3-½ cups broccoli florets
For the Beef Marinade:
1 teaspoon cornstarch or tapioca starch
1 teaspoon low sodium soy sauce
¼ teaspoon dark soy
½ teaspoon toasted sesame oil
⅛ teaspoon black pepper
For the Sauce:
1-½ Tblsp oyster sauce
1-½ teaspoon low sodium soy sauce
¼ teaspoon dark soy sauce
2 teaspoon granulated sugar
1 teaspoon toasted sesame oil
½ teaspoon mirin Chinese cooking wine or dry sherry
2 teaspoons cornstarch or tapioca starch
salt and black pepper to taste
⅓ cup cold water or sodium-free chicken broth
Instructions:
In a medium bowl, mix the ingredients for the marinade. Add the beef slices and stir until coated. Set aside for at least 10 minutes.
Bring the water to a boil in a large non-stick skillet or wok. Add the broccoli florets and cook for about 30 seconds. Drain. Rinse under cold water immediately. Set aside.
Combine all the sauce ingredients together in a small bowl.
Dry the skillet or wok you blanched the broccoli in. Heat the cooking oil over high heat in it, for about 2 minutes.
Quickly add the beef to the pan and spread the pieces out to a single layer. Sear them on each side.
Add the garlic and cook about 1-2 minutes longer. The meat should be cooked through but not overdone.
Pour in the sauce. Cook and stir until the sauce becomes thick, which will happen in about 30 seconds. If the sauce is too thick, add more water, by tablespoons, to thin it out.
Stir the broccoli in. Toss to coat it with the sauce. Taste for seasoning and adjust salt and pepper.
Sprinkle with sesame seeds and the chopped green onions.
For meal prep: Divide evenly into lunch containers with your favorite carb - rice, quinoa, or noodles.
See Related Article: Fresh Meal Plan Tips Moms Can Feel Good About
Roasted Beets Recipe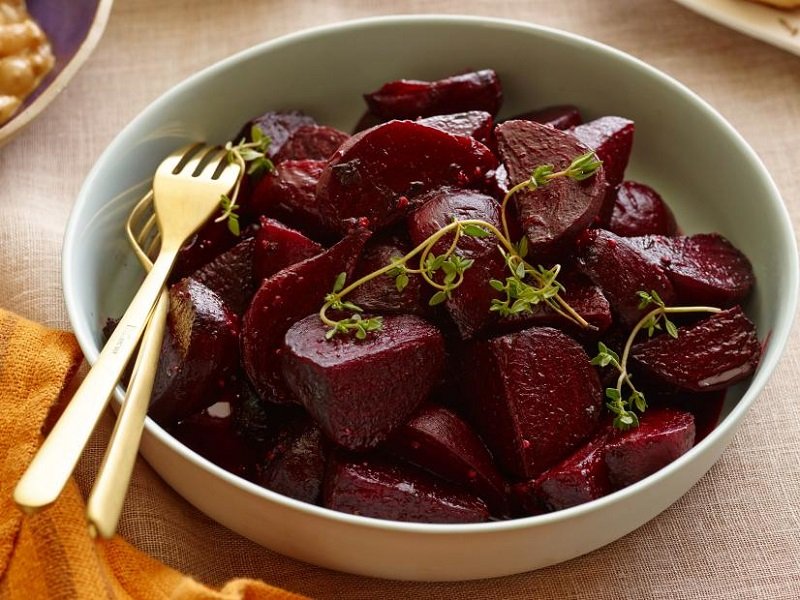 This is one of the simplest side dishes you can prep for your lunches. Here are some ideas for what to do with roasted beets
Drizzle prepared tahini over sliced cold roast beets. Or prepare a vinaigrette dressing and mix it in with chopped cold roast beets – add a couple of tablespoons of chopped fresh herbs. Either way, you have a delicious salad.
Prepare a mixture of sour cream, lemon juice to taste, salt and pepper. Spoon this cream over sliced room temperature or cold roast beets.
Sprinkle chopped roast beets with salt and pepper, then olive oil. Mix chopped walnuts and chunks of salty white cheese like feta with the beets. Drizzle a little more olive oil over everything. Garnish with chopped cilantro or parsley.
How to roast beets:
Preheat the oven to 400° F.
Wrap each beet in foil with a drizzle of olive oil and a good pinch each of salt and pepper.
Place the wrapped beets on a baking sheet and roast until they're fork-tender. The time will vary according to the size and freshness of the beets.
Count on 35 minutes for small, young beets, and 60 minutes for older, larger ones.
Unwrap the beets. Let them cool. Peel them under running water to keep the kitchen free of red beet juice! The skins will peel off with just a little pressure from your fingers.
Spicy Chicken and Sweet Potato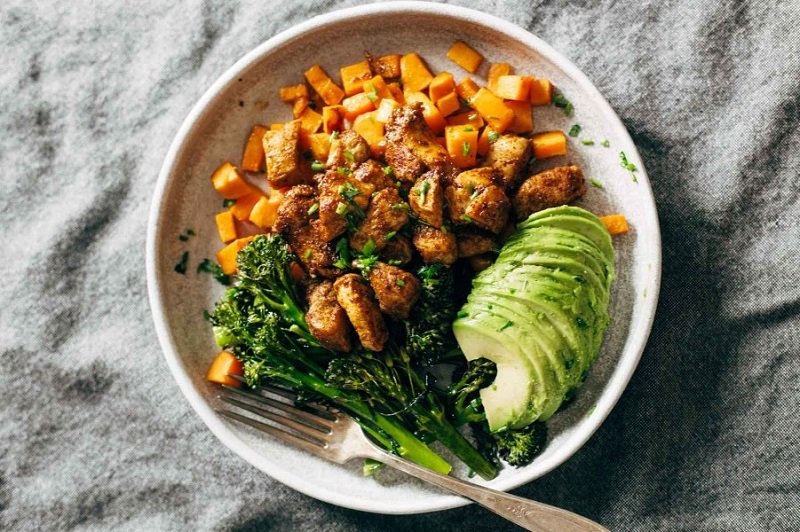 Chicken, broccoli, and sweet potatoes make one satisfying meal prep lunch.
Prep time: 15 mins
Cook time: 30 mins
Yield: 8 servings
You'll need 3 sheet pans for this full recipe. It can be halved.
Ingredients:
2 lbs. boneless skinless chicken breasts, cut into small pieces
1 Tblsp paprika
1 Tblsp ground cumin
1 Tblsp ground turmeric
Juice of ½ lemon
3 tablespoons of olive oil
3 sweet potatoes, peeled and diced
5–6 cups broccoli florets
Salt and black pepper
Garnishes: Sliced avocado. Hummus. Lemon juice. Chives. Olive oil.
Instructions:
Preheat the oven to 425 °F.
Blend the paprika, cumin and turmeric in a large bowl. Stir 1 Tblsp olive oil and lemon juice in.
Add the chicken pieces to the bowl. Stir to coat all the chicken with the spices.
Cover the bowl and store in the refrigerator for the chicken to marinate, 30 minutes.
Place the sweet potatoes and broccoli florets on sheet pans. Drizzle the rest of the olive oil over them. Lightly salt and pepper the vegetables.
Place the marinated chicken in the pan with the vegetables.
Bake everything for 12-15 minutes. Remove the broccoli and chicken, leaving the sweet potatoes.
Stir the sweet potatoes. Roast another 10-15 minutes, checking at 10 minutes to make sure they're tender but not overcooked.
Spicy Chicken With Rice and Beans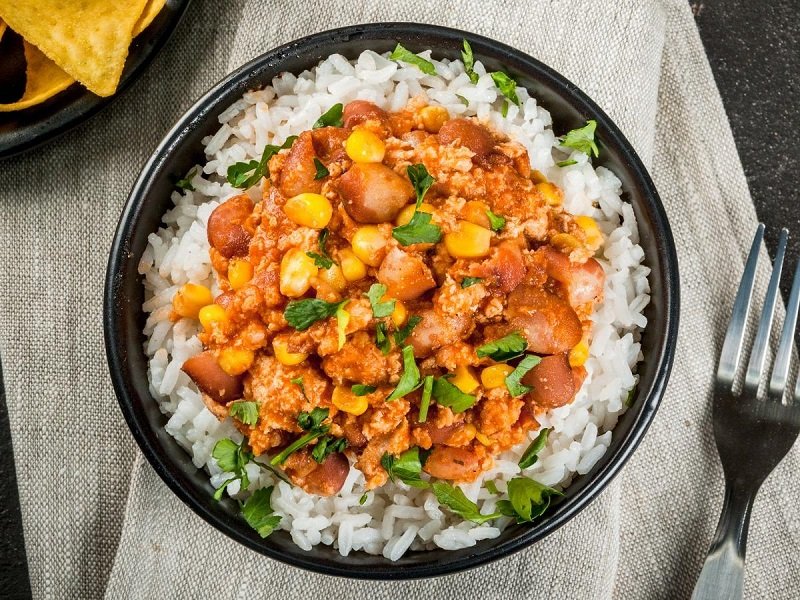 Fresh cilantro complements this complete meal, which takes an unbelievably short time to prep. If you prefer, substitute chopped scallions for the cilantro.
Prep time: 10 minutes
Cook time: 10 minutes
Yield: 4 servings
Ingredients:
For the chicken:
1 cup long-grain white or brown rice
1 cup of water
14 oz undrained canned tomatoes
½ teaspoon salt
1 teaspoon oil
about 1 lb. chicken breasts, sliced into 4–6 pieces
½ teaspoon ground cumin
¼-½ teaspoon chili flakes, if liked
½ teaspoon ground ginger
½ teaspoon ground coriander seeds
1 14-ounce can black beans, drained
a handful of chopped fresh cilantro or scallions
Instructions:
Cook the rice according to package directions. Fluff with a fork and allow to cool, covered.
Add the salsa or tomatoes and beans to the cooled rice and mix gently.
Sauté the chicken in 1 Tblsp oil, turning the pieces over once after 5 minutes. Make sure it's cooked through but not overdone.
Divide the rice and beans into 4-6 portions. Top each with a piece of chicken.
When ready to eat, sprinkle cilantro or scallions over the dish.
Suggested side dish: sliced avocado with a squeeze of lemon. Prep the avocado just before serving.
The chicken, rice, and beans meal prep will last for about 4 days tightly covered and refrigerated.
Roasted Vegetable Couscous with Garlic Herbed Chickpeas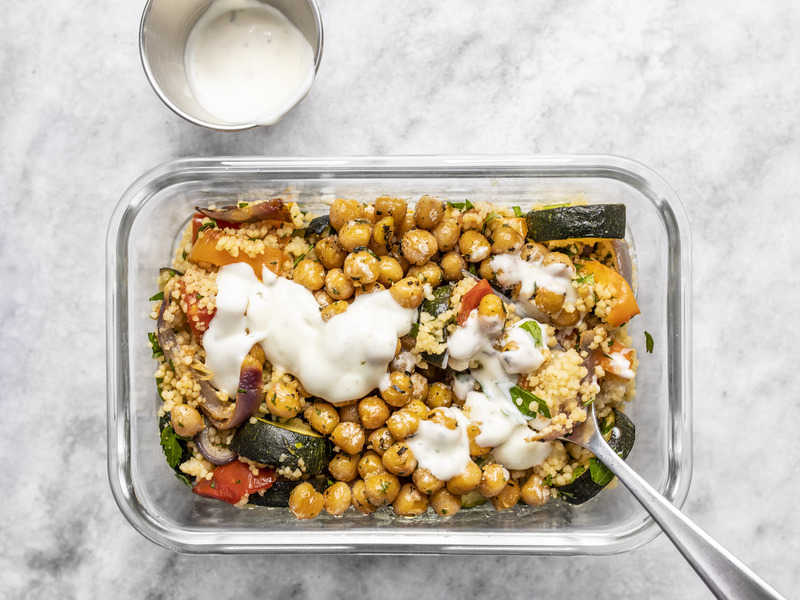 This hearty prep meal will keep you satisfied for a long time. A rich delicacy from vegan cuisine.
Prep time: 15 mins
Cook time: 55 mins
Yield: 4 servings
Ingredients:
For the couscous:
4 ripe Roma tomatoes
2 medium zucchinis
1 red bell pepper
1 red onion
4 cloves garlic, peeled
2 tablespoon olive oil
Salt and pepper
1 cup couscous grains
1.5 cups vegetable broth or water
1 cup chopped parsley
For the garlic herbed chickpeas:
two 15 oz. cans chickpeas
1 Tblsp oil
1 teaspoon dried parsley
½ teaspoon dried oregano
½ teaspoon dried basil
1 teaspoon garlic powder
¼ teaspoon onion powder
¼ teaspoon salt
¼ teaspoon black pepper
½ cup ranch dressing for serving
Instructions:
Preheat the oven to 400°F.
Chop the Roma tomatoes, zucchini, and bell pepper into 1-inch pieces. Slice the red onion into ½-inch thick strips. Place the tomatoes, zucchini, bell pepper, onion, and peeled garlic on a large baking sheet.
Drizzle the olive oil over the chopped vegetables, toss to coat, then season with salt and pepper. Roast the vegetables for about 45 minutes, stirring every 15 minutes.
Bring the vegetable broth to a boil in a small saucepot. Stir in the couscous, using a fork. Place a lid on top, remove the pot from the heat, and let the couscous sit for five minutes, or until the broth is absorbed. Fluff the couscous with a fork, add the butter, stir again gently, then let it cool, covered.
Rinse and drain 2 15oz. cans of chickpeas. Heat 1 Tblsp oil in a large skillet over medium heat. Pour the chickpeas in and sauté for about 5 minutes, or until the chickpeas are golden and the skins are blistered. Remove the skillet from the heat.
Mix the dried parsley, oregano, basil, garlic and onion powders, salt, and pepper in a small bowl.
Season the chickpeas with the dry mix and stir well.
Remove the garlic cloves from the roasted vegetables. Chop them finely. Mix the vegetables, chopped garlic and parsley in a large bowl.
Divide the couscous into four containers and top with the roasted vegetables. Finish each with ¼ of the garlic herb chickpeas. Before serving, drizzle each portion with 2 tablespoon ranch dressing.
Roasted Vegetable Salad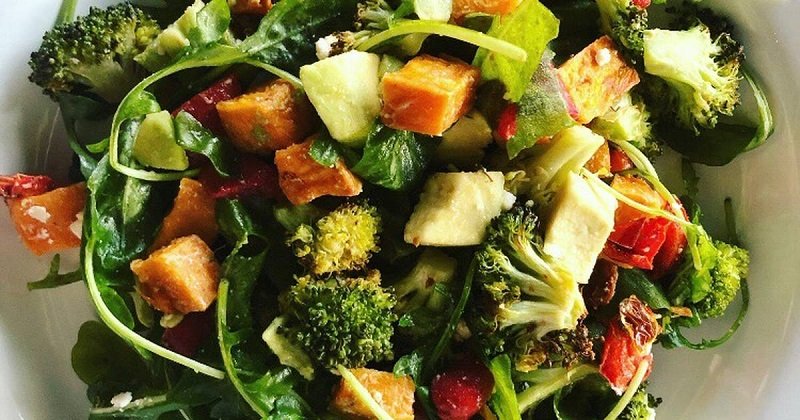 This is an easy meal-prep that's good cold or at room temperature.
Prep time: 20 minutes
Cook time: 1 hour
Yield: 4 servings
Ingredients:
Lemon/Dill Tahini Dressing
¼ cup raw tahini paste
¼ cup warm water
3 tablespoon lemon juice
1 small garlic clove, crushed, or ¼ teaspoon garlic powder
¼ teaspoon onion powder
½ teaspoon dried dill
1 tablespoon chopped fresh parsley
¼ teaspoon salt
Black pepper
Quinoa:
1 cup quinoa
1 Tblsp oil
1 and ¾ cups of water
½ teaspoon salt
Roasted Vegetables
1-pint grape tomatoes
8 oz mushrooms
1 medium zucchini
1 medium yellow squash
1 red onion
2 tablespoon olive oil
1 teaspoon dried oregano
½ teaspoon garlic powder
¼ teaspoon salt
In addition:
4 cups fresh spinach, well rinsed and patted dry.
1 Tblsp oil
½ cup hummus
Instructions:
In a small bowl combine the crushed garlic, onion powder, dill, parsley, salt, pepper, tahini, water, and lemon juice. Stir or whisk until smooth.
Rinse the quinoa thoroughly in a sieve. Let it drain.
Heat 1 Tblsp oil in a small pot.
Toast the drained quinoa in the pot over medium heat, about 2 minutes. Stir constantly.
Add the water and salt. Cover the pot tightly. Bring the quinoa to a boil, then lower the heat to minimum. Cook for 15 minutes.
Turn the heat off and allow the quinoa to rest five minutes, still covered. Empty the cooked quinoa out into a casserole dish, spreading it out.
You can prep the quinoa a day in advance, keeping it refrigerated.
When you're ready to prep the entire meal, preheat the oven to 400°F.
Line one or two baking sheets with baking parchment. The vegetables should roast in one layer, so you may need more than one baking sheet.
Place the grape tomatoes onto a baking sheet. Slice the onion into ¼-inch strips. Cut the zucchini and yellow squash into ¼-inch wide half-rounds. Cut the mushrooms in half. Mix the vegetables together on the baking sheet.
Add the olive oil, oregano, garlic powder, and salt to the vegetables. Mix the vegetables and seasonings to coat them well.
Roast the vegetables in the preheated oven for 30-40 minutes, stirring every 15 minutes. When they're brown at the edges, take the baking sheet out of the oven and allow them to cool for about 10 minutes.
Sauté the spinach in 1 Tblsp oil, stirring often. Remove from the heat when it crumples – about 3 minutes. Salt it lightly. Let it cool.
Add one-quarter of the spinach to each dish or container. Spoon ½ cup of the cooled quinoa on top of the spinach.
Spoon the roasted vegetables among the four containers.
Add 2 tablespoon hummus to each portion. Cover and refrigerate.
Combine the dressing ingredients. Spoon into four dressing containers, dividing it evenly. The salads and dressing can be kept refrigerated for up to 4 days.
Honey Sesame Chicken Meal Prep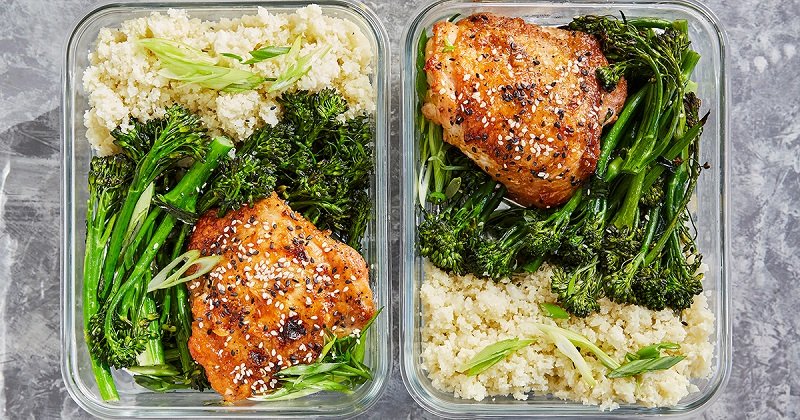 This is a particularly delicious chicken meal prep; chicken, broccoli, and snap peas stir-fried in a sweet/savory sauce.
Prep time: 10 minutes
Cook time: 20 minutes
Servings: 4
Ingredients:
Honey Sesame Sauce:
¼ cup chicken stock or water
¼ cup reduced-sodium soy sauce
¼ cup honey or maple syrup
1 Tblsp sesame oil
Optional: ¼ - ½ teaspoon red pepper flakes, to taste
1 teaspoon cornstarch
Chicken and Rice Prep:
2 cups of raw rice
1 teaspoon salt
2 tablespoons olive oil, divided
3 cups coarsely chopped broccoli
3 cups snap peas
2 large chicken breasts chopped into 1-inch cubes
Salt and pepper
Sesame seeds to garnish
Instructions:
Shake together all honey sesame sauce ingredients and set aside.
Cook rice with salt according to package instructions. Allow cooling, covered. Divide between 4 containers.
Heat 1 Tblsp olive oil in a large pan. Add broccoli and snap peas. Cook for 5-7 minutes, until bright green and tender. Add to the rice in the containers.
Add remaining 1 Tblsp olive oil to the pan. Add the chicken to the pan. Season with salt and pepper, and optional red pepper flakes. Cook for 7-10 minutes, until cooked through. Remove from heat.
Add the chicken to the lunch containers.
Store in the fridge for up to 4 days. When ready to serve, reheat the container and the sauce. Drizzle ¼ of the sauce over each portion.
Garnish with sesame seeds.
Cold Sesame Noodles with Spiralized Vegetables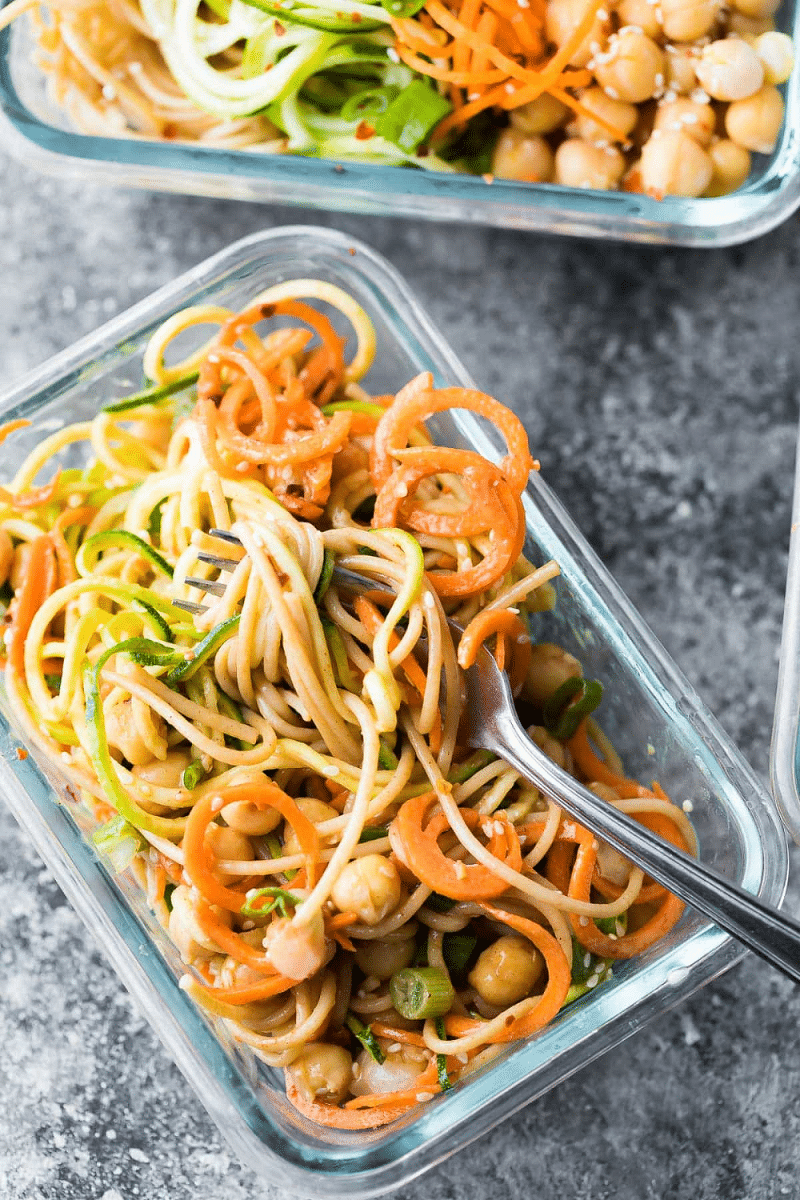 Whole wheat spaghetti, spiralized vegetables, and chickpeas tossed in almond butter sauce. Simple, healthy, and delicious. Note: this recipe doesn't freeze well.
Prep time: 20 minutes
Cook time: 10 minutes
Yield: 4 portions
Ingredients:
4 oz raw whole wheat spaghetti
1 medium-sized zucchini, spiralized
2 large carrots spiralized or shredded
2 cups canned, drained, rinsed chickpeas – a 19 oz can
Green onions to garnish
Sesame seeds to garnish
Almond Butter Sauce:
¼ cup almond butter or other natural nut butter
1 teaspoon finely grated ginger
1 clove garlic minced
2 Tblsp soy sauce
3 Tblsp rice vinegar
1 Tblsp sesame oil
1 Tblsp maple syrup
1 teaspoon lime or lemon juice
½ teaspoon red pepper flakes optional; omit for a non-spicy version
Instructions:
Cook pasta according to package directions. Rinse under cold water.
Gently mix the pasta, zoodles, shredded (or spiralized) carrot, and chickpeas. Divide between four containers. Sprinkle with green onions and sesame seeds.
Whisk together the almond butter sauce ingredients. Divide among 4 small containers.
Store in the refrigerator up to 4 days.
To serve: drizzle the noodle/vegetable portions with the almond butter sauce and toss well before serving.
Meal-Prep Notes and Tips
Food safety:
These recipes will keep refrigerated up to 4 days
.
Rice reheats well, but don't keep it out of the refrigerator for very long. Once it's cooked, cool it down and put it away to chill. Reheat only once.
Meals using seafood shouldn't be kept longer than 2 days.
Sauces and salad dressings should be chilled and kept separately, to prevent the food from going soggy.
Storage and Serving Containers
Some people swear by glass containers, others use plastic. Either way, you should have at least four containers of 2-cup capacity, for storing main meals. And you'll need four 2-oz jars to store salad dressings in.
If you like the idea of pre-made salads, you'll need four Mason jars. Keep the salad dressing on the bottom of the jar and place vegetables on top. Turn the jar upside down onto a bowl, mix the ingredients, and enjoy. Delicate foods like lettuce, tomatoes, and avocados should be prepared and added to the salad just before serving.
Consider if you'll need freezer- or microwave-friendly containers, and make sure to have them.
Keeping your meals interesting
You don't have to get stuck eating the same meal four times in a row – unless you fall in love with a recipe. Swap these ingredients freely:
Trade quinoa, cauliflower rice or brown rice for white rice.
Trade chicken breast for chicken thighs, thinly sliced turkey breast, or tofu.
There are lots of Asian-flavor sauces. You can swap one for another in any recipe.
Stir-fried vegetables can be thinly sliced carrots, cabbage, different colored bell peppers, broccoli florets, asparagus, snap peas, or anything that comes out crisp after a few minutes in the skillet.
Whip up one or two salad dressings and keep them in closed jars, in the fridge. Gently mix it into fresh salads, steamed vegetables, or pasta just before serving.
Prepared tahini keeps well in the fridge for 5 days if covered tightly, and a little of it spooned over steamed or roasted vegetables adds heft and flavor.
Remember cheeses and plain raw vegetables like carrot and celery sticks to fill out a meal. Make sure to include a dip like hummus, Greek yogurt flavored with a little crushed garlic and salt, or peanut butter for those raw vegetable sticks.
Olives and all kinds of pickles add interest to a prepped lunch too. Drain them before adding to the container, but best is to simply put a few on the side just before serving.
Easy-going garnishes
Keep a few lemons or limes handy to slice and squeeze over pretty much anything.
Chop some green herbs like scallions, cilantro, parsley, or basil as a garnish for your lunch, and remember that seeds (pumpkin, sunflower seeds) and nuts (chopped walnuts, sliced almonds) add great crunch and nutrition.
For convenience
Pick up two kinds of pre-cut vegetables at the grocery store, to cut down chopping time.
Buy a pre-cooked rotisserie chicken. You can cut it up and use it in recipes requiring sautéed chicken, or just serve it plain, next to carb and some stir-fried vegetables.
Make full use of appliances to free you up for prepping other things. For example, put up a stew or soup in your slow cooker and let it cook itself while you prep rice, potatoes, quinoa, roasted vegetables, etc. If you own a rice cooker, use it. You can also cook quinoa in it.
Prepare grains and pulses in bulk. Freeze in 1-cup portions for even easier meal prep. Rice, quinoa, all kinds of beans and lentils and meatballs reheat well and can form the main part of a prepped lunch.