The latest updates with WW include my personal favorite, the WW Blue Plan!  This plan is the same as the former FreeStyle plan and allows me to enjoy many of my favorite foods easily.  This WW Blue Plan Week Meal Plan is a perfect way to get started and on track.  Whether you are a new WW member or a seasoned veteran, the meals below are sure to satisfy your cravings!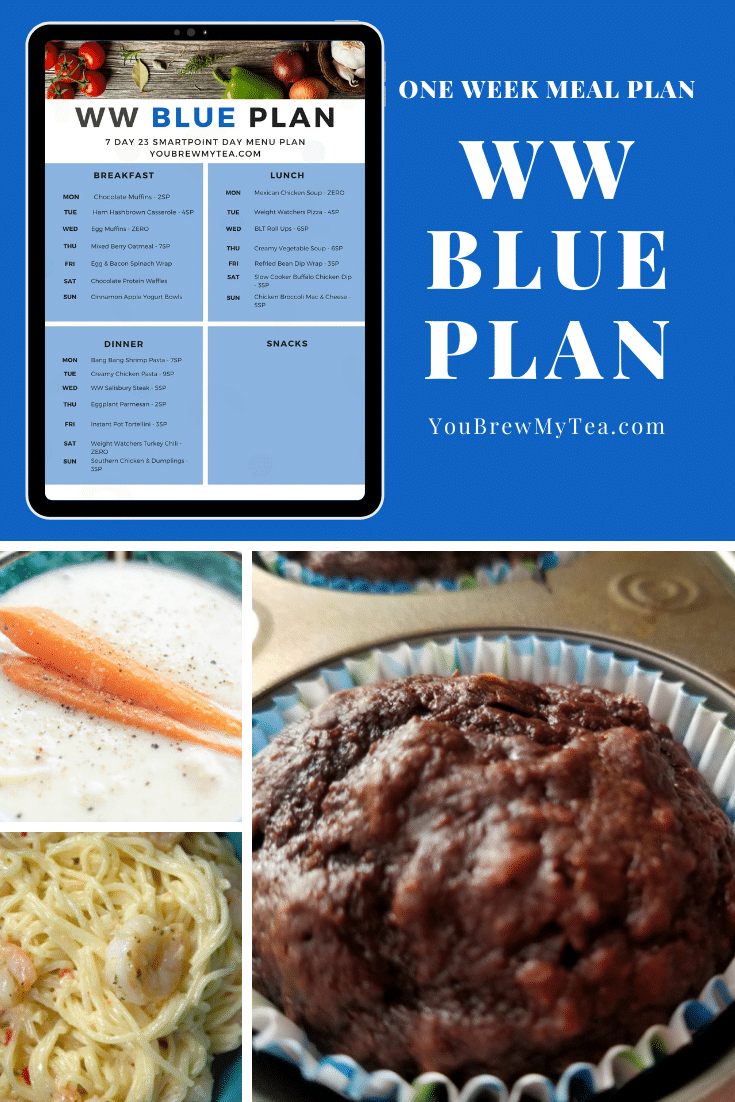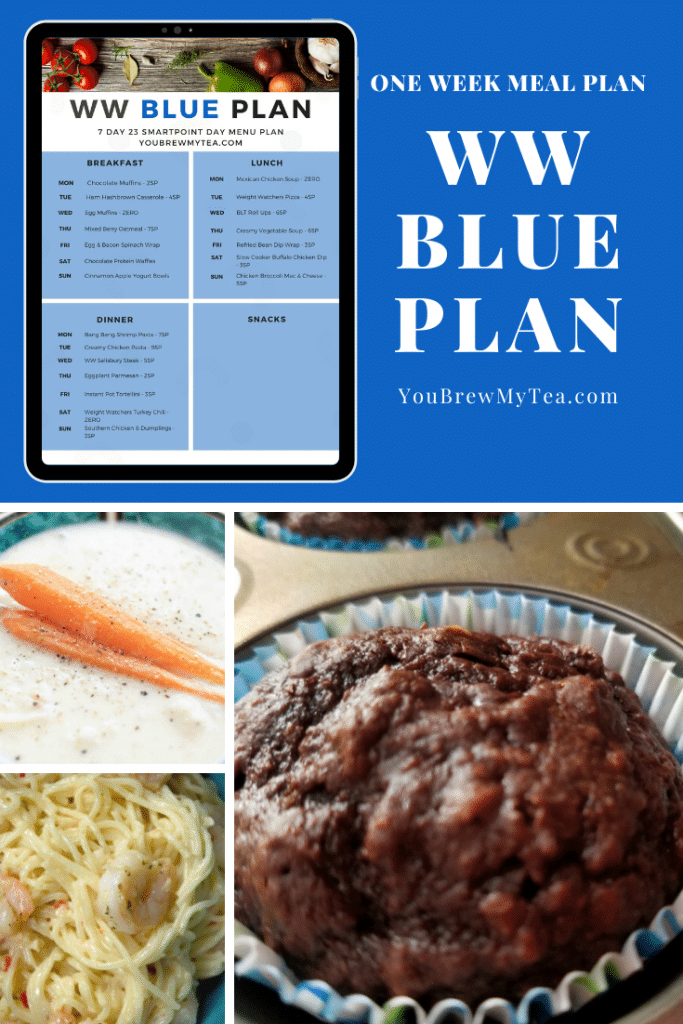 WW Blue Plan Week Meal Plan
If you are like many and feeling confused about these changes, there is a simple breakdown below.  WW has finally heard our cries for more variety in plans and is bringing back popular older plans.  The result is now we have a choice to use the Blue, Green, or Purple plan!  For those are in need of more tracking, the WW Green Plan is ideal. Those who like a bit more freedom, but still tend to eat healthy foods overall, the WW Blue Plan is the best choice.  Lastly, for the people who really just want a bit of encouragement and direction when it comes to the higher calorie and fat items, the Purple Plan is likely a favored choice.
WW Blue Plan: This plan is the Freestyle plan under a new name.  It still has the same 200 zero point foods with the same daily target point goals and rollover options.
WW Green Plan: This plan is the Beyond the Scale or original SmartPoints plan.  It has fewer zero point foods (veggie & fruit only), but is still flexible and helps teach healthier eating habits.  This post with portion control tips is a good resource to help you if choosing this plan.
WW Purple Plan: This plan is very similar to the old Simply Filling plan with over 300 zero point foods including whole grain bread, baked potatoes, and oatmeal.  It's ideal for the person who needs just a bit of extra accountability.
Weight Watchers Blue Plan Menu based on a 23 SmartPoint day
Are Eggs and Nonfat Greek Yogurt Still Zero Points? 
Yes!  This is one question that has already been asked dozens of times in groups.  The blue plan will continue with the 200+ zero point foods just like FreeStyle did before.  You can still enjoy your favorite egg, yogurt, chicken, fish, and beans without worries over the points being high.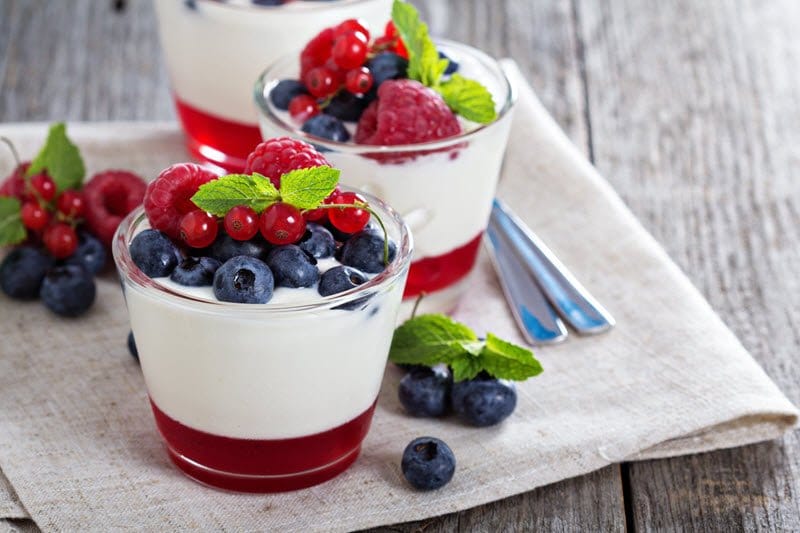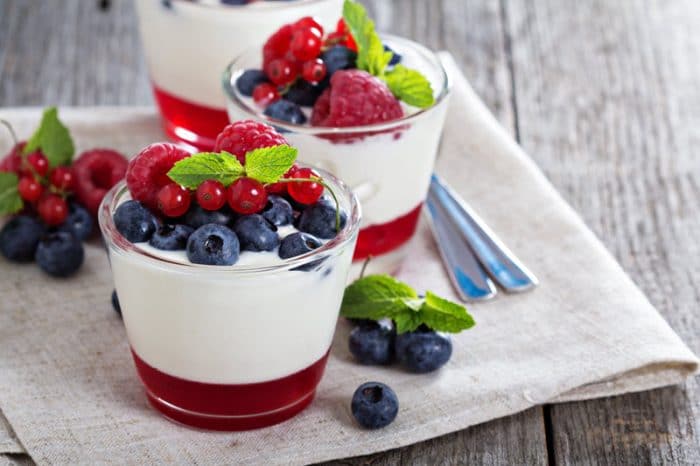 Do I Have to Count Portions on Zero Point Foods? 
While WW is designed so you do not have to measure or count portions of zero point foods, they always recommend eating until you are full and stopping.  Just because an egg is zero points doesn't mean it has no calories.  1 egg is still around 70 calories.  The result could be 700 calories if you ate 10 eggs in one day alongside the rest of your meals.
Weight loss happens with a caloric deficit.  The WW method helps us to choose healthier options that are also leaner and lower in calories.  So, while we calculate "points" the algorithm for those points is designed to keep our bodies in a certain range for healthy loss.  Keep this in mind before you eat a dozen eggs in one day just because they are zero points.
What if I Am the Only One on WW? 
Yes, the meal plan below has 7 different options for breakfast, lunch, and dinner.  I realize that not everyone can eat a full batch of these recipes in one day, nor will everyone want to make 3 meals per day.  The idea of this is to give you a starting point for making a menu you can easily work with and stay on track.  Alter the menu to suit your needs.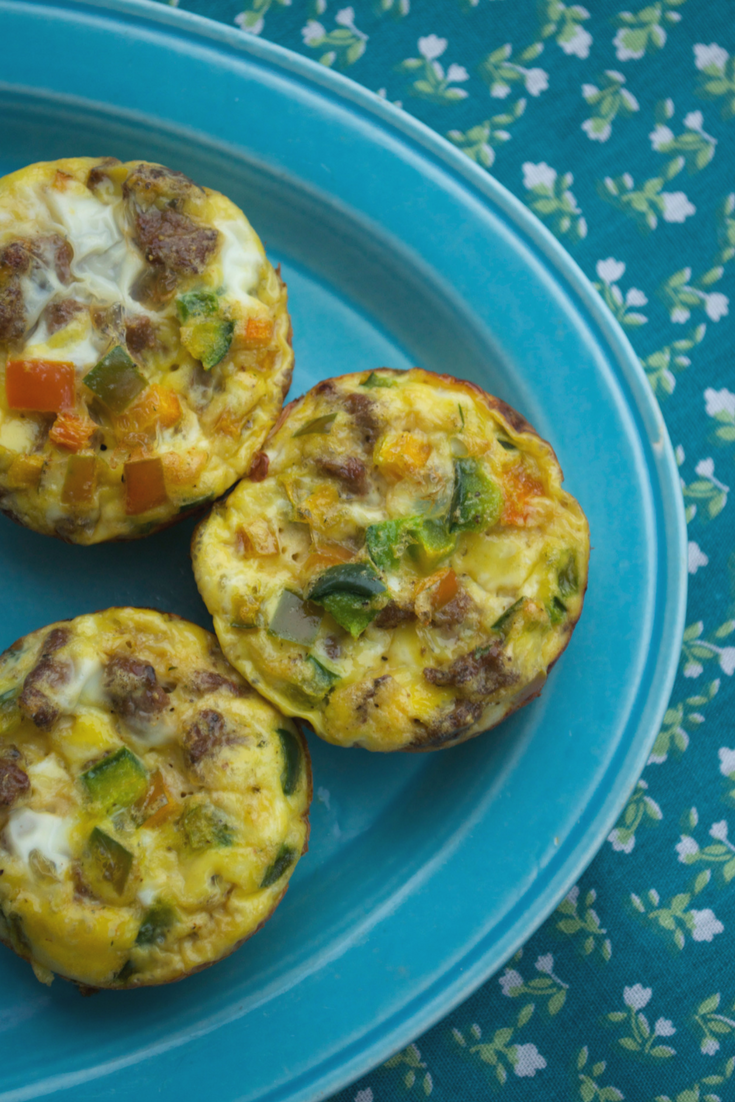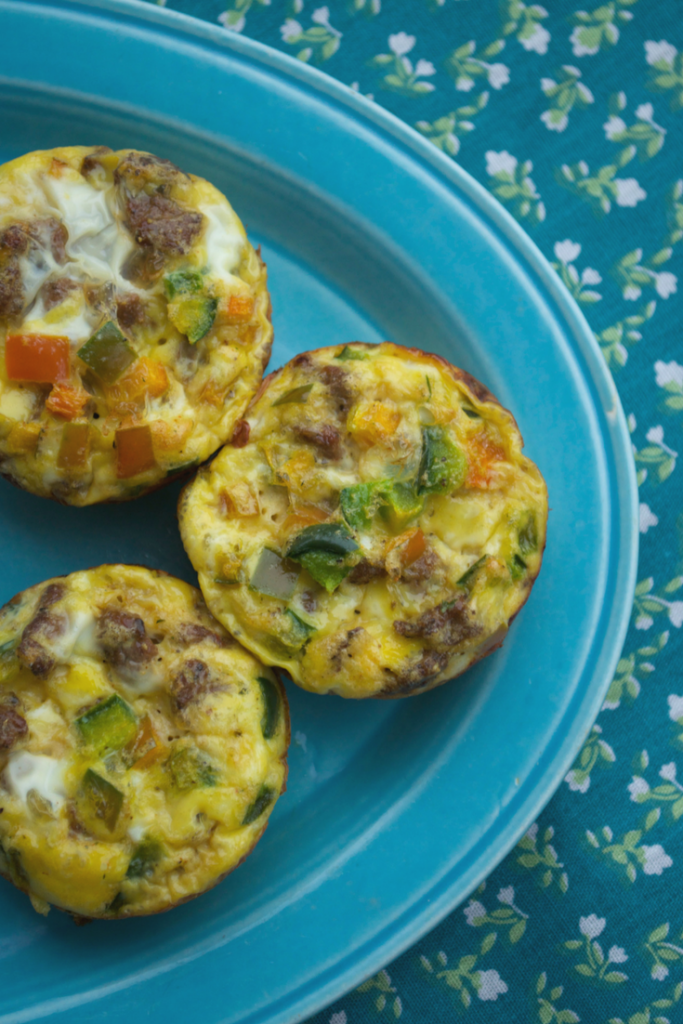 WW Blue Plan Breakfast Menu 
When choosing your breakfast menu for the new plans on WW, remember that you can add non-fat plain yogurt (regular or Greek), fresh fruit, and an egg to any option for zero additional points. Make a note to count any added sugar or honey you put into the yogurt, as well as any oils or butter the eggs are cooked in if you choose to make them go alongside things like the muffins or oatmeal below.
Day 1: Healthy Chocolate Muffins Recipe - (2SP each)
Day 2: Ham Hashbrown Casserole Bake - (4 SP per serving)
Day 3: Zero Point Muffin Tin Eggs - (Zero Points)
Day 4: Mixed Berry Baked Oatmeal - (7 SP per serving)
Day 5: Egg and Bacon Spinach Wrap - (3 SP per wrap)
Day 6: Chocolate Protein Powder Waffles - (6 SP per serving)
Day 7: Cinnamon Apple Yogurt Bowls - (6 SP per serving)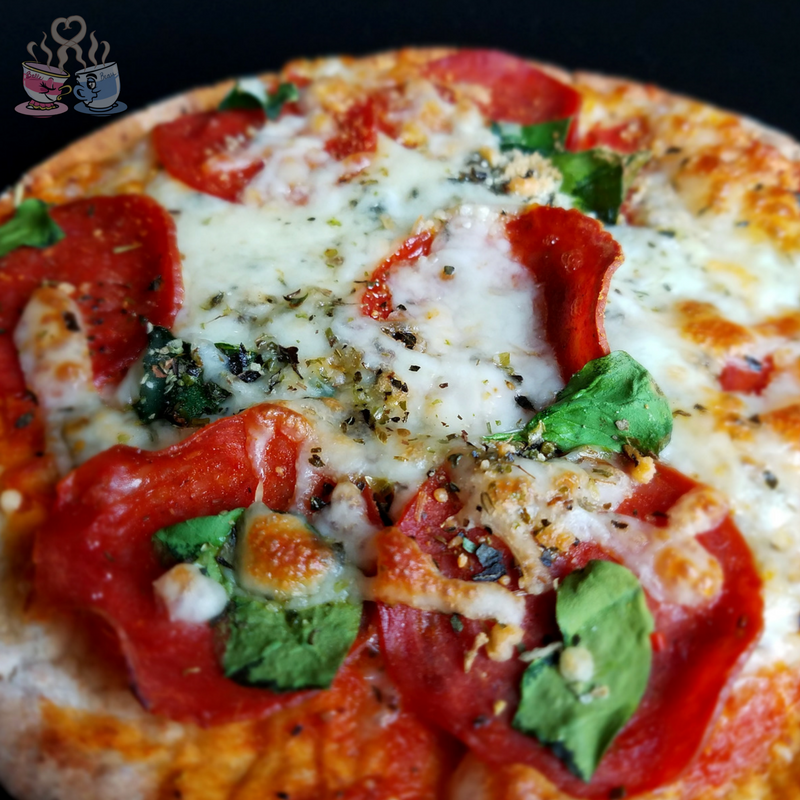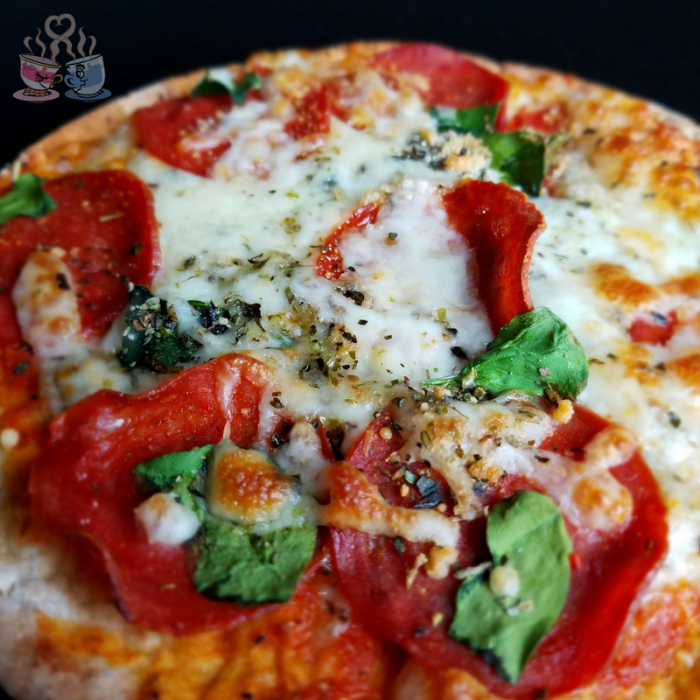 WW Blue Plan Lunch Menu
Most days, I like my lunches to be a bit lighter.  Soups and salads are common, alongside wraps or leftovers.  This allows me to indulge in an afternoon snack or have a higher point evening meal with my family with zero guilt or concern.
Day 1: Weight Watchers Mexican Chicken Soup (Zero Points)
Day 2: Weight Watchers Pizza - (4 SP per pizza)
Day 3: BLT Roll Ups with Turkey and Avocado - (6 SP per wrap)
Day 4: Creamy Vegetable Soup - (6 SP per serving)
Day 5: Refried Bean Dip with fat-free cheese and tortilla - (1-3SP depending on tortilla & cheese used)
Day 6: Slow Cooker Buffalo Chicken Dip (3 SP when served with vegetables for dipping)
Day 7: Chicken Broccoli Mac & Cheese - (5 SP per serving)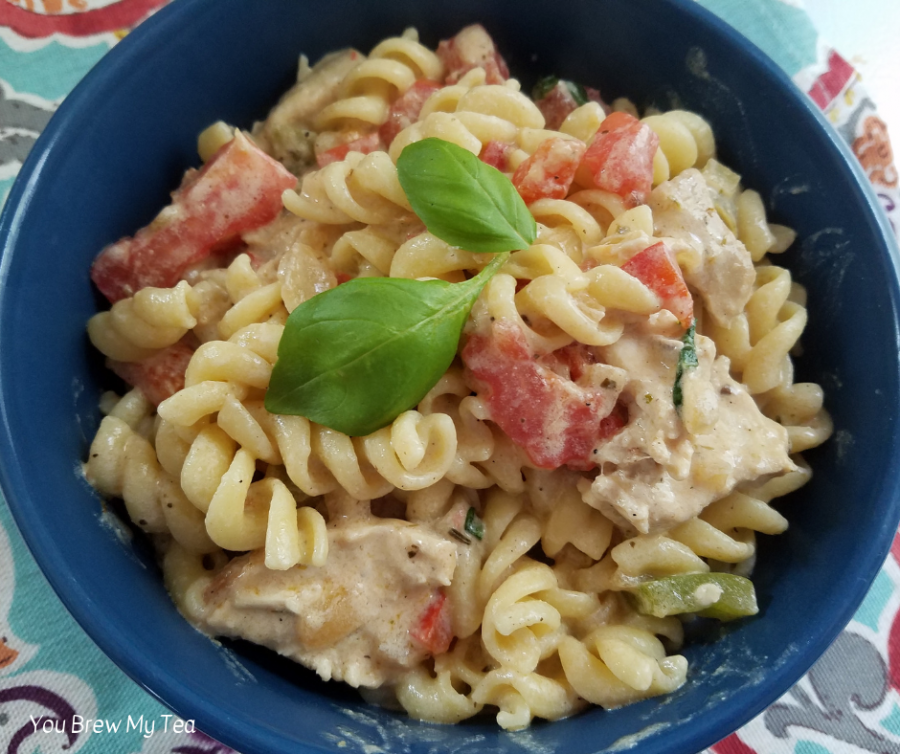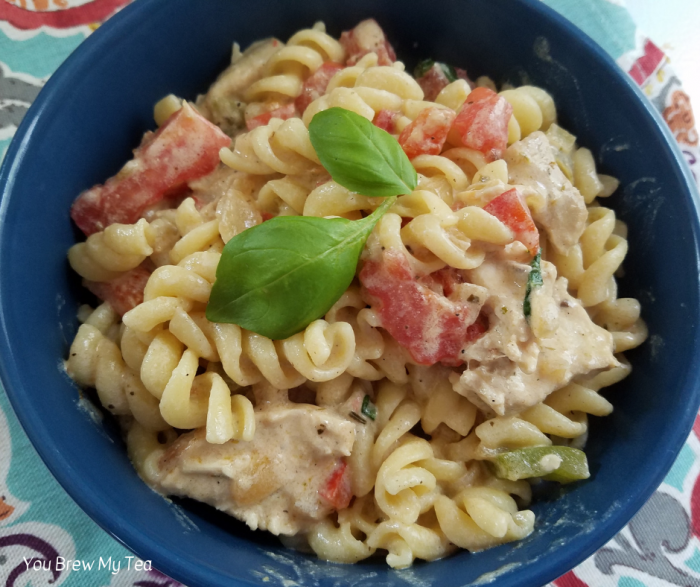 WW Blue Plan Dinner Menu
A big tip for serving dinner when on the WW plans is to always make half of your plate vegetables.  When your plate is full, you will feel more satisfied when you eat the whole plate.  By making the bulk of your meal vegetables, you are easily saving calories and adding nutrients and fiber to your diet which helps you stay full for longer.
Day 1: Bang Bang Shrimp Pasta - (7 SP per serving)
Day 2: Creamy Chicken Pasta with Basil and Tomatoes - (9 SP per serving)
Day 3: Weight Watchers Salisbury Steak - (5 SP per "steak")
Day 4: Eggplant Parmesan - (2 SP per 5 slices)
Day 5: Instant Pot Tortellini - 3 SP per serving)
Day 6: Zero Point Turkey Chili Recipe - (Zero Points)
Day 7: Southern Chicken and Dumplings - (3 SP per serving)
You May Also Like: Healthy Meal Prep Lunches
DOWNLOAD YOUR PRINTABLE WW BLUE PLAN MENU BELOW 
Click on Image to Download Printable Meal Plan
Snacks & Desserts for Your Meal Plan
I can't leave this list without a few of our favorite snacks and desserts.  I love a nice slice of this cherry cheesecake recipe for only 4 SP!  Another good option is to make this healthy banana cake with leftover bananas. I skip the frosting for fewer points.  My husband loves when I make a batch of this pumpkin cream cheese bread.
My friend Kevin makes this low point fudge that is out of this world amazing.  He also has a great recipe for a Weight Watchers pumpkin fluff that we devour every time it is on the menu. Another friend introduced me to these chocolate raspberry fruit poppers.  I can have a handful for just 1-2 points and they are so satisfying!  She also has a great gingerbread cookie recipe that is pretty low in points if you just need a cookie to snack on during holidays.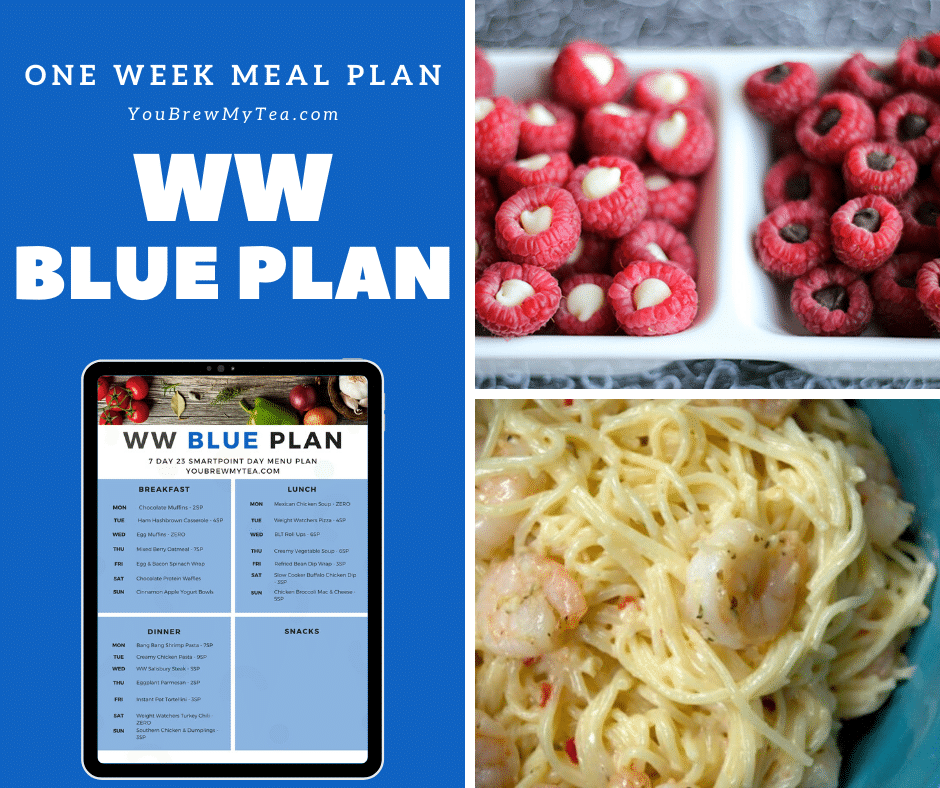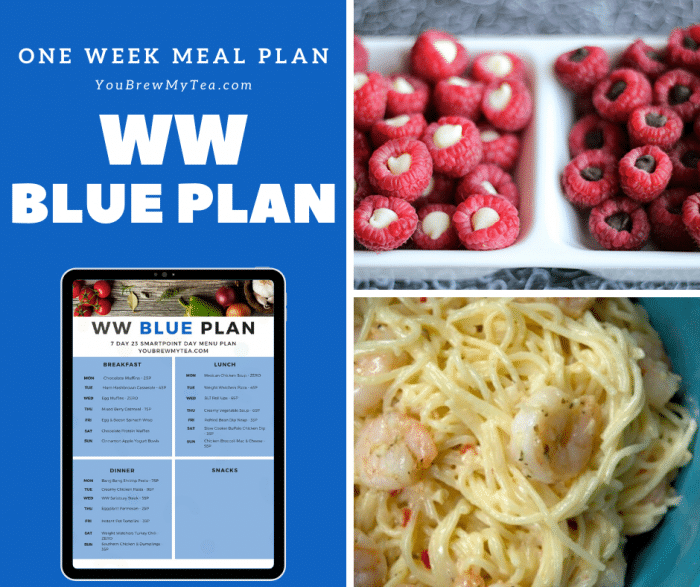 More Weight Watchers Resources
If you want more help sticking to your newly chosen plan, make sure to join our Facebook WW Plan Support Group!  We have tons of tips, tricks, recipes, and just good support there every day.  Another great resource is this list of best protein bars for WW, and my list of best food tracker apps like WW for those of us who are on a budget.