Have you ever had a recipe just come together?  This Weight Watchers soup is one of those for me.  It's what call a Mexican Chicken Soup.  It's not exactly a tortilla soup or a chili.  It is somewhere in between and we love it.  It was a super easy recipe that came from having leftover salsa chicken and a few things in the pantry that I wanted to use.  It's now going to be on the regular rotation in our house since it is also a pretty decently healthy Weight Watchers soup!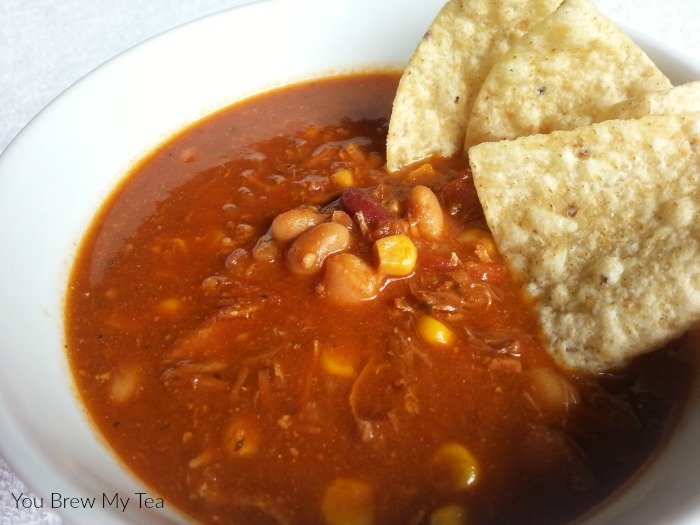 Weight Watchers Soup: Mexican Chicken Soup
This post contains affiliate links. 
If you are looking for a new Weight Watchers soup to add to your menu plan, I am pretty sure you'll love this one.  It is easy,inexpensive, hearty, super satisfying, and has fairly low points value.  We had some tortilla chips with it, but if you are going totally lower calorie or are on a tight points allowance, you can skip the tortilla chips and eat this by itself.
I start with making this salsa chicken in my Crockpot.  I don't have a recipe on here for it, but it's only a 2-ingredient recipe.  I use Simply Balanced Organic Roasted Restaurant Style Salsa.  It's one of my personal favorites, but you can use truly any salsa recipe or brand and it will still taste amazing.
Since I knew I had made a bit too much of the salsa chicken to use for tacos and quesadillas this week, I decided I could throw it into the Crockpot with a few things and make a soup. We are huge soup fans, and soup is one of my favorite healthy meals since it is filling and inexpensive.  This Weight Watchers soup hit all of the marks I wanted.  It had the right textures, flavors, and of course, the right points values.
I made this in the Crockpot, but you could easily cook this on the stovetop letting it simmer over medium heat for bout 45 minutes to make all the flavors meld.  Being an easy Crockpot recipe makes it simple to throw together and have ready when you get home from work.  That's a huge bonus for me.  Even though we both work at home, it's nice to put things together in the morning and just spoon it up when dinner rolls around.
If you like soups, this one is a broth based soup that feels a lot heartier thanks to the addition of the beans and corn.  I chose kidney beans and great northern beans, but you could sub pinto beans or black beans if you prefer.  I can also see adding fresh tomatoes, fresh bell pepper, or even some fresh cilantro on top for added texture and flavor at a minimal change to the calories!

Weight Watchers Soup: Mexican Chicken Soup
Ingredients
2 cups salsa chicken shredded
1 small onion chopped
2 cloves garlic crushed
1 20 ounces can crushed tomatoes
1 12 ounces can great northern beans
1 12 ounces can red kidney beans
1 cup frozen whole kernel corn
6 cups fat-free chicken stock
1 tablespoon cumin
1 teaspoon garlic powder
1 teaspoon onion powder
1 teaspoon paprika
1 teaspoon chili powder
1 teaspoon black pepper
1 teaspoon salt
Instructions
Mix all ingredients together in large Crockpot.
Cook on low heat for 6 hours or high heat for 3 hours.
Serve alone or with tortilla chips or strips as desired.
This Recipe Makes 10 Servings
6 PointsPlus per serving
ZERO SmartPoints on FreeStyle and Flex Plans
5 SmartPoints on Beyond the Scale
I have run this through the Recipe Builder within the Weight Watchers App.  It calculated at only 5 SmartPoints per bowl!  That is just for the soup, so if you add tortilla strips or chips, you'll need to account for the additional points.
This Weight Watchers soup recipe for Mexican chicken soup is super easy to throw together in the Crockpot.  You can even use your favorite taco seasoning to save time instead of the individual spices listed!
Other Weight Watchers Recipes: