This Mixed Berry Baked Oatmeal Recipe is a great make ahead breakfast for those who like to meal prep.  It's simple, delicious, and easy to divide into individual portions which make it fit into WW FreeStyle meal plans easily.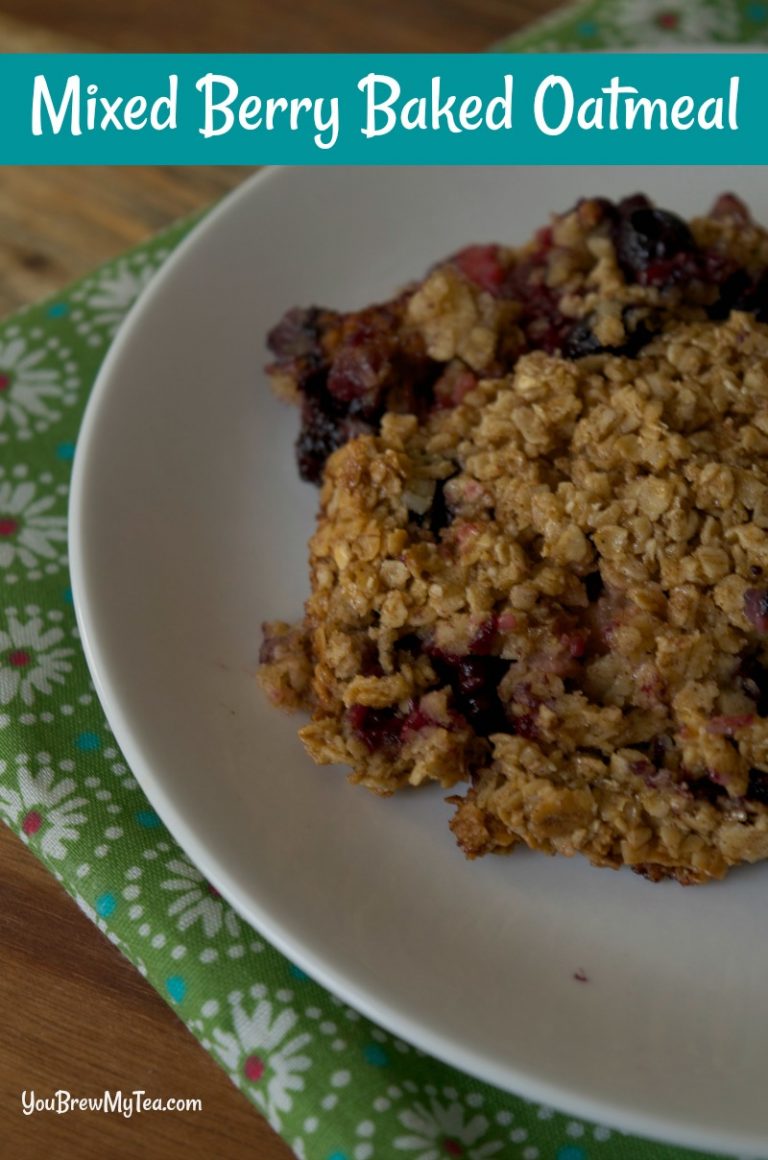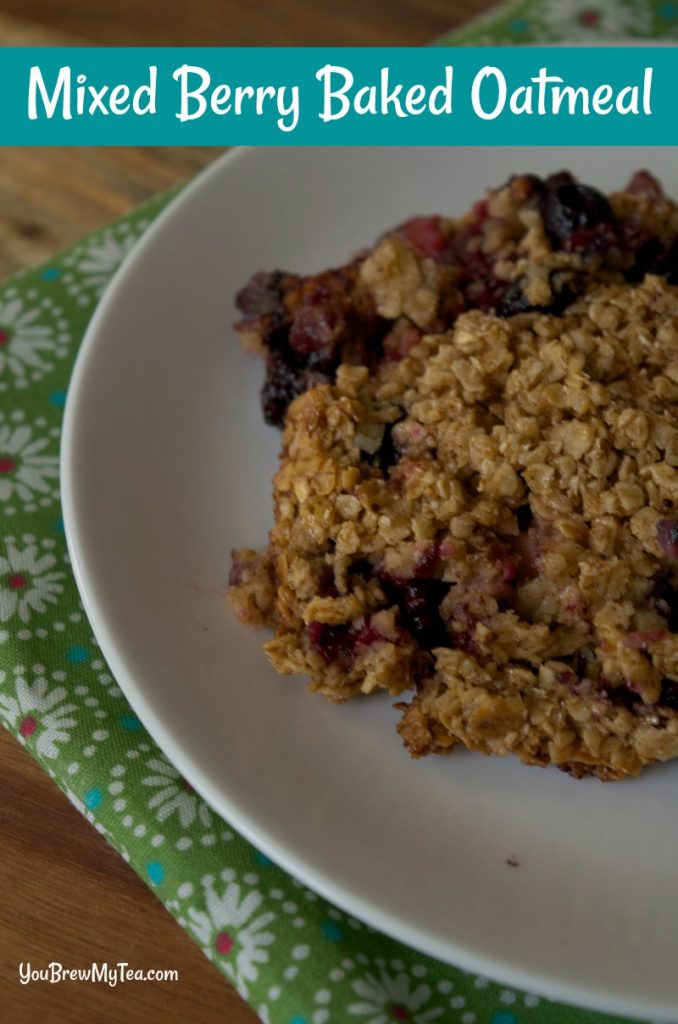 Mixed Berry Baked Oatmeal Recipe
This post contains affiliate links. I earn a small commission on purchases made via these links. 
I have never been a fan of regular oatmeal, but baked oatmeal is one breakfast recipe I can enjoy.  The difference in texture is just what I need to enjoy this.  As a healthy grain, oatmeal is one of those carbohydrates I don't want to shy away from.  Instead, I like including it in things like this mixed berry baked oatmeal recipe.
Ingredients for Mixed Berry Baked Oatmeal
For the full recipe, scroll to the bottom of the post. 
Rolled Oats
Unsweetened Almond Milk
Vanilla Extract
Egg
Baking Soda
Salt
Ground Cinnamon
Brown Sugar
Frozen Mixed Berries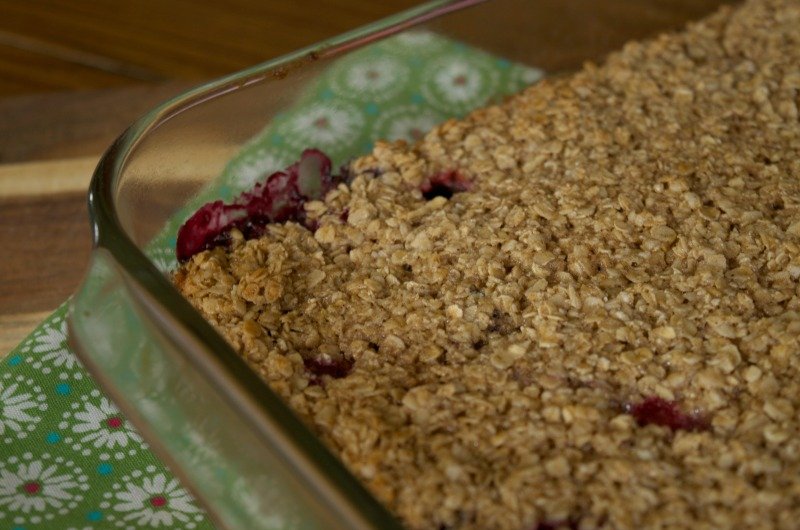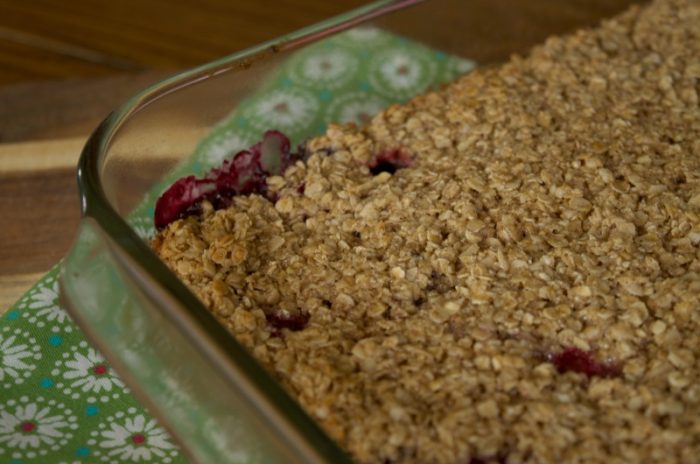 How to Make Baked Oatmeal
I prefer using an 8"x8" baking dish for this recipe. My favorite is this Pyrex baking dish with a lid so it can just be covered and put into the fridge.  When I make this recipe in bulk, I can easily divide it into servings and put into my glass freezer storage containers.  Spraying the bottom of the pan with non-stick spray also helps a bit with making sure it is easy to spoon out of the pan. Bake for 30 minutes or until golden brown on top and the berries are bubbling.
Note:  While you can mix all ingredients together, I do prefer the layering technique so it has warm berries and a bit of crunchy oatmeal in every bite.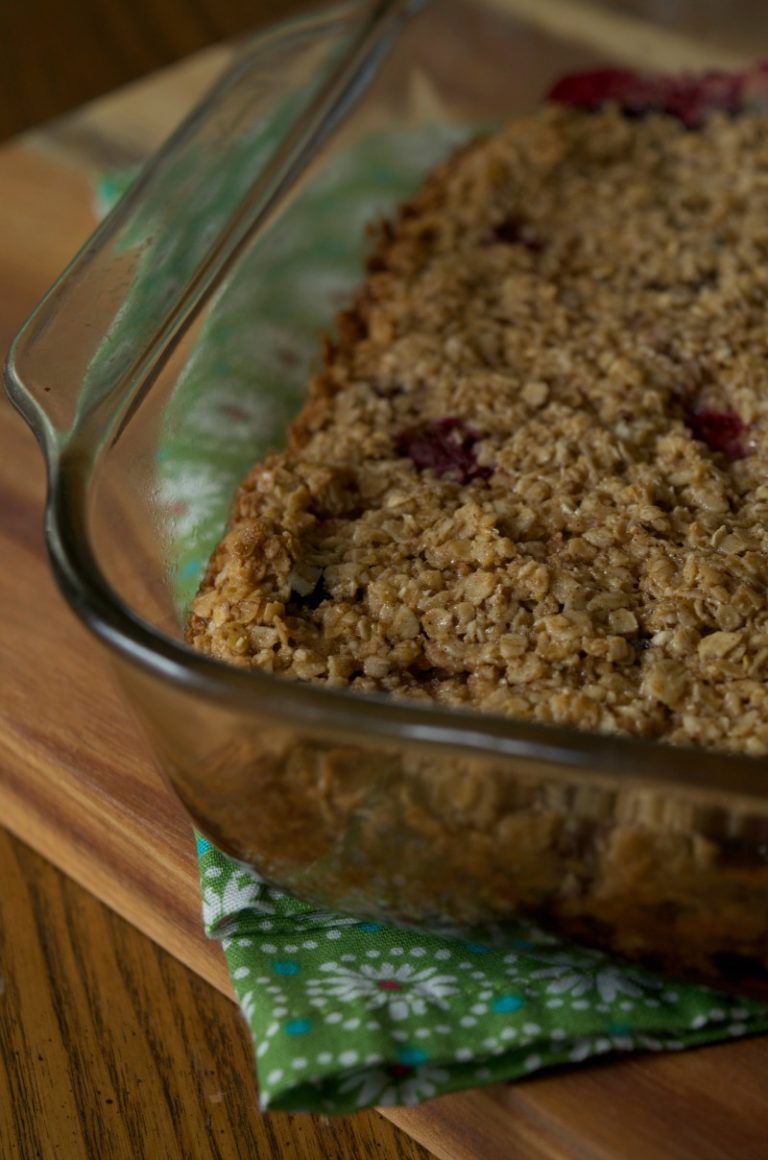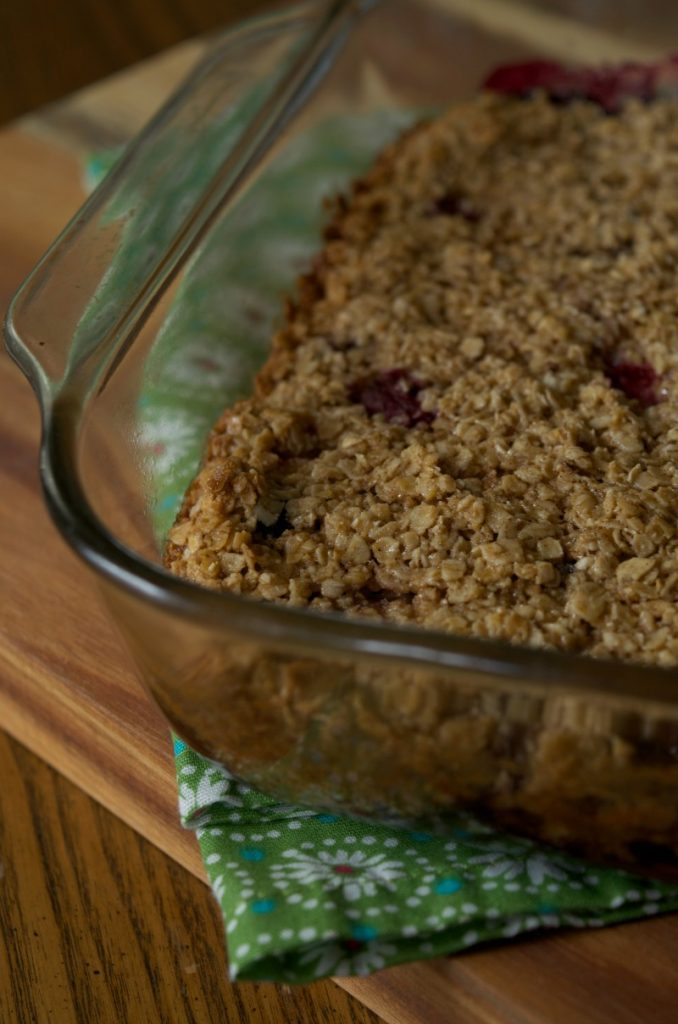 More Make-Ahead Breakfast Options
Baked Oatmeal is definitely a favorite easy breakfast to make ahead on the weekend and grab each morning throughout the work week.  If you have kids and work outside the home, you know that this is a must. Fast and easy doesn't have to be things like donuts or sugar-laden cereal. This is one of our favorite recipes, but make sure to check out the ones I have linked below for even more ideas for breakfast.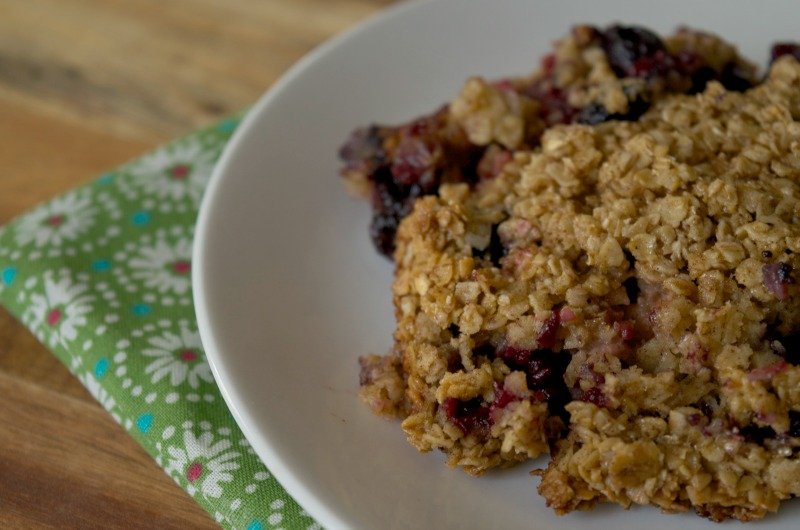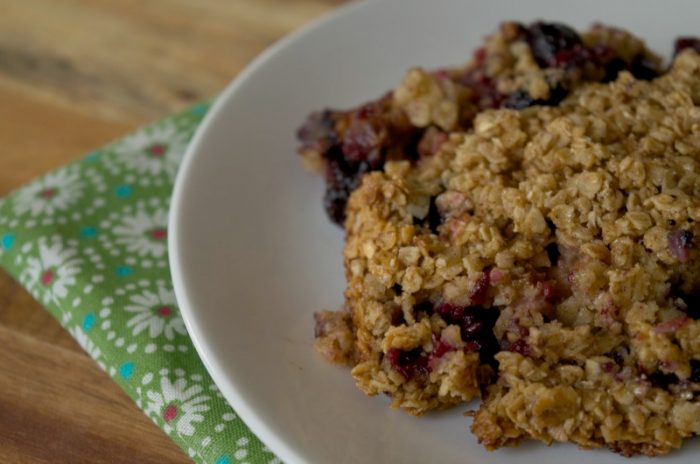 Weight Watchers Calculations
Makes 4 servings.
7 SmartPoints per serving on the WW FreeStyle Plan and Beyond the Scale Plan.
6 Pointeaspoonlus per serving

Mixed Berry Baked Oatmeal Recipe
7 SmartPoints per serving on WW FreeStyle Plan and Beyond the Scale Plans 6 Points Plus per serving
Ingredients
2 cups rolled oats
¼ cup unpacked brown sugar
1 teaspoon baking soda
1 cup unsweetened almond milk
½ teaspoon ground cinnamon
1 egg
¼ teaspoon salt
1 teaspoon vanilla extract
2 cups frozen mixed berries
Instructions
Preheat oven to 350 degrees
Spray the bottom of an 8"x8" pan with non-stick cooking spray.
In a large bowl, mix together oats, brown sugar, cinnamon, baking soda, and salt until well combined.
Add in almond milk, egg, and vanilla extract and blend until oats are wet and ingredients well incorporated.
Spread 2 cups frozen mixed berries across the bottom of the baking dish.
Top the berries with the oatmeal mixture.
Bake for 30-35 minutes at 350 degrees or until the top is golden brown and berries are bubbling.
Nutrition Information
Calories:
265
Fat:
4.9
Saturated fat:
.9
Carbohydrates:
46.1
Sugar:
14.7
Sodium:
528
Fiber:
6.9
Protein:
7.5
Cholesterol:
41