This list of 25 WW FreeStyle Dessert Recipes is going to knock your socks off! So many amazing low point recipes on this list to satisfy your sweets craving. You won't know which to try first!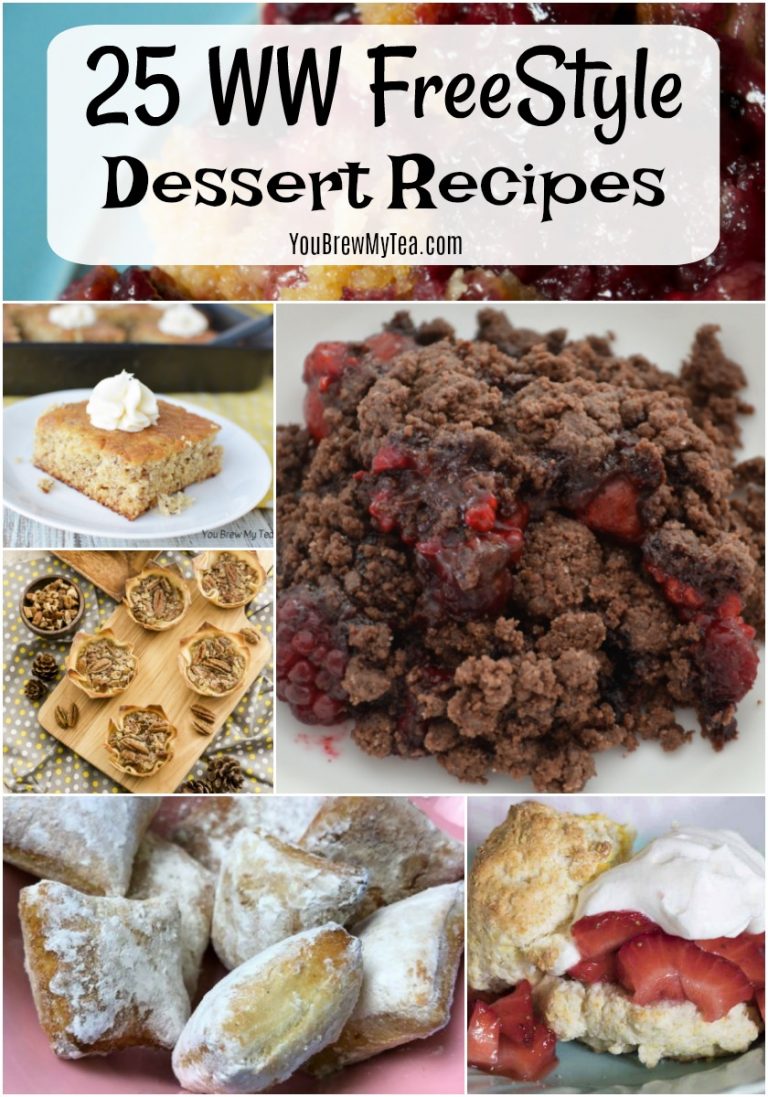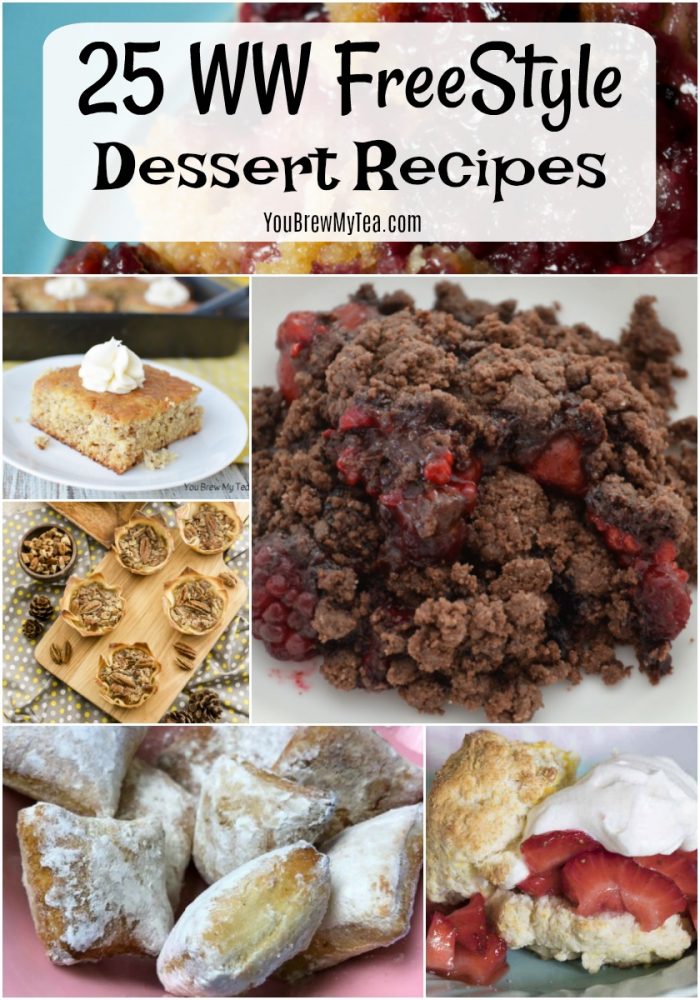 25 WW FreeStyle Dessert Recipes
I admit it.  There is nothing as good as a delicious dessert after dinner.  Growing up, dessert was definitely something we enjoyed more often than not.  That is part of the reason I am here on WW FreeStyle Plan now!  So, finding great satisfying options that allow me to indulge without guilt is a must!
2 SmartPoints per serving
This list includes some of my favorite"grab and go" options to make ahead of time and add to lunches or snack bins!
Apple Pie Cookies from You Brew My Tea
Funfetti Jello Cookies from You Brew My Tea
Healthy Chocolate Muffins from You Brew My Tea
Layered Jello Parfait from Keeping on Point
Peanut Butter Whip  from  Midlife Healthy Living 
Weight Watchers Banana Bread from SlapDashMom
Cinnamon Baked Pears from Emily Bites 
3 SmartPoints per serving
If you want decadence without using too many points, this list has the best of the best WW FreeStyle Dessert Recipes!
Chocolate Covered Strawberry Cobbler from You Brew My Tea
Air Fryer Funnel Cake Bites from SlapDashMom
Weight Watchers Crustless Pumpkin Pie from SlapDashMom
Berry Popsicles from Midlife Healthy Living  
Chocolate Hummus from Emily Bites
Cinnamon Apples from My Heavenly Recipes
Mini Pecan Pies from Life is Sweeter by Design
4 SmartPoints per serving
Simple and delicious is the name of the game with these 4 SP recipes!
Baked Glazed Doughnuts from LaaLoosh 
Heavenly Hash/ Ambrosia Salad from Four Sisters Dish 
Mixed Berry Crockpot Dump Cake from You Brew My Tea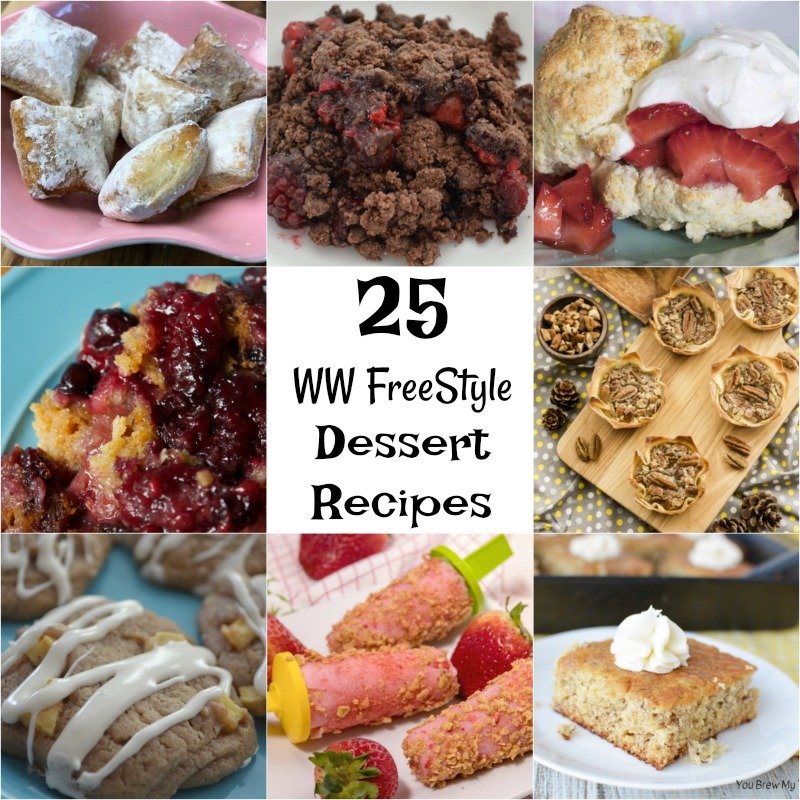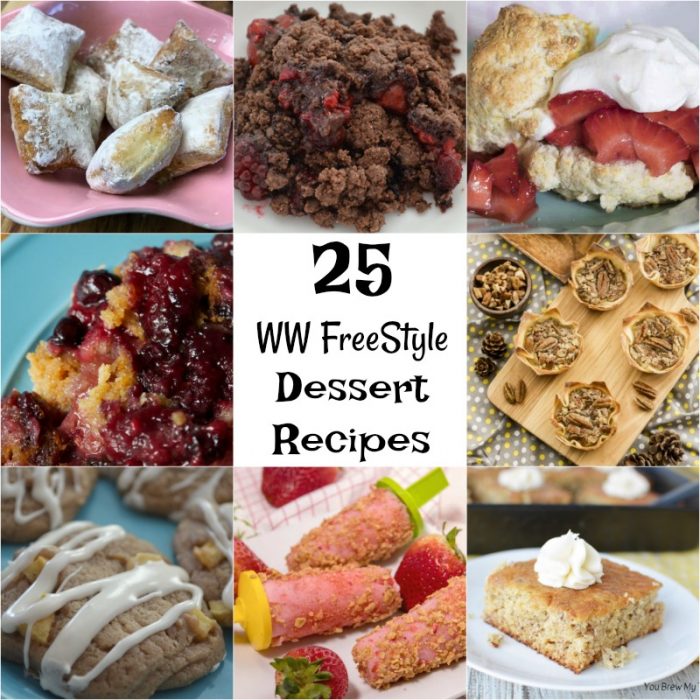 5 SmartPoints per serving
For a few more points, enjoy some of your favorite desserts in a lighter version.
Blueberry Cheesecake Dessert from You Brew My Tea
Banana Foster Crepes from Skinny Taste
Blueberry Cheesecake Rolls from Emily Bites 
Lemonade Cupcakes from LaaLoosh 
Weight Watchers Cinnamon Rolls from Stockpiling Moms
6 SmartPoints per serving
On extra special days, leave room for these amazing options from our favorite bloggers.
Cinnamon Apple Crisp from Skinny Taste 
Homemade Strawberry Shortcake from Midlife Healthy Living 
Healthy Banana Cake Recipe from You Brew My Tea
How to Succeed with WW FreeStyle
While I know this list of delicious WW FreeStyle desserts has your mouth watering, you know that your day has to include other healthy food options.  One of the best ways I found to stay on track with my 90+ pound weight loss journey was to focus on building meals around the large zero point food list.  If I created each meal with a base that was on the zero point list, then I could easily add a few points for things I loved like healthy fats, some healthy carbs, and of course, this list of desserts.
More Weight Watchers Recipes
Below you'll find some more of our favorite Weight Watchers and WW FreeStyle friendly recipes that everyone in your home will love! Check out all of these and more recipes that will help you stay on track with your healthy lifestyle journey.