Cheesy Chicken and Rice meal prep is a favorite in my house because it is so comforting and easy to make. It happens to be one of those easy Instant Pot recipes that I love making when I feel pressed for time. Making a large batch like this means we can have dinner the night I cook, and I have easy point friendly lunches for a few days.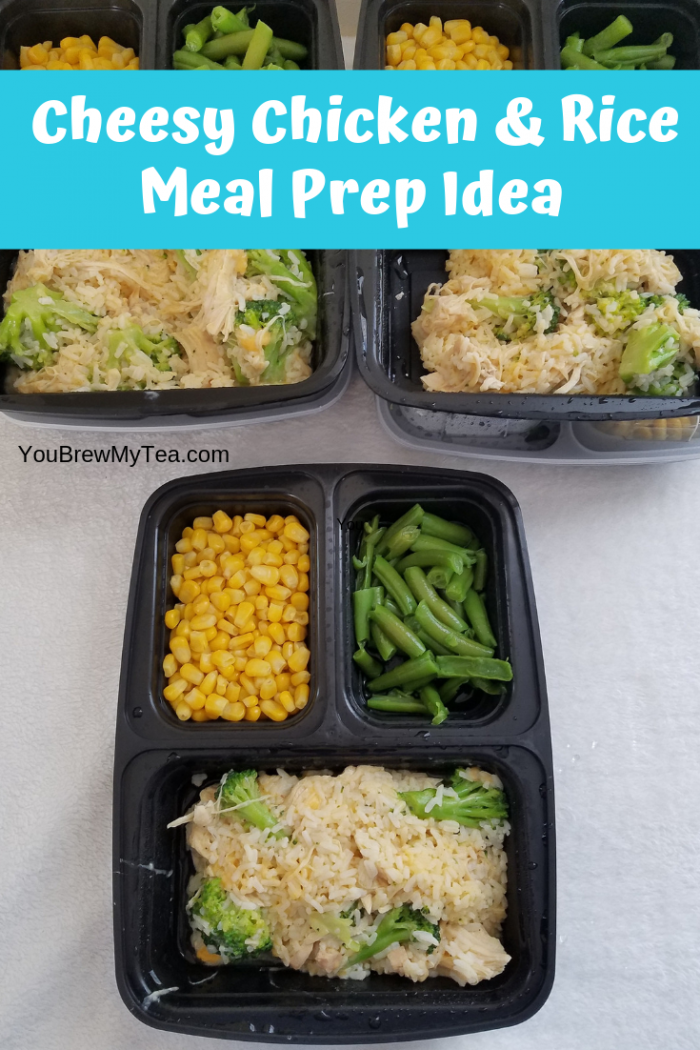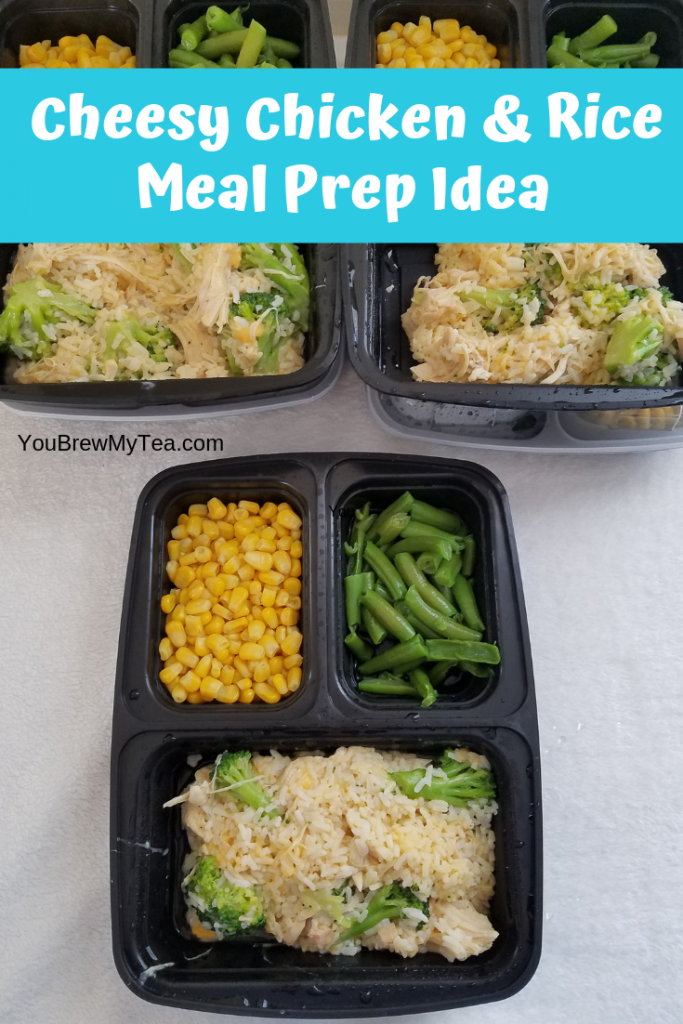 Cheesy Chicken and Rice Meal Prep
This post contains affiliate links. I earn a small commission on purchases made via these links.
As you'll see below, I use my 6-Quart Instant Pot Duo60 for making this dish since it is a simple and fast way to make chicken. Cheesy chicken and rice come together in minutes when you use Minute Rice or any instant rice brand. This has become a favorite fast meal prep option for me on busy weeks, plus I know that my whole family will enjoy the meal. You can't go wrong with a simple recipe that is also loved by the whole family, and it never hurts that it hides some vegetables.
Ingredients for Cheesy Chicken and Rice
Grab our printable recipe below for full recipe with ingredients and measurements
Boneless Skinless Chicken Breast
Chicken Broth
Broccoli
Instant Rice
Cream of Chicken Soup
Salt, Pepper, and Garlic Powder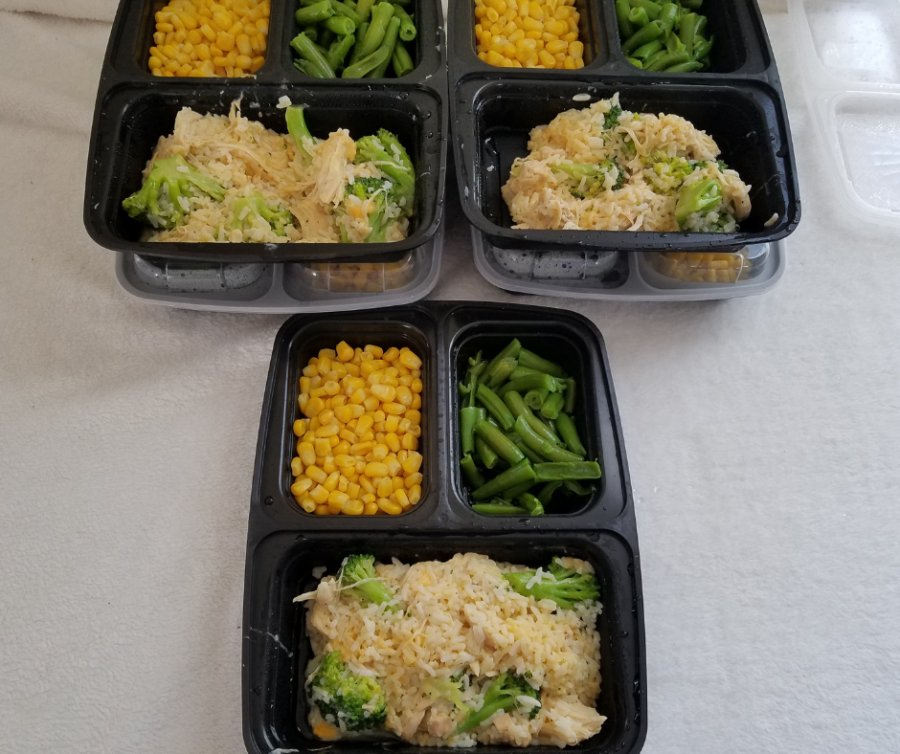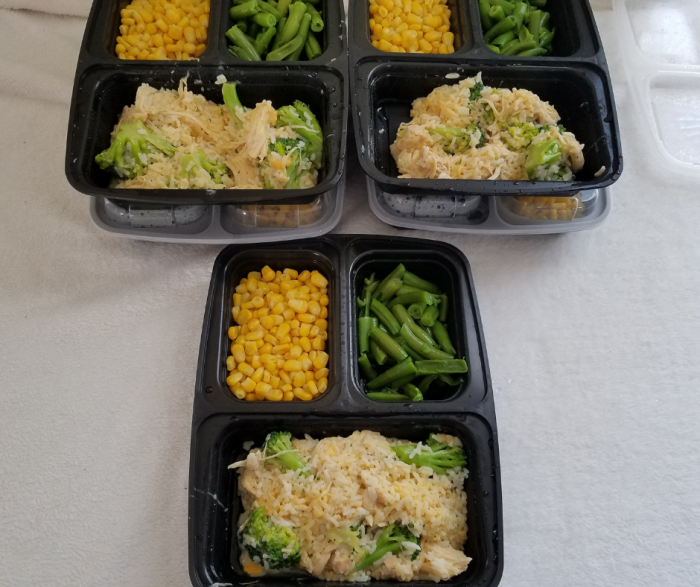 How to Meal Prep WW Recipes
One of the things I love about meal prep is that I know what my points will be for at least one meal each day. You can easily take advantage of our meal plans to make a week of food in advance. Below are some of the tips I recommend keeping in mind when you are doing any kind of meal prep.
Use these 3-Compartment Meal Prep Containers as they are safe for use in the freezer, microwave, and dishwasher
Allow your main dish to cool completely before putting lids on containers so there is no excess condensation. Extra liquid can cause freezer burn to form faster.
Label your containers with these Erasable Labels that are dishwasher, freezer, and microwave safe. Add the recipe name and date created in case they stay in your freezer longer than the week. If following WW, add the points per portion to the label.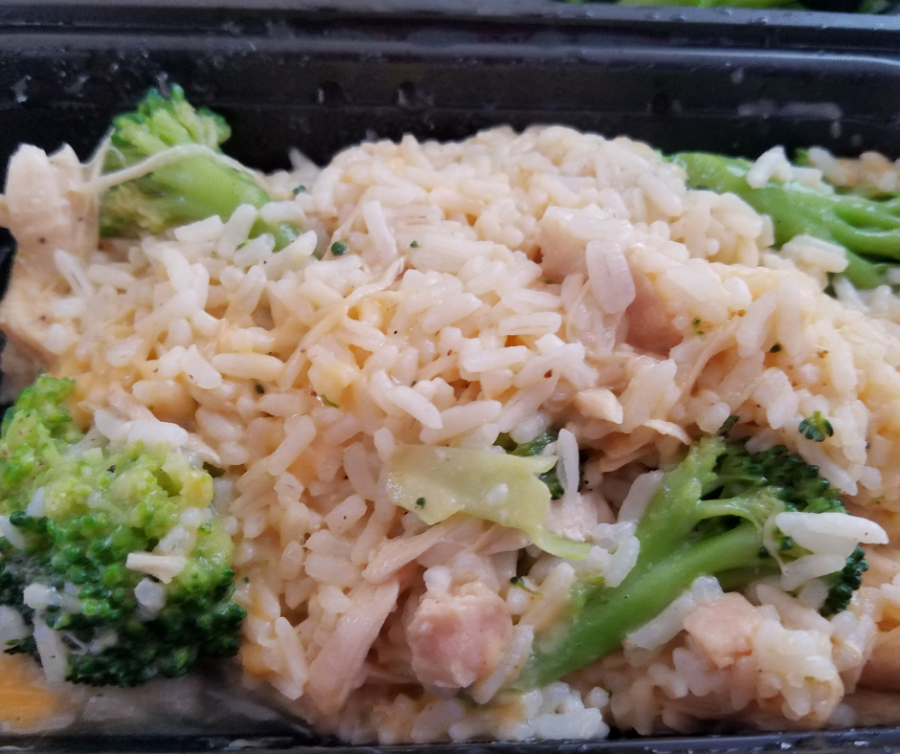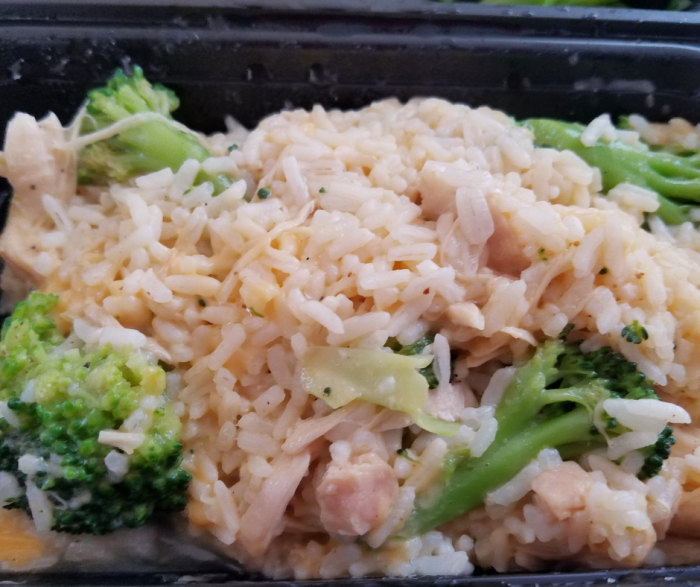 Meal Plans for WW FreeStyle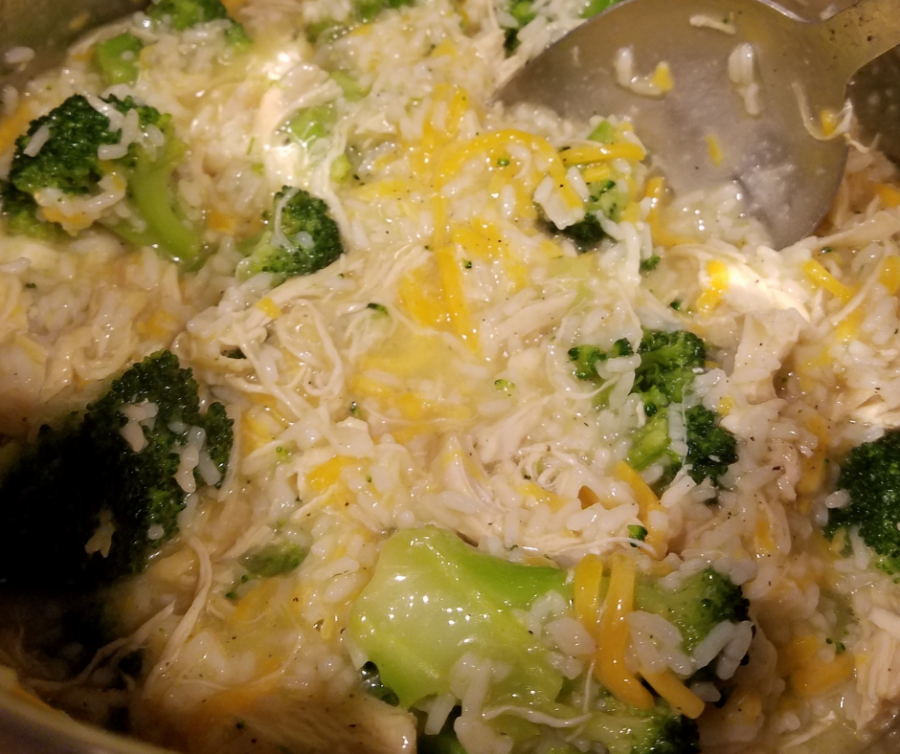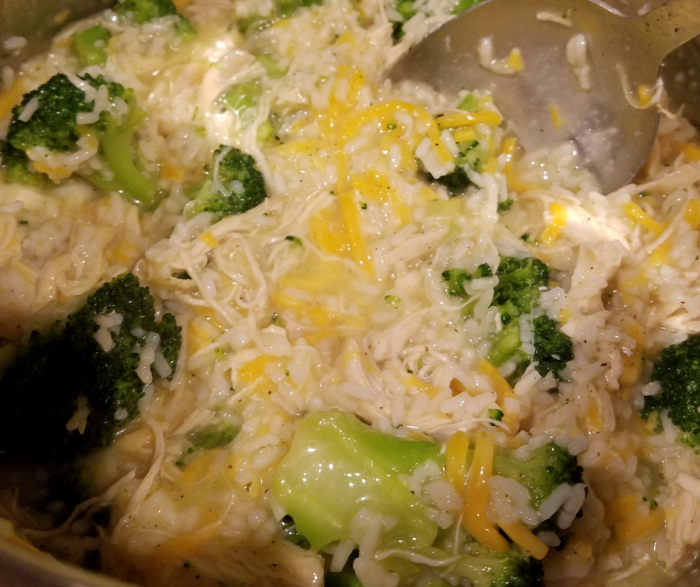 How to Add Quantity without Extra Points
One of the things that are harder on any dietary change plan is that you are typically limiting portion sizes. If you are used to eating a large plate of food, this can be tough to manage. That's why I love that WW encourages eating more vegetables. If that is a struggle, below are some tips for making it a bit easier to manage.
Add at least 2 full servings of vegetables with every meal prep kit. I used corn and green beans as those are two of my favorites.
Try using different spice blends on vegetables. Seasoned salt, lemon pepper, and steak seasoning blends are great options. For low sodium, check out the different Mrs. Dash blends.
Invest in spray butter like "I can't believe it's not butter" to spritz on vegetables for zero points.
Use fresh lime or lemon squeezed on some vegetables to add a bit of a different flavor profile.
More Chicken Meal Prep Recipes
This cheesy chicken and rice recipe is a great option that is reminiscent of those comfort food meals mama made when I was a kid. If you prefer a different vegetable other than broccoli, feel free to substitute your favorite and try to hide as many as you can in the mix. Make sure to check out our other top chicken recipes that fit easily into your WW FreeStyle daily points allowance, and make sure to bookmark or print them for future use.
How Many WW Points are In Each Serving?
To verify your own unique PersonalPoints check the recipe via the WW app HERE.
PersonalPoints: 4-9
BLUE: 6
GREEN: 8
PURPLE: 4
SmartPoints: 7
Points Plus: 9
Yield: 6
Cheesy Chicken and Rice Meal Prep Idea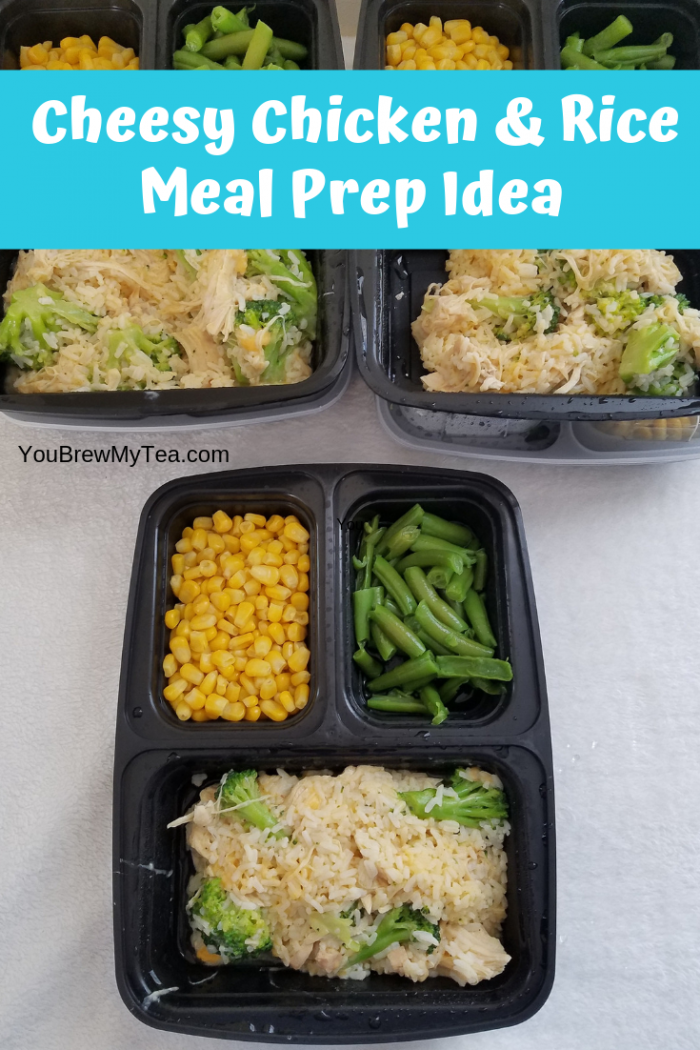 Cheesy Chicken & Rice Meal Prep Idea is a fast way to make dinner for the whole week that is healthy, tasty, and low in points!

Prep Time 5 minutes

Cook Time 25 minutes

Total Time 30 minutes
Ingredients
1 pound boneless skinless chicken breasts
1 ½ cups 98% fat-free cream of chicken soup
2 cups broccoli (fresh or frozen)
1 ½ cups Minute Rice, uncooked
2 cups chicken broth, divided
1 cup shredded cheddar cheese
¼ teaspoon salt
1 teaspoon garlic powder
½ teaspoon black pepper
Instructions
Place chicken breasts and 1 cup chicken broth into Instant Pot
Cook chicken for 12 minutes on poultry setting. Allow for natural pressure release. Turn off the Instant Pot.
Shred chicken and place back into the Instant Pot.
Add in the remaining broth, cream soup, garlic powder, salt, black pepper, and rice. Stir well and let sit for 5 minutes with lid covering (loosely not sealed).
While rice and chicken mixture finishes cooking, steam broccoli. I prefer using frozen broccoli and simply heating through in the microwave.
Remove lid, stir and fluff the rice and chicken mixture, add in cheese and broccoli then stir to mix well.
Divide into 6 equal portions.
Notes
To verify your own unique PersonalPoints check the recipe via the WW app HERE. 
PersonalPoints: 4-9
BLUE: 6
GREEN: 8 
PURPLE: 4
SmartPoints: 7
Points Plus: 9
Nutrition Information:
Yield:
6
Serving Size:
1
Amount Per Serving: Calories: 312Total Fat: 12gSaturated Fat: 5gTrans Fat: 0gUnsaturated Fat: 5gCholesterol: 88mgSodium: 862mgCarbohydrates: 19gFiber: 2gSugar: 1gProtein: 32g