This Roasted Crispy Tofu and Broccoli recipe is going to change the way you look at tofu forever!  For years I wasn't sure if I liked tofu, but when I took a 6-month break from eating meats, it became a regular part of my diet.  Even then, I was a little uncertain about how to cook it for the best texture and flavor.  The recipe below will transform your tofu eating experience.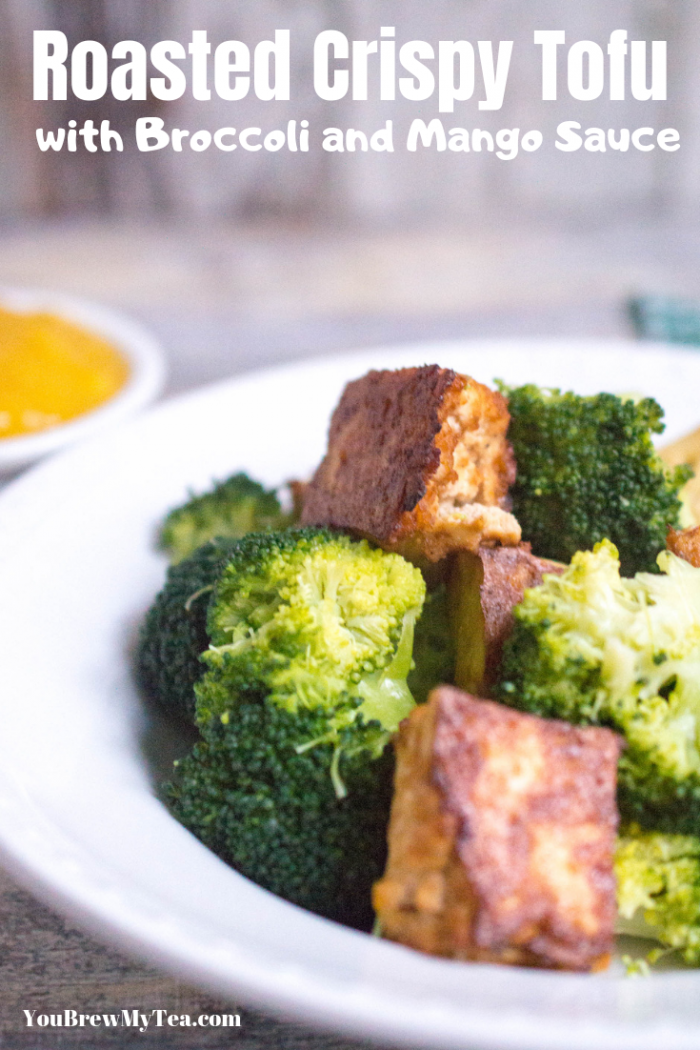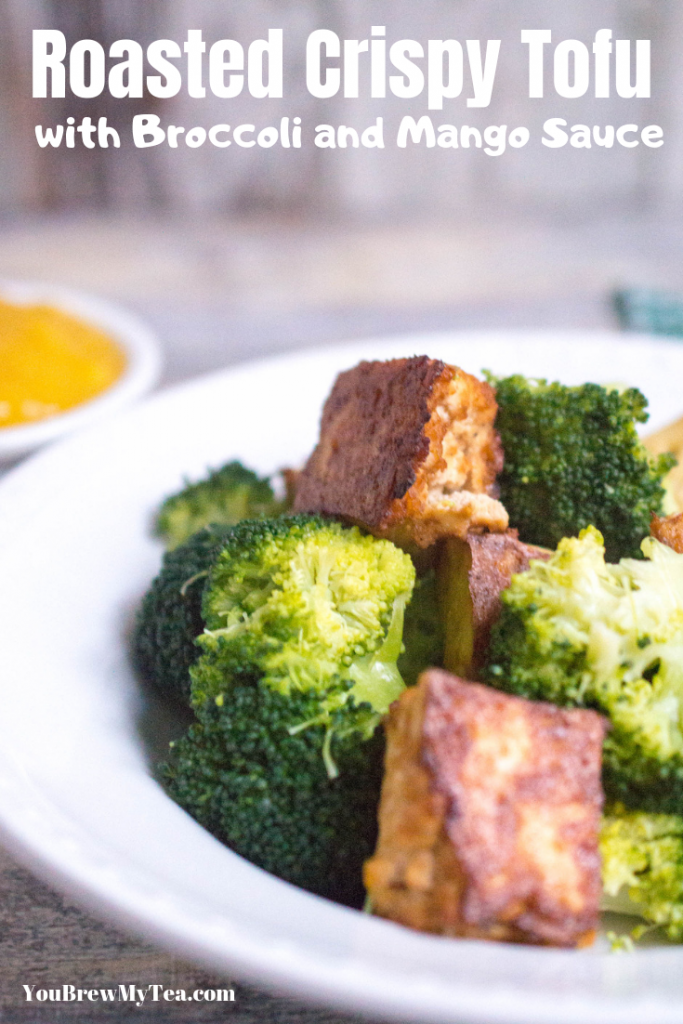 Roasted Crispy Tofu and Broccoli
This post may contain affiliate links. I earn a small commission on purchases made via these links. 
To begin, when making this crispy tofu recipe you need to invest in a tofu press if you do not already have one in your kitchen.  Pressed tofu is really the only way to go when trying to get a nice crunchy or crispy texture.  The Super Tofu Press has the best overall reviews and is a mid-range price.  If you plan to cook a lot of tofu in the future, it is a great investment in your kitchen.
Note: This recipe does take a bit longer to prepare than most of our recipes.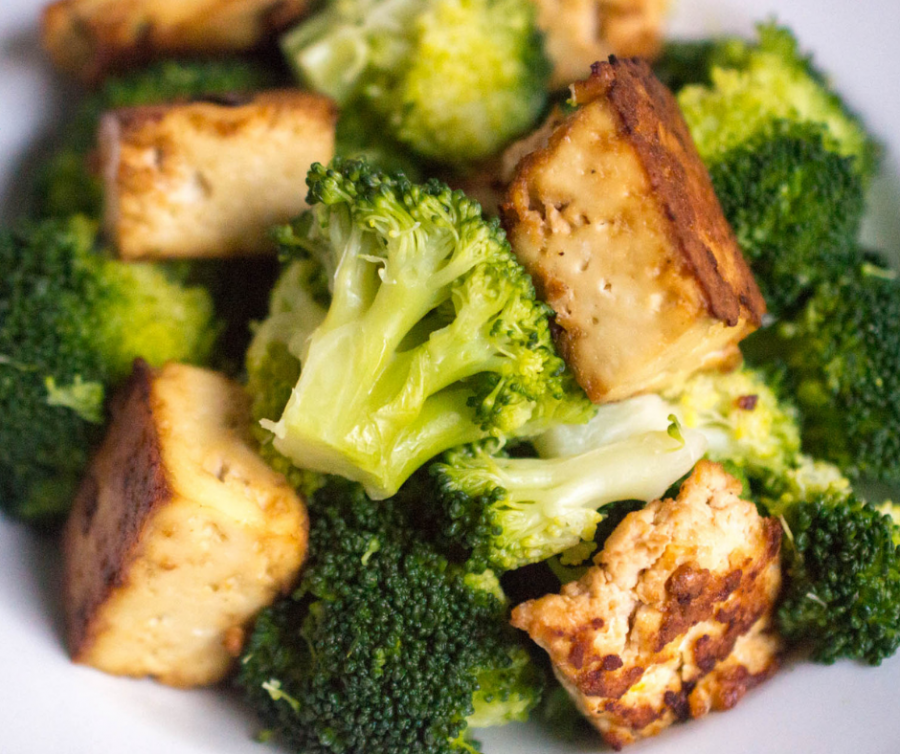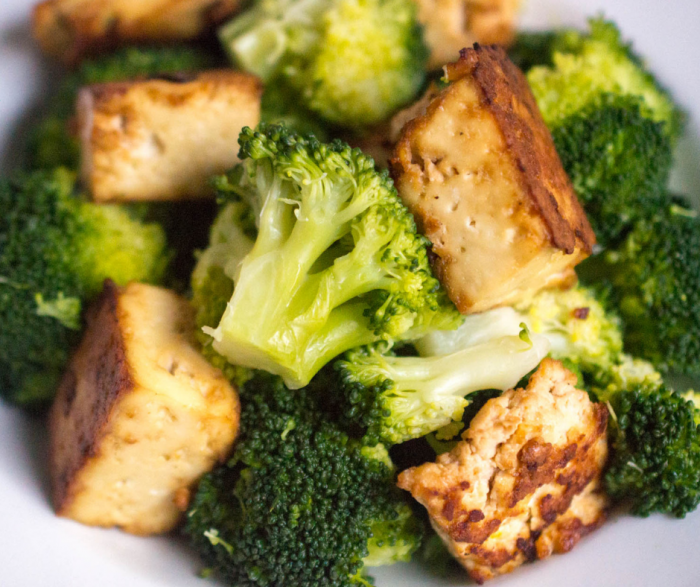 Ingredients Needed for Crispy Tofu and Broccoli
Firm Tofu
Soy Sauce
Red Onion
Garlic
Clementine Orange
Broccoli
Black Pepper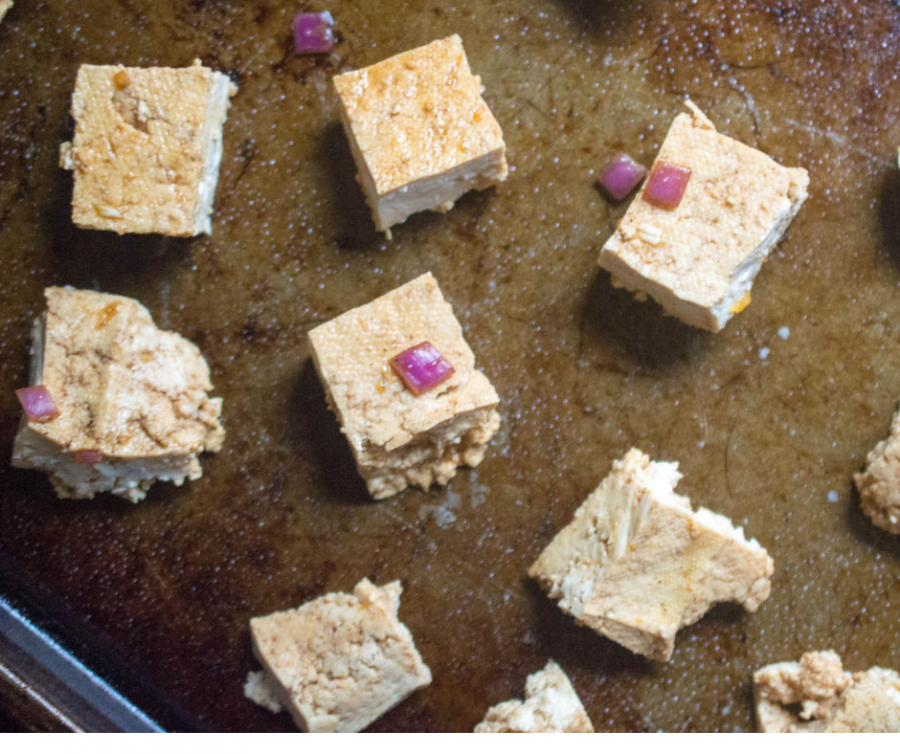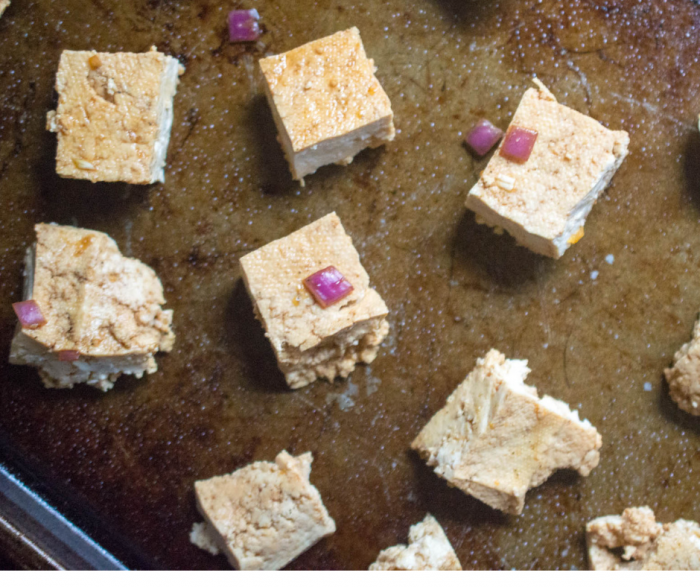 Ingredients for Mango Sauce

Mango
Ginger
Garlic
Salt
Black Pepper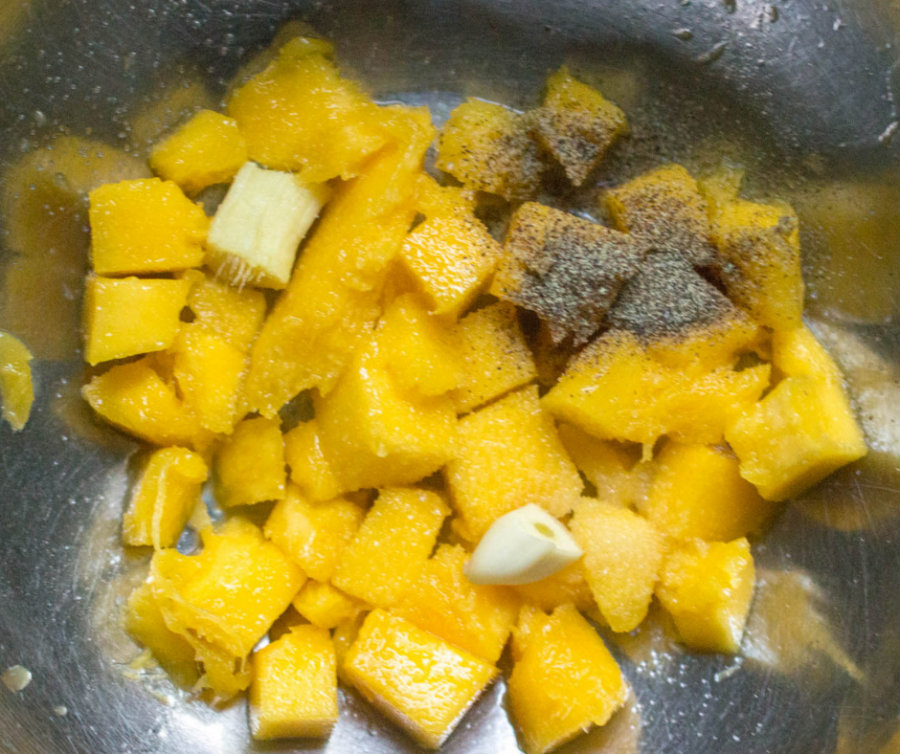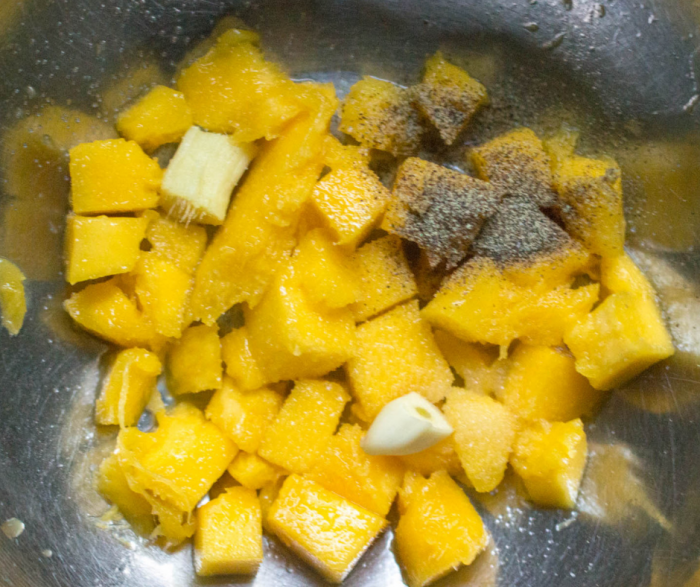 How to Make Crispy Tofu and Broccoli 
Make sure to print the recipe below and read over it before you begin.  Pressing your tofu is the first step as this will take 20-30 minutes to complete.  Once that is done you will mix the tofu with the marinade and let sit until ready to bake.  As your tofu is cooking, you'll prepare you broccoli and the mango sauce if desired.  This can also be served with a side of rice or cauliflower rice if preferred.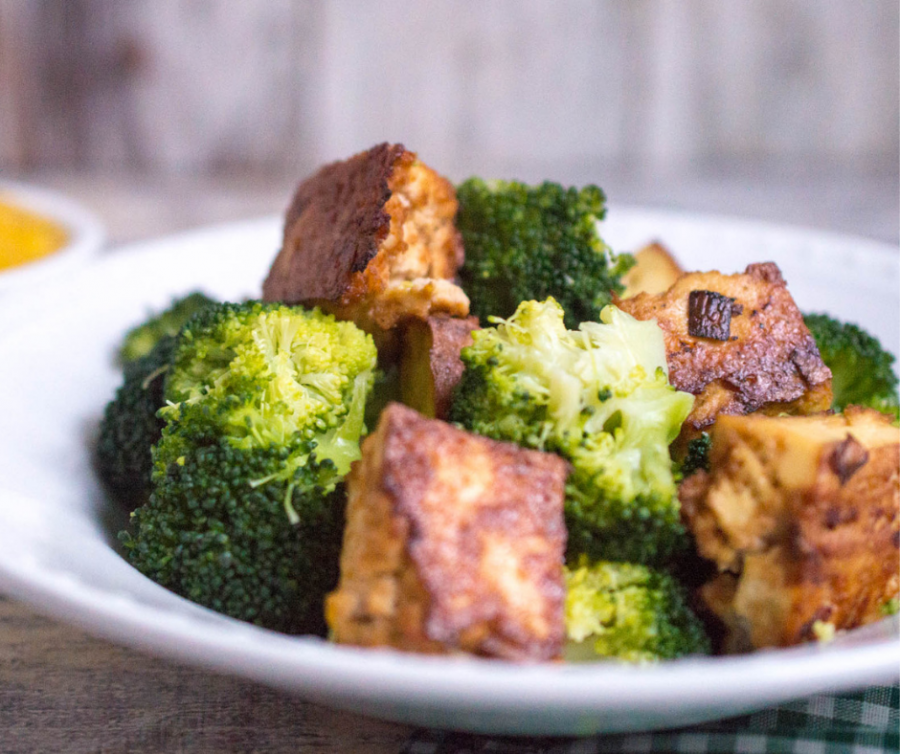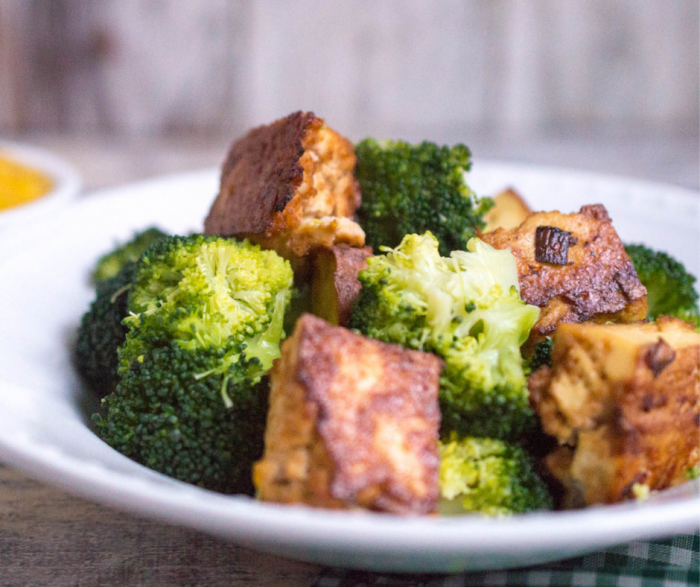 Roasted Crispy Tofu and Broccoli
Zero Points per serving on WW FreeStyle Plan 7 SmartPoints per serving on WW Beyond the Scale 8 Points Plus per serving
Ingredients
For Tofu & Broccoli:
6oz pkg. firm tofu
⅓ C. soy sauce
1 Tbsp. minced red onion
1 large clove chopped garlic
Juice of 2 small clementines
½ teaspoon black pepper
2 C. fresh broccoli florets
For Mango Sauce:
1 mango
½" piece of ginger
1 small garlic clove
¼ tsp. salt
¼ tsp. pepper
Instructions
For Tofu and Broccoli:
Begin by pressing your tofu.
While the tofu is being pressed, you will make the marinade.
Mix together the soy sauce, red onion, garlic clove, juice of clementines, and black pepper in a small bowl.
Once your tofu has been pressed, add to marinade and set aside for 20 min.
While that is sitting, preheat oven to 375°F.
Cut tofu into cubes and toss back into the marinade.
Place onto a baking sheet sprayed with non-stick spray
Bake for 25-30 minutes, turning over halfway through, until golden brown
While that is baking, steam the broccoli until fork-tender.
For Mango Sauce:
Peel and chop the mango.
Peel ginger.
Place into a blender and add salt and pepper.
Blend until smooth.
Serve on top of tofu and broccoli or as a dip on the side.
Nutrition Information
Calories:
369
Fat:
14.5
Saturated fat:
2.1
Carbohydrates:
28
Sugar:
14.1
Sodium:
28
Fiber:
6.9
Protein:
35.6
Cholesterol:
0