You are going to fall in love with how delicious and easy this Skinny Chicken Spaghetti Recipe is for your family!  My friend Kari from Craft Create Cook took my recipe and remade it to be healthier and even more delicious.  A simple and delicious meal is just what you need after a busy day working!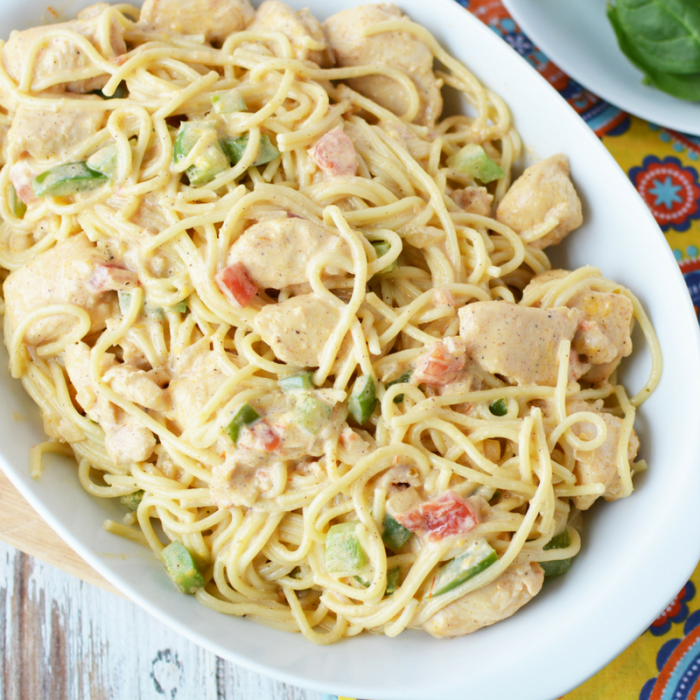 Skinny Chicken Spaghetti Recipe
This skinny chicken spaghetti recipe is a fun way to use up some chicken or just to meal plan an easy meal with simple ingredients.  Flavor is easy to add using salsa and a few common vegetables.  Meals like this are super budget friendly, and perfect for preparing in advance for a simple freezer meal option.
Skinny Chicken Spaghetti Recipe
Makes 6 Servings 1½ cups per serving 7 SmartPoints per serving on Weight Watchers FreeStyle, Flex, and Your Way Plans 8 SmartPoints per serving on Weight Watchers Beyond the Scale
Ingredients
1lb boneless, skinless chicken breast cut into 1" cubes
1 small onion, diced
½ cup mild salsa
½ green pepper, chopped
2 teaspoons garlic powder
1 teaspoon onion powder
1 teaspoon black pepper
1 teaspoon salt
1 teaspoon paprika
½ cup shredded reduced fat pepper jack cheese
½ cup shredded 2% cheddar cheese
1 cup fat-free half & half
8 ounces angel hair pasta
Instructions
Cook pasta according to package directions
Add oil, chicken, and onion to a large skillet.
Heat on medium heat for 5 minutes or until chicken is brown and onion is translucent.
Stir in salsa, green pepper, and the seasonings.
Heat on medium heat for 5 minutes, stirring frequently.
Add cheese and the half and half to the pan and cook on medium-high heat until cheese is melted, stirring frequently.
Stir in pasta and mix well to evenly coat.
Heat for an additional 3 minutes on low or until heated through.
Notes
WW Blue Plan: 5 SP
WW Green Plan: 7 SP
WW Purple Plan: 2 SP
WW Blue Plan: 5 SP
WW Green Plan: 7 SP
WW Purple Plan: 2 SP (when using whole wheat pasta)
As you can see, this skinny chicken spaghetti recipe uses just a few simple ingredients to create a delicious creamy pasta dish without all of the added fat and calories.  You could substitute fat-free cheeses, but the reduced fat shred and melt much better while not adding too many calories.  They definitely make it a much better dish in my opinion.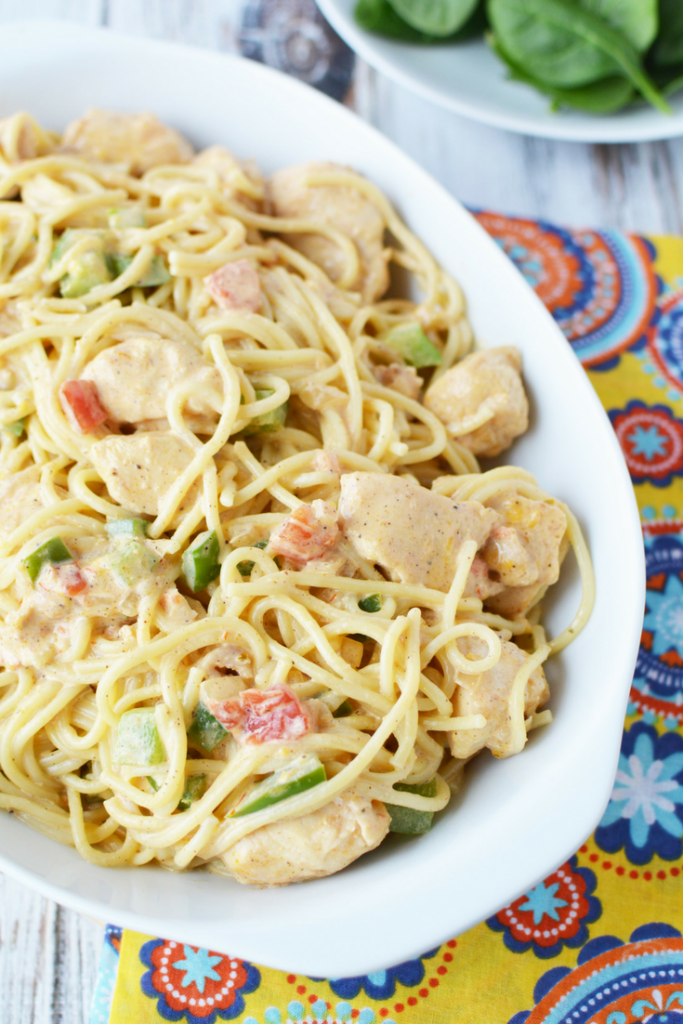 If you are looking for more great recipes, don't forget to join our Weight Watchers Support Group on Facebook!
More Weight Watchers Pasta Recipes: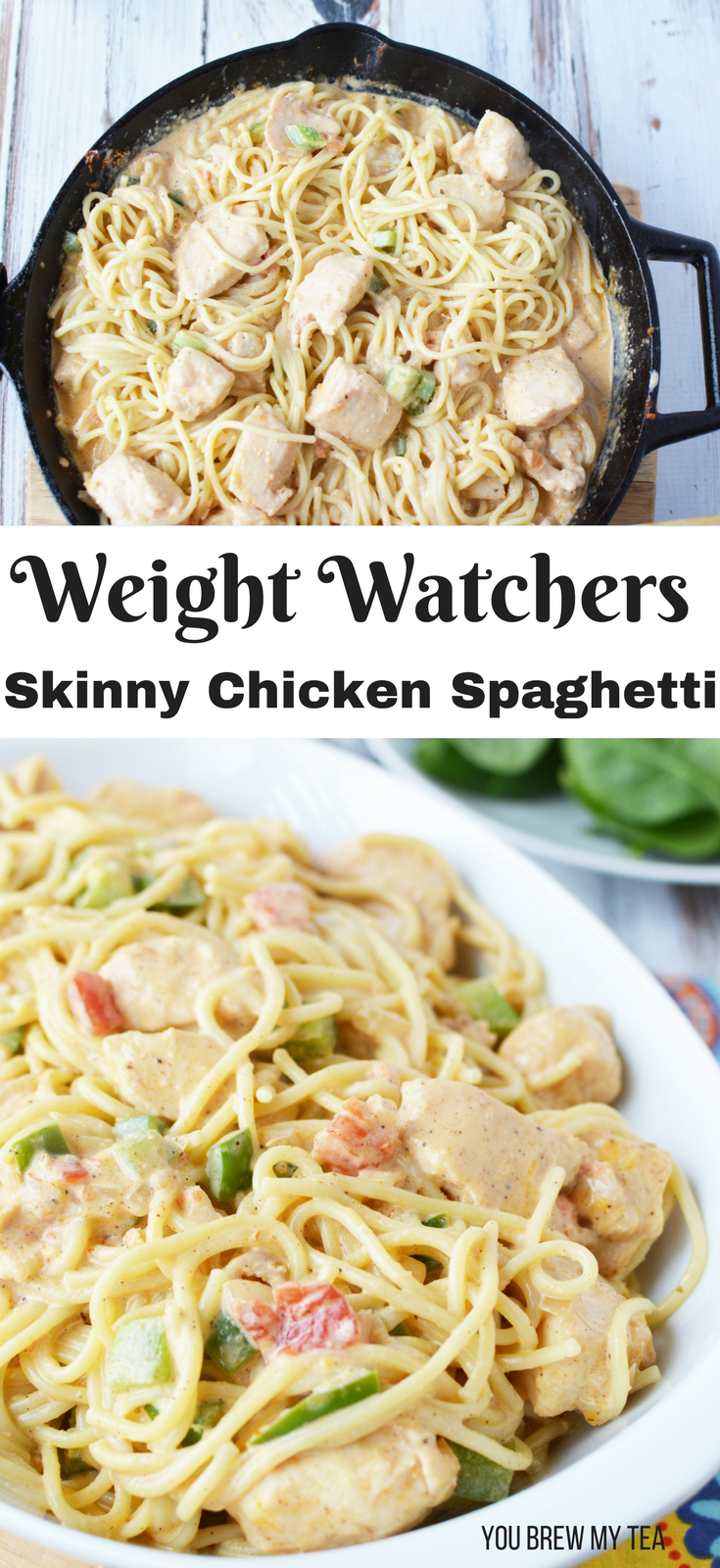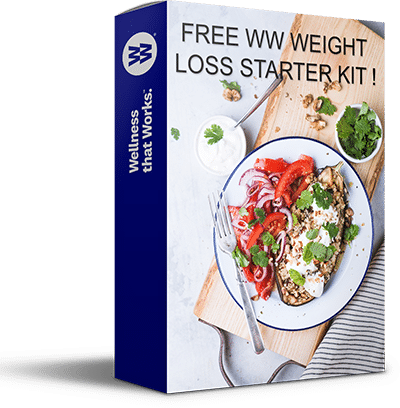 FREE WW WEIGHT LOSS STARTER KIT
+ exclusive tips, recipes & more to lose weight, increase confidence, and live a healthier and happier life !