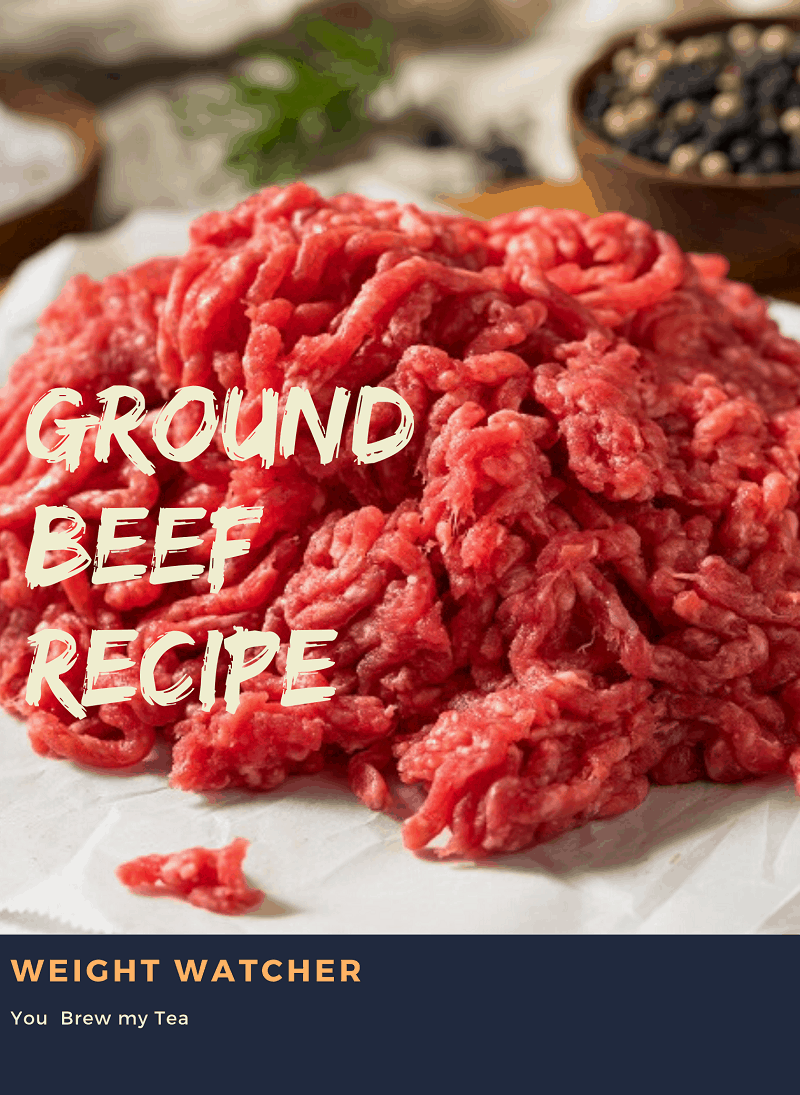 Ground Beef can be a base for your meal or a meal on its own. It can be used in a soup, molded into burgers, or loosely used as a sauce. Whatever you choose to do with your ground beef, it is a great source of iron and doesn't have to weigh you down in your day, or in your Weight Watchers points. 
The following are some low-point, high nutrient, and high taste recipes for you to try!
Related Reading: Weight Watcher Salmon Recipe
Weight Watchers Taco Soup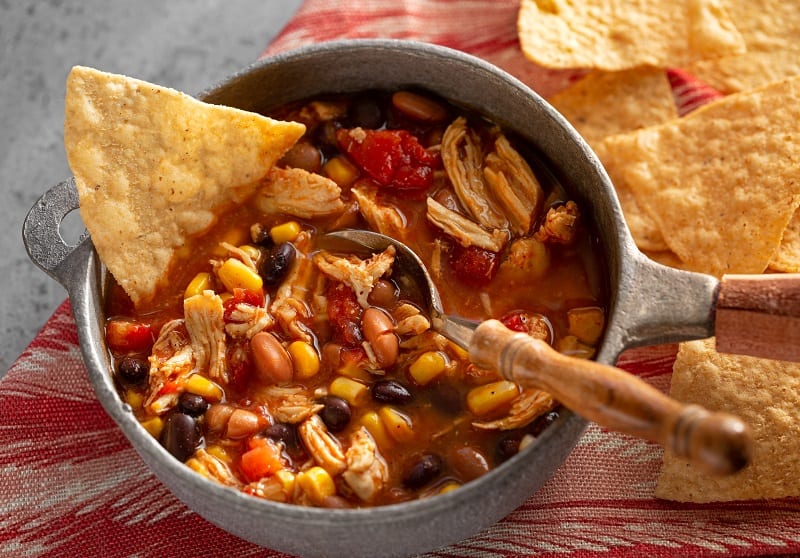 Serves: 10
Serving Size: 1 cup
Calories: 249
Prep Time: 10 min
Cook Time: 6 hr
Total Time: 6 hr 10 min
Ingredients:
1 lean ground beef

13 ¼ lean ground turkey

1 medium onion (diced)

1 packet ranch dressing mix 

1 packet taco seasoning

32 ounces Swanson chicken broth (low sodium)

14 ½  ounces tomato sauce (low sodium)

14 ½ ounces diced tomatoes (cans, with Chiles)

14 ½ ounces black beans (low sodium)

1 can corn (low sodium)
Instructions:
Step 1:
Saute onions for 2 minutes, until classic brown
Step 2:
Add ground beef and brown the meat.
Step 3:
Drain browned ground beef to remove excess fat.
Step 4:
Add ground beef mixture and literally all other ingredients to your slow cooker.
Step 5:
Cook on High for 4 hours or Low for 6 hours.

Garnish with sour cream and cheddar cheese.
It's that easy.
Juicy Hamburgers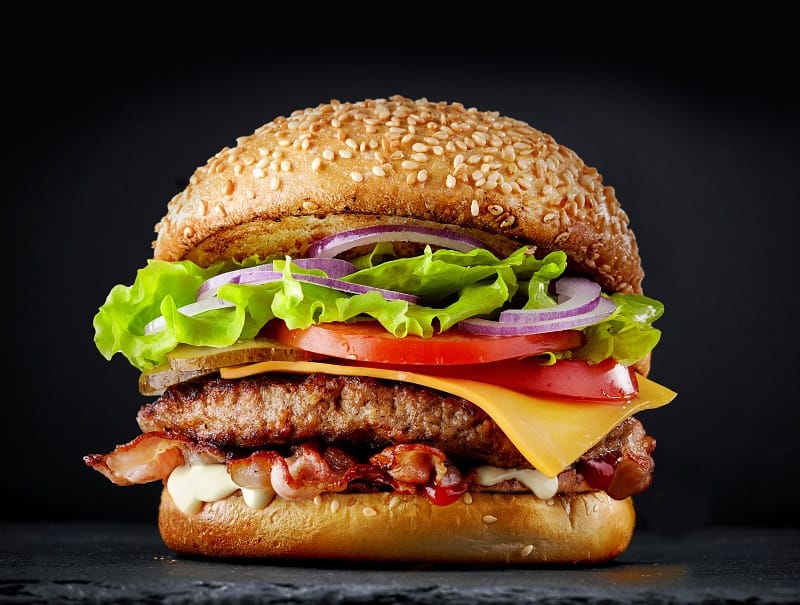 Prep and Cook: 18 Minutes
Calories: 280
Serves: 4
Ingredients: 
1 pound lean ground beef 

1 tablespoon Worcestershire sauce

2 teaspoons minced garlic

½ teaspoon table salt

¼ teaspoon black pepper 

4 hamburger buns (reduced-calorie)
Instructions:
Step 1:
Coat a large griddle, outdoor grill rack or stovetop grill pan with cooking spray and preheat to medium-high.
Step 2:
In a large bowl, combine beef, Worcestershire sauce, garlic, salt, and pepper. Mix well and shape mixture into 4 patties, about 1-inch thick each.
Step 3:
Place burgers on the hot griddle or grill and cook 5 minutes per side for medium (or longer until the desired doneness).
Serve burgers on buns with your favorite 0 POINTS value toppings.
Beef Nachos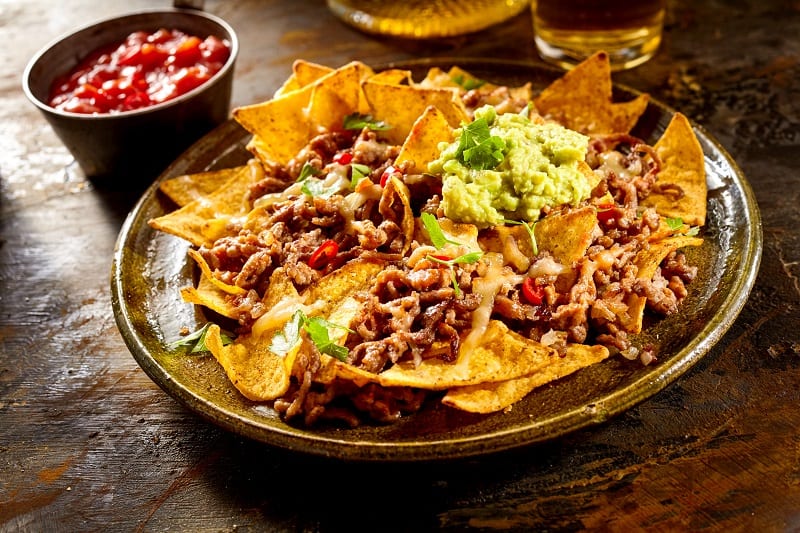 Serves: 8
Calories: 110
Prep: 12 min
Cook: 11 min
Total Time: 23 min
Ingredients:
32 low-fat tortilla chips (baked)

2 sprays cooking spray

6 ounces lean ground beef 

½ teaspoon dried oregano

½ teaspoon table salt (or more to taste)

¾ cup diced tomatoes (canned, with adobe, smoky/spicy or chipotle, hot)

⅔ cup refried black beans (canned)

½ cup low-fat shredded cheddar cheese (or Mexican cheese blend)

½ cup scallion (uncooked, finely sliced)

2 jalapeño pepper (medium, finely minced, or to taste; do not touch seeds with bare hands!)
Instructions:
Step 1: 
Preheat broiler to high. Arrange tortilla chips on a nonstick baking sheet in a single layer but close together; set aside.
Step 2:
Coat a large nonstick skillet with cooking spray; heat over medium heat. Add beef and cook until browned, breaking up meat as it cooks about 3 to 4 minutes. Season with oregano and salt; stir in tomatoes and beans. 
Step 3:
Cook until heated through, stirring occasionally, about 3 to 5 minutes.

Spoon beef mixture over chips; sprinkle with cheese. 
Step 4:
Broil until cheese melts, about 30 seconds to 1 minute. 
Step 5:
Remove from broiler; sprinkle with scallions and jalapenos. 
Meatballs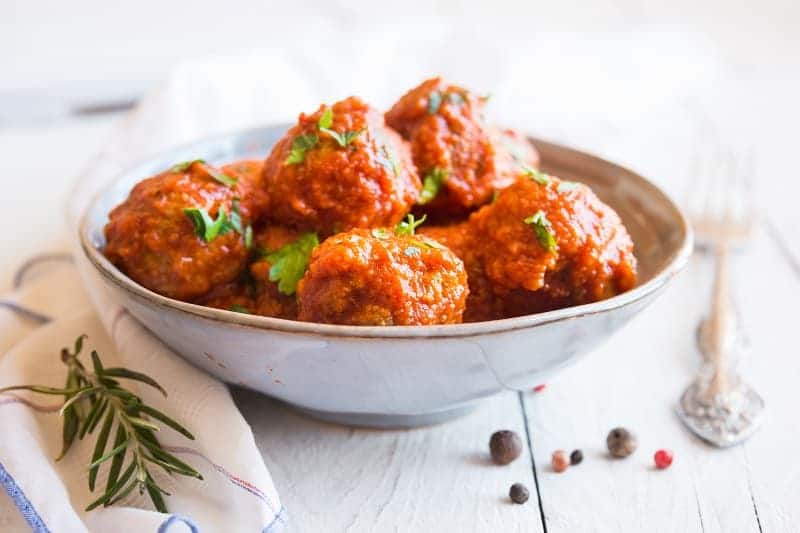 Serves: 8
Calories: 330
Prep time: 5 Minutes
Cook time: 15 Minutes
Total time: 20 Minutes
Ingredients:
1 pound 93% lean ground beef (or ground turkey)

1 cup uncooked oats (I used the quick-cooking kind)

1 egg

1 pkg onion soup mix
Instructions:
Mix and form into 42 one inch balls (about a tablespoon each). Bake at 350 for 15 minutes or until no longer pink in the middle. 2 meatballs are 1 POINT.
Meat Pie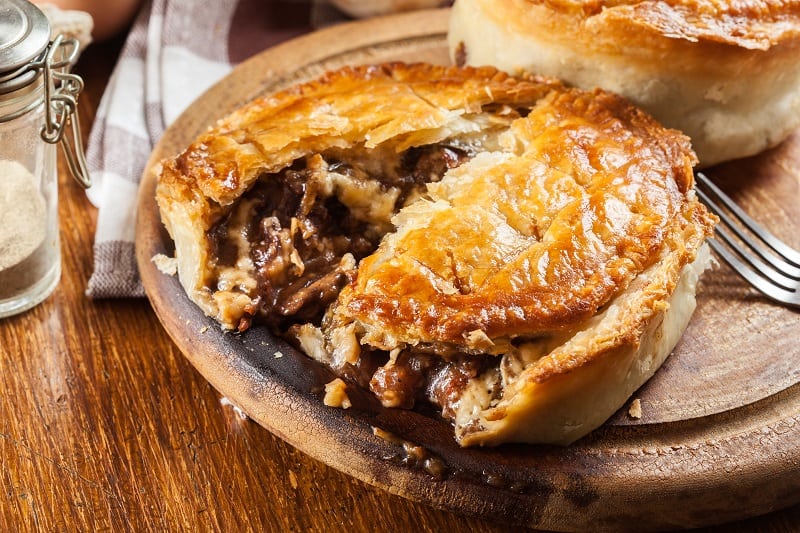 Serves: 8
Calories: 330
Prep time: 15 mins
Cook time: 25 mins
Total time: 40 mins
Ingredients
Ingredients:

1 ready to bake pie crust (we used one of the rolls from the two in a box of Pillsbury pie crust).

1.3 pounds of ground beef

½ small onion

1 cup whipped or mashed potato

season to taste
Instructions
Step 1: 
Preheat the oven to package recommendations, then roll out the pie crust and fit to the plate.
Step2: 
Prebake for about 12 minutes or until just before it starts to turn golden brown. While that is baking, cook and scramble the meat in a pan with the chopped onion. We went with slightly larger pieces of the onion to give a little more texture to the dish.
Step 3:
Cook fully through and then strain off extra fat then mix in the cup of whipped potato, this will help hold the meat together.
Step 4:
When the crust is ready to fill it with the meat, lightly press down all the way around and then return to the oven for an additional 10 to 14 minutes.
Bonus: 
If you want to get fancy, or you like to see your recipes through from start to finish - and you have the time for that- you can also make the crust yourself. Here is a pie crust recipe from scratch:
Calories: 119
1 cup all-purpose flour

1 teaspoon sugar

⅛ teaspoon salt

3 tablespoons cold unsalted butter, diced

⅓ cup low fat cottage cheese

¼ cup low-fat yogurt
Instructions:
Step 1:
In a large bowl, combine flour, sugar, and salt. With a pastry cutter, cut in butter until the mixture resembles coarse crumbs. 
Step 2:
Stir in cottage cheese and yogurt roughly, until the mixture forms a ball. Gather dough into a ball; wrap tightly in plastic wrap. Refrigerate for several hours, many people leave it overnight.
Step 3:
On a floured surface, roll out dough to a 13-inch circle. Fit dough into a 9-inch pie plate, pressing to fit and rolling the dough over to form a rim. Refrigerate until chilled, and prick the bottom with a fork.
Step 4:
For a prebaked crust, preheat the oven to 400 degrees. Line the crust with foil; fill with dried beans, rice or pie weights. Bake until the crust is set, about 10 minutes, remove foil and weights. Bake until golden, about 5-8 minutes longer. 
Step 5: