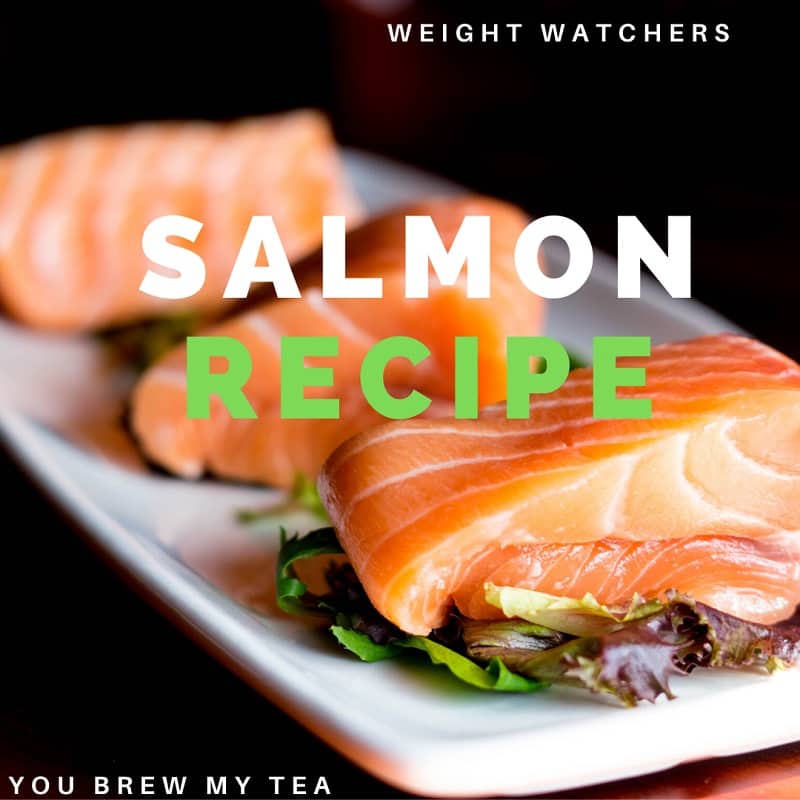 Who doesn't love a good salmon recipe? Salmon is easy to cook, and a great source of omega 3. I always have some ready to go in the freezer. 
This classic fish can be made in many ways for any time of day. Different salmon can have different fat contents, so that is something to keep an eye on. 
Your salmon meal can be a part of a colorful plate or eaten as a stand-alone with a squeeze of lemon. However you have enjoyed your salmon before, below are some quick and simple recipes that will not eat into your points, while you fill up on their goodness!  
Related Reading: Weight Watchers Chicken Marsala
Asian Sheet Pan Salmon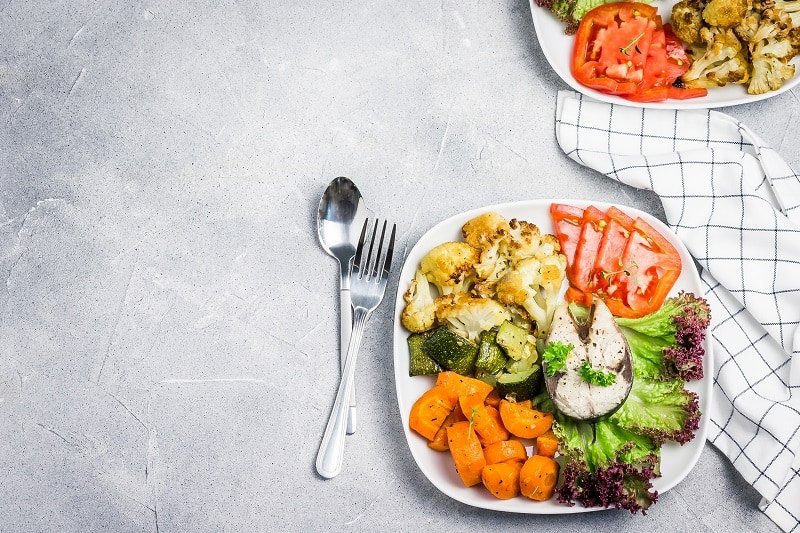 Calories: 180
Points: 0 smart points
Ingredients
1.5 lbs frozen salmon fillets 680 g

4 tablespoon gluten-free soya sauce

4 tablespoon fresh ginger

3 tablespoon fresh cilantro * you can substitute dried but it's not nearly as good!

1 tablespoon sesame seeds
Instructions
First thing's first, preheat the oven to 450 degrees F.

You will have a lined baking tray, place the salmon on a baking sheet.

Pour the soy sauce directly onto the salmon, divided equally per piece.

Grate on ginger directly onto the salmon divided equally per piece.

Sprinkle on some sesame seeds, divided equally per piece.

Top with cilantro divided equally per piece. This is clearly an optional step and one that divides many, season to taste and respect others' cilantro choices. 

Bake for 15 - 20 minutes.

Serve with lemon wedges and steamed asparagus, or whatever takes your fancy! 
Frittata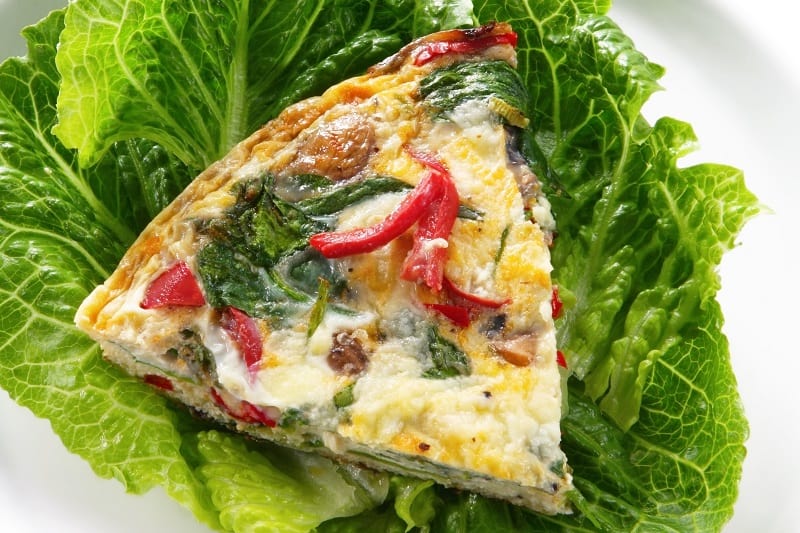 Serves: 4
Points: 4
Calories: 280
Ingredients
1 cup egg substitute

¼ cup nonfat milk

1 tablespoon fresh dill, chopped

¾ teaspoon salt

¼ teaspoon ground pepper

½ lb fresh white mushroom, sliced

1 (15 ounces) can white potatoes, drained and sliced

1 small red pepper, seeded and finely chopped

½ cup onion, finely chopped

1 (8 ounces) salmon fillets, skin removed, cut into 1-inch pieces
Directions
Step 1:
Firstly, preheat the broiler. 
Step 2: 
Lightly whisk the egg substitute, milk, dill, salt, and pepper in a medium bowl until they are nicely mixed.
Step 3:
Spray a 10-inch oven-proof nonstick skillet with nonstick spray and set over medium heat.
Step 4:
Add the mushrooms and cook over medium heat, stirring frequently, until golden brown for about 5 - 6 minutes.
Step 5:
Add the potatoes, red pepper, and onions to the skillet; cook while stirring frequently, until the bell pepper is softened, this should take about 2 minutes.
Step 6:
Add the salmon to the skillet and cook. Be sure to be turning gently to avoid breaking it up. Do this until the salmon is just opaque in the center, all up around 2-3 minutes.
Step 7:
Pour the egg mixture over the salmon and vegetables in the skillet and be careful to reduce the heat to low. Cover the skillet and cook until the eggs are set but still wet on top, this process takes around 6 - 7 minutes.
Step 8:
Place the skillet under the broiler, 4 inches away from the heat, and cook until the top of the frittata is lightly browned, 2-3 minutes. Yum!
The NEW myWW Program is Here and it's Our Most Customized Ever! WW is Weight Watchers Reimagined. Join Today!
Sweet and Spicy Mexican Salmon with Mango Pico De Gallo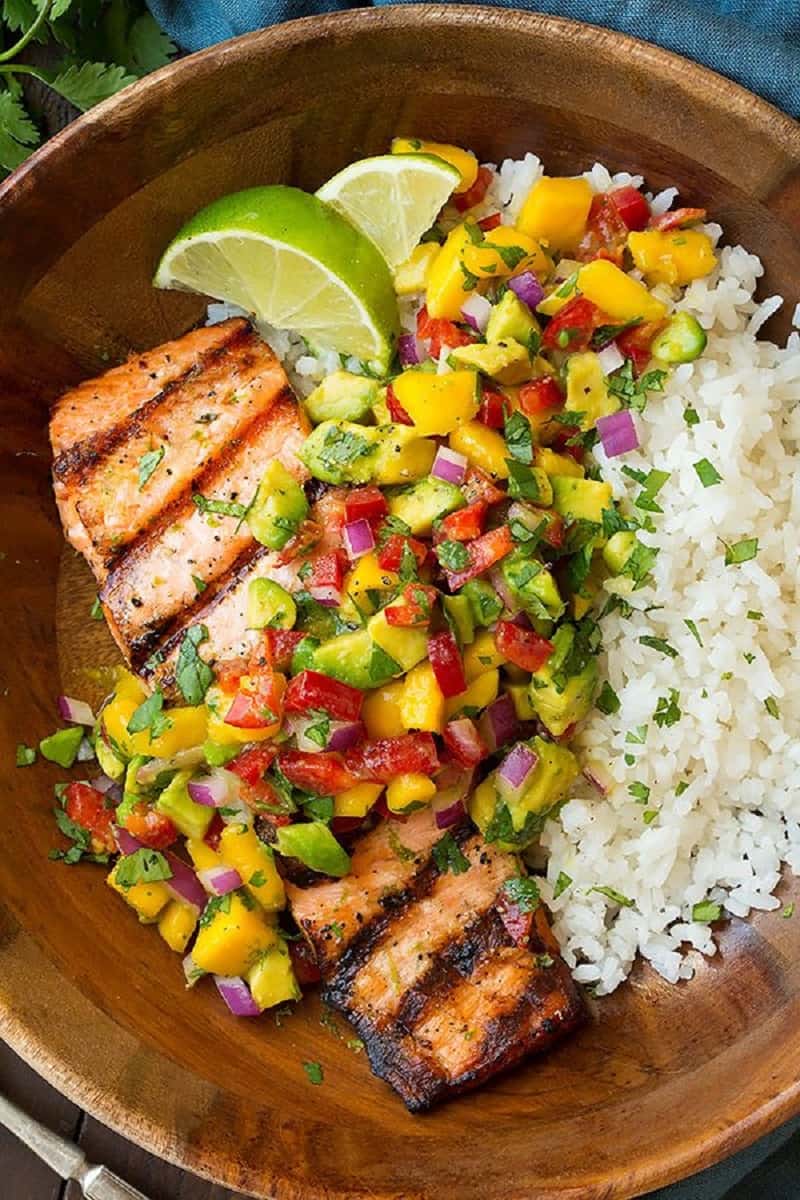 Serves: 4
Calories: 260
4 salmon fillets (wild Alaskan salmon has less fat than the farm-raised salmon)

Coconut oil cooking spray

Salt

Pepper

Chili powder

1 Tablespoon of Erythritol (substitute 1 ½ Tablespoons of honey if you are not needing it to be THM or if you are at goal weight.)

⅛ teaspoon Blackstrap Molasses

4 teaspoons of Tamari Soy Sauce (or regular soy sauce would work, too–If you are using honey instead of the erythritol drizzle the soy sauce on first)
Instructions
Step 1:
Spray a cookie sheet and the top of each fish filet with coconut oil spray and place the filets on the oiled cookie sheet.
Step 2:
Sprinkle salt, pepper and chili powder so that it has a nice coating on both sides of the filets (see picture below).
Step 3:
Stir together 1 Tablespoon of Erythritol (or honey) and ⅛ teaspoon of blackstrap molasses, then spread this mixture on top of the filets.
Step 4:
Drizzle 1 teaspoon of Tamari soy sauce on top of each filet on the cookie sheet.

Bake at 425 for 15 minutes then turn the oven to broil and broil a few more minutes (watching carefully) until nicely browned.
Mango Pico De Gallo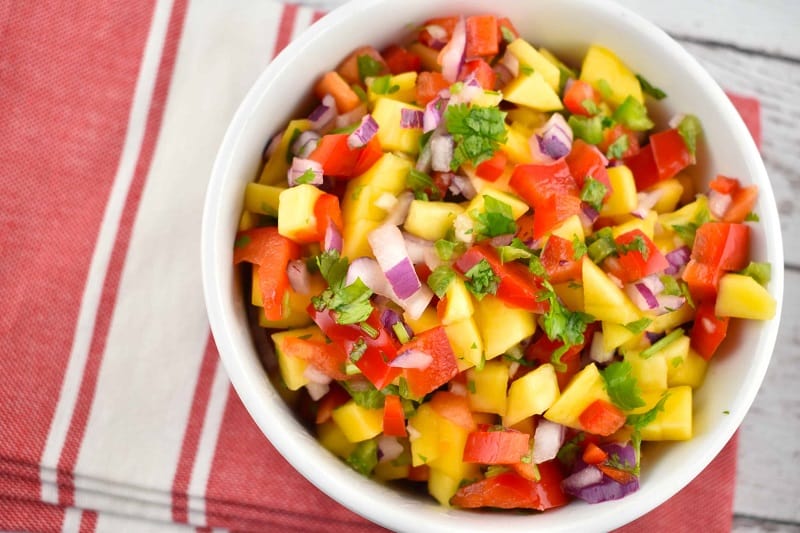 90 calories (stand-alone) 
For the Mango Pico De Gallo, the sweet to your savory salmon, you will need to prepare as follows:
1 ½ -2 cups of diced tomatoes, drain the juice so you don't end up with a big mush

1 cup of diced ripe mango frozen or fresh

½  cup of minced onion

1 medium-sized jalapeño, seeded and minced (about 3 Tablespoons)

¼  cup minced fresh cilantro

1 teaspoon salt 

½ teaspoon pepper (or to taste)

Thaw the mango chunks (I usually just stick them in a container in the fridge overnight and they are perfect the next day) and chop them.  Add remaining ingredients and stir.  
It is that simple.