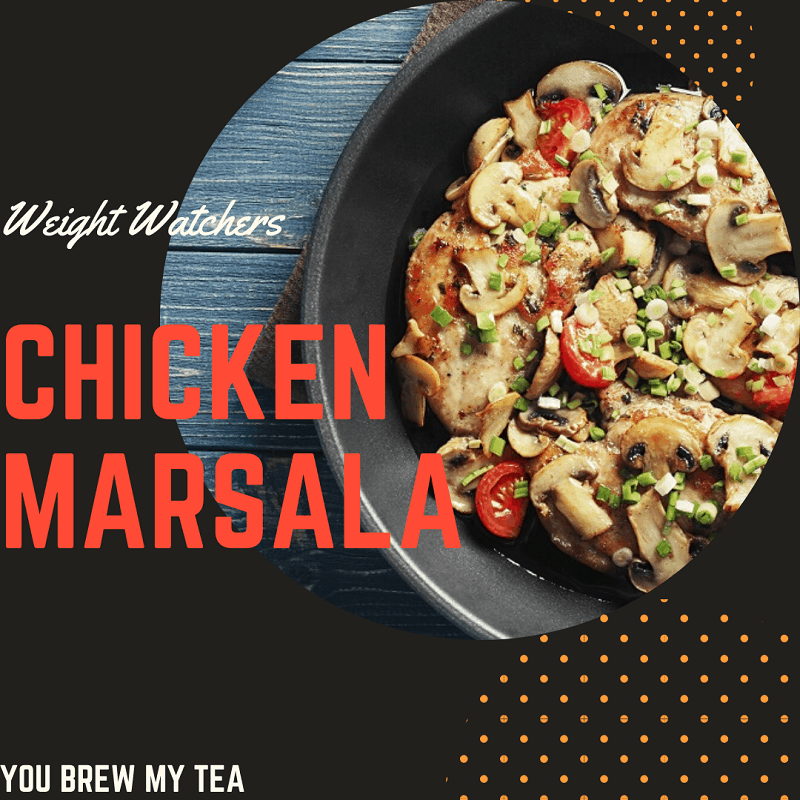 Chicken Marsala is one of those dishes that takes a little attention, but not much fuss at all considering its impressive and tasty outcome. The following recipe is one of our favorites. It yields about 3 ounces of chicken and ⅓ cup of sauce per serving. 
Aside from this great main dish, nothing tops a great meal like a great side. Your chicken marsala deserves the best sidekick side-dish to bring out its best. Below you will find our best recipe for a hearty and healthy chicken marsala, as well as some grade-A side dishes to complete your WW approved feast. 
Related Reading: Weight Watchers Simply Filling
Ingredients:
2 teaspoons olive oil

1 cup fresh mushrooms, sliced

1 lb boneless skinless chicken breast, four 4 oz pieces

1 teaspoon dried thyme

½ teaspoon table salt (more or less to taste)

¼ teaspoon black pepper

½ cup marsala wine

1 ¼ cups reduced-sodium beef broth, divided

1 ½ tablespoons cornstarch
Instructions:
Step 1:
Heat oil in a large skillet over medium-high heat. Add mushrooms and sauté until tender and releasing liquid, about 5 minutes.
Step 2: 
While they are on the flame, place your chicken on a plate and season both sides with thyme, salt, and pepper. The greater the rub, the more intense the flavor. 
Step 3:
Push the mushrooms to the outer edge of your skillet once they are cooked through, to make room for the chicken, which you will then place in the center of your skillet. Sauté until beautifully golden. This process should take about 2 to 3 minutes per side.
Step 4:
Add wine to the skillet and let simmer for 1 minute. Pour in ¾ cup of broth and let simmer, uncovered until the chicken is tender and cooked through. This process should take about 8 minutes.
Step 5:
With the remaining ½ cup of broth, you are going to dissolve your cornstarch in a separate bowl. Once dissolved, add to the skillet. Simmer it all until the sauce thickens, remembering to be stirring constantly and incorporate your mushrooms into the liquid, all up this should take no more than about 1 minute. 
To Serve:
Serve chicken with mushroom sauce spooned over top. 
Good chicken masala is only made better with the perfect side. Below are a few of our favorite additions, all within Weight Watcher's guidelines. 
The NEW myWW Program is Here and it's Our Most Customized Ever! WW is Weight Watchers Reimagined. Join Today!
Creamy Low-Calorie Mashed Potatoes Recipe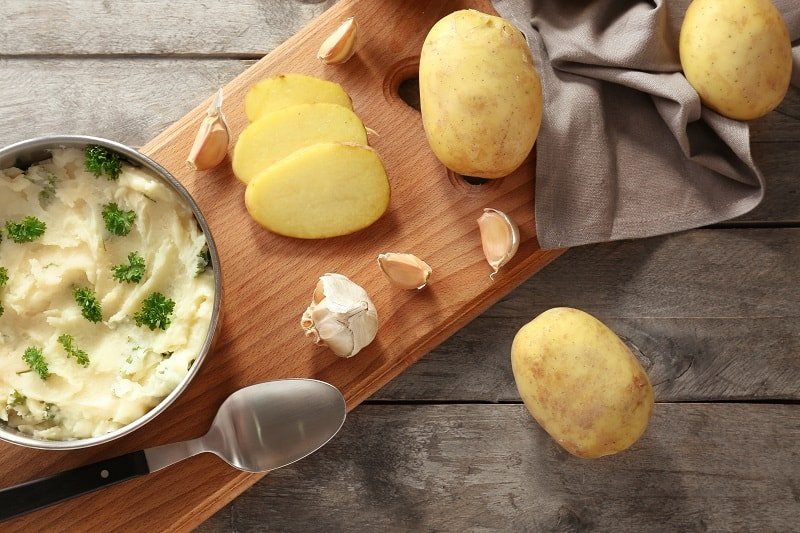 Calories: 140
Serving size: ⅔ cup
Points: 5 
Serves: 
PREP TIME: 10 MINS
COOK TIME: 15 MINS
TOTAL TIME: 25 MINS
Ingredients
2 pounds baking potatoes, peeled and cut into 1-inch chunks

½ teaspoon salt

¾ cup reduced-fat (2%) milk

1-½ tablespoons olive oil

Salt and black pepper to taste
Instructions
Step 1:
Place the potatoes in a large saucepan. Add enough water so they are covered by at least 1 inch. Add ½  teaspoon of salt. 
Step 2:
Turn the heat to high and bring the water to a boil.
Step 3:
Reduce heat and simmer until the potatoes are tender, 10-15 minutes. 

Drain well.
Step 4:
Add the milk and oil to the potatoes. With a potato masher or electric mixer, mash the potatoes until they are smooth.
Step 5:
Taste and adjust seasonings, adding more salt and pepper, as necessary. 
Cheesy Cauliflower Rice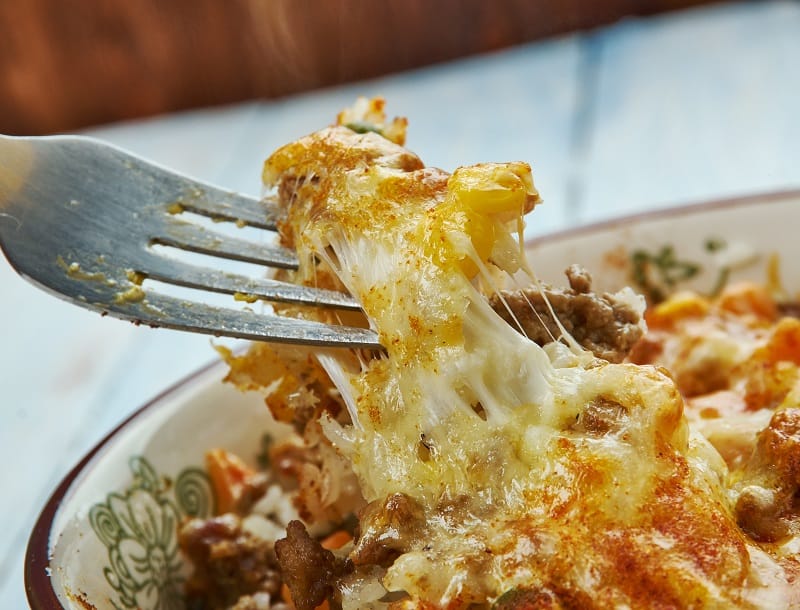 Serves:
Points: 2
Ingredients 
4 cups cauliflower rice

1 tbsp. light buttery spread

2 tsp. minced garlic

¼ cup chicken broth

3 tbsp. fat-free half & half

3 tbsp. grated Parmesan cheese

2 tbsp. light cream cheese

2 tsp. onion powder

¼ tsp. salt

⅛ tsp. black pepper
Instructions:
Step 1:
Grab your

extra big skillet

and melt the light buttery spread over medium to high heat.

Add in the garlic.

Cook and stir for about 2 minutes.
Step 2:
Reduce the heat to medium and stir in cauliflower rice and broth. Cover and cook for 10 minutes, stirring occasionally.
**I like to buy already made riced cauliflower in the freezer section.  You can also make your own. If you use frozen – just thaw it out in the refrigerator or microwave before this step!
Step 3:
Go ahead and reduce heat to medium-low. Add in all of the remaining ingredients.

Cook this mixture while stirring until cheese has melted and the mixture is uniform. It doesn't take long–maybe 2 to 4 minutes.
Roasted Garlic Parmesan Potatoes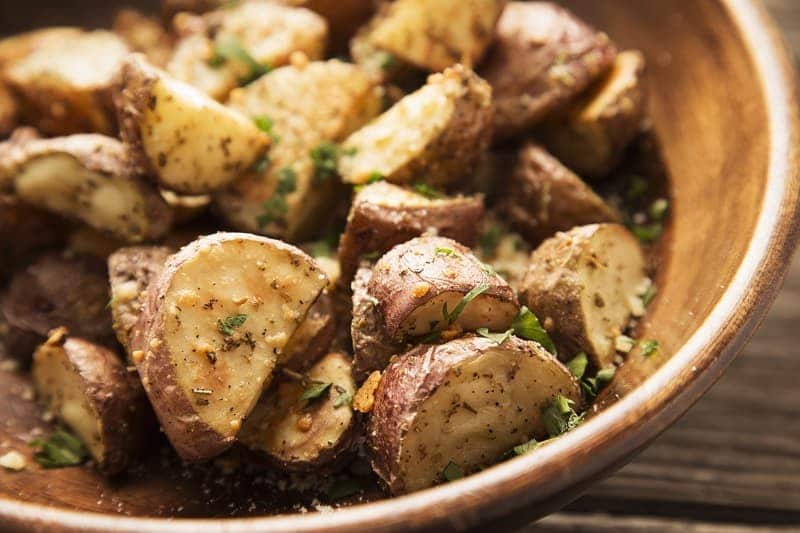 Serves: 7
Points: 5
Ingredients
4 large potatoes, washed, peeled and cut into cubes.

1 tablespoon olive oil

2 fresh garlic cloves, diced

½ tablespoon oregano

¼ cup finely grated parmesan cheese
Instructions
Step 1: 
Preheat oven to 400F, spray a baking sheet with some non-stick spray.
Step 2: 
Peel and cut your potatoes into cubes, about 1-1.5 inch cubes.
Step 3:
In a bowl toss potatoes with olive oil, parmesan, garlic, and oregano.
Step 4:
Lay potatoes out on a baking tray and bake in the oven for 35-40 minutes, turning every 10 minutes.
Lentil Tabbouleh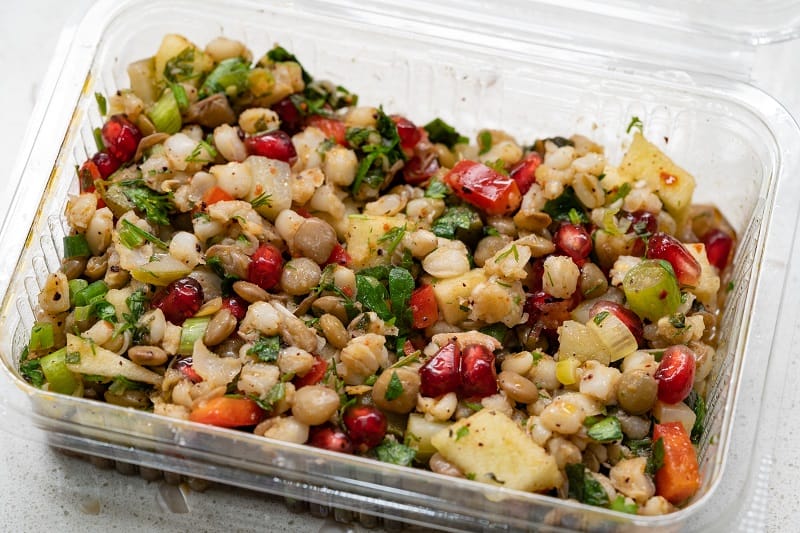 Serving size: ¾ cup
Points: 4
Ingredients
Dry lentils 1 cup(s), rinsed and picked over to remove debris

Water 2½ cup(s) 

Plum tomatoes 2 medium, diced (about 1 cup)

Olive oil 2 Tbsp, extra virgin

Uncooked red onion(s) ¼ cup(s), chopped

Table salt ¾ tsp, or to taste

Black pepper ¼ tsp, freshly ground, or to taste

English cucumber(s) 1 cup(s), diced

Fresh parsley ⅓ cup(s), chopped

Fresh lemon juice 2 Tbsp
Instructions
Step 1:
Over high heat, bring lentils and water to a boil in a medium saucepan. Then reduce the heat to medium-low and let it simmer, leave it partially covered until the lentils are tender but not mushy about 25 minutes.
Step 2:
In a large bowl, combine tomatoes, oil, onion, salt, and pepper until well-mixed; While lentils cook, toss it occasionally.
Step 3:
Drain lentils; set aside to cool.
Step 4:
Add it all together for a healthy, fresh side! 
More Chicken Recipes