I have been looking for SmartPoints recipes and decided that it was high time I adapt my favorite enchilada bake to reflect healthier options.  We are kind of crazy for anything that has Mexican or Tex-Mex flavors.  It definitely helps stay within my points range if I feel the flavors are satisfying.  So, this Weight Watchers Chicken Enchilada Bake is a perfect option that is super easy to portion.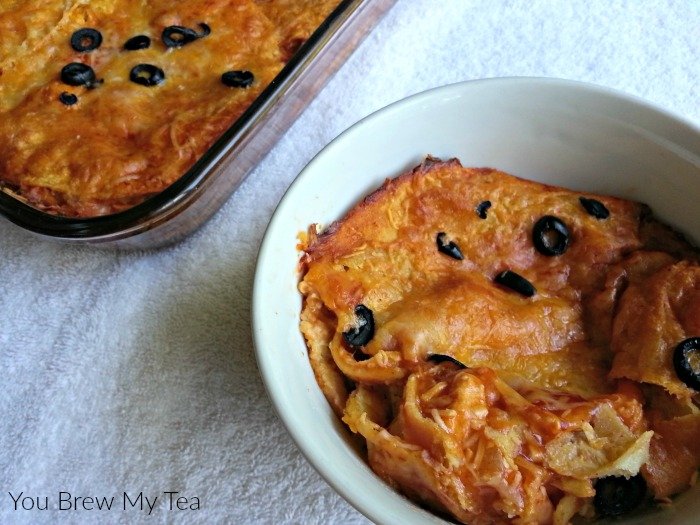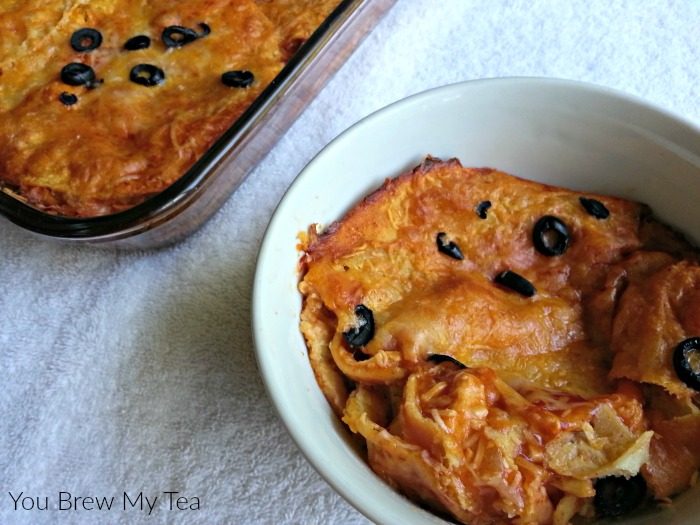 Weight Watchers Chicken Enchilada Bake
This post contains affiliate links.  
I start this enchilada bake with salsa chicken breasts.  I usually grab a 40lb. box of chicken breasts any time Zaycon is in the area, so I always have them on hand in my freezer.  For $1.69lb - I can't miss that deal.  If you prefer chicken breast and especially antibiotic-free options, Zaycon is the way to go.  If you aren't familiar with
If you aren't familiar with salsa chicken, it is a super easy method.  You just pour a jar of your favorite salsa over chicken breasts and cook in the oven or slow cooker until done.  2-3 hours in the slow cooker, or 45 minutes to an hour in the oven.  For this enchilada bake, you can easily shred the chicken, or simply dice it.  I use this method of cooking chicken 2-3 times a month.  It's a great batch-cooking method since it is so versatile.  We make it into tacos, this enchilada bake, and even sandwiches or on top of salads.
Assembling your enchilada bake is super easy. You can add the bell pepper and onion like I do, or you can do just chicken and cheese.  We prefer the added caramelized pepper and onion, so while I am dicing the chicken up, I simply saute my peppers and onions until they are cooked through and caramelized nicely.  Then I mix them, ½ the cheese, and the chicken together with ½ cup enchilada sauce.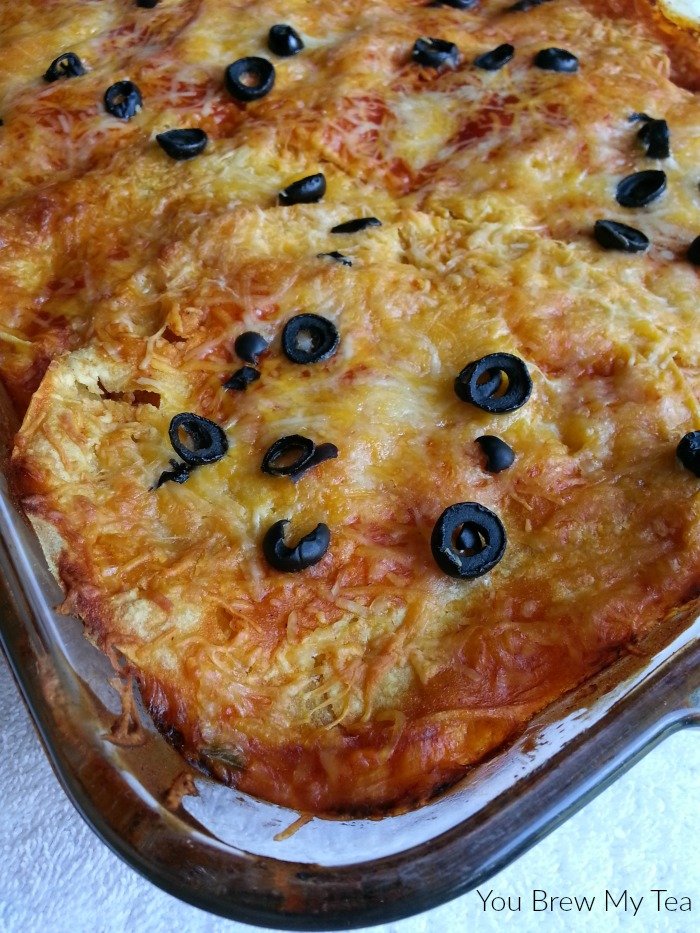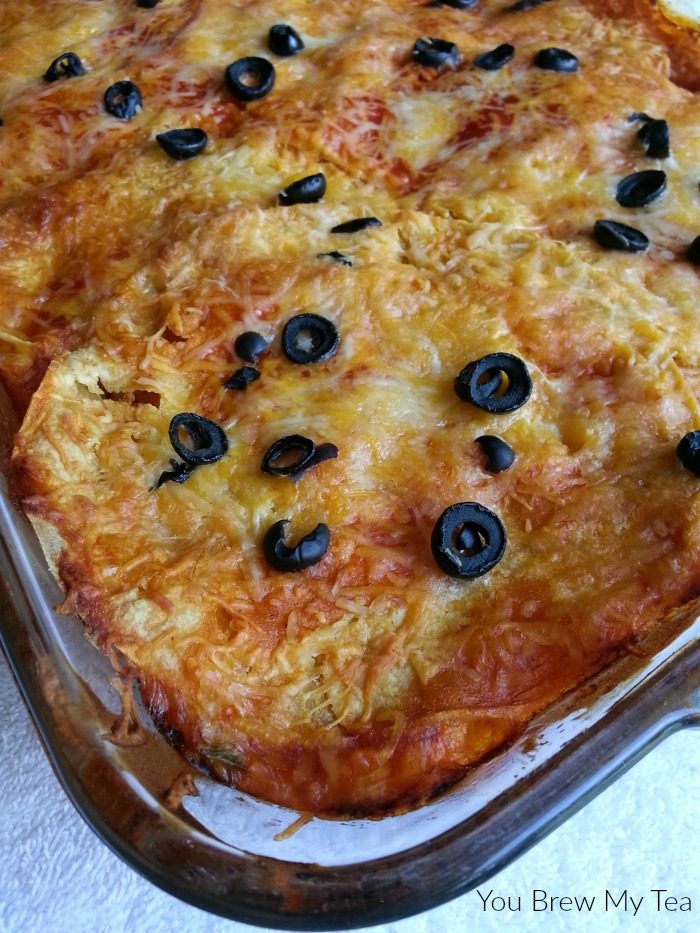 I pick thin corn tortillas for this Weight Watchers recipe since they are lower in fat and calories.  When you shop for tortillas, you may notice that some brands have a thicker and fluffier option.  Skip that and go for the classic thinner corn tortillas.  No need to waste calories.
The process from this point is simply a few simple layers like a lasagna. The Wee Child likes helping with this.  He loves assembling recipes, and since this one doesn't really take much cooking outside of the oven, it's one dish I can trust him to make on his own with a little supervision.  I recommend spraying the bottom of your 9x13" casserole dish with non-stick spray before you begin layering to prevent anything from sticking.
Start with 6 tortillas on the bottom of your dish.  Layer ½ the chicken and cheese mixture, then sprinkle with ⅓ the remaining cheese.  You'll top with another 6 tortillas, the rest of the cheese mixture, and another ⅓ of the remaining cheese.  Finally, you top with 6 more tortillas and then cover with remaining enchilada sauce.  Finally, top with the last of the cheese and sprinkle with a few sliced olives.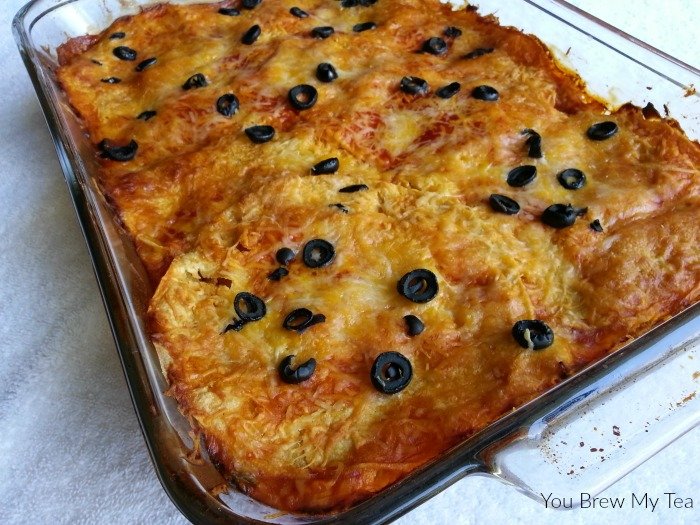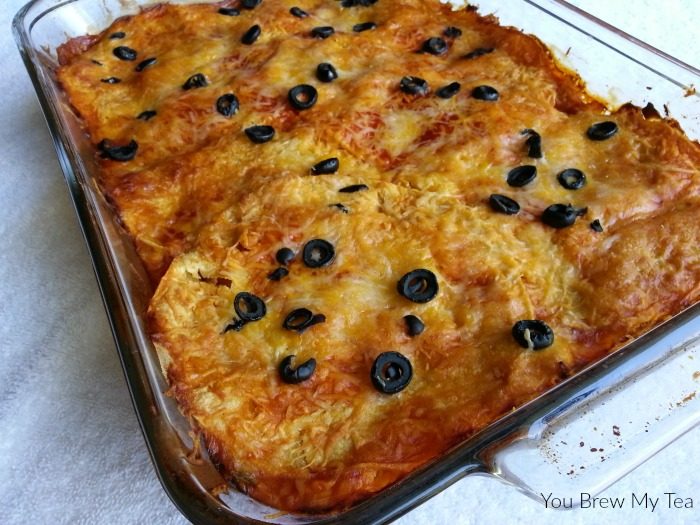 Weight Watchers Chicken Enchilada Bake
Ingredients
18 thin corn tortillas
4 cups boneless skinless chicken breasts, diced or shredded
2 cups enchilada sauce
1 cup shredded 2% cheddar cheese
1 onion, diced
1 bell pepper, diced
1 teaspoon olive oil
¼ cup sliced black olives
Instructions
Preheat oven to 350 degrees.
Spray 9x13 casserole dish with non-stick cooking spray and set aside.
Heat olive oil in medium skillet, and saute bell pepper and onion for 5-7 minutes or until cooked through and beginning to caramelize. Remove from heat and set aside.
In a large bowl, mix together chicken, ½ cup enchilada sauce, ½ cup cheese, bell pepper, and onion.
Layer 6 tortillas in bottom of casserole dish. Top with ½ chicken mixture, and ⅓ remaining cheese.
Top this layer with 6 more tortillas, remaining chicken mixture, and another ⅓ cheese.
Top with 6 more tortillas.
Pour remaining enchilada sauce over casserole and spread until tortillas are well covered.
Top with remaining cheese and sliced olives.
Bake at 350 degrees for 35 minutes or until cheese is melted and bubbling.
Makes 12 Servings
5 Pointeaspoonlus per serving
4 SmartPoints per serving on FreeStyle Plan and FlexPlan
5 SmartPoints per serving on Beyond the Scale
Once this delicious Weight Watchers Chicken Recipe for an Enchilada Bake comes out of the oven, you'll want to let it cool for a few minutes before slicing it and serving.  You can top with a dollop of fat-free sour cream, or serve with a light side salad topped with your favorite vinaigrette.  Since it is so low in points, you can afford to add a few other toppings to it like lettuce, tomato, salsa, or guacamole.  You can save your points earlier in the day and have a double portion.
I use the Weight Watchers Recipe Builder to calculate the points for this dish.  I can't say enough about the Weight Watchers program and how much it has done for me.  So if you are wavoring on the investment, I say go for it.  You can do it fo under $20 a month!  I'm not associated with them, and they don't pay me to say that - I just adore the program.   If you don't have access to the online or app recipe builder, I recommend using the Weight Watchers SmartPoints Calculator to figure points.
This Weight Watchers Chicken Enchilada Bake is definitely an excellent choice for a slow cooker meal, freezer meal, and simply a regular on our menu plan.  Since it is so yummy and easy to make, I am pretty sure we will be having this a few times a month.
More Weight Watchers Recipes: