With the update to the Weight Watchers Program, new zero points lists are needed. This plan means that everyone except diabetics has the same foods on the list! Here is a set of printable zero-point food lists for you to keep on hand. These are handy for when you are meal planning, shopping, or looking for a snack to supplement your regular menu.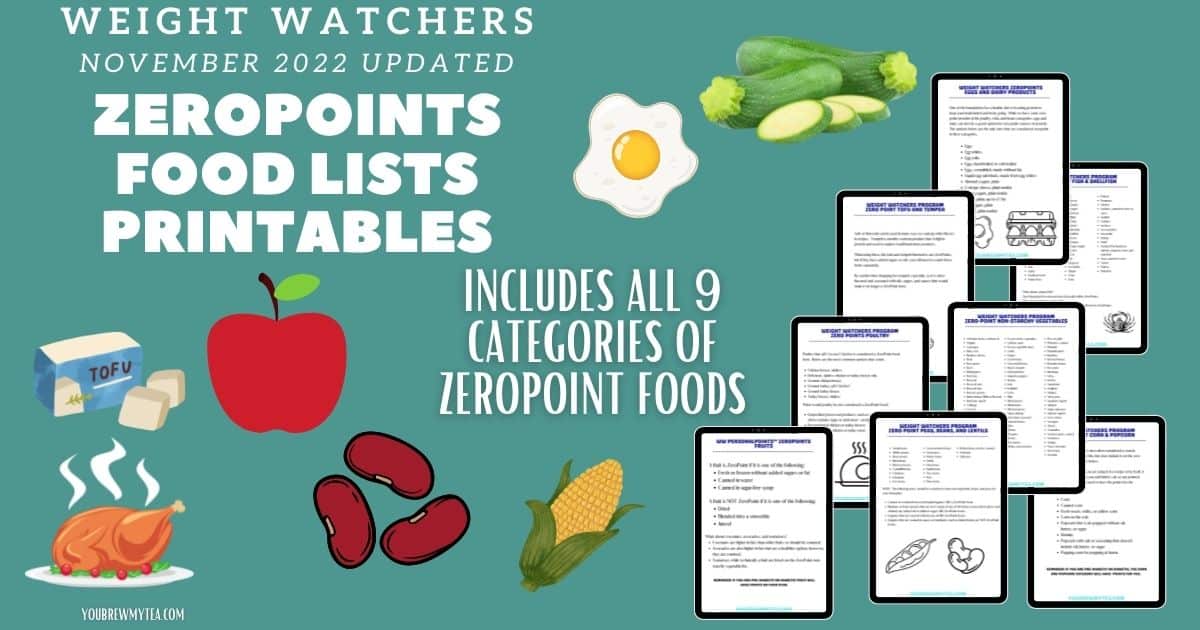 Printable Weight Watchers Zero Point Foods Lists
If you haven't started with the latest update or just need a refresher on the changes, make sure you start by checking out our post detailing the Weight Watchers Program Changes in November 2022. You can also go and print out our Weight Watchers Program 1 Week Meal Plan right away to help get you started. You'll notice it includes a lot of our favorite zero-point foods.
What Foods Are No Longer ZeroPoints?
Some will be sad to see that a few of the more recent zero-point items from PersonalPoints are no longer on the list. This doesn't mean they are bad for you, it just means they tend to be an issue for many in regard to the success of the plan. These items may not all add bulk in calories, but they can be an issue due to how they metabolize and create glucose in your system.
No longer included as zero points:
Potatoes
Whole grain pasta
Brown rice
Oatmeal
Avocado - while this doesn't affect glucose, it is dense calories which can cause some to stall in weight loss.
What Foods Are New to ZeroPoints Foods Lists?
While these foods have been on the list in the past in some form or other, they are updated this year and are worth mentioning. These items help add more variety to your menu and can be a great source of nutrition and added protein.
All fish and shellfish - while this has been on the list before, there has been confusion regarding what fish. This does include ALL fish or shellfish, even salmon, which has a higher fat content.
Almond milk yogurt, plain unsweetened
Soy yogurt, plain unsweetened
Plain yogurt, unsweetened no flavor
Quark, plain up to 1%
Non-Fat cottage cheese
Non-fat Greek yogurt has been a zero-point food for several years and is still included on this list. This year you have clarification in regards to alternate yogurt products as listed. Adding cottage-cheese is another excellent source of protein with low calories.
What Is Different About ZeroPoints Foods on the Diabetic Plan?
This latest plan update has turned back to the more traditional method of everyone following the same plan again. The only thing they did include in this from the past PersonalPoints plan, is the inclusion of something extra for those who are pre-diabetic or diabetic. The notable difference is in the zero-point foods lists.
Due to the nature of sugar and carbohydrates in relation to blood glucose, Weight Watchers has decided it is beneficial for diabetics to count points for a few items that tend to be in that category. Below are the items that while zero for most, will be pointed if you have indicated that you are diabetic or pre-diabetic.
All fruit
Corn and hominy
Air-popped popcorn
Fruit is Healthy So Why Restrict It?
Fruit is healthy and full of fiber and vitamins, however, it is also filled with naturally occurring sugar. In many diabetics' diets, this can cause an increase in blood glucose. So, making sure it is monitored is important.
This doesn't mean you can't enjoy fruit as a diabetic. It just means you should be aware of how much and what type of fruits work best with your personal glucose needs. Some examples of choices below to consider.
1 cup strawberries = 1 point
1 cup watermelon = 2 points
1 medium apple = 3 points
As you can see, these three fruits have approximately the same volume per serving but have different points. This is directly related to the way they affect blood glucose and the amount of natural sugar occurring. So, while you may normally have to reach for an apple a few times a day, this shows you that a healthier option for you as a diabetic would be the strawberries as they have a lower glycemic index and will affect your blood sugar less.
How Do I Use ZeroPoint Foods Successfully?
Print The Zero Point Foods Lists HERE!