If you have an air fryer, you may already know how great air fryer vegetables can be, if not, you are in for a treat! These easy air fryer mixed vegetables with a hint of parmesan are crispy, tasty, and ready in minutes. Plus, with limited oil added, they are super healthy and ideal for any meal plan!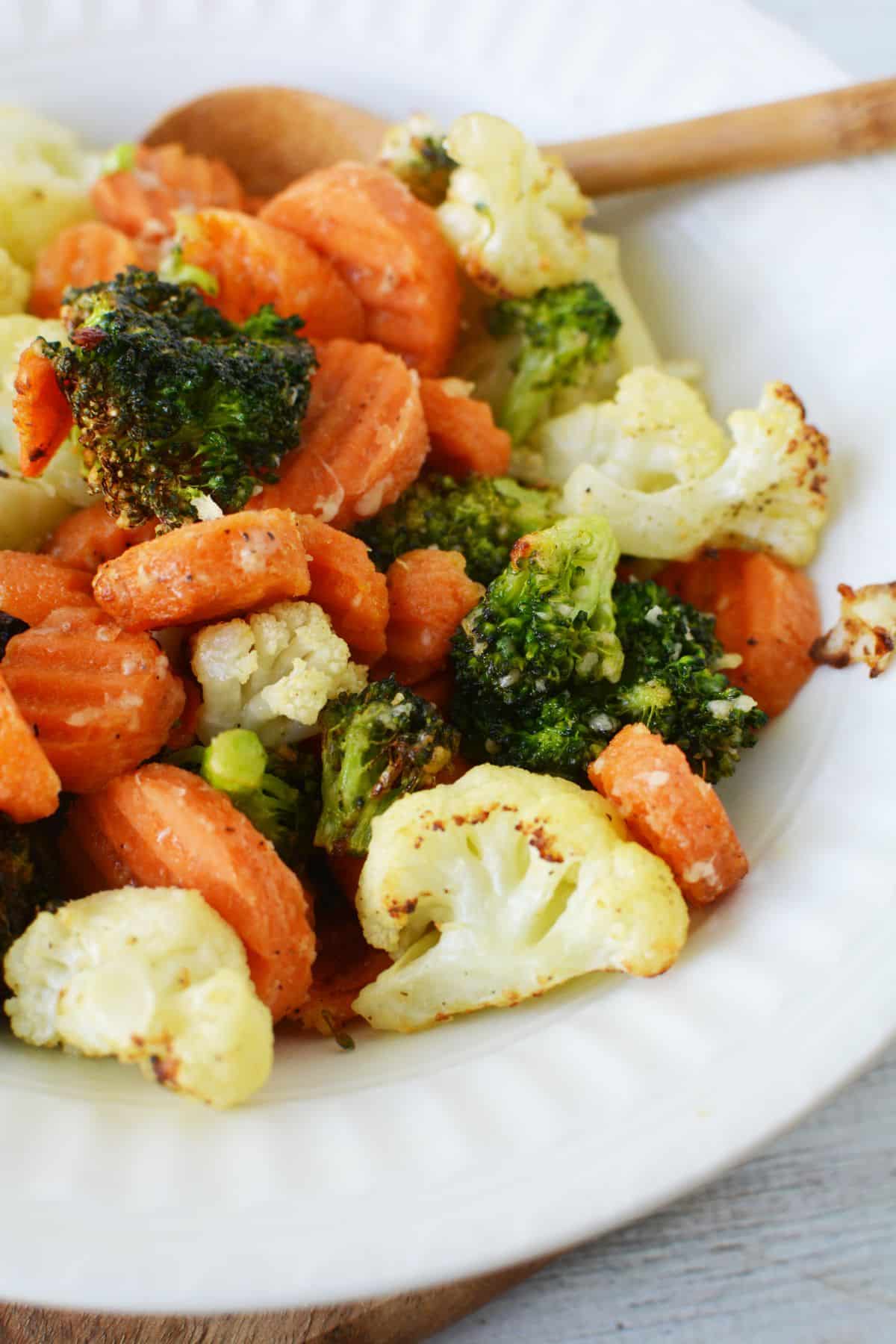 Air Fryer Vegetables with Parmesan
The best part of this recipe is that it can be done with both fresh and frozen vegetables. So, no matter what is seasonal, you can whip up a batch of these in just around 10 minutes' time! The addition of a little cheese gives it a nice flavor that kids will love, so serving that side of vegetables doesn't mean they will make a face.
One of the best parts though is that you get those crispy edges and tender inside without having to heat up the house for a long time with the oven. Depending upon the size of your vegetables, this can be ready in minutes. I find it the perfect choice to go alongside this broiled salmon or the Weight Watchers Salisbury steak.
You may also want to check out our Weight Watchers Program 2022 changes and updates as well as our post with printable Weight Watchers zero points foods list. And if you aren't sure where to begin, make sure you grab our Weight Watchers program printable meal plan.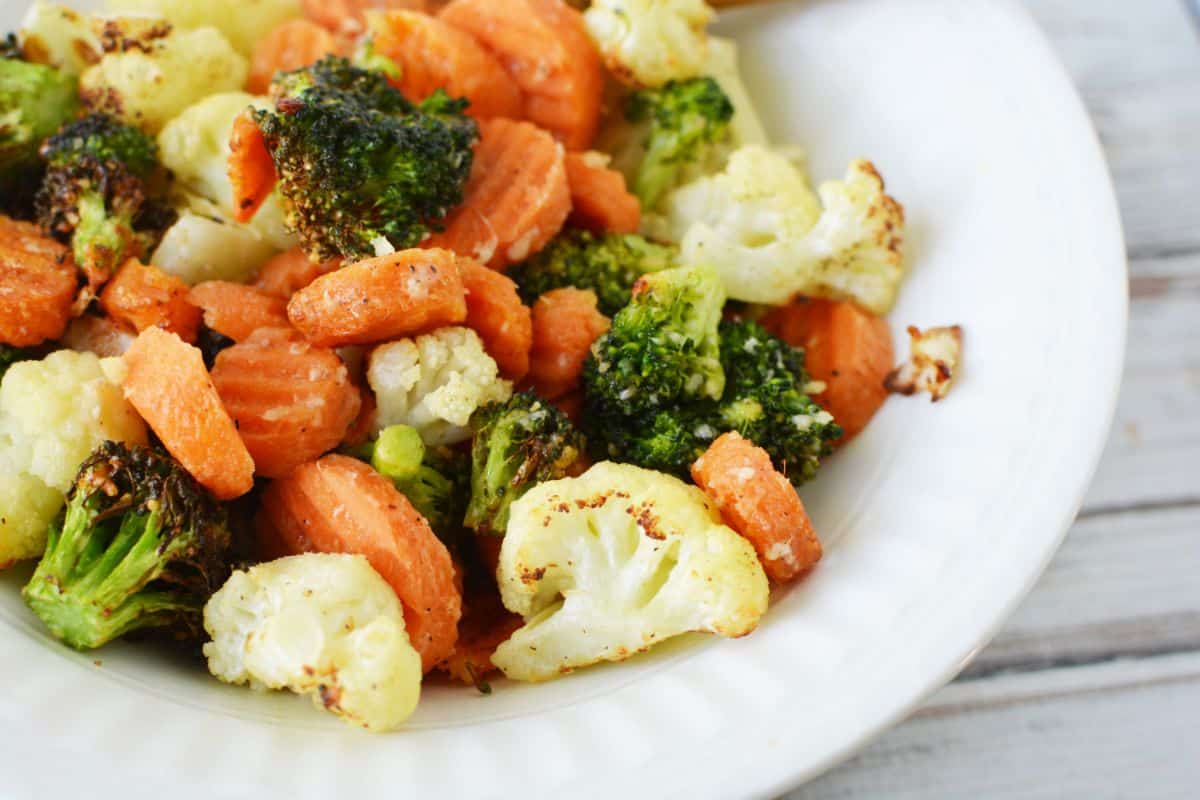 Ingredients
1 cup cauliflower, cut into small pieces
1 cup broccoli, cut into small pieces
1 cup carrots, cut into chunks
1 tablespoon olive oil
½ teaspoon salt
½ teaspoon black pepper
1 teaspoon Italian seasoning blend
¼ cup grated Parmesan cheese
Kitchen Tools Used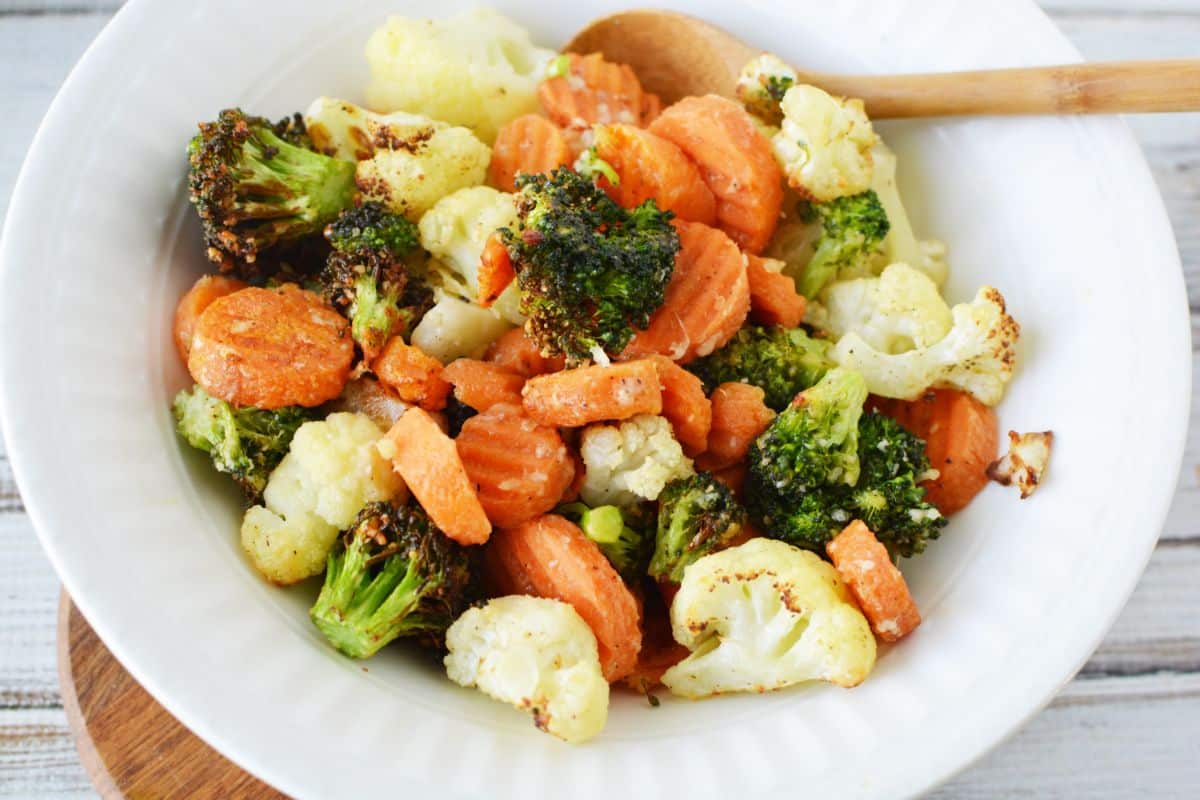 How to Make Air Fryer Parmesan Roasted Vegetables
Prepare your vegetables by cutting them into bite-sized pieces. The cauliflower and broccoli can just be cut into small florets while the carrots cut into ½" pieces or rounds.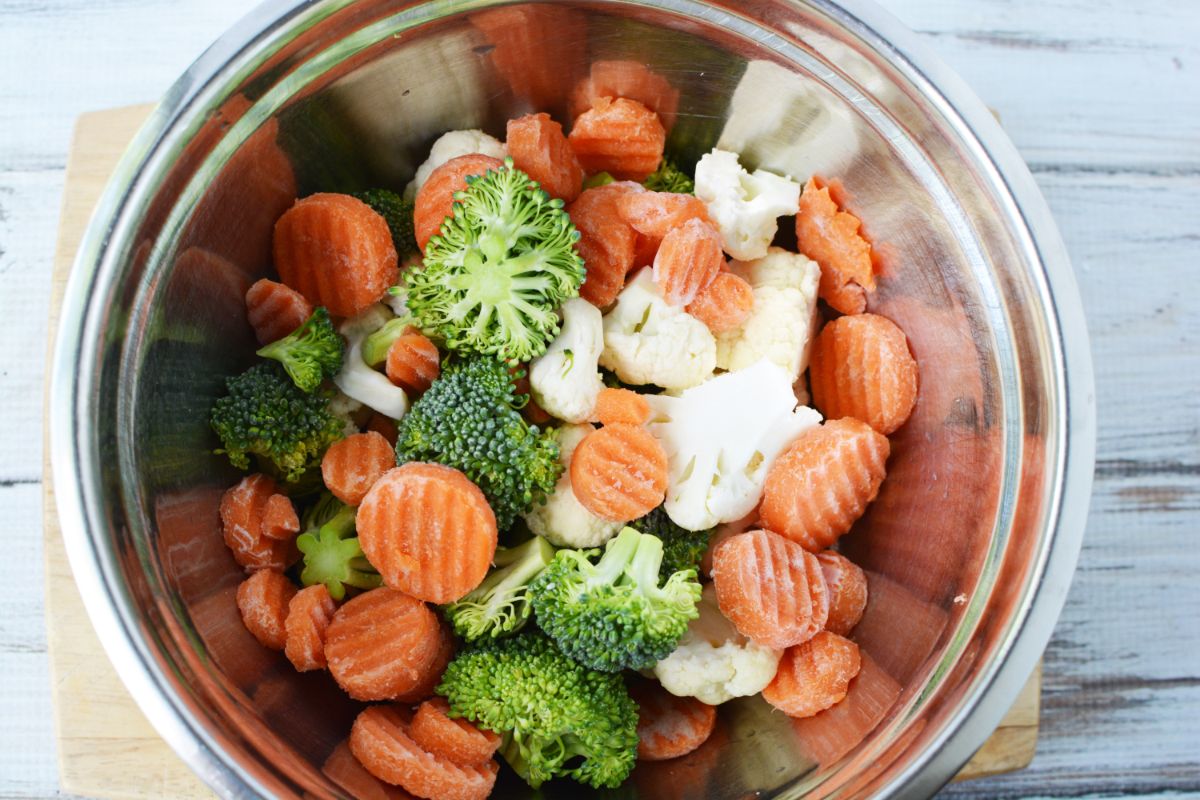 Place the vegetables into a large mixing bowl and drizzle with the olive oil, salt, and black pepper.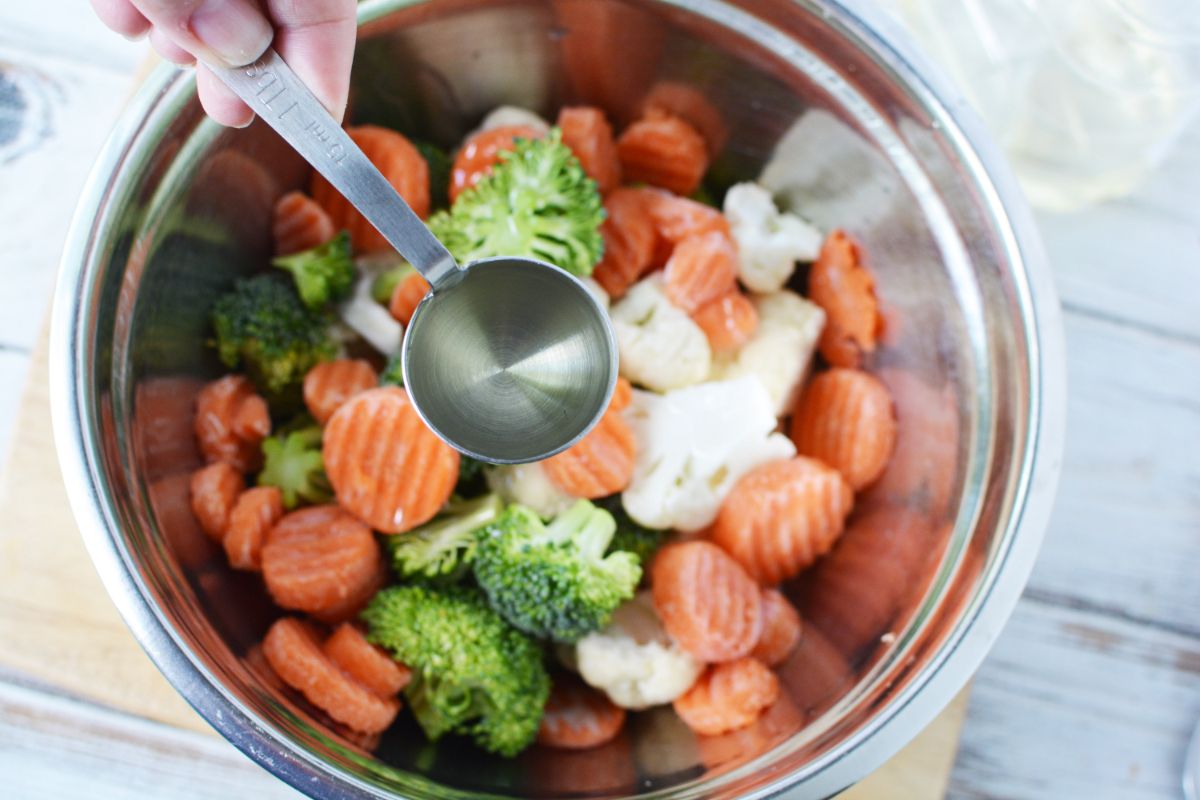 Toss to coat evenly, then add the Parmesan cheese and toss again.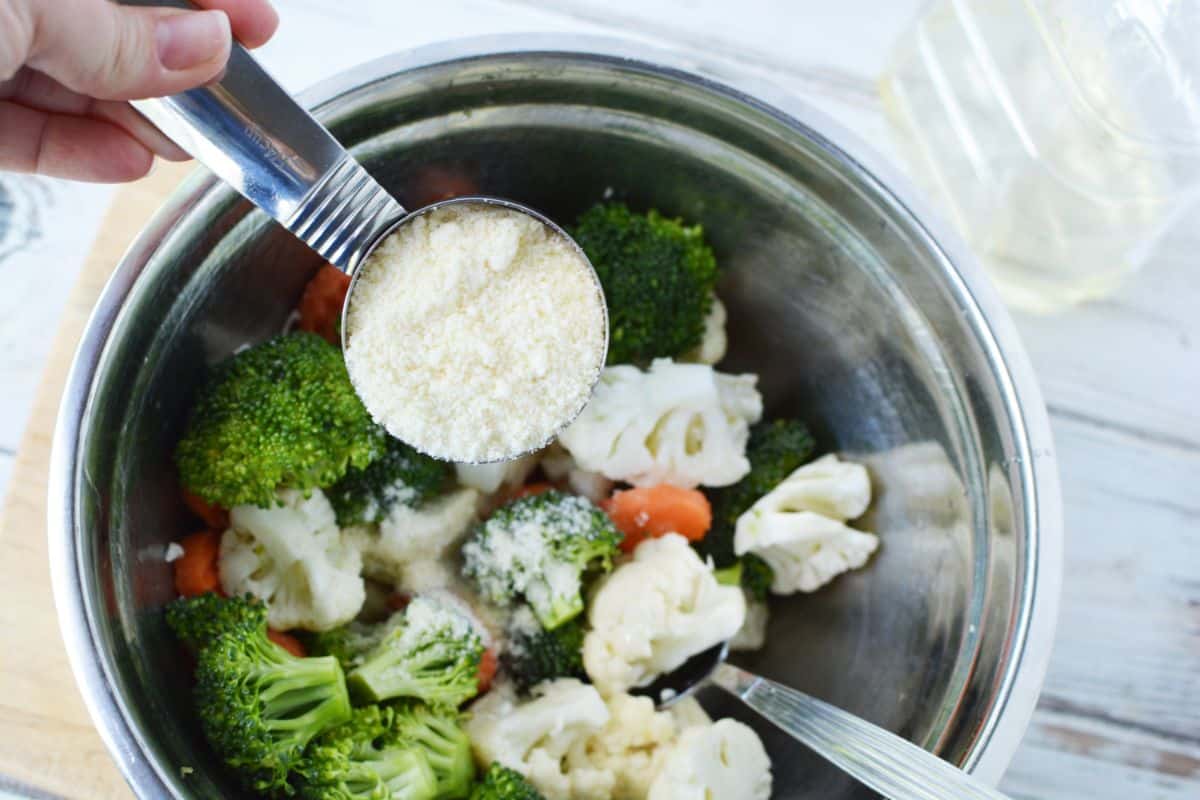 Spread into the bottom of your air fryer tray in an even layer - if using a smaller air fryer you may need to do multiple batches.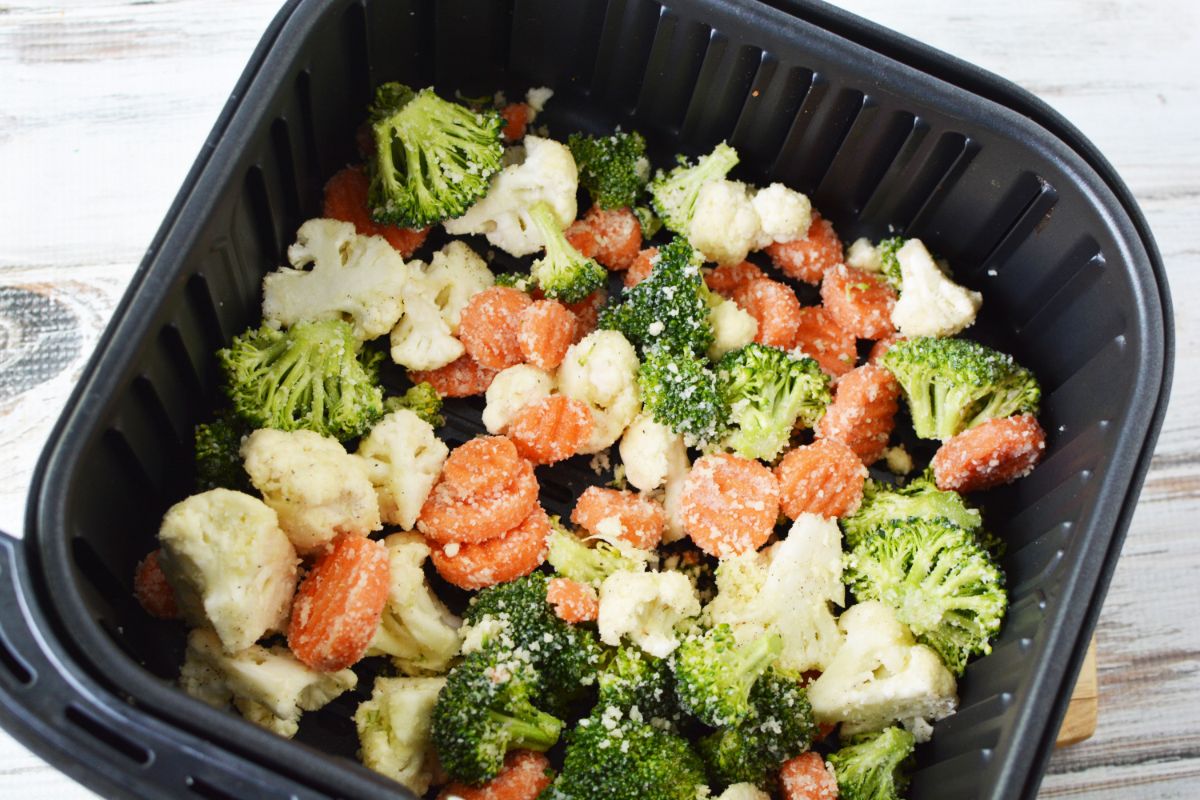 Cook at 400°F/200°C for 5 minutes, then stir or shake, and cook for another 3 to 5 minutes. You will want them to be tender with some browning, but not burned.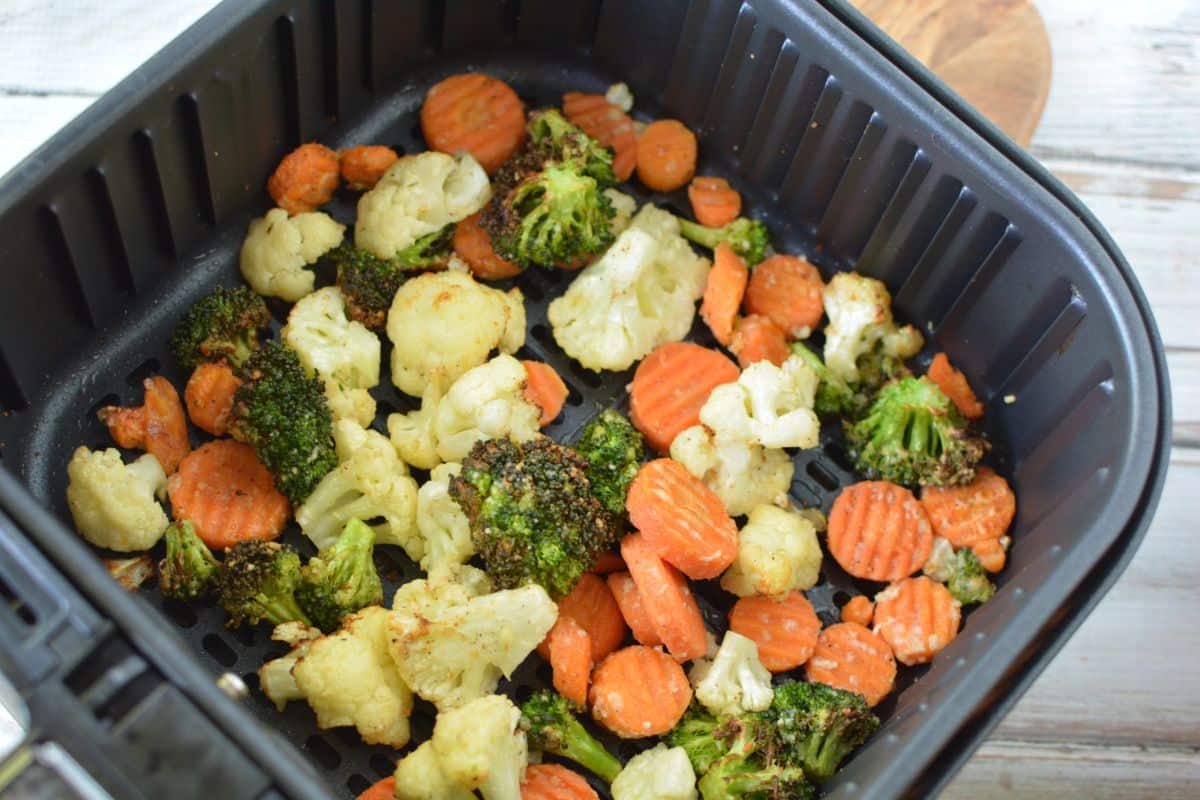 Weight Watchers Points
Serves 4
2 points per serving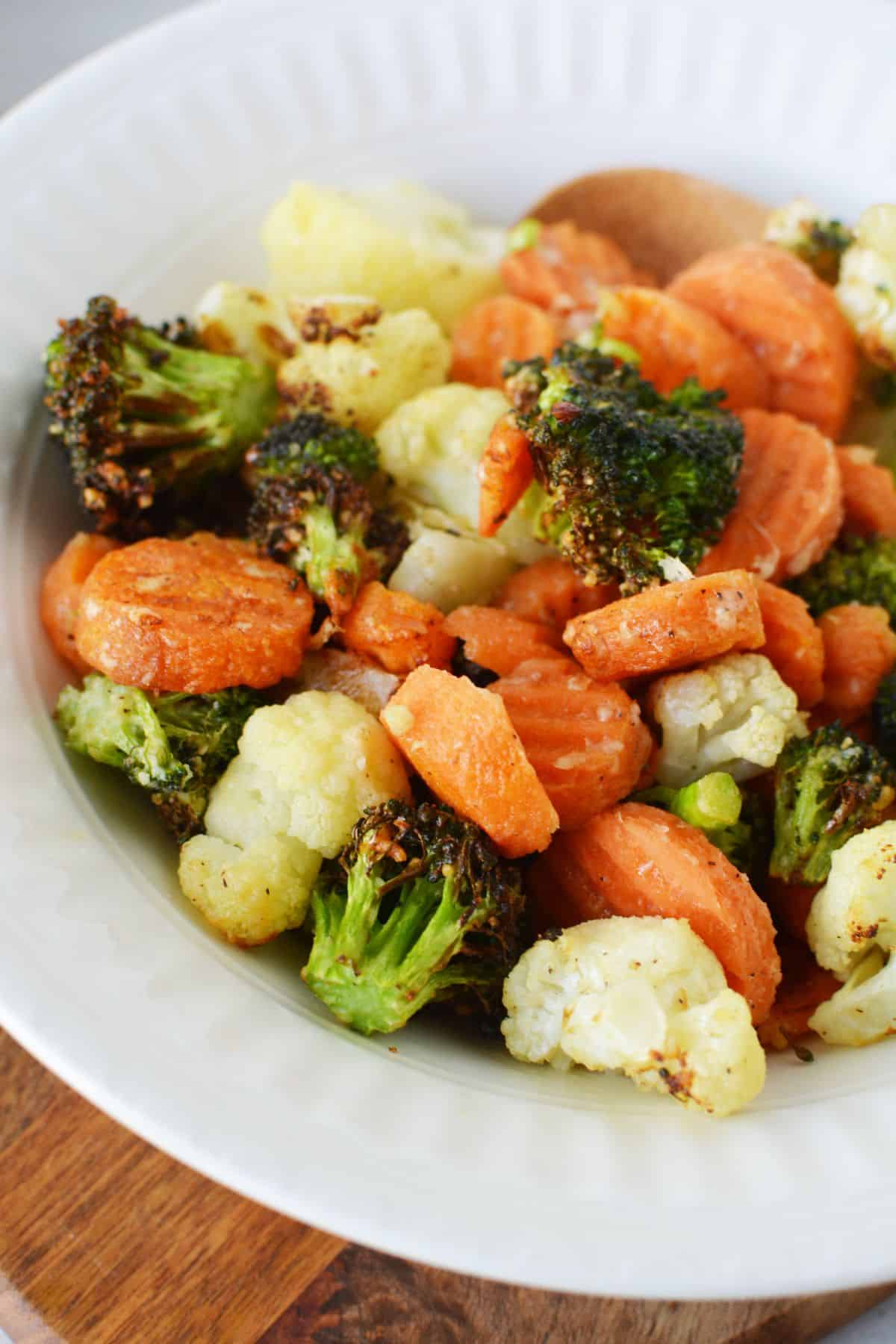 Frequently Asked Questions
Is Air Frying Vegetables the Same as Roasting?
In general, the two give you a similar result, but they are not identical. Air frying cooks by keeping a constant flow of air going around the food at all times. Roasting has heat from an element on top and bottom of the oven that puts off heat. Air frying tends to result in crispier outsides and tender insides without being overcooked or burned on the edges.
Can You Cook Veggies and Meat at The Same Time in the Air Fryer?
You can definitely cook them at the same time. The biggest issue you may face will be how much room is in your air fryer to hold items. If cooking for just one or two people, you can easily place meat in the center and vegetables around the outer edge of the basket. You can also wrap vegetables in foil and place them on top of the meat. However, I find this is easiest if you have an air fryer that has shelves rather than a basket. My personal air fryer is the Instant Vortex 10-quart which has trays rather than baskets and makes this simple to manage.
Can You Put Vegetables in Foil in the Air Fryer?
You can definitely use aluminum foil in your air fryer. However, you always want to make sure there is room around all sides for air to blow around inside the basket. So, if wrapped in foil or lining the tray with oil, don't go all the way to the edge. Leave some space for the air to blow around the food.
Does Air Frying Vegetables Make Them Unhealthy?
No! What is healthy and unhealthy varies depending on your dietary needs. In this case, while there is some oil used and a bit of fat in the Parmesan, the vegetables are much healthier prepared in this method than others where they are soaked in fats and oils.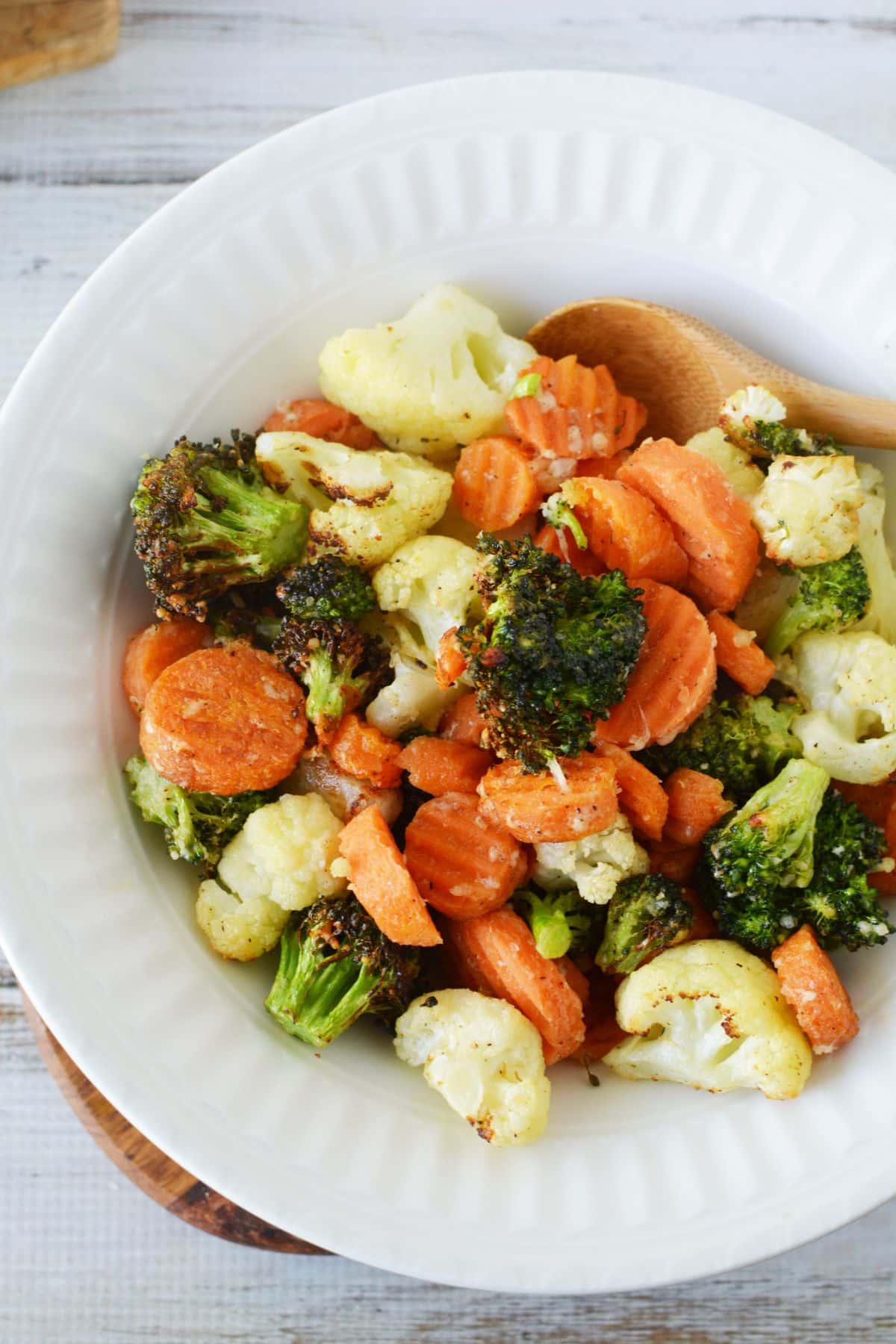 Check out My Air Fryer Cookbooks
If you want more recipes for your air fryer, make sure you take a minute to check out my two cookbooks. The Mediterranean Air Fryer Cookbook and Clean Eating Air Fryer Cookbook are both excellent starts to learning all about this great kitchen tool!
More Air Fryer Recipes
I love my air fryer! If you have been considering buying one, I can't say enough about them. Especially since I even wrote two cookbooks about them! They are that amazing! Below are a few more Weight Watchers air fryer recipes for you to test out and see how amazing this kitchen tool can be. Take a minute to bookmark these recipes, print them out, or pin them to your favorite air fryer board on Pinterest.
Yield: 4
The Best Air Fryer Vegetables with Parmesan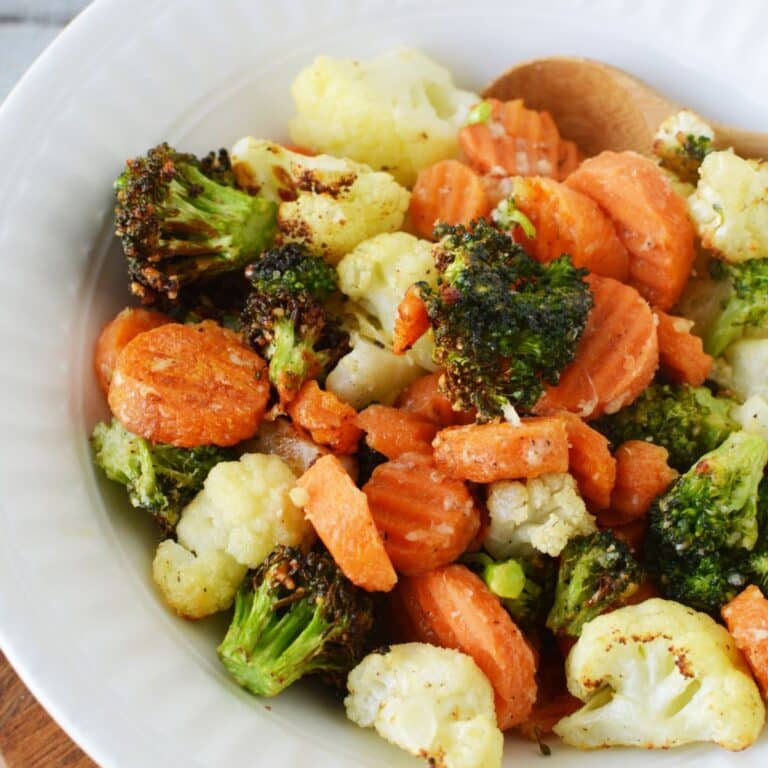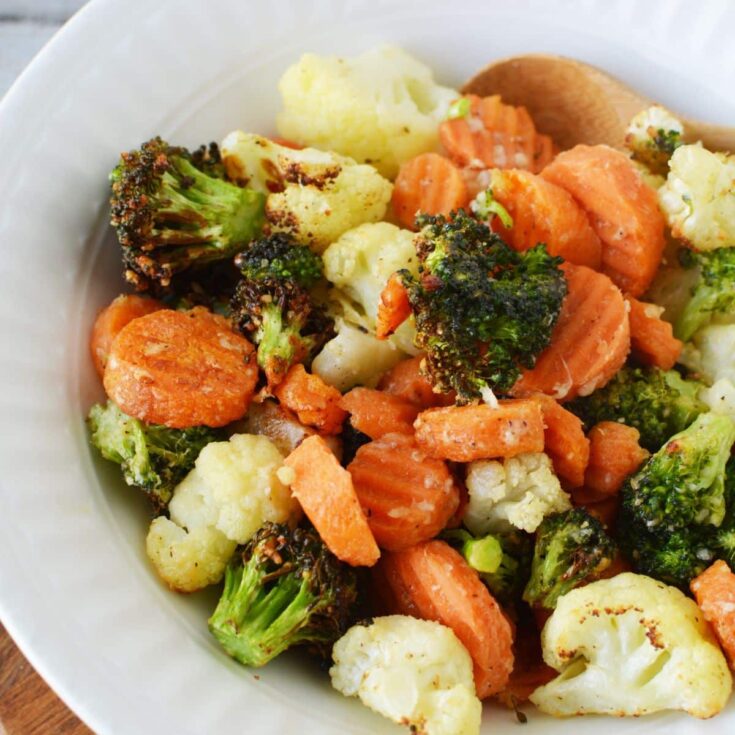 Air fryer vegetables with Parmesan are a perfect addition to your weekly menu! Roasted perfectly every time in under 10 minutes!
Ingredients
1 cup cauliflower, cut into small pieces
1 cup broccoli, cut into small pieces
1 cup carrots, cut into chunks
1 tablespoon olive oil
½ teaspoon salt
½ teaspoon black pepper
1 teaspoon Italian seasoning blend
¼ cup grated Parmesan cheese
Instructions
Cut all vegetables into bite-sized pieces and then toss in a bowl with olive oil, salt, black pepper, Italian seasoning, and Parmesan cheese.
Spread evenly on the air fryer tray or in the basket.
Cook for 5 minutes at 400°F. Then shake or stir the vegetables and continue cooking for another 3 to 5 minutes until they are tender and lightly browned.
Notes
It is best to cut vegetables in similar sizes so they cook most evenly. For the most tender carrots, make them a bit smaller than the other vegetables so they cook at the same time.
Nutrition Information:
Yield:
4
Serving Size:
1
Amount Per Serving:
Calories:

92
Total Fat:

6g
Saturated Fat:

2g
Trans Fat:

0g
Unsaturated Fat:

4g
Cholesterol:

5mg
Sodium:

421mg
Carbohydrates:

8g
Fiber:

3g
Sugar:

3g
Protein:

4g
Are You Following Us? Check us out on social media!