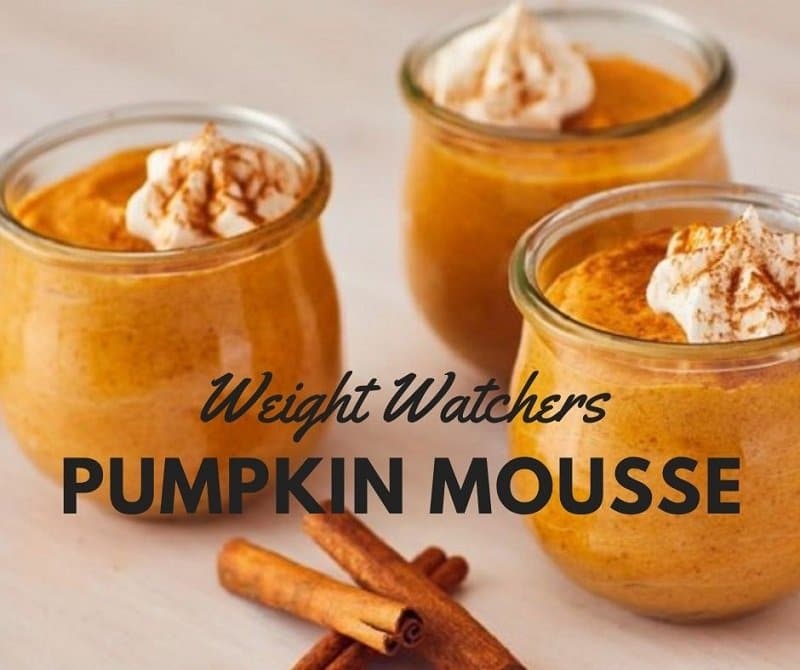 The fall and winter holidays are approaching. Soon tables at many homes will be set with all kinds of rich foods, and we can feel a little struggle inside, watching everyone else indulging. The temptation to leave the diet is high, but don't give in!
We, dieters, have to protect our weight-loss goals, and nowadays it's not all that hard. Weight Watchers has many great desserts that taste rich but are actually low in Smart Points.
Here we introduce a choice of low-calorie but rich-tasting Weight Watchers pumpkin mousses. And you can join the pumpkin flavor fests with an easy heart if you've got some of Weight Watcher's pumpkin mousse stashed away in the refrigerator for your own indulgence.
In fact, you may have to protect your Weight Watchers desserts from hungry family members and guests who can't resist trying them out!
You'll enjoy eating these lovely desserts, and even more, you'll enjoy seeing a pound or two less on the scale after the holidays, while everyone else is complaining about having gained weight.
Weight Watchers Pumpkin Mousse
This tastes like pumpkin pie, but without a crust. You can also serve it as a dip for fruit or graham crackers.
Preparation time: 10 minutes
Cook time: 2 hours
Yield: 8 servings
Ingredients
15 oz. canned pumpkin
1 cup fat-free milk
2 boxes (2 ounces total) instant, fat- and sugar-free vanilla pudding mix
½ tsp. pumpkin pie spice
2 cups Cool Whip, fat-free (8 oz. Container)
Directions:
Combine the pumpkin, milk, and pumpkin pie spice in a mixer.
Add the instant pudding and mix well.
Add the Cool Whip.
Mix until it has a uniform color (about 5 minutes).
Refrigerate for 2 hours.
Weight Watchers Chocolate Pumpkin Fluff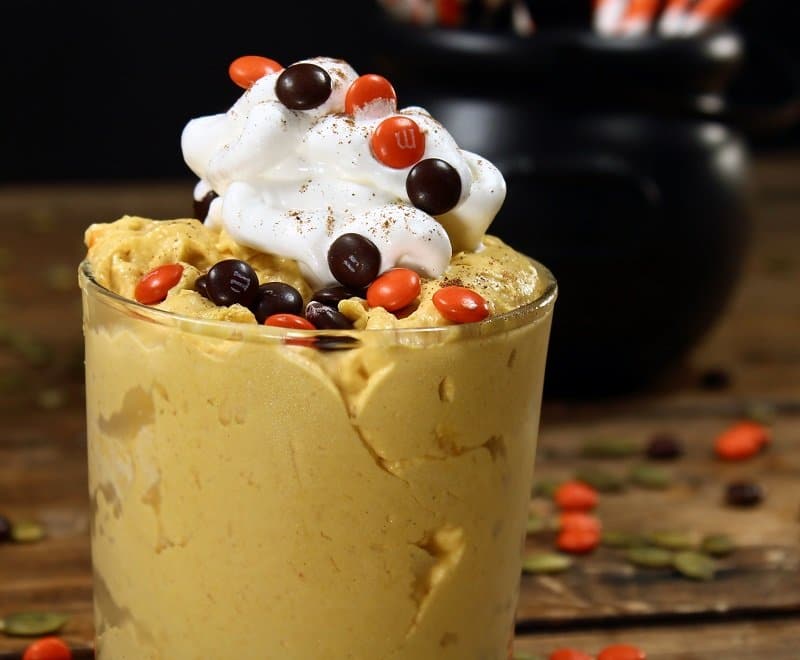 Some like to call these mousses fluff, for their lightness. Here you can vary the basic pumpkin recipe with a chocolate pudding base.
Preparation time: 20 minutes
Ingredients:
2 small packages instant, fat- and sugar-free chocolate pudding mix
2 cups non-fat milk, or milk alternative
½ tsp. vanilla essence
15 oz. can pumpkin purée
8 oz. Lite, fat-free or sugar-free Cool Whip, or non-dairy whipped topping alternative
Directions:
Pour the milk or milk alternative into a bowl.
Add the vanilla essence.
Whisk the chocolate pudding in.
Fold the pumpkin spice and pureed pumpkin in.
Add the Cool Whip or non-dairy topping alternative, mixing gently but thoroughly.
Refrigerate 2 hours before serving.
Another Weight Watchers Pumpkin Fluff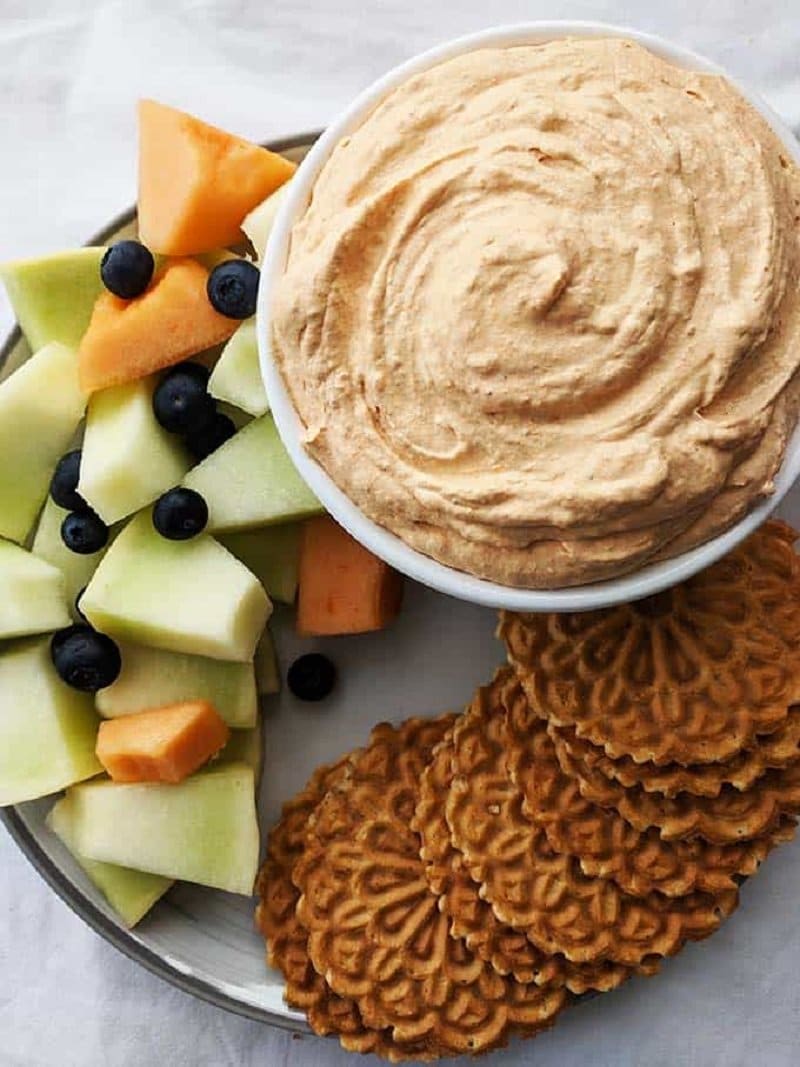 Spoon this creamy pumpkin fluff over 0-point fruit or berries, or scoop it up with low-point cookies. Delish.
Preparation time: 10 minutes.
Yield: about 6 cups.
Servings: 12 servings of ½ cup each
Ingredients:
1 (15 oz.) can pumpkin purée
1 cup skim milk
1 (1 oz.) packet of fat-free sugar-free vanilla pudding mix
1 (8 oz.) tub of fat-free sugar-free Cool Whip (defrosted)
½ - 1 tablespoon pumpkin spice mix
Directions:
Spoon the pumpkin purée into a large bowl.
Mix the skim milk into the purée.
Add the vanilla pudding mix and the pumpkin spice.
Mix till smooth.
Fold in the defrosted Cool Whip until fully combined.
Chill at least two hours before serving.
Weight Watchers Freestyle Plan: 4 points
myWW Blue Plan: 4 points
myWW Purple plan: 4 points
myWW Green plan: 4 points
Weight Watchers Pumpkin Mousse Shooters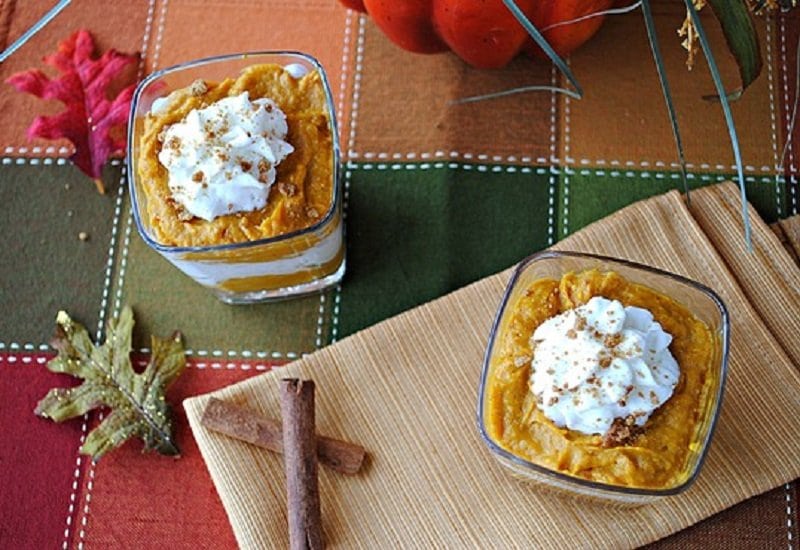 And here's something a little different: pumpkin mousse shooters! (No alcohol, though.) Pretty to look at and delicious to taste, this elegant little dessert gives an extra shine to your holiday meals.
Have ready 8 6-oz. dessert glasses. Whiskey tumblers or any squat, transparent glasses work too. You want to show off the yellow and white layers of the dessert.
Yield: 8 servings
You May Also Like: 8 Weight Watchers Yogurt Recipes
Ingredients:
2 oz. fat-free cream cheese softened
1 can (15 oz) pumpkin purée
¾ cup fat-free milk
1 package vanilla fat-free sugar-free instant pudding mix
1 tsp. ground cinnamon
½ tsp. ground ginger
⅛ tsp. ground cloves
3 cups thawed reduced-fat whipped topping, divided
4. Gingersnap cookies, crushed. Alternately, use 4 graham crackers.
Directions:
Using an electric mixer, beat the cream cheese at medium speed until smooth.
Add the pumpkin, milk, pudding mix, and spices. Beat until smooth.
Fold in 1 ½ cups whipped topping.
Spoon ¼ cup mousse into each of the glasses.
Spoon 2 tablespoons whipped topping over the mousse in each glass.
Top with ¼ cup mousse.
Cover lightly and refrigerate for one hour.
Just before serving, top each shooter with the remaining whipped topping.
Crumble the cookies and garnish the top of the shooters with the crumbs.
myWW: 3 points.
Flavor variations: By now you've seen that these mousse recipes are based on the same essential ingredients. The flavors vary according to the instant pudding you use, and if you choose commercial pumpkin pie spice or mix up your own.
Cinnamon, ginger, a little ground cloves or nutmeg, and vanilla essence, in any combination, make a good difference between one batch of pumpkin mousse and another – if you want to make more than one batch. And of course, alternative kinds of milk each have their own characteristic flavors.
Weight Watchers Butterscotch Pumpkin Mousse
For your convenience, we present you with pumpkin mousse based on butterscotch pudding. Does the combination surprise you? Go ahead and be surprised. If you love butterscotch, you'll be happily surprised at how well it goes with pumpkin purée.
Preparation time: 20 minutes
Ingredients:
2 small packages instant, fat- and sugar-free butterscotch flavor pudding mix
2 cups non-fat milk, or milk alternative
½ tsp. vanilla essence
15 oz. can pumpkin purée
8 oz. Lite, fat-free or sugar-free Cool Whip, or non-dairy whipped topping alternative
Directions:
Pour the milk or milk alternative into a bowl.
Add the vanilla essence.
Whisk the butterscotch pudding in.
Fold the pumpkin spice and pureed pumpkin in.
Add the Cool Whip or non-dairy topping alternative, mixing gently but thoroughly.
Refrigerate 2 hours before serving.
Practical Tips:
The mousse recipes above can be prepared and refrigerated up to two days ahead of time. Mousse is usually served cold, the time a batch of it spends in the refrigerator helps to make it firm.
Despite their diet status, these mousses are deliciously tempting, and it's easy to go a little overboard with them. Be wise and measure your servings out in advance: 1 cup per serving.
If you put your servings into pretty containers like squat whiskey glasses, long-stemmed martini glasses, or ramekins, your dessert will be all ready for you to dip your spoon into, and you won't be tempted to reach for anymore.
Some recipes call for ½ cup per serving. For those, get out your prettiest teacups and serve the mousse in them. Or shop for small, disposable glasses. Make the servings fancy with a scattering of crushed low-point cookies on top. Bring out your smallest spoons for eating small portions.
Be smart and buy products with the lowest number of Smart Point values. Examine the labels of the products to make sure that they're fat- and sugar-free, before putting them in your shopping cart. We should all do that anyway, right?
For example, not every Cool Whip is the same as the next. There's sugar-free, Lite, Original, and fat-free. Each kind has its own Smart Point value. For the recipes you see here, choose fat-free Cool Whip, which has 1 Smart Point. The sugar-free and Cool Whip Lite versions each have 2 SmartPoints. The Original version is heavier, adding 3 Smart Points to a scant ½-cup serving.
Read Related Article: Best Low Carb Protein Bars for Weight Watchers
What if I can't use milk?
If milk isn't your thing, alternative kinds of milk such as coconut, almond, oat, soy, and rice milk work in these mousse recipes. You may need to adjust the quantity of instant pudding to the milk to get the texture you want, as these alternative kinds of milk make a softer mousse.
To keep your points low, make sure your alternative milk is unsweetened.
These mousses and fluffs can be made without any milk. Mix the instant pudding into the Cool Whip, then blend in the pumpkin. It's a skinnier version, but will also give a smaller yield.
You can use 2 cups of skim or alternative milk instead of one. This will make more servings.
Substitute sugar-free pumpkin spice coffee creamer for the milk. It gives great extra flavor to the mousse.
Which pudding mix is best?
There are some organic and vegan brands of instant pudding mixes, but the brand you see in every grocery store is Jell-O. One 1-oz. package will give you the creamy texture you want and the flavor you seek.
Try using butterscotch flavor with a pumpkin mousse recipe. Or go wild with banana cream flavor! The white chocolate flavor should also be divine with pumpkin.
Just check the label to make sure you're buying 1 oz. of pudding. Still, if you bring home a bigger size package by mistake, just measure 1 oz. out of it.
<strong>Note: When using alternative kinds of milk, you may need to spoon an additional teaspoon or so of pudding into the mix – or reduce the milk by a teaspoon or two.
Coconut milk is a bit contrary, as it solidifies into a somewhat heavier texture, so use your judgment with it. If the mix seems heavy, you can choose to like it as a creamier textured pudding. Taste it as you're mixing along, and see.
What goes well with pumpkin mousse to make a good dessert?
Fresh fruit, particularly sliced apples are delicious when served with pumpkin mousse or fluff. Berries, too. Colorful fruit and berries make an attractive presentation when placed next to a bowl of yellow pumpkin mousse, or arranged around individual glasses. And they have zero Smart Points.
Low Smart Point cookies are also great with pumpkin mousse. Either crumble them over the mousse or use them to dip into the serving.
Five cookies and ½ cup of pumpkin mousse make a tasty snack or dessert that's just sweet enough to satisfy. You can pick up cookies with 1 Smart Point per cookie at the grocery store, or order them online.
For a special treat, scatter a few mini chocolate chips over each serving. But you'll need to adjust points.
What happens if you don't have pumpkin pie spice?
No problem. Measure out ¼ teaspoon each of cinnamon and nutmeg, and mix them in when you add the instant pudding to the milk.
Add ¼ teaspoon of ground ginger in the mix is also delicious.
If you choose to flavor the mousse with ground cloves, go easy with them. Too much ground cloves will dominate the flavor of the whole mousse. Add only ⅛ teaspoon of cloves to the mix. Taste it and if you decide it needs a little more, mix more in, a pinch at a time, until you're satisfied.
And here's a tip for the adventurous: add the tiniest pinch of ground white pepper to a pumpkin mousse based on white chocolate instant pudding. No added points, but a surprising little pop of flavor and sweet heat. This is for adults, but you never know – kids might like it too.
Just for fun: a little mousse history.
We usually think of mousse as dessert; for example, chocolate or lemon mousse. But there are delicious savory mousses too, such as salmon, vegetable or cheese mousse. Those depend on whipped egg whites, and sometimes gelatin, for a firm texture.
The name "mousse" comes from the French, and it means "foam." We simply absorbed the name into English, as we've absorbed the delicious food into our menus.
By the way, the delicate foam that forms on top of a glass of champagne is also spoken of as "mousse" by wine mavens.
Mousse depends on air bubbles to give it the light mouthfeel we like, but there are thick and creamy variations that many also enjoy. Most of the recipes below rely on Cool Whip or similar products to provide the aeration.