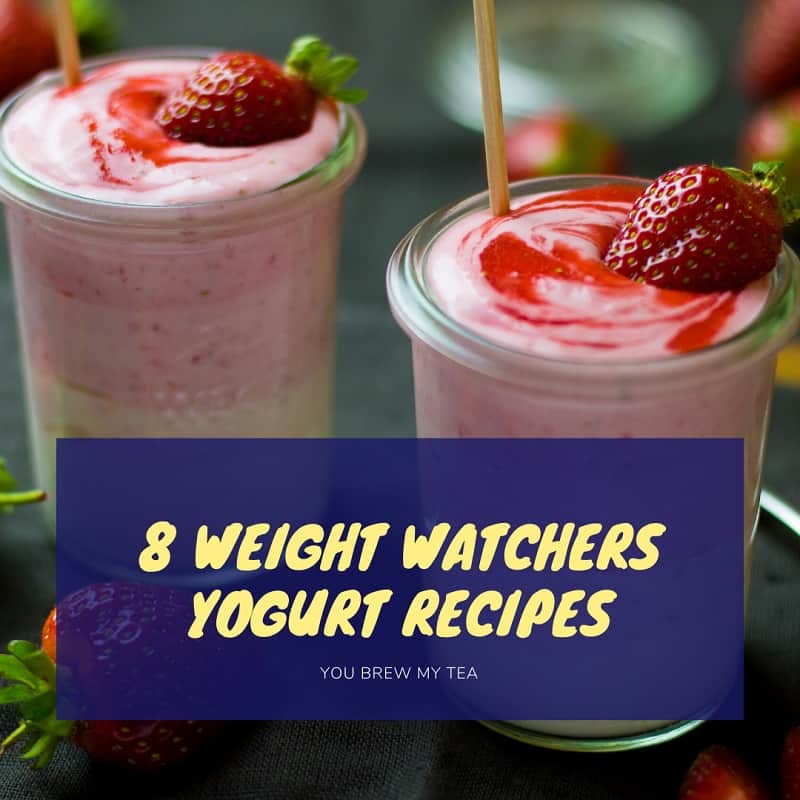 | | |
| --- | --- |
| Yogurt With Fruit and Granola | 1 |
| Grilled Apricot Topped with Yogurt | 2 |
| Jello Yogurt | 2 |
| Frozen Yogurt and Nut Slices | 3 |
| Overnight Oats and Yogurt | 4 |
| Tangy Yogurt Dip | 4 |
| Chocolaty Frozen Yogurt | 5 |
| Greek Yogurt Pancakes | 5 |
One of the main attractions to the Weight Watchers diet is that dairy isn't considered to be 'devilish' and eating your favorite things in moderation is completely acceptable. The diet should be looked at as a way of life, changing the way you look at food creates a healthy relationship towards what you eat and how you act when you eat something a little 'naughty'.
Yogurts are perfect for breakfast or mixed with herbs as a refreshing dip. How can we keep eating yogurt without getting bored of eating the same old thing time after time? Just because we are used to one yogurt recipe and know it is good on our diet, doesn't mean there aren't others out there that we could try that will satisfy us and keep the pounds dropping.
The following is a collection of Weight Watchers-friendly recipes that You Brew My Tea have rustled together for you along with the Weight Watchers points each portion equates to. No more calculating how many points is your favorite yogurt. You can thank us later.
Related Reading: Healthy Biscuit Recipe using Greek Yogurt
Yogurt With Fruit and Granola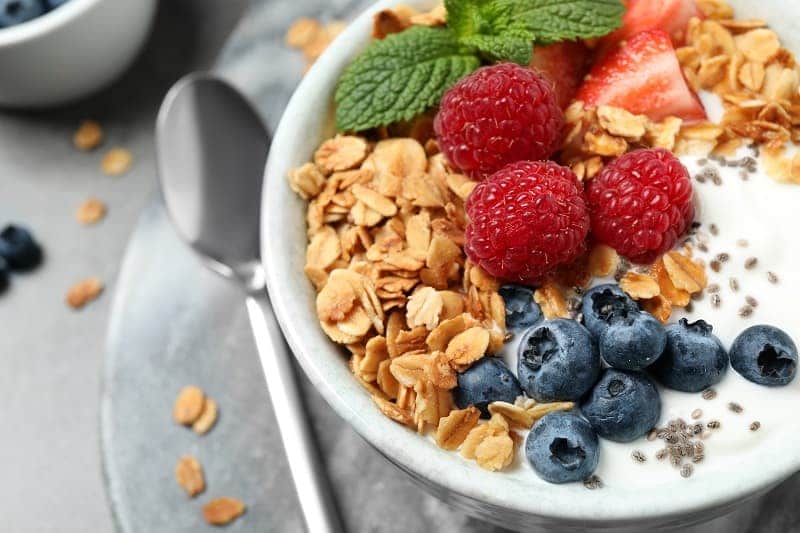 This is really easy to put together breakfast or lunch to take to work. It will cost you just 3 points on the Blue and Purple plan and 6 points on the Green plan. The preparation time is 2-3 minutes. Winner!
Ingredients
1 cup plain fat free Greek yogurt
½ cup fruit (berries such as strawberries or blueberries go great with granola)
3 tablespoons granola (no added sugar granola is preferred)
Instructions
Pour the yogurt into a bowl and toss the granola and fruit on top. It is as easy as that.
Grilled Apricot Topped With Yogurt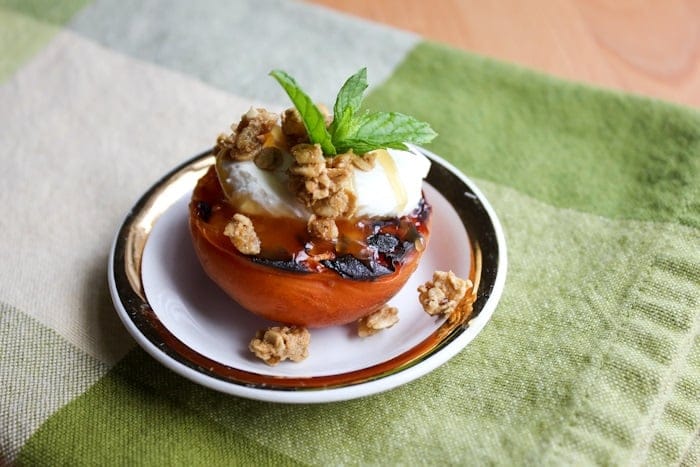 Sometimes all you want is a little bit of something sweet at the end of your meal. Desserts don't need to be slathered in chocolate or icing sugar to be classified as desserts. Here is a refreshing dessert recipe we think you'll enjoy, the best part of it is that it's only 1 SmartPoint per serving no matter what plan you are on.
Ingredients
1 teaspoon lime zest
1 teaspoon honey
1 apricot (halved)
1 teaspoon mint leaves
1 tablespoon fat free plain yogurt
Instructions
Cut your apricot in half
Place on the grill (cut side facing down)
Once the apricots are warm all the way through, place them on a plate (should only take a couple of minutes to grill the apricots)
Divide the honey and yogurt equally between the two halves
Finish off with a sprinkle of lemon zest and mint
Jello Yogurt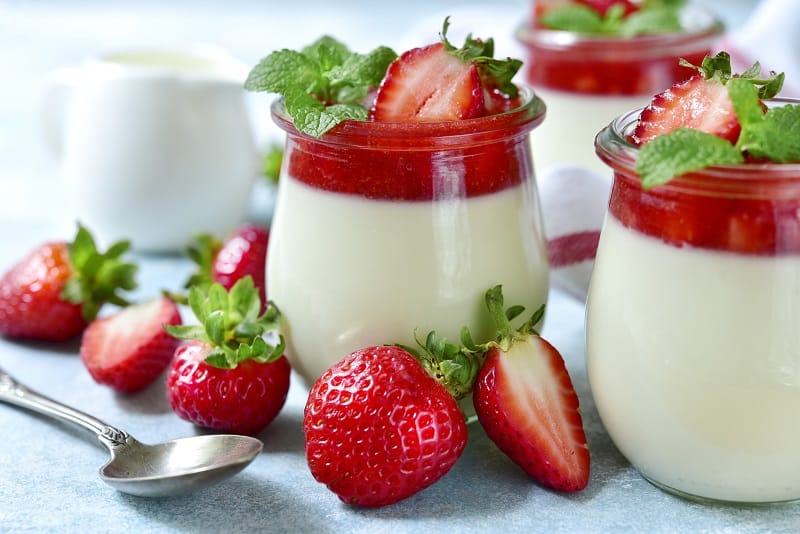 Weight Watchers enthusiasts across the globe will already be familiar with the combination of jelly and yogurt. This is no regular jelly, oh no, nor is it yogurt. It is fluff. Fluff is a mousse-like concoction made by whisking jelly and yogurt together.
This jello yogurt dessert is completely free of SmartPoints on the Blue and Purple plan. If you are following the Green plan then you will just need to take off 1 point from your daily allowance per serving.
The NEW myWW Program is Here and it's Our Most Customized Ever! WW is Weight Watchers Reimagined. Join Today!
Ingredients
2 cups fat free plain greek yogurt
8 strawberries
1 pack sugar free jelly
¼ pint cold water
¼ pint boiling water
Instructions
Place sugar-free jelly in a bowl and pour boiling water on the jelly to dissolve.
Pour cold water in the jelly mix and leave it to cool.
Pour the yogurt in with the jelly (once the jelly mix is cool and not set) and mix vigorously with a whisk for 3 minutes, or until you notice lots of bubbles forming in the mixture.
Pour into individual ramekins and leave in the fridge to set.
The fluff will take at least 2 ½ hours to set in the fridge.
Frozen Yogurt and Nut Slices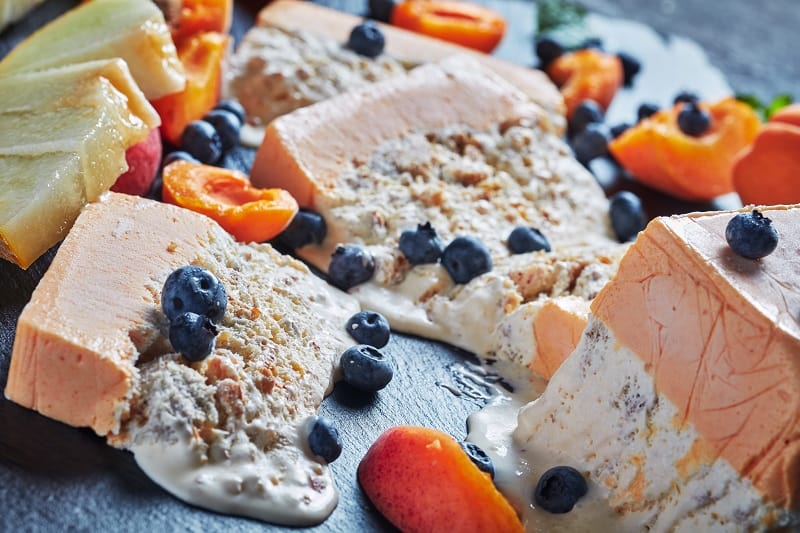 Frozen yogurt fruit and nut slices are brilliant little snacks to have on hand in the house for when you are peckish and want a sweet snack. This recipe will provide you with 1 SmartPoint for both the Blue and Purple plan and 2 SmartPoints for the Green plan.
Ingredients
¾ cups sugar-free granola
Pinch of salt
Hand full of sliced strawberries, raspberries and blueberries
¼ teaspoon lemon juice
½ teaspoon almond extract
¼ cups sugar free maple
2 cups fat free greek yogurt
Handful of nuts
Instructions
Prepare a baking tray by lining it with baking paper.
Mix the yogurt, salt, maple, lemon juice, almond extract and Greek yogurt in a bowl.
Pour the yogurt mixture in the baking tray.
Crush the nuts and cut your chosen fruit.
Sprinkle the yogurt with the chopped fruit and nuts and place in the freezer.
Freeze for 5 hours.
Break the slices in half, each half slice will provide you with the points mentioned above.
Overnight Oats and Yogurt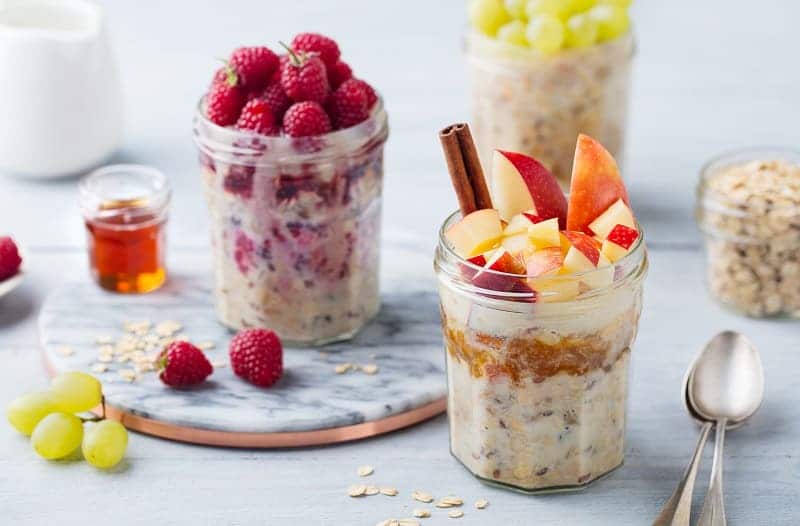 You can make overnight oats in a batch for the whole week. Better yet, once you make it and put the oat mix in individual ramekins ready to grab and go in the mornings. 2 points on the Purple plan, 4 points on the Blue and 5 Green points are in each serving.
See Related Topic: Weight Watchers Pumpkin Mousse
Ingredients
¼ cup rolled oats
¼ cup unsweetened milk substitute (soy milk, almond milk, and rice milk work fine)
¼ cup fat free greek yogurt
1 tablespoon toasted almonds
1 tablespoon honey
1 pinch cinnamon
½ cup fruit of your choice (berries and banana are nice options)
Instructions
Mix the oats in a bowl with the fat free Greek yogurt and milk substitute.
Add the honey and cinnamon and mix well.
You can either mix the fruit and nuts in with the oats now to soften together, or save it to use as a topping.
Leave overnight in the fridge or until it reaches a pudding like consistency.
Tangy Yogurt Dip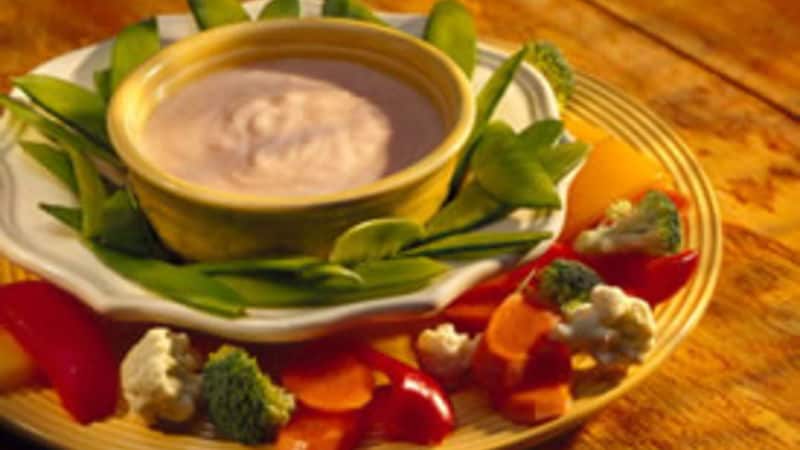 Sometimes all you want is something crunchy to nibble on, like carrot sticks or capsicum slices and they go so well with a fresh yogurt dip. The following recipe is points free for the Blue and Purple plan. Anyone on the Green plan will only need to part with 1 point.
Ingredients
½ cup fat free plain Greek yogurt
1 tablespoon ranch sauce
1 teaspoon chopped chives
Pinch black pepper
Pinch salt
Capsicum or carrot slices
Lemon zest
Squeeze of lemon juice
Instructions
Mix the yogurt, ranch sauce, chives, salt and pepper in a bowl.
Grate a pinch of lemon zest in the mix and stir.
Squeeze half a lemon on the capsicum and carrot slices.
Dip and enjoy!
Chocolaty Frozen Yogurt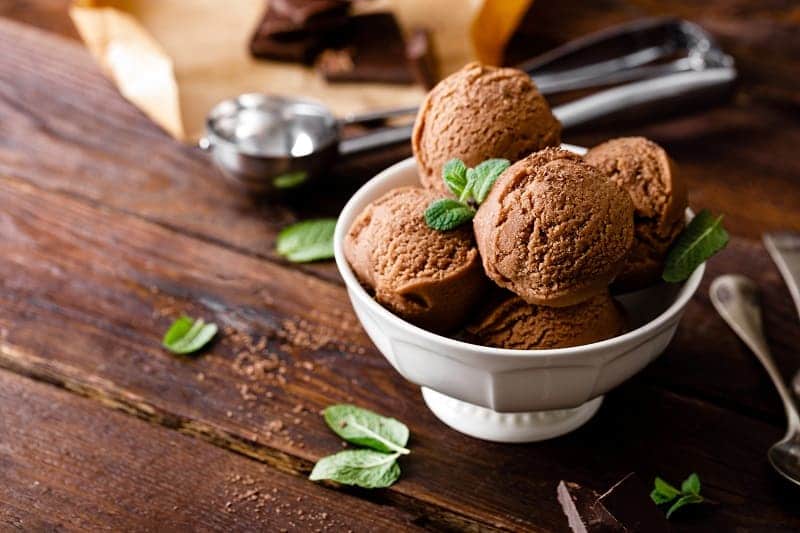 Just like ice cream, minus the calories. This will cost you 1 Purple or Bluepoint. If you are on the Green plan then a serving will cost you 4 points. Here is a tip for you, if you are making this ice cream like frozen yogurt, make enough for one or two servings at a time, that way you won't be tempted to use all your points upon this recipe. After all, we have plenty of things to make with yogurt.
Ingredients
3 tablespoons sugar-free, unsweetened cacao powder
1 cup fat free Greek yogurt
2 teaspoons splenda
1 tablespoon milk
Ingredients
Frozen yogurt is so easy to make, you'll be wondering why you didn't try making it earlier.
Mix all of the ingredients together in a bowl (using a food processor is preferred to get the smoothest result).
Pour the mixture into a pan once smooth and freeze for at least 3 hours.
Greek Yogurt Pancakes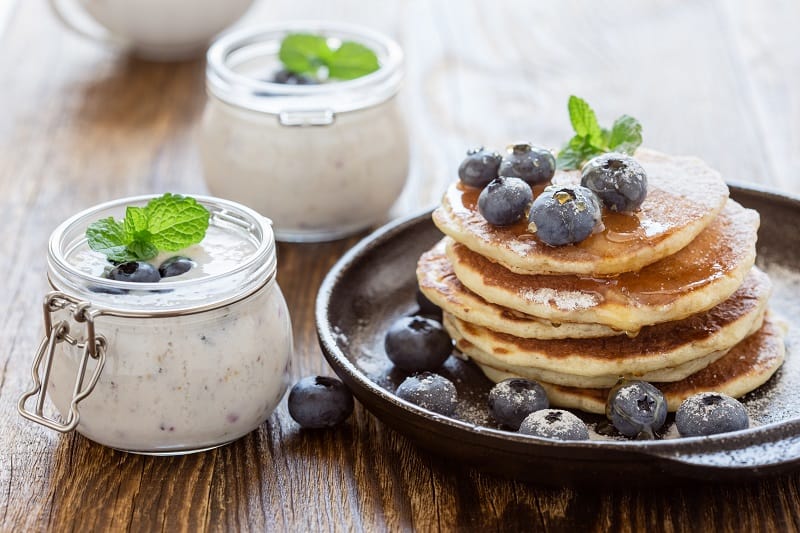 Pancakes can be low in points too. What's their secret? They are made with fat free Greek yogurt, of course. Better yet, each pancake is only 1 freestyle point.
Ingredients
1 cup all purpose flour
2 cups plain fat free Greek yogurt
2 teaspoons baking soda
1 teaspoon salt
4 eggs
½ cup skimmed milk
1 teaspoon vanilla extract, if you prefer almond extract then you may use that.
Instructions
Mix dry ingredients in with the yogurt (you will find it easier to use an electric whisk)
Add all of the eggs, milk and vanilla extract to the yogurt mix.
Cook on a low heat in a non stick pan until golden.
You can top the pancake with an extra spoonful of greek yogurt and scatter some more fruit on top for added indulgence. The best thing is that you won't even notice the pancake is made mainly of yogurt and will feel like a hearty treat.
Now you have eight different ways to enjoy yogurt, and if you didn't think you can make pancakes or a fluffy mousse with yogurt then this is your time to give it a go. Have fun with your food. What you eat doesn't need to be boring while you diet.