A few weeks ago, we hit our local farmers market and got one of my favorite things.  Fresh roasted poblano peppers.  Not only are they milder than other peppers, they are so beautiful and tasty that everyone in our house loves them.  It didn't hurt that one of my kindergarten classmates was the one who was roasting them!  We came home with these fresh roasted peppers, along with a few cloves of fresh roasted garlic and wondered what we could make with them.  I put them in our fridge and decided it was time to pull some chicken from the freezer and whip up some fun enchiladas.  We love the perfect heat and rich flavor these Weight Watchers Roasted Poblano Chicken Enchiladas give us.  Not only were they fairly simple to throw together, they were truly satisfying without a rich heavy sauce.
If you don't have great local farmers markets with fresh roasted peppers like we do, you can simply do it yourself at home.  Grab some fresh Poblano peppers from your local organic grocery store (or regular chain store).  Rinse them well, drizzle lightly with olive oil and place on a baking sheet.  Bake for 12-15 minutes under the broiler in your oven.  You may want to stop half way through this cook time to turn them for even browning.  Don't worry, they may have a few burnt or browned spots on them, but that only adds to the flavor!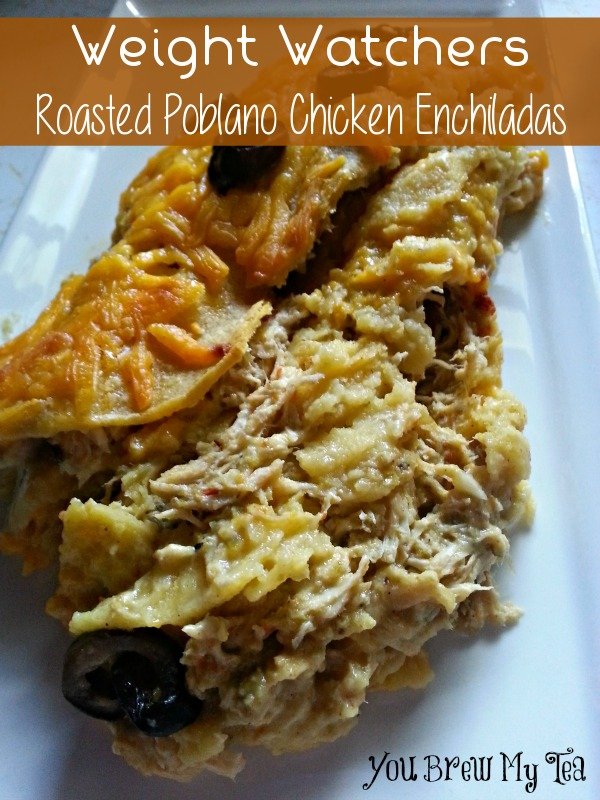 Weight Watchers Roasted Poblano Chicken Enchiladas
recipe full of flavor, but without the added points.  Using non-fat plain Greek yogurt in this recipe adds creaminess without points.
Note:  To roast your poblano peppers and garlic, you can easily place on a baking sheet and cook for 10-15 minutes at 400 degrees.  No added oils needed.

Weight Watchers Roasted Poblano Chicken Enchiladas
Ingredients
12 Corn Tortillas
1 Pound Boneless Skinless Chicken Breasts, Cooked & Shredded
6 Roasted Poblano Peppers
1 Head Garlic Roasted
1 Small Onion Sliced Thin
1 Tablespoon Cumin
1 Teaspoon Salt
1 Teaspoon Black Pepper
2 Teaspoon Onion Powder
1 Teaspoon Smoked Paprika
1 Cup Nonfat Greek Yogurt
½ Cup Water
2 Teaspoons Organic Extra Virgin Olive Oil
½ Cup Shredded 1% Organic Sharp Cheddar Cheese
⅓ Cup Sliced Black Olives
Instructions
In large skillet, heat olive oil, onion and chicken breasts along with cumin, salt, black pepper, onion powder and paprika until heated through and onions are beginning to become translucent. Remove from heat and set aside.
Spray casserole dish with nonstick cooking spray.
Preheat oven to 350 degrees
Remove crisped/blackened parts of poblano peppers. Remove seeds and place remaining pepper into blender along with roasted garlic cloves that have had skin removed.
Add in greek yogurt and ½ cup water with peppers and garlic.
Pulse on high until peppers and garlic have been pureed into a smooth sauce with yogurt.
Pour half of sauce into chicken mixture and stir until well coated.
Place 2 tablespoons chicken mixture into each tortilla rolling and placing in casserole with folded side down.
Pour remaining sauce over top of enchiladas.
Top with shredded cheddar and olives
Bake at 350 degrees for 25-30 minutes or until bubbling and beginning to crisp around edges.
May serve with lettuce, tomato, guacamole or fat free sour cream as desired.
Makes 6 servings - 2 enchiladas per serving
6 PointsPlus
4 SmartPoints per serving on FreeStyle Plan or FlexPlan
8 SmartPoints per serving on Beyond the Scale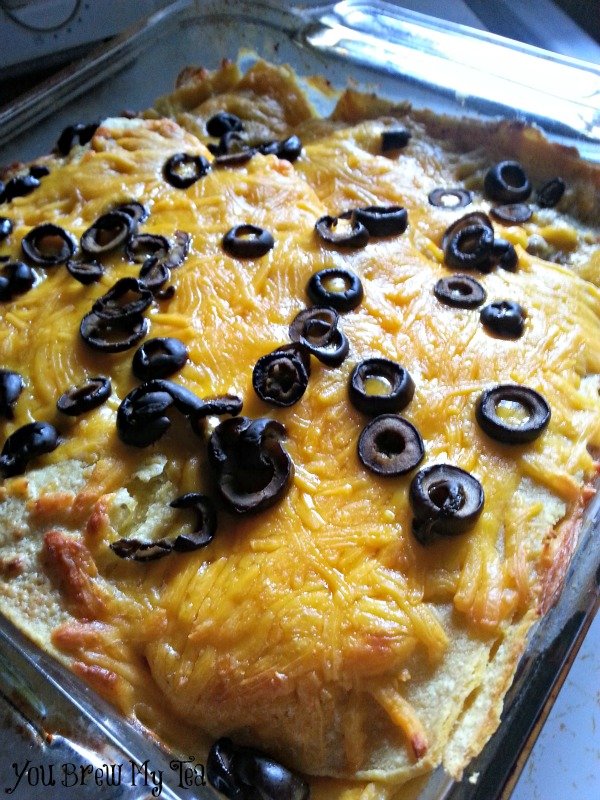 We love Mexican themed recipes, because they pack a lot of flavor for a lot fewer calories.  You have likely noticed we have a trend here of having things that are either soups, Chinese or Mexican.  Those are our three favorite categories and tend to be the most satisfactory to our taste buds.  Using roasted peppers and Greek Yogurt as a sauce helps create a great rich flavor without the grease and heavy cheese sauces we are used to having with enchiladas.  This keeps them moist, full of flavor and a perfect treat.  2 Enchiladas is only 6 Weight Watchers Points Plus.  Add a nice large side salad with a bit of guacamole, salsa or lime as a dressing and you have a rich, hearty and healthy meal that makes you feel like you splurged!
More Weight Watchers Recipes:
Weight Watchers Sesame Chicken
Weight Watchers Green Chile Chicken Enchilada Soup
Weight Watchers Crock Pot Sloppy Joes
Weight Watchers Creamy Tomato Basil Soup