This Hearty Homemade Spaghetti Sauce is one of those recipes that came from me cleaning out the fridge and dumping things into a pot to simmer.  However, the end result was seriously the best sauce I have ever made.  I will be honest, my homemade spaghetti sauces have usually been lackluster.  I just couldn't get the flavor just right.  Sometimes it felt more like chili than spaghetti sauce. Yes, seriously - that bad.  I have usually let my Beau make it, or resorted to one of our favorite brands of homemade sauce.  This time, I hit it out of the ballpark. Seriously, this stuff is the most amazing thing I have created.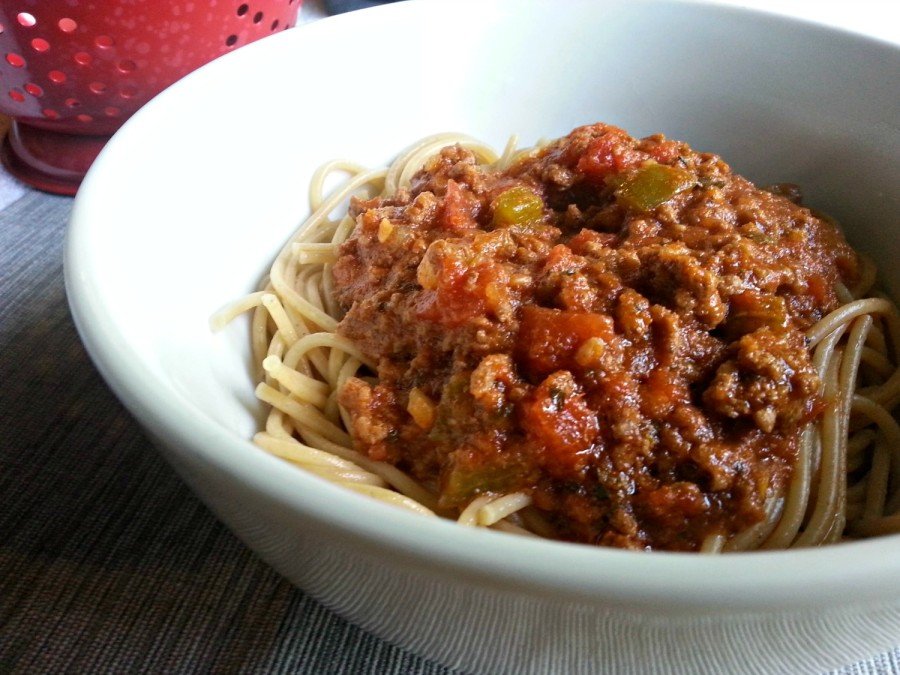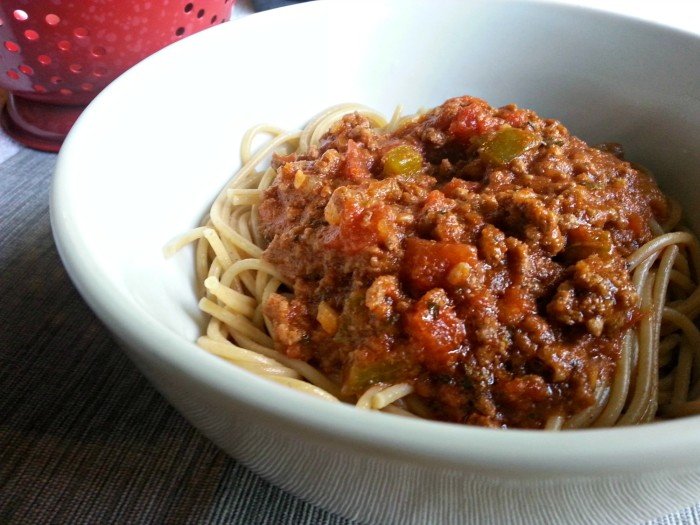 Hearty Homemade Spaghetti Sauce
First off, I have to explain why this is now one of those recipes where you have a secret ingredient that you just know makes it better than anything you've ever had before.  What is in this batch of sauce is about average of what I or my Beau have made in the past.  There are two differences though.  I needed a bit more sauce, but didn't have any tomato paste or sauce to make it work. I did however have this carton of tomato basil soup.  I also have never added red wine to a pasta sauce, but people kept telling me it was better that way.  So, for once, I did what others had suggested and made my sauce a bit drunk.  I guess you could say I sauced my sauce.
I diced up my bell pepper and onion, then grabbed some crushed garlic out of the fridge (yes I cheat and buy it in a jar in oil - it's just so much easier).  I started it cooking and once it got mostly soft, I added in the whole package of ground meat I had on hand.  Yes, I wasn't thinking. I usually make a much smaller batch. There are only 3 of us here - this was really too much for us, but I had already dumped it in and said, oh well it will be a great freezer meal later maybe.
Once the meat and veggies were cooked, I started pouring in my diced tomatoes, tomato sauce and seasonings.  I looked into the pot and knew I needed something else.  That's when I went to my pantry and thought, "this soup can't hurt".  So I added that, then the wine.  I let it simmer for about 45 minutes on medium heat.  I would walk in the kitchen and stir it here and there, but it was really a set and forget pot of sauce.
At some point, about halfway through cooking, my Beau went in and tasted it.  I heard moans from the kitchen. Yep, that is right. Moans.  He came into the office where I was at the time, with a cracker that had a bit of sauce on it.  Um, wow.  I took a bite and I swear my eyes rolled back in my head.  I asked if he had added something to it, and he said not a thing.  (He is infamous for adding more salt to everything I cook - this needed nothing.)

Hearty Homemade Spaghetti Sauce
Ingredients
2 pounds ground meat (we use lean grass fed ground beef)
1 yellow onion, diced
1 green bell pepper, diced
5 cloves garlic, crushed
1 tablespoon olive oil
20oz. diced tomatoes
8oz tomato sauce
1 carton Simply Balanced Tomato Basil Soup
1 Cup Red Wine
1 tablespoon oregano
½ tablespoon basil
1 teaspoon thyme
1 teaspoon marjoram
2 teaspoons onion powder
2 teaspoons salt
1 package preferred pasta, cooked as directed on package
Instructions
In large stockpot, heat olive oil, bell pepper, onion and garlic.
Cook on medium high heat for 5-7 minutes or until onions are turning translucent and starting to soften.
Add in ground meat and cook for additional 5-7 minutes on medium high heat or until cooked through and no pink remaining.
Drain any excess oil off at this point
Add in remaining ingredients (except pasta).
Simmer on medium heat for 45 minutes stirring every 7-10 minutes to prevent sticking. If your stove tends to run hot, you may want to put this down on low so it is a super low but steady simmer.
Serve over favorite pasta
Yes, this homemade spaghetti sauce really takes some time.  Yes, it includes a trip to Target to buy their tomato basil soup, but I promise it is worth it.  I used a basic Post Red Wine, cheap (under $6 a bottle) that I grabbed at Kroger.  You could use any red wine and have similar results.  I'm not much of a drinker, more of a cook with alcohol person, so I can't honestly tell you if a higher quality wine would improve the flavor.  Honestly, it's so good I don't think it could use any improvement.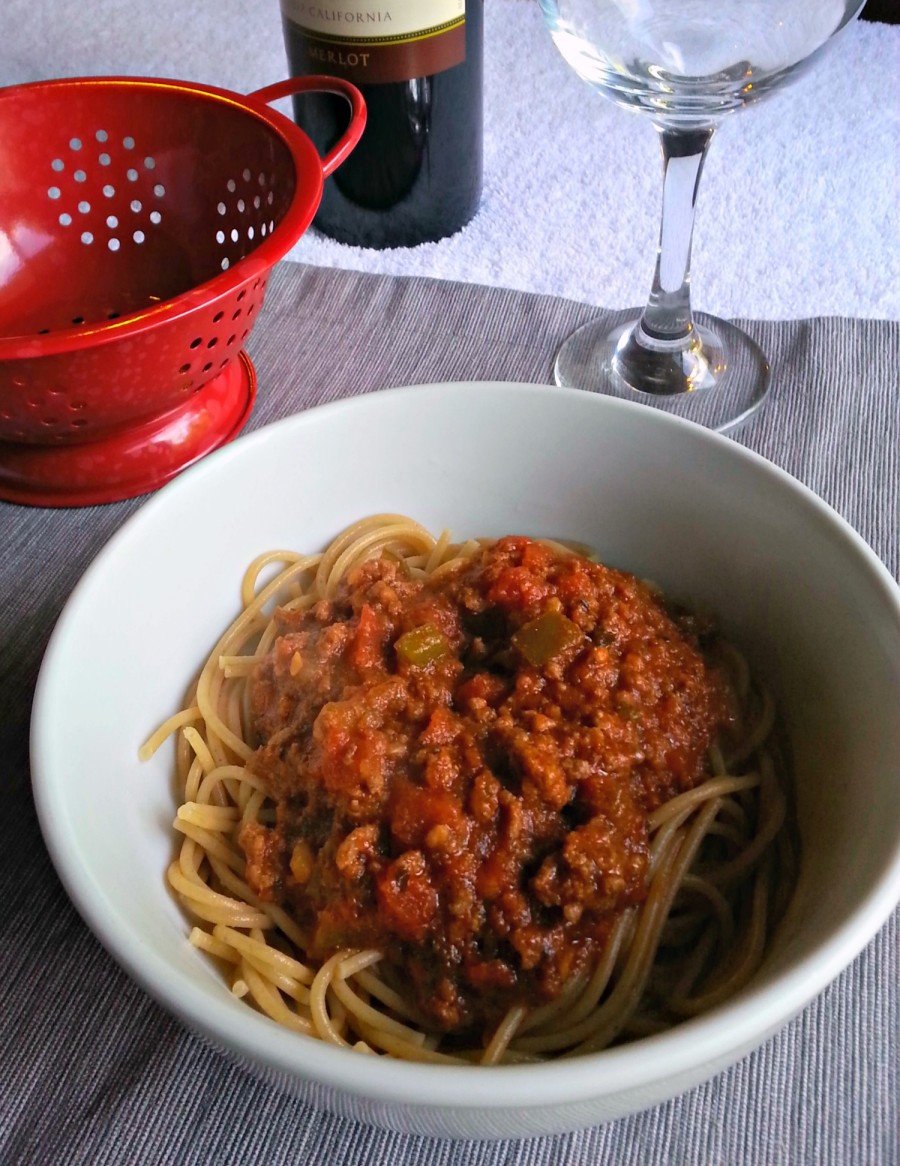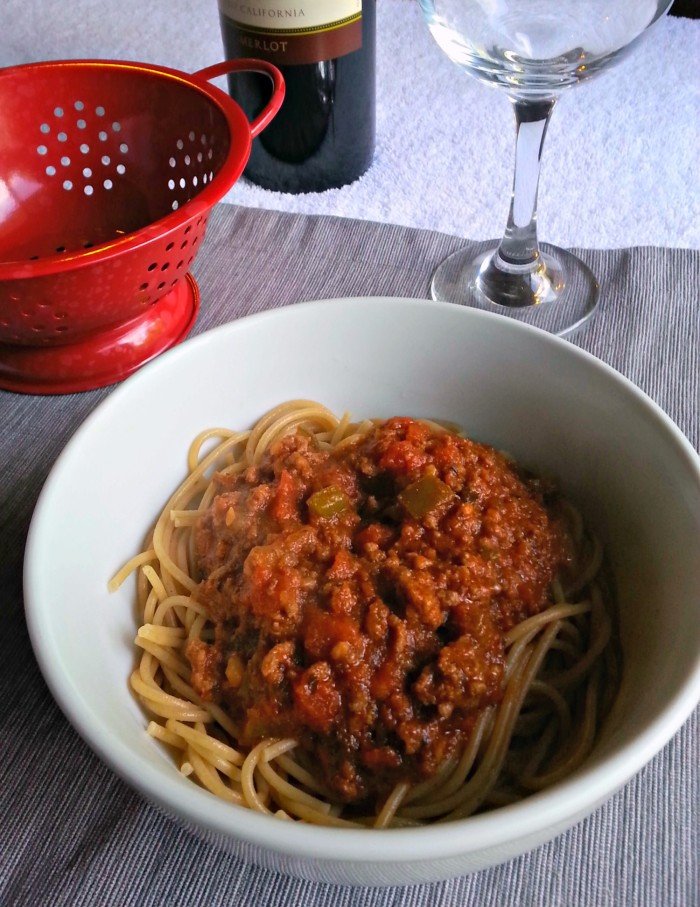 If you love nice hearty pasta dishes, we have a few others that our favorites for you to check out. 
Garlic Tomato Halibut Pasta
Gluten Free Oven Baked Chicken Parmesan