When you become a parent there are a lot of things you aren't told. One of them is how costly it can be to do those traditional things like having a birthday party for your kids each year. With all the pressure from other parents and other kids parties happening around you, it is almost impossible to say no to having a party. We have pulled together some of our tried and true tricks for How To Host A Cheap Themed Birthday Party that are sure to help you stay in budget and give your kids the day they long for.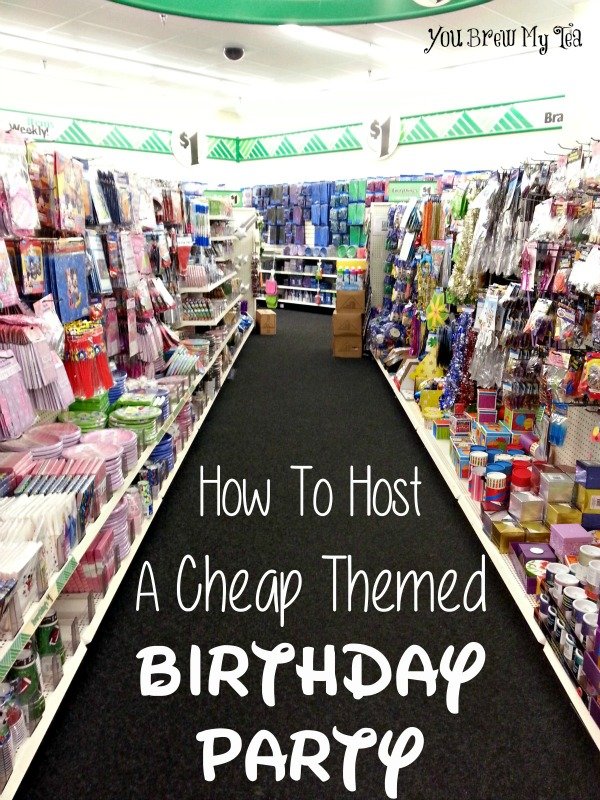 HOW TO HOST A CHEAP THEMED BIRTHDAY PARTY
Shorten The Guest List. As much as you want to include all of your kids cousins, aunts, uncles and classmates the cost to do so can be astronomical. Shorten the guest list to just the immediate family (mom, dad, siblings and maybe grandparents) and handful of close friends or classmates. Make sure your invitations are sent directly to the attendees instead of passed around at school or childcare. While it may be tough to exclude some, your purpose is not to hurt feelings but to give your child an experience they will remember and you can afford.
Shop Dollar Tree For Supplies. This is one of the best money saving tactics you will find. With themed party products upwards of $5 for 10 plates and napkins, you can save a significant amount of money by going to your local Dollar Tree. Not only do they now carry many popular characters like Disney Princess, Mickey Mouse and Cars, they are well within your budget range.
Items To Buy At Dollar Tree:
Serve Cake & Ice Cream Only. Keep the party in the middle of the day between meals and serve only cake and ice cream instead of a full meal. For a little extra pizazz without a ton of expense, create an ice cream bar with gallons of vanilla, strawberry, and chocolate ice cream. Accent the buffet with bowls of sprinkles, chopped nuts, cookie crumbles and candy bar bits for fun DIY sundaes. Don't forget the chocolate and caramel syrup or fresh fruit toppings too!
Have Guests Dress Up. This is especially fun with kids parties that are themed for specific characters or movies. Asking guests to dress up in costumes makes it a fun event for everyone. Plus this adds an element of decoration to the party that you won't have to worry about. This is great for parties around things like Animals, Disney Princess, Teenage Mutant Ninja Turtles, Super Heroes or parties near Halloween. Most kids have some dress up clothes or leftover costumes that would work perfect for this.
Grab The Crayons. This is fun, cheap and unique. Grab the box of crayons or markers, some construction paper and a few of your kids coloring books or printed color pages from online. Color the character pages and glue to construction paper or card stock. Attached to craft sticks or a paint stick and place around the house as fun decorations that are practically free. Great for sticking into a potted plant, hanging from a wall or gluing two back to back and hanging from a fan or light fixture.
Thinking outside the box will often bring you the best and cheapest ideas. Knowing how to host a cheap themed birthday party is all about using your imagination and avoiding the hype and tradition around you. Parties held at home, public parks or free event locations are often the most fun. Limiting the number of guests not only helps your budget, but also helps create lasting memories for your child of time with their best friends.
Check out our other great Party Ideas!
Disney Inspired Dole Whip Cupcakes