At least once a week I like to soak in a hot tub with homemade bath soaks crafted from Epsom Salt, fridge and Epsom Salt.  This Orange And Ginger Detox Bath Soak is great because I love knowing that the ingredients are not only safe for me but that they have so many benefits for my body - inside and out.  I pretty much just toss in a little bit of this and a little bit of that based on what I know each ingredient does, to suit my mood, or to match the season.  I thought orange and ginger would be a delicious scent for spring and summer but was even more pleased when I realized what benefits they have for your body beyond the Epsom Salt, Baking Soda and Sea Salt detox combination!
Orange And Ginger Detox Bath Soak
Each ingredient works with the others to provide a fantastic spa like detox bath with a heavenly scent.
Orange Essential oil: anti-inflammatory, antiseptic, aphrodisiac, antimicrobial, sedative
Ginger-anti: inflammatory, stimulates blood flow, anti aging, acne fighting, tones skin.
Epsom salt: detoxifying, relaxes muscles, regulates blood sugar
Baking Soda: anti itch, cleansing, soothes rashes
Sea salt: enhances circulation, detox, decrease inflammation
Ingredients:
1 cup Epsom salts
½ cup baking soda
2 Tbsp. kosher sea salt
15 drops orange essential oil
3 tsp. grated ginger (fresh or dried)
Directions:
Stir all ingredients in a large bowl until well combined.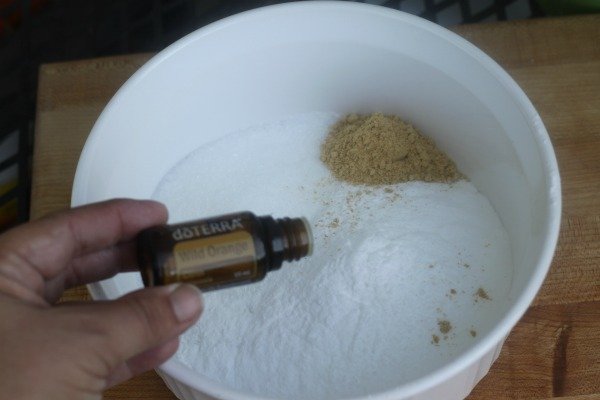 Transfer to a glass jar with an airtight lid.
Pour contents into a bathtub full of water as warm as you can stand.
Soak for at least 20 minutes to get the most benefit from your bath soak.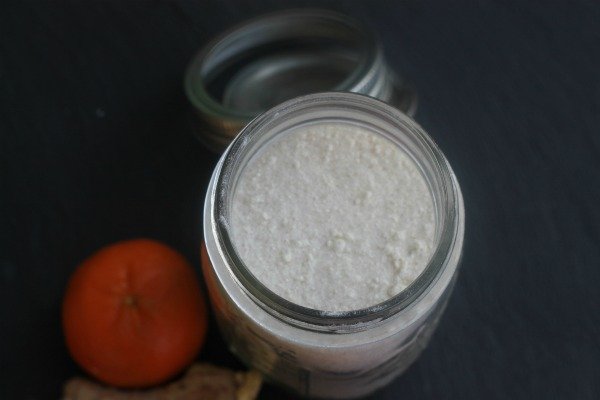 Many people ask why we always recommend using glass jars to store the bath soaks and scrubs we make here.  This Orange And Ginger Bath Detox Soak is a perfect example of the need for glass versus plastic.  While glass jars should be used with caution in the bathroom, a plastic jar can easily begin breaking down due to the acids in some of the oils used.  It is much safer to simply be very careful as you are using and storing the glass jar, than to have even more yucky chemicals from plastic breaking down due to the oils.
This is one of our favorite fragrance combinations that is perfect for perking up your body and helping you to recharge after a long day.  If you like this combination, check out our other popular foot and body scrubs!