We absolutely love having smoothies with breakfast or as a snack, and one of our favorites is this super easy Tropical Fruit Smoothie.  As Weight Watchers Smoothies go, it is higher in SmartPoints than others, but that is okay overall.  The main thing for me is accounting for what I am eating.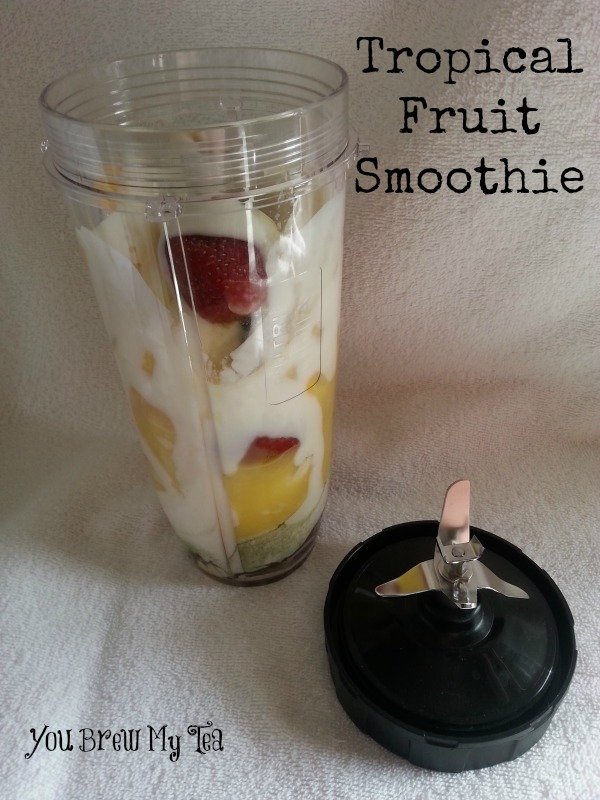 How To Make A Tropical Fruit Smoothie
This post contains affiliate links.  I may earn a commission on purchases made through these links.
For most Weight Watchers Smoothies, I try t go with a base of fat-free yogurt.  This gives me the calcium I want and need, and a creamy texture to balance the super sweetness of most fruits. For this recipe, I used a blend of frozen tropical fruit.  However, I much prefer to grab fruits on sale and create smoothie packets.
A few years ago now, we got a Nutri Ninja Auto IQ blender to review.  We have been making smoothies at least 3-4 times a week with it since then.  So, if you are in the market for a good blender to use for your smoothies - this is an excellent choice.
Ingredients: 
¼ Cup Fat-Free Vanilla Yogurt
1 Cup Frozen Fruit (Mango, Pineapple, and Strawberry)
¼ Cup Orange Juice
1 Ripe Banana
Directions: 
Add all ingredients to blender and pulse until smooth.
May add extra juice or milk to thin if desired.  Just makes sure to add to your calculations if using for Weight Watchers.

Tropical Fruit Smoothie
Ingredients
¼ Cup Fat Free Vanilla Yogurt
1 Cup Frozen Fruit (Tropical Blend or mix of Mango and Strawberry)
¼ Cup Orange Juice (can add more if prefer thinner)
1 ripe banana
Instructions
Add all ingredients into blender and pulse until mixed well.
Why Are Weight Watchers Smoothies High In SmartPoints?
The Beyond the Scale program from Weight Watchers has changed how points are calculated.  SmartPoints are now much higher on items like smoothies.  This is because the body reacts differently to the food you chew versus drink.  A smoothie while nutritionally sound, will not keep you feeling satisfied as long as eating the fruit would.  So, the point values are a bit higher
This makes 1 Serving
Each Serving is 10 SmartPoints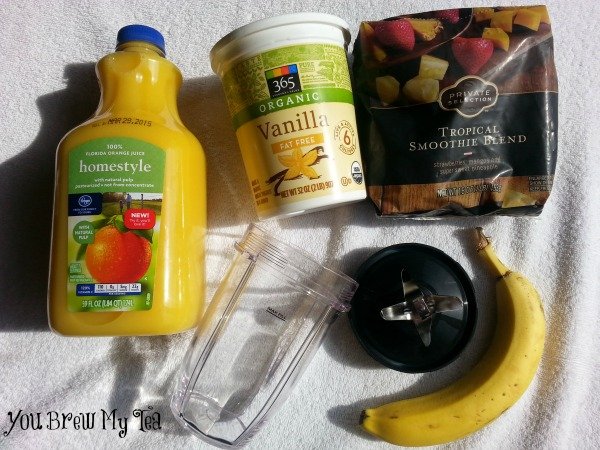 You can easily double or triple this recipe if you are making smoothies for everyone in your home.  As you can see, they are high in fruits and low in other ingredients.  I prefer mine much thicker, more like a milkshake.  My Beau prefers them thinner, more like a thickened juice.  We love making our smoothies individual for our preferences.  Most of all, we love that these are typically fairly low calorie, super satisfying and with the scoop of greens we often add, a great way to get in our daily nutrients.
If you are using this as a breakfast on the Weight Watchers Beyond The Scale program utilizing SmartPoints, you will quickly realize it eats up a lot of your points in a hurry.  While I am not trying ti discourage you from making this recipe, I will recommend you limit smoothies to only on occasion and instead eat fruit separately.
More Weight Watchers Breakfasts:
Weight Watchers Banana Pancakes
Weight Watchers Apple Cinnamon Steel Cut Oatmeal